Curious what the benefits of walking backward on the treadmill can offer you? Here's a full list of the reasons you should walk backwards on the treadmill, tips for doing it properly (and safely), and more.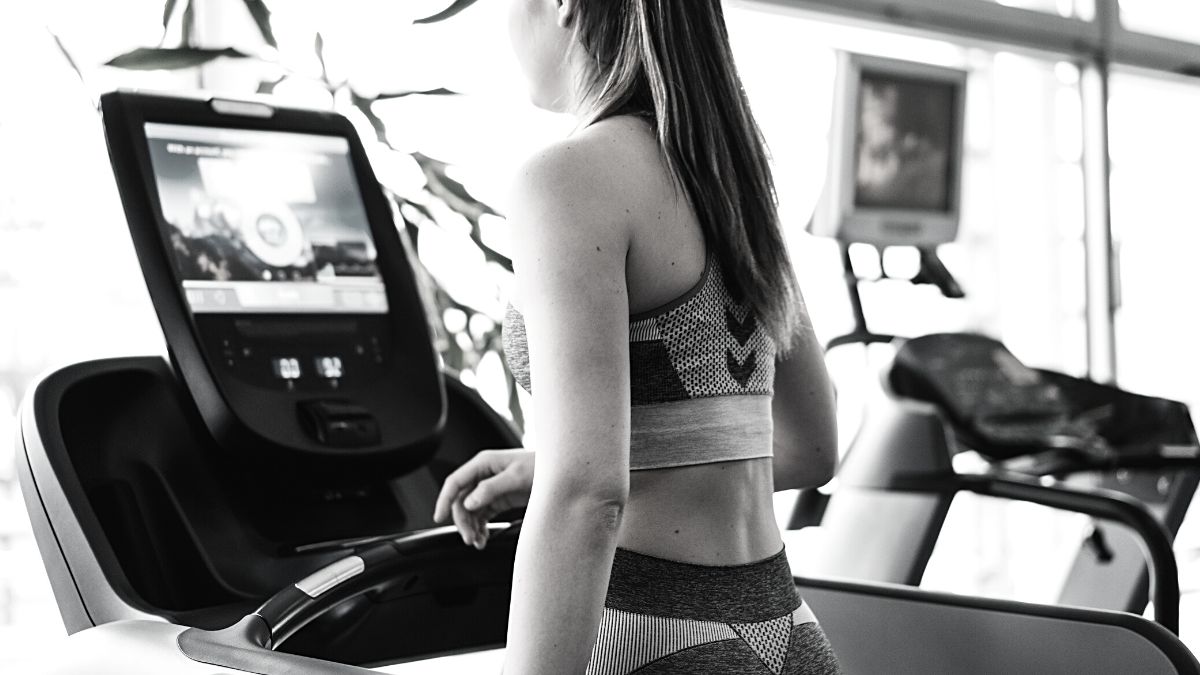 Treadmill walking is one of the most basic cardio workouts—and a great way to get some activity in even if you're not in the mood (or have the time) for a full-on run.
You can listen to music, read, watch TV, or even talk with a buddy while getting in some light exercise.
It just works to help you be more active every single day.
But in this post, I want to focus on one important variation to your treadmill walks that can be absolutely game-changing.
Today, we're talking about walking backward.
It may sound strange, even counter-intuitive, but by the end of this post, you'll see exactly why doing backward walking treadmill workouts for losing weight will also be amazing for your health in so many ways.
Let's jump in.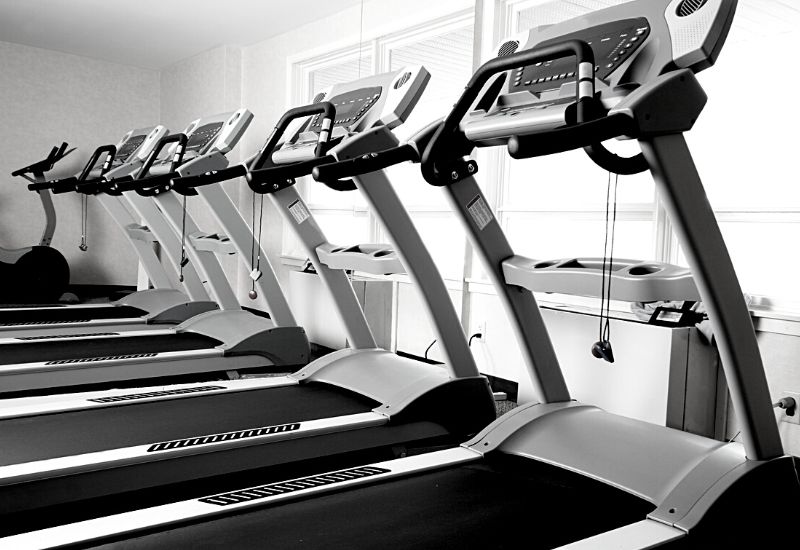 Benefits of Walking Backwards on a Treadmill
⭐ Benefit #1: Improves Knee Function
One of the best benefits of the treadmill is that you can use it to strengthen your leg muscles. Walking backward, it turns out, pays particular attention to the muscles that support your knees.
When you walk backward, you shift all of your weight onto the knee that is bent so you can plant your foot behind you. Your knee has to straighten from this bent position, which requires the lower quadriceps muscles to do a lot more of the work.
These muscles are connected to and play a crucial role in the function—but also the support—of your knee joint. By strengthening them, you can increase your knee's resilience and strengthen the joint so it is less likely to be damaged by heavy loads or repetitive motion.
Walking backward also helps to increase the range of motion the joint is capable of, and strengthens the muscles through the full range of motion.
One study from 2019 looked at what effect walking backward had on the knees, and found that:
"The 6-week retro (backward) walking program compared with forward walking or control groups resulted in greater reduction in pain and functional disability and improved quadriceps muscle strength and performance in individuals with knee OA (osteoarthritis)."
Science!
⭐ Benefit #2: Train Your Brain
One of the most fascinating benefits of treadmill walking backward is the effect that it has on your brain.
Most of us take the act of walking for granted. After all, it's something we do all day, every day. It's an action as instinctive as standing up and sitting down. We don't have to think about it because our bodies have adapted to the motion over years or decades of life.
But it's actually a surprisingly complex activity. Your brain has to keep your visual system (eyes) working in coordination with your proprioceptive system (which maintains awareness of where your body is in its physical space, especially in relation to nearby obstacles) and your vestibular system (which sends sensations through your body relative to your movement, for example when you spin or twist).
You've gotten so accustomed to walking that your brain makes all these minute calculations in milliseconds, so it feels like "normal". But walking backward changes everything.
All the calculations your brain has been making are now reversed. You lean backward instead of forward. Your "movement" leg stretches out behind you instead of in front of you.
You move without clear visual cues of what's "ahead" of you because you don't have eyes in the back of your head. Suddenly, everything feels awkward and uncomfortable, like a new form of movement you're unaccustomed to.
Your brain has to adapt to this "new" form of movement, and in doing so, stretches and expands in the same way it does when acquiring new skills or absorbing new information.
It's a small change to your routine, but it can have huge benefits for your brain as you age.
⭐ Benefit #3: Burns More Calories
If you're focused on burning calories on the treadmill, you'll definitely want to walk backward.
As you well know, the treadmill is one of the best cardio machines for burning calories. You can walk, jog, run, or sprint, and adding some incline on the treadmill will only make the exercise more challenging—which, in turn, burns more calories.
But it turns out that walking backward on the treadmill can burn even more calories!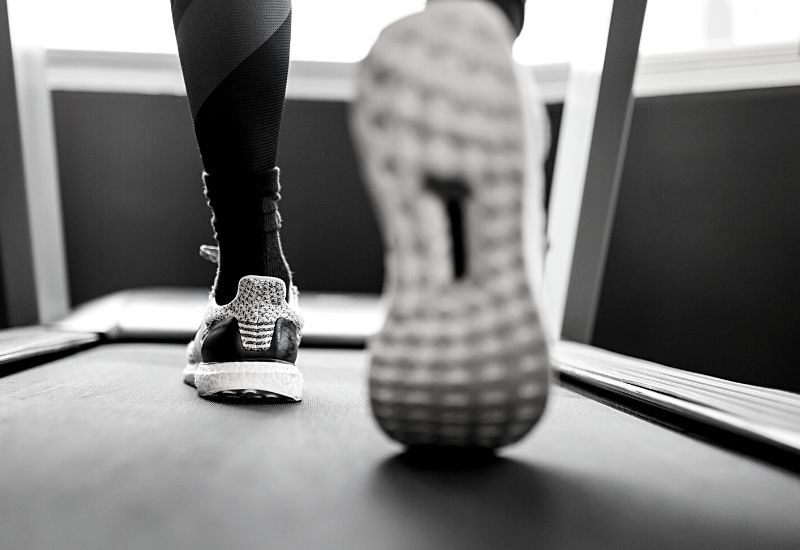 Research has shown that walking (and running) backward demands more of your body: more effort from your brain (as we saw above), more output from your cardiovascular system, and more energy from your muscles.
According to the ACSM Compendium of Physical Activities, walking forward at a standard pace (3.5 MPH) is ranked at 4.3 METs (metabolic equivalents), but walking backward at the same pace is ranked at 6.0 METs.
That's nearly a 30% increase!
If you want to max out your calorie-burning on the treadmill without having to push your pace to a full-on run, walking backward is the way to go.
⭐ Benefit #4: Improves Your Balance
According to the science, walking backward can go a long way toward helping to improve your balance, gait, and posture.
One study looked at patients who suffered from knee arthritis, and found that backward walking helped to reduce gait impairment and actually help them walk more efficiently despite the chronic joint condition.
Further research also found that walking backward was highly effective to help patients rehabilitate following a stroke. In fact, the backward walking helped them to recover their mobility overall, helping them to walk both forward and backward more effectively.
Because your brain has to re-train itself to make all those minute calculations that go into keeping your balance while moving (backward instead of forward), it can lead to significant overall improvements across every type of movement.
⭐ Benefit #5: Increases Hamstring Flexibility
One of the greatest benefits of walking backward on the treadmill is the loosening and engaging of your hamstrings.
Your hamstrings are very likely to tighten up and lose mobility among people who (like most of us) spend long hours sitting down every day. With no need to keep you standing upright because all your weight is supported by your chair, the hamstrings relax, weaken, and stiffen. When it comes time to move, they're less efficient and far tighter than you might like.
Walking, running, jumping, lunging, and other forms of movement can all help to loosen up those tight hamstrings, as well as strengthen them.
But backward walking, specifically, will focus on those hamstring muscles.
Each hamstring has to contract to pull your bent leg backward into every step; then it stretches out again when you straighten your leg and move into the next step. Repeated over the course of a long backward walk, you can see significant improvement in hamstring strength and mobility.
As you can see, there are a lot of reasons you should be incorporating backward walking into your workouts!
Tips for Walking Backwards on the Treadmill
If you've never tried walking backwards on a treadmill before, you might be worried it's a bit risky. After all, you could stumble, fall, and smack your head on the treadmill platform, or twist your ankle.
We've got your back.
Below, I'll share a few simple yet highly effective tips that will make your every walk on the treadmill safer, as well as more efficient at burning calories and moving smoothly.
⭐ Tip #1: Put the Safety Lanyard on Your Person
Most treadmills come with some sort of safety device, usually a magnet that connects to the console that, when disconnected, shuts off the treadmill.
If you're worried about stumbling or toppling, connect the safety lanyard (or string) to one of your belt loops, tuck an end into your pocket, or attach it to your belt or arm band.
That way, if you ever fall or stumble, it will disconnect the magnet and instantly switch off the treadmill.
Safety doesn't take a holiday!
⭐ Tip #2: Hold Onto the Rails
When walking forward on the treadmill, it's a terrible idea to hang onto either the side or front rails, because it throws off your gait and will negatively impact your knees.
When walking backward, however, it's actually the smart thing to do—especially in the beginning when you're just getting the hang of the motion.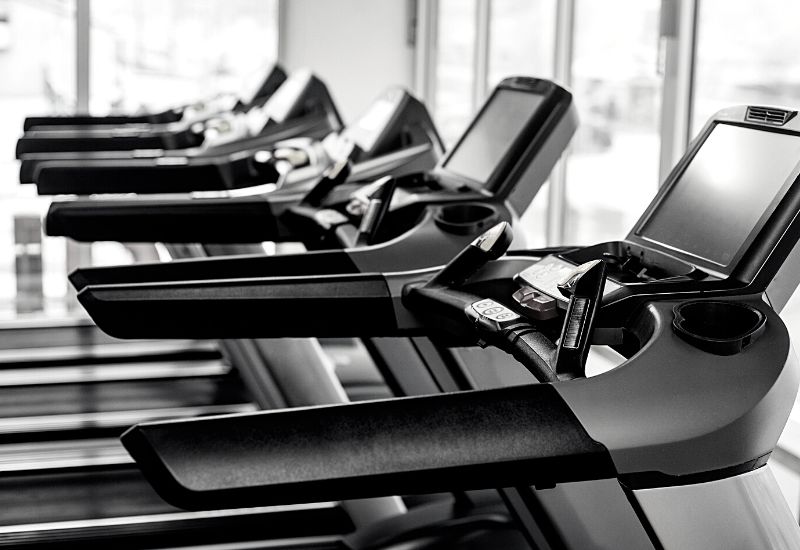 You can lean fully on the rails as needed, or just rest your fingers lightly on them to help you maintain your balance while walking backward. If you ever feel yourself stumbling, they'll be there to hold you up.
⭐ Tip #3: Start Off Slow
You may walk forward at 3.5 MPH (or even faster), but you should start walking backward at a much slower speed.
Remember: your body isn't yet adapted to this range of movement, and will struggle to maintain your balance. Trying to walk at your "normal" speed is all but guaranteed to leave you stumbling and fumbling.
Instead, slow it WAY down. Try setting the pace to a cool 2.0 MPH, and see how that feels. If it feels too slow, try raising it to 2.5 MPH.
You're not trying to speed walk, or even walk fast. The goal is to set a slow, steady pace that you can easily maintain for 15, 30, or even 60 minutes.
The backward walk will already be challenging enough for your brain and body both. Take it easy and work at a slow pace to start off with. You can always raise the speed as you adapt to the "new" and unfamiliar movement.
⭐ Tip #4: Take Smaller Steps
When forward walking, you have a "natural" gait, longer steps that feel comfortable. However, trying to take long steps backward is not at all a good idea. You'll be more likely to overextend your foot, bend too far forward, or lose your balance.
Focus on taking smaller steps when walking backward, at least initially. You can extend your gait if that feels more comfortable once you've mastered the movement.
To start, try to plant your foot just slightly behind your buttocks. That way, you maintain a stable center of gravity throughout the full range of motion.
Smaller steps will be easier to master, and will also help to work out your hamstrings, glutes, and lower quadriceps muscles more effectively with every step.
⭐ Tip #5: Lean Into It
As you grow more comfortable with the movement, you can lengthen your stride and start leaning backward a bit more. This is particularly helpful if you're going to walk using an incline treadmill (backward walking up a hill is amazing for your quads and shins!).
You've got the treadmill's rails to help you maintain your balance, so focus on taking longer steps and leaning backward into each step. You'll be able to pick up the pace and feel the greater engagement in the muscles around your knees.
⭐ Tip #6: Look Back Correctly
While on the treadmill, you don't really need to look backwards because you know you're walking in one straight line with no obstacles. When the time comes for a backward-walking workout outdoors, however, you'll need to be accustomed to looking over your shoulder so you can see who and what may be in your way.
One of the biggest mistakes you can make when backward walking is to twist your upper body to look behind you. This is all but guaranteed to throw off your balance and posture.
Instead, keep your upper body as straight as possible. Use only your head and neck to look back. If necessary—due to stiff neck muscles or limited spinal flexibility—twist your shoulders, but only as much as is absolutely unavoidable.
Ideally, you want to keep your upper body facing as straightforward as possible, making it easier to maintain your balance and proper posture.
⭐ Tip #7: Give it Time
Keep in mind that you're all but guaranteed to stumble and wobble a bit for your first few walking workouts. The movement is awkward because your brain just isn't accustomed to it yet.
The key is just to give it more time.
It's worth spending 10-15 minutes walking backward every single day. That way, you train your brain and body both through this unfamiliar variation on a very familiar movement.
Just like you'd have to practice running, spinning, kicking a ball, or swinging a bat, you need to practice walking backward until it feels as normal and natural as any other movement.
Walking Backwards on the Treadmill – FAQs
What muscles does walking backward on the treadmill work?
Walking backward shifts the focus from your upper quadriceps (the largest part of the leg muscles) to the lower quadriceps, near where they connect to your knee joint.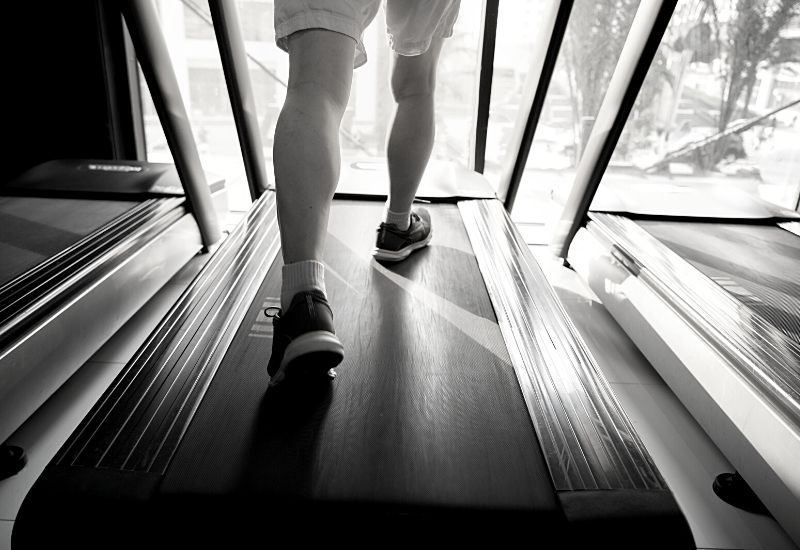 It will also pay attention to the glutes and hamstrings, the "antagonist" muscles to the quads (on the backs of your legs).
Strengthening both the posterior and anterior leg muscles will do wonders to increase knee resiliency, because the joint is supported by stronger, more flexible muscle fibers.
How often should I walk backward on the treadmill machine?
The more often, the better!
You'll need to give your body time to adapt to the movement. Just like as you walk daily, you should make it a point to walk backward daily, too.
Even just 10-20 minutes per day (roughly 1 mile) may be enough to obtain all the benefits listed above and set your brain and body down the path to growing accustomed to and comfortable with the movement.
Within a few weeks (or months), walking backward will come to feel much more normal.
The Bottom Line
I hope it's clear by now just how amazing walking backward can be for your fitness and overall health.
Not only will it strengthen the muscles that support your knees, but also increases flexibility, improves your balance and posture, and burns more calories.
Best—and, perhaps, most importantly—of all, it will increase brain flexibility the same way learning a new skill or movement pattern does, helping to combat the cognitive decline caused by aging.
All pretty epic reasons you should start walking backward today!
---
More Treadmill Guides and Articles
5 Best Treadmill Workouts for Weight Loss (Plus Tips for Turbocharged Weight Loss). Looking for some killer treadmill workouts for weight loss? Here are five weight loss workouts you can do on the treadmill, plus some tips for getting the most of your time on the treadmill.