Weight sleds are a killer way to improve speed, power, and torch calories. Here is a breakdown of the best weight sleds for push and pull training.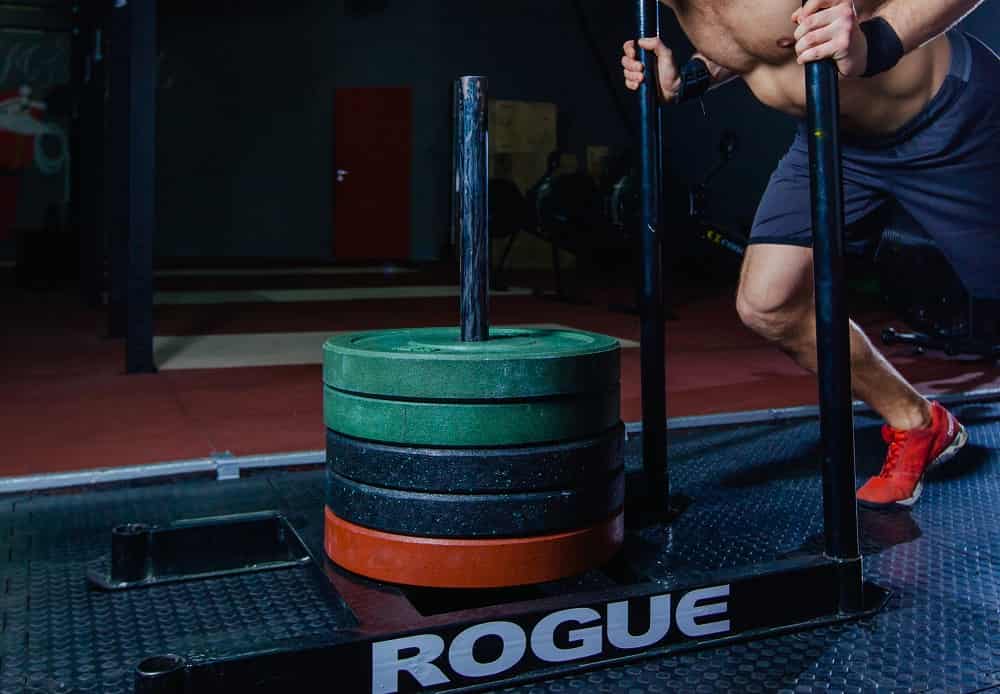 Weight sleds are one of the best pieces of fitness equipment and one that every athlete should have in their arsenal.
There are a lot of reasons why the weight sled is an integral part of my training:
⭐ Builds horizontal power. In the gym we are generally lifting stuff up and down. But that doesn't reflect most athletic activity. Load up the sled with bumper plates or cast-iron weight plates and unlock horizontal speed and power, especially acceleration power.
⭐ Low impact. Unlike the big, heavy lifts—squats, deadlifts, bench—it's pretty hard to hurt yourself doing sled pulls and pushes. I'm sure you can, obviously—I'm not challenging you to train without properly warming up and progressing properly—but the sled makes it less likely to land yourself with an ouchie versus big compound lifts.
⭐ Speed, power, and endurance. Load up the sled with as much weight as you can for quick, pure power reps with lots of rest. Or unload it and do 20 minutes of push\pull sledding for a fat-shredding aerobic workout. Weight sleds provide an endless number of training modalities.
⭐ Fires up a TON of muscles. Your core lights up, and your entire posterior chain, from your glutes to the calves, upper back, and even your arms (when you push with straight arms) all engage to help you move weight horizontally. Sled pushes develop terrific power and light calories on fire.
Okay, honestly, I could go forever on why I love these bad boys.
But that's not what you came for.
Here is a breakdown of the top-weight sleds for push and pull training.
---
miR Weight Sled
⭐ Best portable and budget-friendly weight sled
Awesome fitness gear is all about doing the simple things really, well, awesome. And that's just how miR's weight sled does it.
Perfect for novice and intermediate athletes, or athletes who want to move lower amounts of weight very, very fast, the miR has a single-pronged sleeve for loading up to 200lbs of plates. The prong is tall enough that it can be used to push the sled. Only complaint is that there isn't a handle attachment to place the hands palms down.
Included is also an adjustable weight harness, and a variety of carabiners on the vest so that you can pick and choose the angle of resistance on the sled.
The miR Weight Sled is super portable, comes with everything you need to get push-pulling immediately, and with a price of around $60 (check here for Amazon's most recent price), miR nails the whole "doing it awesome" thing.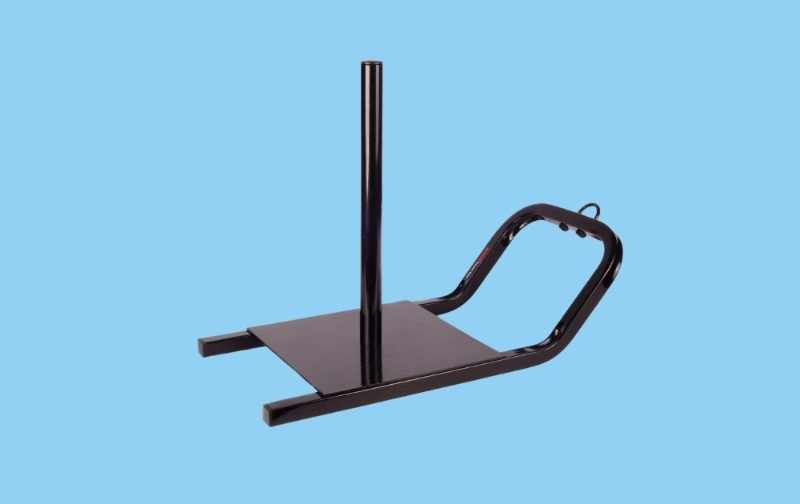 ---
Rogue Butcher V2 Weight Sled
⭐ Best heavy-duty pushing sled
Rogue makes fitness gear that is essentially bombproof. Fabricated in the USA with North American steel, Rogue's stuff is durable, quality, and ready for battle.
The Rogue Butcher V2 Weight Sled is another example in a long line of superior equipment, including their adjustable weight bench and trap bars, both of which I love.
The sled itself is over 70lbs, giving you a head start on loading weight plates. Two different hand grips give you a variety of grip choices. And the feet can be configured with plastic skis for use on concrete and other hard surfaces.
I've never had an issue assembling Rogue gear, and the Butcher is no exception. Assembly took under fifteen minutes, and I was off and running. Well, maybe not running, but pushing.
Available for $265, Rogue knocks it out of the park with this absolute beast of a sled.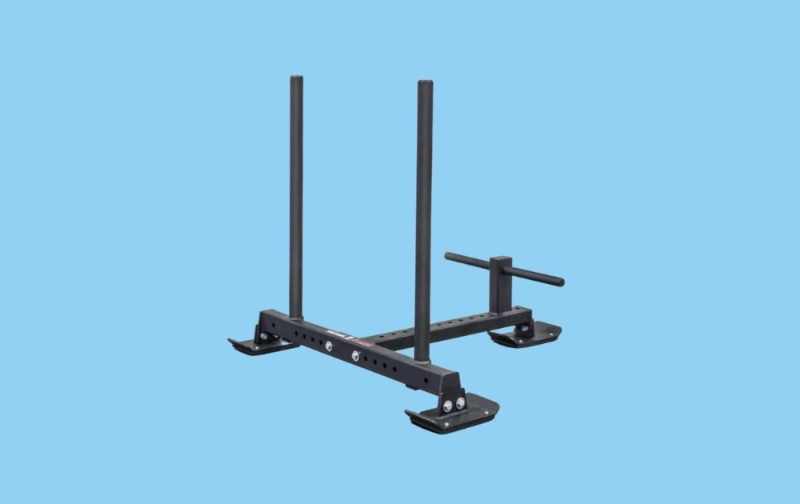 ---
Rage Fitness R2 Weighted Training Pull Sled
⭐ Best pull sled for sprint training
One of the problems with weight sleds is that they generally aren't that portable. Even though I am borderline obsessed with the Rogue Butcher sled (more on that later), it's not practical for going portable with workouts.
Developed strictly for pulling, the Rage Fitness R2 will help you develop upper and lower body strength and explosiveness, and you can throw it in the back of your truck or car when you are done.
The sleeve can accommodate up to three 45lb bumper plates. The sled itself is made of heavy-duty steel, the adjustable harness is made of polyester and is buckled to the sled with a pair of carabiners.
While the sled is primarily designed to be used on a field or on an artificial turf, you could theoretically add some PVC piping to the bottom to protect it from getting scratched up on concrete.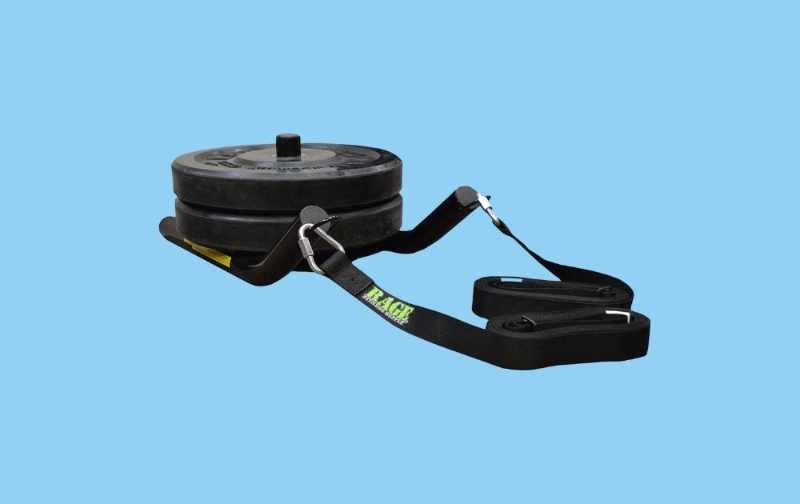 ---
Titan Fitness HD Weight Sled
⭐Best budget-friendly push-pull sled
Titan Fitness makes excellent gear for both commercial and home gyms. I've tried and enjoyed their wooden gymnastic rings and the Titan lat pulldown bar is one of my favorites.
That said, the Titan HD Weight Sled falls short in a couple of key areas.
Compared to similarly priced sleds (the Rogue Butcher, ahem), the build isn't as quality with holes not properly lining, making putting together the sled far more arduous than necessary. It took me a couple of hours and a trip to the hardware store to buy additional washers to put it together.
Additionally, the sled did not come with paper instructions. You will have to hit up their website to print them out in advance so that you have them ready.
Once properly assembled, however, the Titan sled does the job. Plastic skids on the feet (sold separately) allow use on concrete, and the weight horns can load up a ton of plates.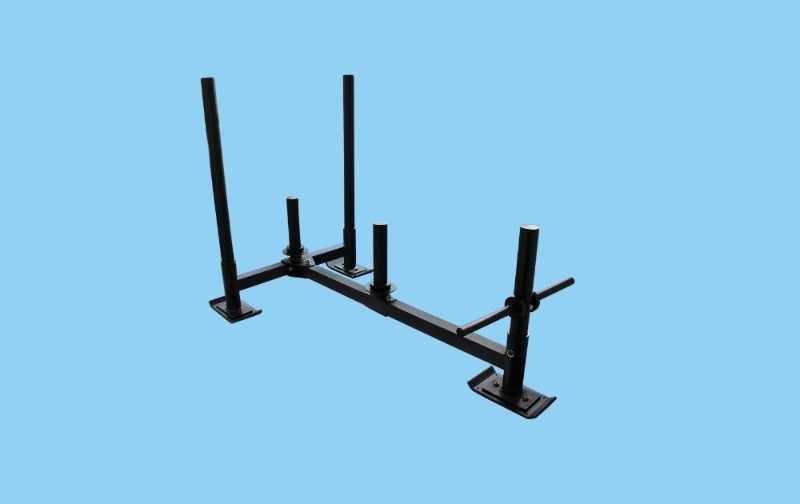 ---
REP Fitness Prowler Weight Sled
Made with heavy-duty steel, the Rep Fitness Weight Sled is a monster that can be pulled or pushed for a correspondingly monster workout.
The feet of the sled have removable plastic ski pads so that you can use it on the driveway or a local parking lot. The frame and parts are backed by a five year warranty and can handle up to 600lbs of weight plates at a time.
The Rep Fitness sled has two other features that stand out.
First, the weight horn is collapsible, which I appreciate. This makes the sled easy to store between glute-busting workouts and also make it portable.
And second, the Rep Fitness Prowler Weight Sled is a feature-rich sled that isn't going to decimate your bank account.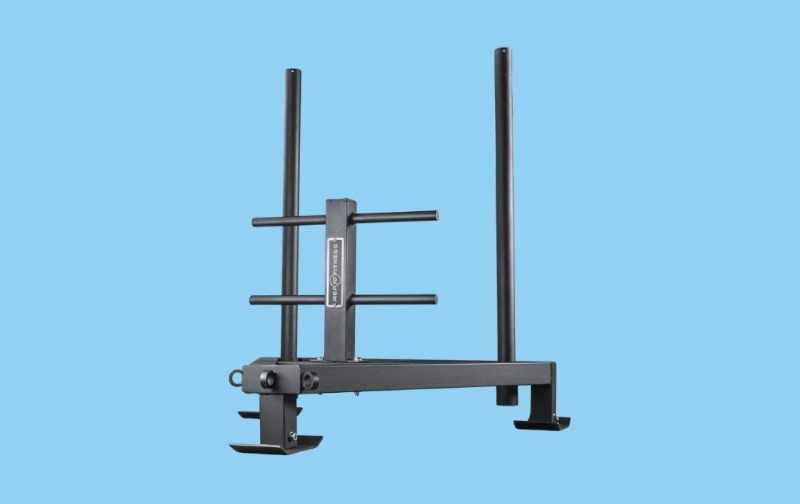 ---
Push Pull Weight Sleds — FAQ
What are the different types of push pull weight sleds?
Weight sleds can generally be split into two categories:
Push-pull sleds. These are larger and can be used as a pulling sled (with a belt and nylon cable attached to the sled) or using the handles to push it across the gym. These sleds are heavy, often with a starting weight of 50lbs or more. Push pull sleds can handle a ton of weight and are the best option for developing brute power.
Pull sleds. These are smaller, typically slightly larger than a 45lb weight plate, and are designed primarily for pulling movements, such as bear crawls, sprinting, and some upper body exercises with the proper handles. Pull sleds are much lighter and portable, making them a great choice for home gyms and people who like to train outdoors.
Ultimately, the best weight sled for you is the one that matches your workout goals, training location, and budget.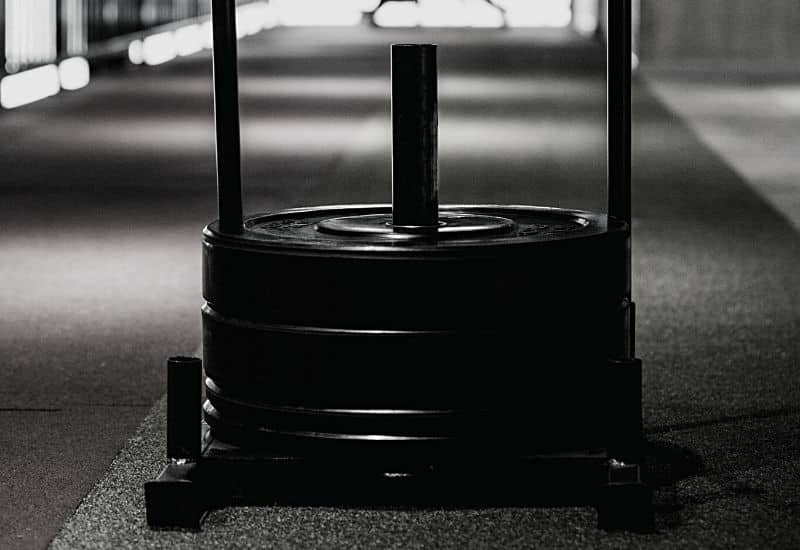 Can you use a push pull sled for losing weight?
Yes! One of my favorite ways to train with a weight sled is for doing interval training.
What does this look like?
Add some weight to the sled and do a series of 30 to 40 yard pushes (or pulls if using a pull sled) with it, resting for :20-:30 after each rep. This will give you a solid 20 minutes of HIIT training that will send your metabolism into overdrive for 48-72 hours.
The key is adding some resistance to the sled but not so much that you cannot complete a round of the HIIT protocol.
The Final Rep
Push pull sleds are an excellent tool that can service a wide range of training goals.
Want to be more explosive on the field? Weight sleds can help.
Develop highly functional upper and lower body strength? Yessir.
Burn a metric ton of calories without having to spend endless hours on a cardio machine? Yup, it can do that, too.
To recap our top choices:
The MiR Weight Sled is a budget-friendly option that does the basics of a push and pull sled at a low price point. The portability is also a huge plus.
For brute strength and power, the Rogue Butcher V2 Weight Sled is an absolute tank. It is designed for peak power production and is built with Rogue's legendary commitment to excellence.
The Titan Fitness HD Weight Sled is a budget-friendly prowler that will save you a few bucks, while sacrificing some of the build quality of the Butcher V2.
Choose the best weight sled for you and happy training!
---
More Guides and Resources Like This
7 Best Battle Ropes for Upper Body Strength and Endurance. Battle ropes are a killer way to get in, well, killer shape. Read on for a full breakdown of the best battle ropes for every kind of athlete and gymgoer.