The Sole ST90 is a game-changer for runners looking for more comfort and faster running. Read on for a hands-on review of the Sole ST90, including pros, cons, the competition, and why it's the best flat slat belt treadmill on the market.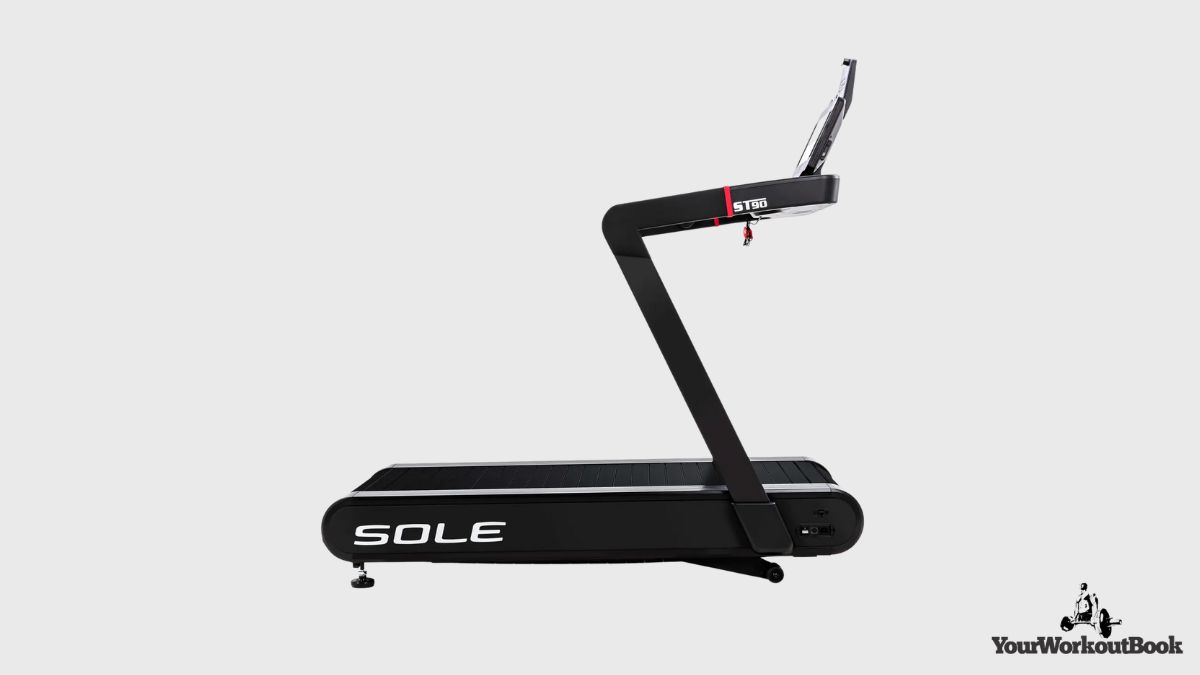 The Sole ST90 Treadmill is a slat belt treadmill that runs smooth, is priced much less expensive than other slat belt treadmills, and is perfect for more serious runners.
Having tested 90+ types of treadmills over the years, the Sole T90 is hands-down the best slat belt treadmill on the market for home gyms. It's priced super reasonably, has tons of excellent training features such as a manual option, incline settings, and has a big touchscreen for immersive training and streaming.
In this review of the Sole ST90, we put down some miles on this treadmill to see how it performs compared to other slat-belt treadmills, the pros and cons of the machine, and who it's perfect for.
By the end, you will have a crystal-clear idea of whether the Sole ST90 Treadmill is right for you and your fitness goals.
Let's jump right in.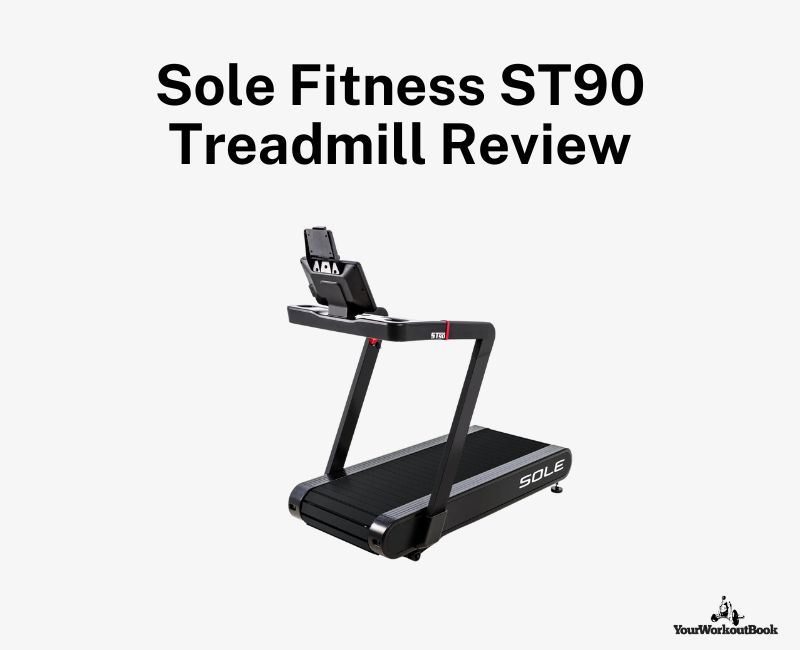 Sole Fitness ST90 – The Key Specs
First, let's get a quick overview of the key specifications of the Sole ST90 before we jump into how it performs.
Price: $3,499
Running deck: 22" x 60"
Incline: 0-15 degrees
Motor: 2.0 HP (AC Motor)
Screen: 10.1" HD touchscreen
Speed: Up to 12.5mph
Weight capacity: 330lbs
Machine weight: 376lbs
Footprint: 70" x 33.5"
Folding: No
Step-up height: 10"
Warranty: 5 years frame/motor, 3 years deck/electronics, 1 year labor
WiFi and Bluetooth: Yes
Immersive training: Sole+ training app
Sole ST90 – The Pros
Having used the Sole ST90 for a period of three months, there were some things that I really liked about the treadmill.
From pricing to robust build quality, the Sole ST90 offers a wide range of features that can take your running and walking workouts to the next level.
The key pros included:
Best-priced slat treadmill on the market
Before we get into what I like about running on the Sole ST90, let's address the sticker price. At $3,499, it's way more expensive compared to a standard motorized treadmill, but that's because it's not a standard treadmill…
The Sole ST90 uses a slat-belt design, with the belt made of rectangular-shaped pieces of rubber that rotate smoothly around the rollers on the treadmill. This type of belt is more comfortable than traditional treadmill belts, reduces wear, and is quieter, but slat-belt treadmills tend to be WILDLY expensive, with some costing as much as $18,000 (yes, that's not a typo).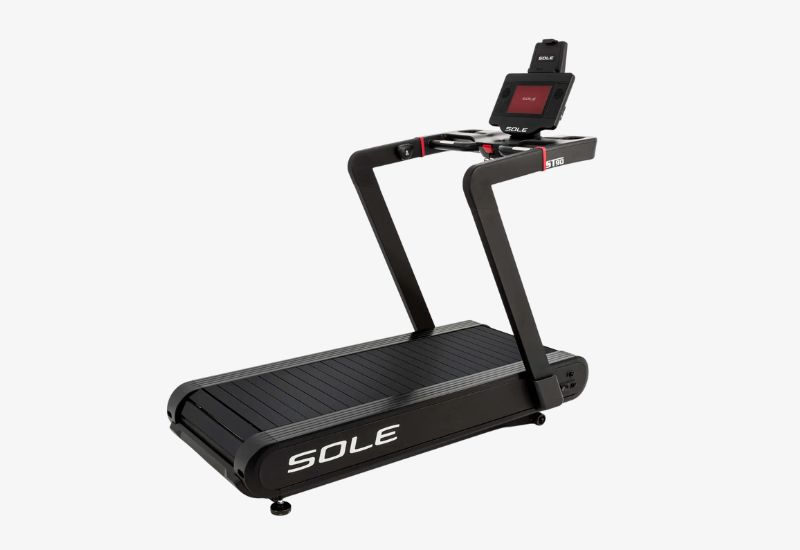 I'll compare the prices of the Sole ST90 versus comparable models in a bit to give you a better idea of how pricey this type of treadmill can be.
But when it comes to flat slat-belt treadmills, the Sole ST90 is by far the least expensive option out there.
And because it's a Sole Treadmill, one of the most reputable treadmill brands on the planet, you get the double whammy of saving a ton of money and excellent performance.
Motorized and manual combo treadmill
While the motorized vs. manual treadmill battle rages on, the Sole ST90 ends the debate by incorporating both into the same machine.
Yup, it's true…
You can use the 2.0 CHP AC motor to propel the belt up to speeds of 12.5mph, perfect for speed and pace training, or you can set it to manual mode and crank up the difficulty and calorie-burning.
Using the manual mode and cranking up the incline is a killer way to burn more calories on the treadmill and also mix up your regular running workouts with something that is less strenuous on the joints while still a great workout.
This two-in-one functionality is one of the things that I like most about the Sole ST90 as it can meet the needs of a variety of users (my wife and I use the ST90 for very different types of running workouts) and puts it into a category of its own when it comes to treadmill shopping.
Way smoother running experience compared to 1-ply and 2-ply belted treadmills
The Sole ST90 uses a slat-belt design that differs significantly from regular treadmills (and the 1-ply or 2-ply nylon/polyester belts), both in terms of function and comfort.
The belt on the Sole ST90, made of a series of rubber slats, runs much more smoothly around the rollers of the treadmill.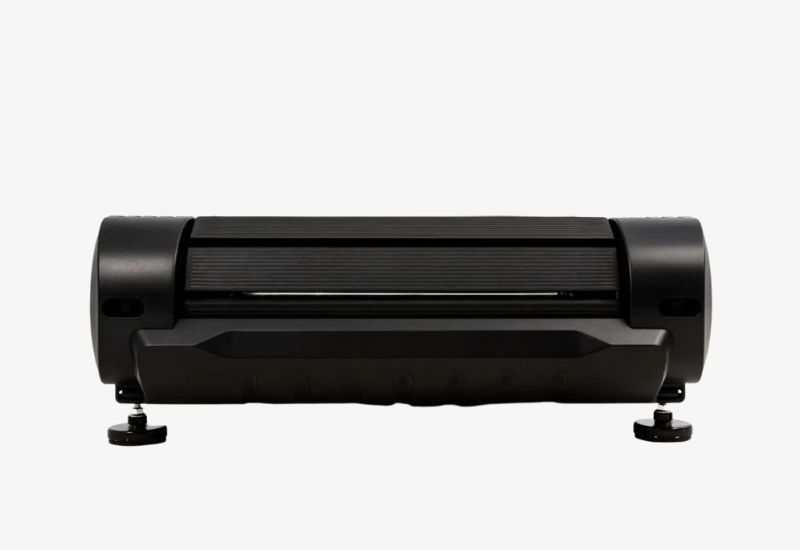 This type of belt design, patented by a German named Willi Schoenberger, grew out of his frustration with existing treadmills that were hard on the joints and with belts that rolled haphazardly. Instead of a belt, the design of a tread emerged, and what resulted was the original slat-belt treadmill, the Woodway.
also softer, which I really like as a heavier fella who likes doing a lot of sprinting. The softer tread makes it feel like you are running on a track.
The Sole ST90 has an incline setting
One of the limitations of most slat-belt treadmills is that they have a curved design that cannot be tilted upwards to generate more resistance on an incline.
While a curved treadmill is great for some runners—they are a more difficult workout and are a great way to increase VO2 max levels—the curved design limits functionality like incorporating an incline.
The Sole ST90 has an incline setting that can be cranked up to 15-degrees for instnalty injecting more resistance and difficulty to your running or walking workouts. Want to do some hills ot really hammer the glutes and hamstrings? Turn up the incline. Want to do a steady-state walking workout for 45 to 60-minutes at a vigorous pace? Turn up the incline.
While one of the major benefits of curved treadmills is being able to sprint in an ergonomically functional position, they suck for longer, steady-state walking workouts. The Sole ST90 gives you the best of both worlds—a treadmill that is soft enough for high-impact sprint workouts while also not sacrificing the incline for walking workouts.
10.1" High-Definition Touchscreen
Sole Fitness has been a bit behind the times when it comes to updating the screens on their cardio machines. I'm pleased to see that they have started upgrading older models (the F80 and F85 just got new, crisp touchscreens to replace the old LCD screens).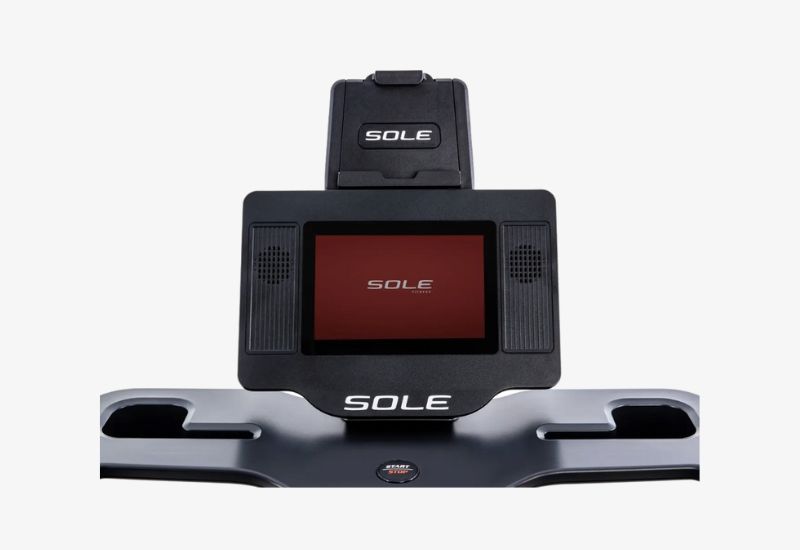 The Sole ST90 being one of their newest treadmills, it already comes with a high-definition touchscreen that can be used for streaming all of your favorite shows and also for Sole's online workout portal, called STUDIO.
See also: The Best Treadmills with Screens for Home Gyms: Online Workouts, Streaming, and TV
With a subscription to STUDIO, you can access thousands of trainer-led classes, pre-loaded workouts, and various "around the world" trails and locales.
Made for speed – up to 12.5mph
The Sole ST90 is the fastest of all of Sole's treadmills, which otherwise top out at 12mph. The maximum speed of 12.5mph is ideal for more experienced runners who want to get their speed on.
Heavy-duty design (376lbs!)
The Sole ST90 is built like an absolute tank. There's no getting around the fact. It weighs over 375lbs when fully assembled——and does not rattle or shake at all when in use.
Even when maxing out the speed for some treadmill sprint workouts on the ST90 produced no clanking or shuddering. This design of the Sole ST90 is commercial-grade and the added weight of the machine helps to ensure that you can run and walk on it for extended periods of time with full confidence.
Sole ST90 – The Cons
While there is lots to love about the Sole ST90, there are some downsides to it.
They include:
Pricey for the casual treadmill user
Even though the Sole ST90 is inexpensive by slat belt standards, it is ultimately not inexpensive. This goes particularly for the occasional runner or walker.
For the person who wants to do some casual walking or jogging workouts from time to time, a $3,499 price tag is overkill. There are plenty of cheap treadmills tailored for the leisure runner.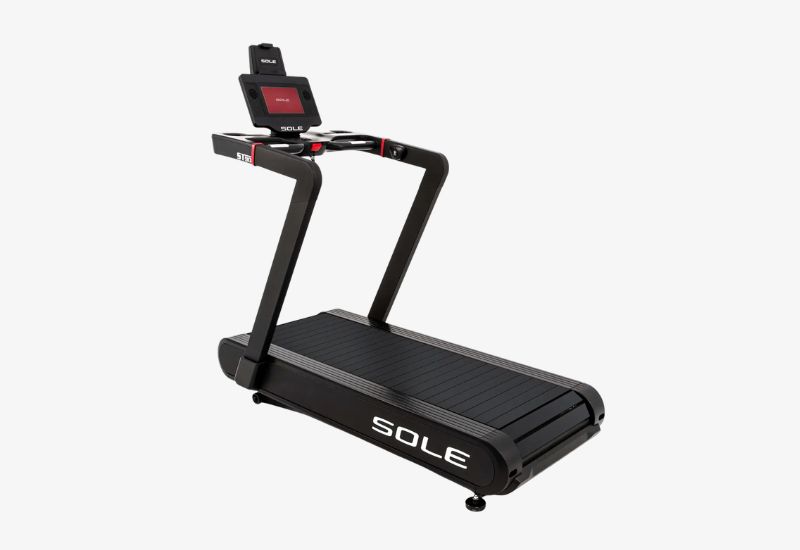 No fan
The Sole ST90 does not have a built-in fan on the console. Let's be honest: most treadmill fans are not much more than dust-pushers, anyway, but that added little extra breeze would be nice for summer days working out in the garage.
Warranty is not as awesome
Sole Fitness has some of the best warranties in the business. Sole treadmills almost universally feature a lifetime warranty on the frame and motor.
Not so with the Sole ST90, which has just 5-years on the frame and motor, three years for the electronics and running deck, and a year on labor.
Hard to move
One of the benefits of the Sole ST90 is the heavy-duty build and overall weight of the machine. At 376lbs, you get a shudder-free running experience.
Moving it, however, is not easy. And when it comes to the treadmill being delivered and assembling, it's definitely going to be a 2+ person job.
Not foldable
The Sole ST90 is not foldable. Foldable treadmills are a great option for shared spaces and tight rooms, but when it comes to the ST90, you will need the full footprint at all times.
Sole ST90 – The Competition
Curious to see how the Sole ST90 stacks up against the competition?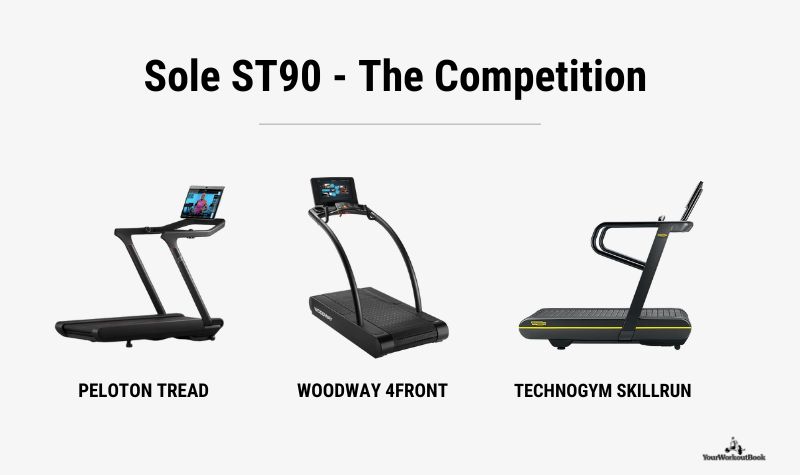 Here's a look at the ST90's competitors, including a breakdown of key features:
Peloton Tread
The closest rival the Sole ST90 had in terms of price and functionality is the Peloton Tread. It looks great, has a power incline feature, beautiful screen, and a 3.0 CHP motor that purrs like a kitten. It retails for around $3,500, which is the same as the Sole ST90.
Peloton is a better option for people who love doing online classes, although the added cost of the subscription is often a turn-off for those who don't need the immersive workouts and classes.
Woodway 4Front
Woodway is the original company to produce slat belt treadmills. The latest edition of its flat slat belt treadmill is the 4Front, which is an absolute beast of a machine and is designed for commercial settings.
It starts at around $14,000 and a has a huge running deck (22" x 68"), similar warranty to the Sole ST90, and a wide range of optional add-ons like upgraded screens (up to 21"), and optional decline (-3) and increased incline (up to 25-degrees).
Technogym Skillrun
The Technogym Skillrun is another commercial-grade flat belt slat treadmill that starts at $18, 550. Like the Woodway 4Front, it has a huge running deck (22″ x 68″), tons of decline and incline features, and the highest maximum speed (18.6mph) of any treadmill I've ever come across.
Here is a more detailed comparison of how the Sole ST90 compares against the competition:
| | | | | | | |
| --- | --- | --- | --- | --- | --- | --- |
| TREADMILL | Motor | Running Surface | Screen | Incline | Speed | COST |
| Sole ST90 | 2 HP (AC) | 20" x 60" | 10.1" | 0-15 degrees | 0-12.5mph | $3,995 |
| Peloton Tread | 3.0 CHP | 20" x 59" | 24" | 0-12.5 degrees | 0-12.5mph | $3,495 |
| Woodway 4Front | 2 CHP | 22" x 68" | Up to 21" | -3 to 25 degrees | 0-18mph | $13,995 |
| Technogym Skillrun | 10 HP (peak) | 22" x 68" | 10" or 19" | -3 to 25 degrees | 0-18.6mph | $18,550 |
The Final Verdict
Ultimately, the Sole ST90 is very impressive treadmill that delivers increased comfort and speed for runners without having to level your bank account.
Having tested it out and liked it, recommending the Soel ST90 for the more experienced runner is easy.
While it may not be the perfect treadmill for casual users or people seeking a folding or portable treadmill, the Sole ST90 excels as the best flat belt treadmill on the market.
| | |
| --- | --- |
| ✅ PROS | ❌ CONS |
|  Best priced slat treadmill on the market |  Too pricey for casual runners |
|  Motorized and manual combo treadmill | No fan on the console  |
|  Significantly smoother than traditional treadmill belts |  Not foldable |
|  Power incline of up to 15-degrees | |
| 10.1″ HD screen for streaming and online classes | |
---
More Treadmill Guides and Articles
How Much Do Treadmills Cost? (90 Different Treadmills Compared). The treadmill machine is a killer tool for better health and improved fitness. But knowing how much you should spend on a treadmill can be tough. Here's your ultimate guide to how much treadmills cost and how much you should spend on one.
Treadmill Machine vs Outdoor Running – Which is Best for You? Running on a treadmill and running outdoors have a lot of benefits. But they differ in some very key ways. Read on to see the best option for you and your running goals.