Looking for a treadmill that is big on performance and features but small on footprint? Read on for an expert's guide to the best folding treadmill for small spaces, whether for walking or endurance running.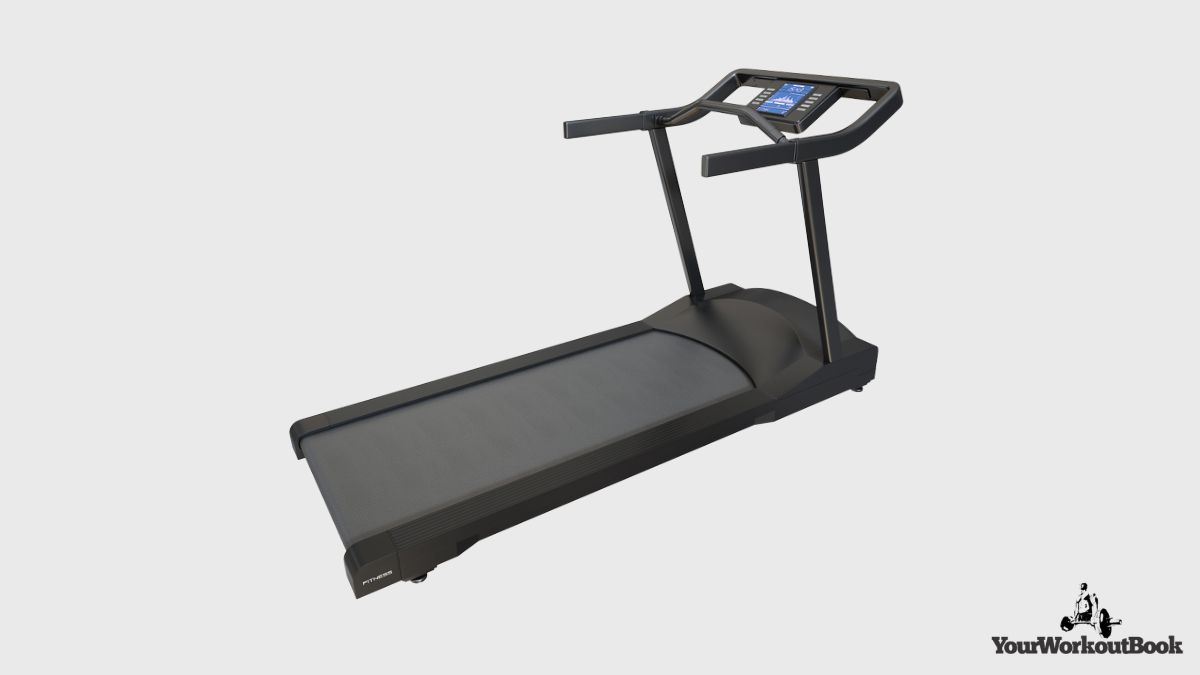 The treadmill machine is an excellent addition to any home gym. While you don't get the same fresh air of running outdoors, the benefits of a treadmill include running and walking year-round, setting the perfect speed, using inclines and declines, reducing joint impact, catching up on your favorite shows, and so on.
But what is not so awesome is how much space a treadmill can take up.
There's no getting around it—to accommodate a runner's gait, the machine must be fairly long, taking up a lot of room in your home. And that's not including the treadmill's frame, console, motor, handles, and other parts.
Fortunately, there are some excellent treadmills that can be folded up between runs and walks to maximize the space in your home. Folding treadmills are a great option for multi-use rooms like a bedroom, rec room, or garage.
Over the years, we've tested and reviewed over 90 different treadmills. Below is a breakdown of the best folding treadmills for smaller spaces, including the key things to look for and more.
Get ALL the benefits of running and walking with half the footprint.
Let's get started.
---
The Best Folding Treadmills for Smaller Spaces
XTERRA TR150 Folding Treadmill
⭐ Best budget-friendly folding motorized treadmill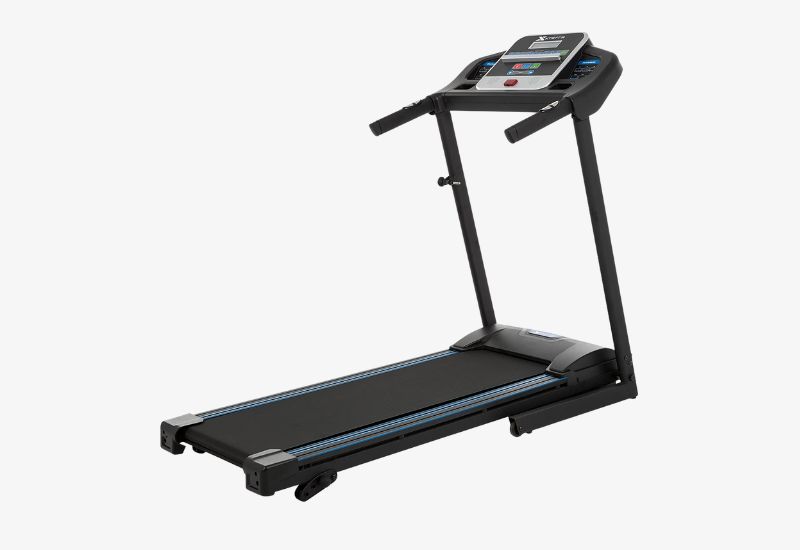 Key features:
Price: $375
Motor: 2.25 CHP (up to 10mph)
Running Deck: 16" x 50"
Incline: 3 levels
Max user weight: 250lb
Footprint: 28.75" W x 63.4" L x 51.4" T
Footprint (folded): 28.5" x 28.75"
The XTERRA TR150 is an extremely budget-friendly folding treadmill that has a lot of performance features with a tiny footprint when folded up. It's also one of the best treadmills available on Amazon.
The TR150 folds and unfolds easily with a lock pin on the side of the treadmill. The footprint of the treadmill is just 27.5" x 27.5" when folded up. The light frame—about 100lbs—and transportation wheels make it very easy to move around the room when it's time to do a workout.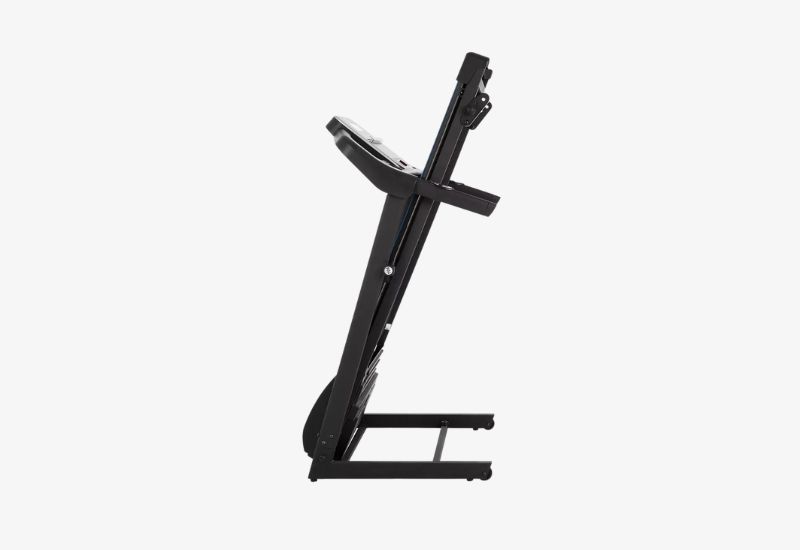 In terms of performance, the TR150 is surprisingly good. The running belt isn't huge; at 16" x 50" this is smaller than you'd see on a treadmill at your local gym, for instance, but with this price tag, it's hard to complain.
The treadmill also has three manual incline settings and a cushioned deck to reduce impact and shock on your joints.
The console is basic but has a lot of one-touch workouts and functionality, perfect for people who want to get on the treadmill and get after a workout.
Assembly is a breeze (can't say that very often when putting together low-priced cardio machines), taking just five steps. The treadmill comes largely assembled; most of the installation is bolting the uprights to the deck and the console to the uprights.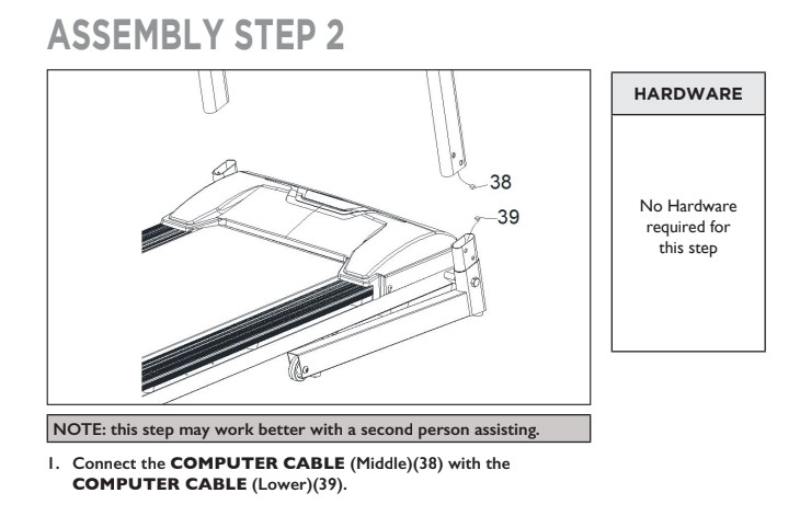 Altogether, I have to say I was really surprised by how functional this treadmill was. Easy to assemble, easy to use, and takes up very little room when not in use.
The weight limit is a little lower, at 250lbs, as you might expect with an entry-level treadmill, making it a less-than-ideal treadmill for heavier users, but for the rest, you can't beat the price and performance.
| | |
| --- | --- |
| ✅ PROS | ❌ CONS |
| High-performance features at a budget-friendly price | Relatively low weight limit (250lbs) |
| Easy to fold and unfold | |
| Very small footprint when folded (28.5" x 28.5") | |
| Long running deck (50") | |
| Cushioned deck to reduce joint stress and impact | |
---
Sole Fitness F65 Treadmill
⭐ Best folding treadmill that feels like a commercial-grade treadmill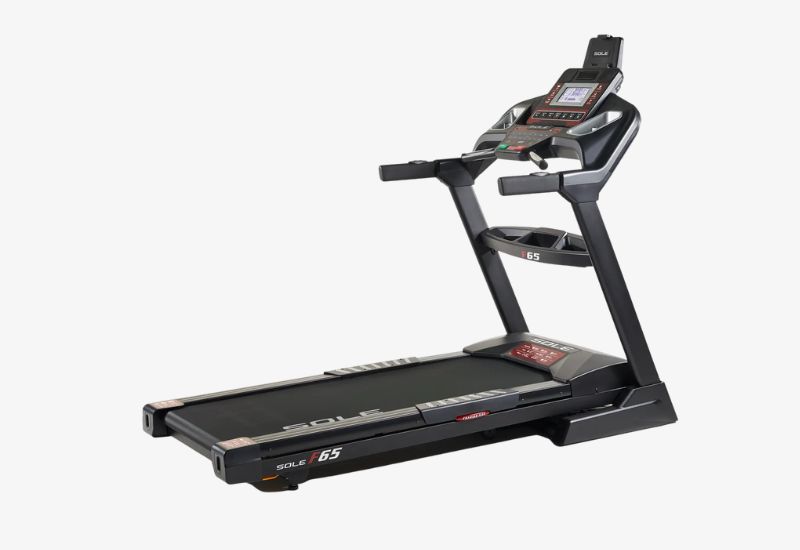 Key features:
Price: $1,499
Studio-grade treadmill for home-treadmill pricing
Lifetime warranty on frame and motor
38″ x 42.5″ footprint when folded
Sole Fitness is one of the best treadmill brands on the planet, making top-tier treadmills for home users (as well as a couple of treadmills for commercial settings). The Sole F65 is a perfect blend of commercial-grade construction with residential-grade pricing.
With a 330lb weight capacity, extra-large running deck of 22" x 60", and yes, a folding design, it's my top pick for the best heavy-duty folding treadmill for home use.
See also: Sole Fitness Treadmills Compared — Which One is Best for You?
Let's start off with how easy it is to fold and unfold. A small latch on the back of the treadmill lowers the running deck (unassisted, by the way), to about waist-level, and from there, it's an easy descent to the floor. When your running workout is done, simply lift the back of the running deck until you hear the telescoping tube lock into place.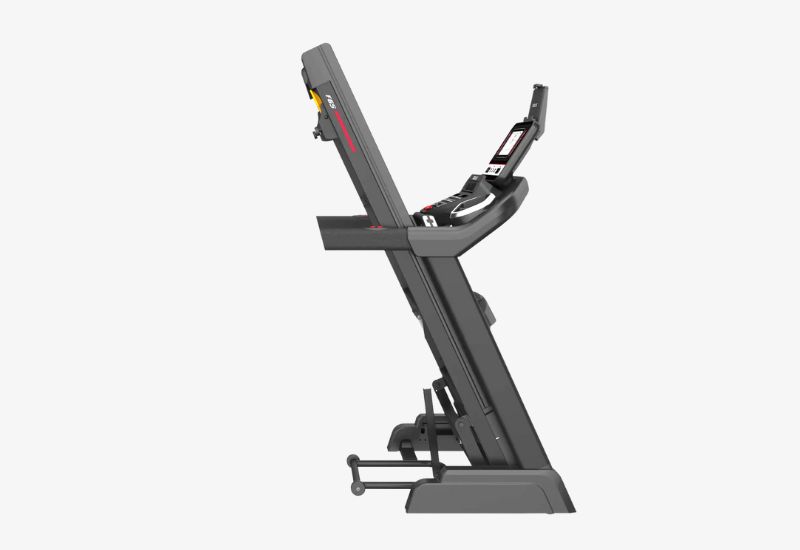 Even though the Sole F65 is a heavy treadmill machine—it weighs 267lbs—most of the weight is centered at the front, so folding it up and down isn't as scary or as hard as it looks.
The footprint when in use is 38" wide x 82.5" long x 67" tall, which is the same length and size as the commercial treadmills you see at your local gym. When folded up, the footprint shrinks to 38" x 42.5", representing about a 45% decrease in floor space requirements.
Other performance features of the Sole F65 Folding Treadmill include a 9" LCD display (which tracks all the usual stuff: heart rate, distance, time elapsed, etc), it's Bluetooth compatible, has a heart rate monitor, and it runs fast and smooth on a 3.0 HP motor.
In terms of warranty, no one beats Sole. They back the frame of the treadmill and the motor for life. Parts for two years, and labor for a year.
I love the fact that Sole makes heavy-duty cardio machines and then gives me the peace of mind to know that if the two most crucial parts of treadmill break down, it's covered.
| | |
| --- | --- |
| ✅ PROS | ❌ CONS |
| Cost-friendly for such a sturdy treadmill | It's heavy; once parked, it will be hard to move |
| Folds up in almost half the size | |
| 3.0 HP motor for smooth running | |
| Lifetime warranty on the frame and motor is easily the best in the biz | |
---
Sunny Health and Fitness Asuna Space Saving Treadmill
⭐ Best folding flat treadmill for walking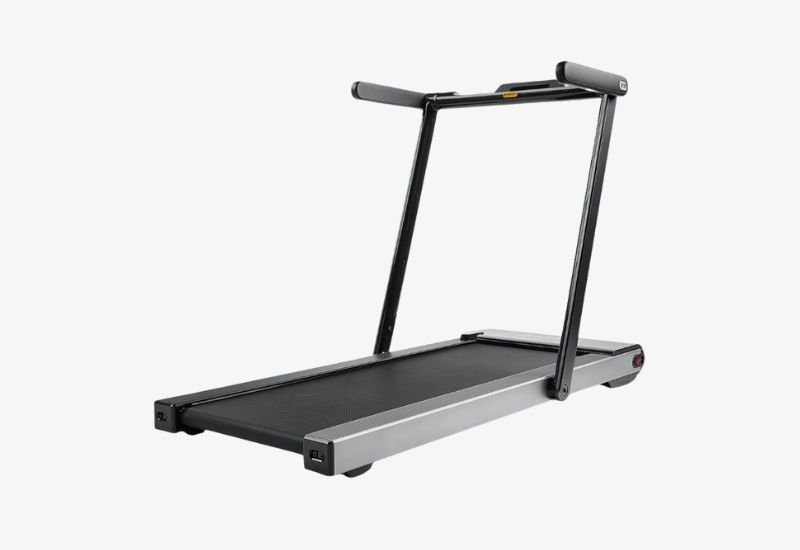 Key features:
Price: $399
Footprint: 30.5" W x 59" L x 40" H
Footprint (folded): 30.5" W x 64" L x 5.25" H
Running deck: 17.75" x 49"
Unit weight: 95lbs
Warranty: 5 years on the frame, 180 days on parts
The Sunny Health and Fitness Asuna Space Saving Treadmill is a sleek, slim, and surprisingly durable treadmill machine that can be tucked under a bed, stored vertically, or simply flat when not in use.
The Asuna Space Saving Treadmill has a very low step-up height—just 3.9"!—and is also absurdly inexpensive at around $400, making it the best motorized treadmill for walking that you can stash under a bed.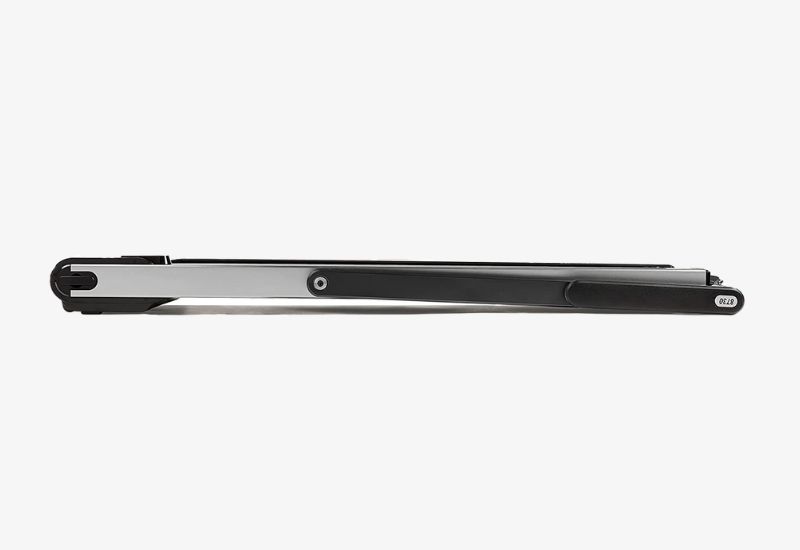 Portability is a breeze as the treadmill has wheels on the bottom and side of the machine. The display is simple but looks great, with a crisp LCD readout of your workout stats. And there is a ledge for parking a smartphone or tablet to catch up on your favorite show.
Changing from flat mode to performance mode takes less than a minute. The treadmill comes with a key that locks the frame in place when folded.
All that said, as bigger fella, this treadmill was outside of my weight class (the maximum weight capacity is 220lbs).
My wife tested it for several weeks and was very pleased with the stability of the deck, how smoothly the motor changed between speeds, and how easy it was to tuck away between runs and walks.
Runners and walkers will be a little disappointed in that there is no incline setting on the Asuna (it naturally rests on a 1.6-degree incline, however), and faster runners should be aware that the 2.5 peak HP motor tops out at 8mph.
| | |
| --- | --- |
| ✅ PROS | ❌ CONS |
| Super slim design – just 5.25" tall when folded | Low top speed (8mph) |
| Sleek, modern design with crisp LCD display | No incline feature |
| Available in two colors (gold and silver) | |
| Wheels on the bottom and sides for easy transportation | |
| Low step-up height—under 4" | |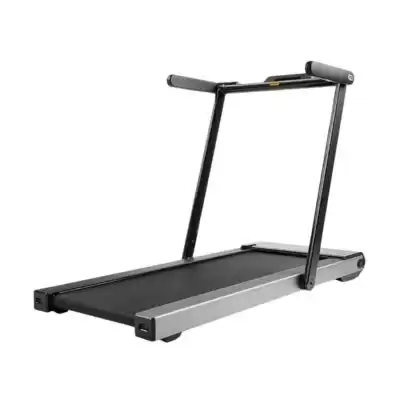 ---
NordicTrack Commercial 2450 Treadmill Machine
⭐ Best folding treadmill for doing online classes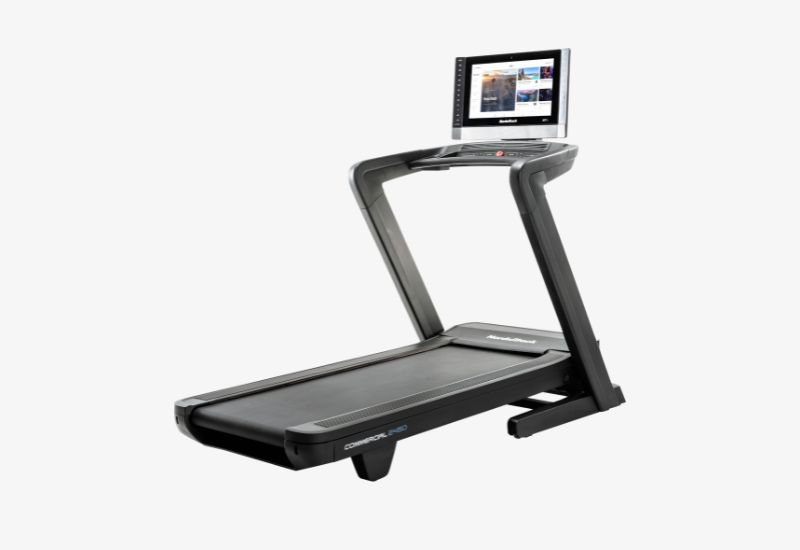 Key features:
$2,999
22" high definition touchscreen
Folds using hydraulic assist
iFit compatible
10 year warranty on the frame, 2 years on parts
NordicTrack is one of the most reputable names in the fitness equipment industry, with 40+ years of building cutting-edge cardio equipment. NordicTrack's line of treadmills span price and functionality (the X32i is one of the most insane treadmills I've ever tried), but when it comes to saving space and getting a killer workout, the NordicTrack Commercial 2450 reigns supreme.
The NordicTrack Commercial 2450—despite the name—is made for home gyms. It's not quite as long as the Sole F65 (78" long versus 82"), but it folds up into about half the space using NordicTrack's patented "Easy Lift Assist," which is a fancy way of saying the hydraulic cylinder.
When folded up, you can tilt the Commercial 2450 Treadmill and move it using transportation wheels along the bottom of the frame.
The newest edition of the 2450 has a vastly improved frame and is lighter compared to previous iterations of the treadmill.
Okay, but where this treadmill really kicks some butt is with the screen and the online training portal.
The 22" high definition, 1080p touchscreen pops with colors, making it ideal for using the iFit integration. iFit is an interactive fitness platform that includes trainer-led classes (like Peloton), "around the world" trails you can run/walk, and tons of challenges, monthly leaderboards, and more.
For the runner who likes this kind of stuff, no one does it better than iFit. I love that no matter what kind of workout I am feeling, there is something within iFit to get me moving.
Performance-wise, the Commercial 2450 runs like a tank. I'm a heavier fellow, nearly 290lbs, and there was zero rattle or wobble when running, even when going through my favorite treadmill-based high-intensity interval workouts.
The 22" touchscreen can also be rotated away from the treadmill so that you can take full advantage of iFit's "off-treadmill" workouts which include thousands of strength training, core strength, and yoga workouts.
Although the iFit subscription is a bit pricey at $39 per month, you can really get your money's worth by using both the treadmill and non-treadmill workouts in pursuit of your fitness goals.
The NordicTrack 2450 is a bit pricey for the very casual runner or walker, but it's updated, sleek design, the huge 22" screen, and the hydraulic-powered folding capabilities make it an excellent choice for the runner who loves online classes and immersive training.
| | |
| --- | --- |
| ✅ PROS | ❌ CONS |
| Best folding treadmill for people who love online classes and immersive training | iFit trial is only 30 days long… after that, $39 a month (annual plans are less expensive) |
| Built like a tank | A bit pricey at nearly $3k |
| Massive 22″ HD touchscreen | |
| Screen pivots for doing strength training, core, yoga workouts | |
---
Sunny Health Folding Manual Treadmill
⭐ Best no-frills folding manual treadmill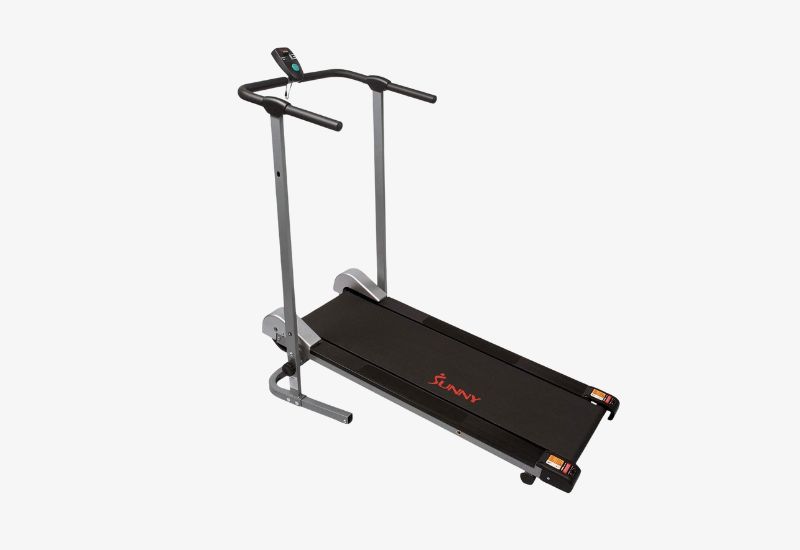 Key features:
Footprint (folded): 23" W x 20" L x 50" H
Incline: 10.4-degrees (cannot be adjusted)
Maximum user weight: 220lb
Running deck: 13" x 42"
The Sunny Health Folding Manual Treadmill is the best foldable manual walking treadmill for home gyms. It's very cost-effective, at less than $200, and when folded and stored vertically, takes up a footprint of just 20" x 23", far less than any other treadmill on this list.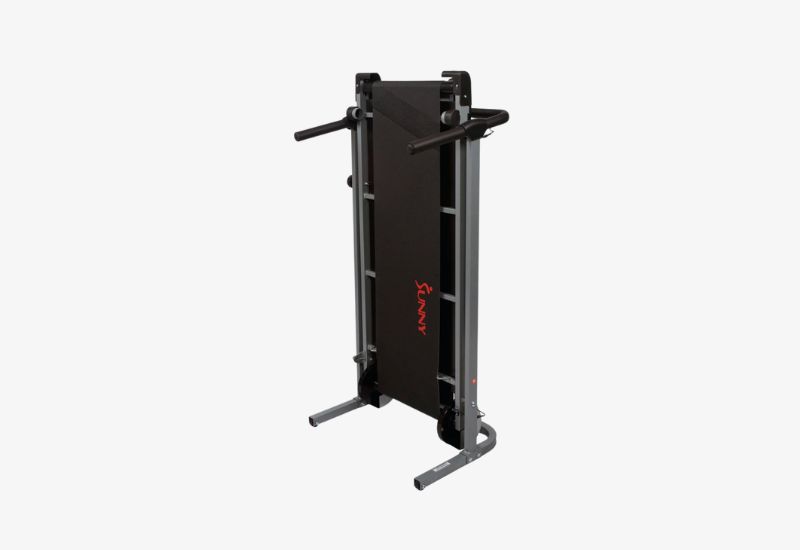 Manual walking treadmills like the Sunny Health treadmill are excellent for walking as they have an incline and require the added power and leg endurance of your legs to move the actual belt. Because there is no motor to move the belt, it's 100% you that is providing the horsepower.
Key things that I like about this treadmill include the 10.4-degree incline, which instantly increases the difficulty of the workout, light frame (less than 55lbs), and transportation wheels for easy portability.
Sunny Health also backs it up with a three-year warranty on the frame and usually ship for free within the continental United States from their official site (Amazon usually has it in stock, too).
| | |
| --- | --- |
| ✅ PROS | ❌ CONS |
| Tiny footprint when folded (just 23" x 20") | Incline cannot be adjusted |
| Wheels and a light frame for easy portability | Not suitable for taller and larger users |
| Extremely cost effective | |
| Harder than motorized treadmills | |
| Less maintenance required | |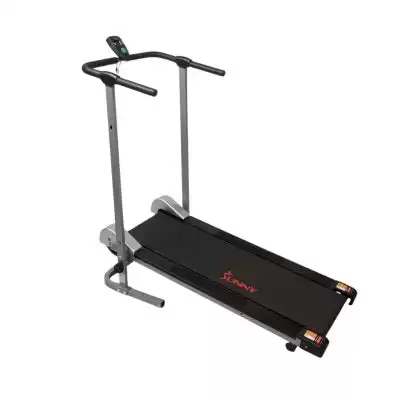 ---
How to Choose the Perfect Folding Treadmill for Small Spaces
When it comes to finding the right foldable treadmill for your home gym, there are some key things to be on the lookout for.
The big features to look for include: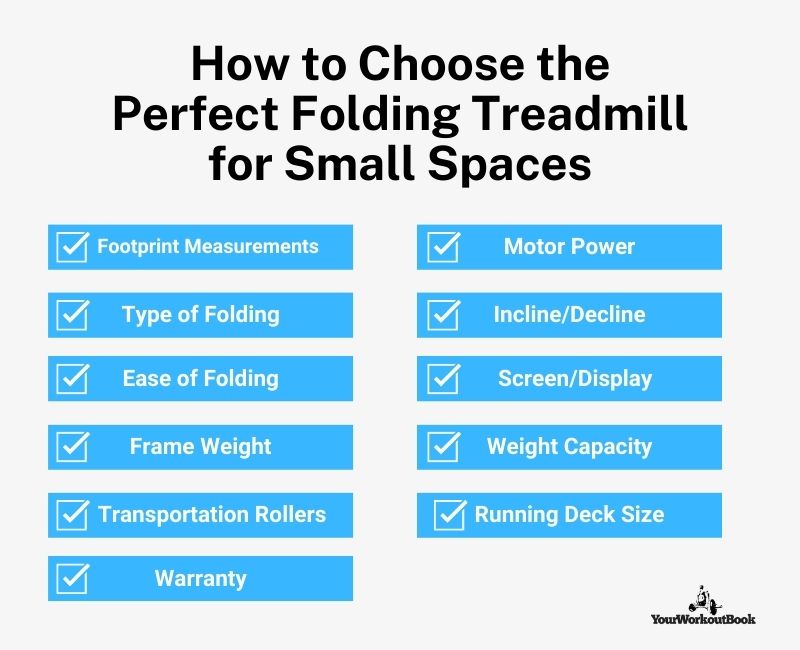 Footprint measurements. What is the footprint of the treadmill when in use? What is the footprint when it is not in use? Keep in mind also that you will need some working distance around the treadmill so that you can walk or run without hitting walls or furniture.
Type of Folding. Is the treadmill folded up in a "V" shape or is it folded down? Can the treadmill be tucked under a bed? The way the treadmill is folded is crucial as it gives you ultimate flexibility in storing the machine between workouts.
Ease of folding. You shouldn't have to feel like you are deadlifting a small car to fold the treadmill up. Look for a hydraulic system or an equivalent that does the heavy lifting for you. Keywords like "life assist" and "easy assist" are also good indicators of a folding treadmill that can be done by any level of trainee.
Lighter frame. Folding up the treadmill is one way to reduce the footprint of your treadmill when not in use. Tucking it against a wall or wheeling it under the bed requires a lighter overall frame weight. Lighter treadmills make it easier to transport and move.
Rollers for easy transport. Moving the treadmill should be fairly easy. We look for castor wheels and a handle at the back of the treadmill machine so that it can be tilted and easily moved.
Durability. Treadmills are expensive pieces of equipment. Can the treadmill perform like a "regular" treadmill? Will the folding attribute compromise stability or durability? Things like overall machine weight, motor power, and warranty blend to give a sense of durability.
Motor power. The power of the motor on a folding treadmill directly influences durability and performance. Stronger motors last longer and run smoother.Anything between 2-4 HP is adequate for most users. Heavier and faster (like, elite levels of faster) users will want to look in the 4-5 HP range.
Incline and decline. Using the incline and decline features are a great way to crank up the difficulty of your workouts and mix things up. Incline and decline can be motorized, or in the case of more budget-friendly treadmills, are adjusted manually.
Display. The display is where your workout metrics are tracked and shown. Heart rate, calories burned, distance, time spent, average pace—this is where the details of your runs and walks are stored and displayed. Budget-friendly treadmills use an LCD screen, while more expensive folding treadmills have HD touchscreens for doing classes and streaming your favorite shows.
Weight Capacity. Find a folding treadmill that exceeds your weight in terms of capacity. The frame, motor, and running deck are designed and tested with specific ranges of weight in mind.
Running Deck size. The running deck is the amount of space on the treadmill available for running. Treadmills with larger running decks are best-suited for taller and larger users.
Warranty Coverage. Peace of mind is important when investing in a new treadmill machine. When shopping around for a folding treadmill, look for a long warranty. This should include at least five years on the frame and two years or more on the motor and parts.
---
The Bottom Line
When it comes to getting a killer workout in the comfort of your own home, and not hogging up a ton of space, folding treadmill machines reign supreme.
The easy-fold designs, workout functionality and versatility, and broad range of prices make them an excellent choice for the space-conscious runner.
To recap our top choices:
The XTERRA TR150 Motorized Folding Treadmills is my top pick thanks the hilariously affordable pricing, feature-rich training features, and tiny footprint when folded up.
For people who love doing classes and immersive programming, nobody does it better than the NordicTrack Commercial 2450 Treadmill. The upgraded, sleek look is an awesome bonus, too.
People who like doing incline walking, and don't want to spend a bunch of money, will find the Sunny Health and Fitness Manual Walking Treadmill to be an easy winner.