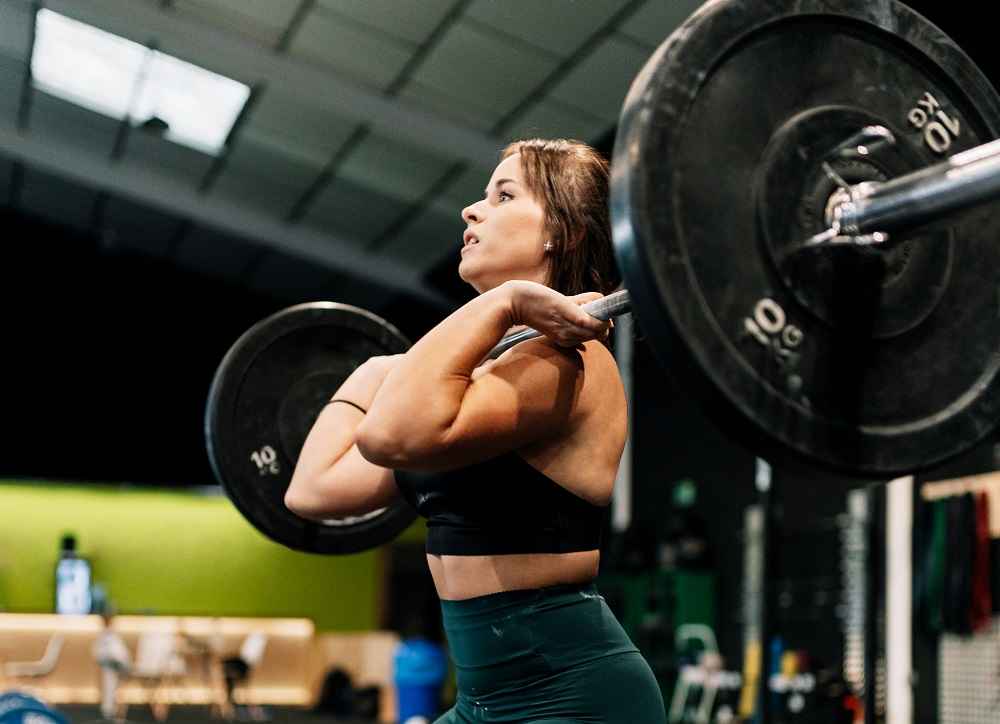 There is absolutely no shortage of types of gear for the weightlifter.
You've got weightlifting belts, weightlifting straps, and yup… weightlifting shoes.
One of my absolute essentials of a good workout, weightlifting shoes perform a wide variety of functions, from safety to improving your technique.
While there is plenty of different types of weightlifting and powerlifting shoes out there, they generally provide the same purposes.
(If you are looking for the best weightlifting shoes on the market, at the end of the article is a list of the best shoes for squats, deadlifting, and more.)
Here are my favorite reasons you should invest in a pair of weightlifting shoes before your next big workout.
1. Elevated heels give you better technique.
Weightlifting shoes feature high heels that are made of thick, bounce-free material like dense rubber or PVC. The thick and elevated heel improves our ability to maintain correct postures during lifts.
The heel elevations of different shoes will vary, but the goal is to find the right height to allow you to reach the power position and maintain leverage. For lifters with not-so-great ankle and hip mobility, weightlifting shoes are a great way to make sure that your range of motion is on point.
? Key things to look for: The heel height should be at the level that you feel supported in the squat and upright. You should also consider mobility and flexibility issues, as well as anthropometrics (femur lengths, shin angles, etc.). It is a good idea to choose a shoe that fits your body. Higher heels are better for larger femurs.
2. Thick sole and base.
As we just covered, weightlifting shoes have an elevated heel and provide a solid foundation to lift the weight. The heel can be made of hard plastic, wood or a combination of both. A slippery surface is not a good idea for any lift.
A solid base can make us feel more secure and help us maintain our postures. The combination of a rubberized under sole for grip and a thick, bounce-free heel maximizes power that is otherwise lost when wearing "bouncey" running shoes or trainers.
? Key things to look for: A firm, comfortable base to stand on. It may feel strange at first to have such a hard surface for weightlifting shoes. Give it some time. A weightlifting shoe should have a solid base that does not allow for rocking or give like a running shoe.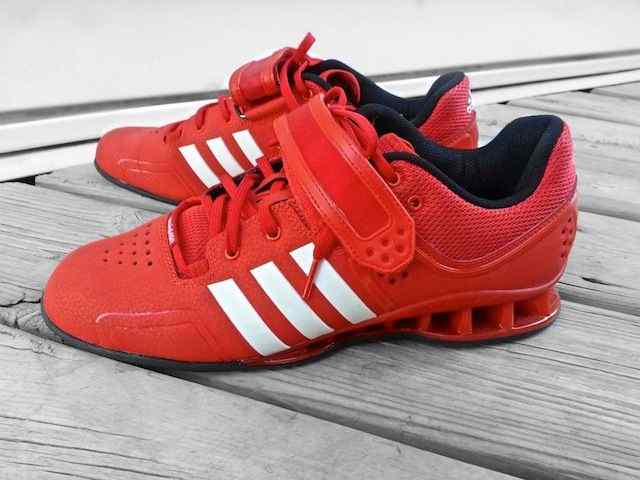 3. Ankle support for wide stance lifts and maximal horizontal power.
Shoes are usually made from leather, rubber or something that feels like plastic. This is to provide additional support for the foot and ankle. Shoes may have an additional strap to give extra support, with some high-top weightlifitng shoes feature dual straps (one at the top of the tongue and another on the upper).
The firmness of the shoe combines with the solid foundation to create a secure feel. This can be helpful in spreading the floor to increase power. For lifters with wobbly ankles, or who don't want to leak any power to the sides, a well-supported weightlifting shoe helps guarantee that your power is being directed up and down and not out to the side.
? Key things to look for: Look for shoes that have a good combination of sturdy materials and high ankle support.
4. Weightlifting shoes help you lift more safely
You know the saying–safety doesn't take a holiday! While most of us are understandably focused on nailing a PR, doing it safely and with adequate support means you will live to lift another day.
Weightlifting shoes have a variety of features that help reduce the likelihood of injury when performing complex lifts in the gym. Most decent weightlifting shoes have rubber and textured bottoms for extra grip, lace and velcro system to keep your feet from sliding around in the shoe, and plenty of lateral support for doing extra-wide lifts like Sumo deads.
Ultimately, shoes with flat soles, weak support, and unstable bases can lead to injury.
? Key things to look for: A shoe that is snug and secure. The shoe should not have any wiggle room or looseness. Grip for the floor.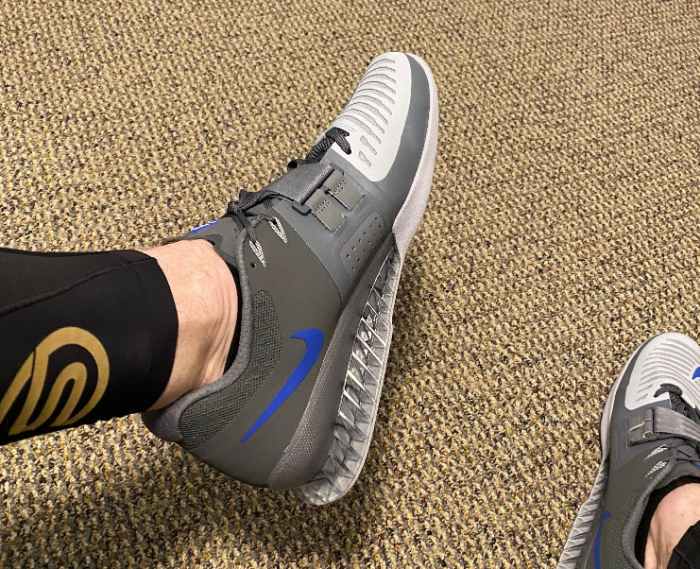 5. Choose weightlifting shoes that match your stylez
Lifting big weight is awesome, but looking good while you are doing it is even better. In terms of pure vanity, weightlifting shoes give you an opportunity to style up your lifting apparel by finding a pair of shoes that match your personality and lifting goals.
Whether you go ultra simplistic with a pair of Chuck Taylors, go all-in on deadlifting shoes with a pair of Sabos, or snag yourself a pair of lime green Nike Romeolos, there is a pair of weightlifting shoes that matches your style.
We now have the ability to personalize our shoes with so many different shoe styles and color combinations. This is a great way to make your shoes stand out.
? Key things to look for: A shoe that makes you pumped to hit the gym. Research is key to finding the right shoes for you.
Weightlifting Shoe Buyer Guides
I've had a chance to try a heaping ton of weightlifting shoes over the years. Below is a breakdown of my favorites, including key features, price points, and much more.
6 Best Squat Shoes for Every Kind of Lifter. Squat heavier, squat better, and squat sexier. Here is a breakdown of the best squat shoes for every kind of lifter.
5 Best Squat Shoes for Women (and Why You Should Be Wearing Them). The right squat shoes protect your ankles, help you squat with better form, and help you lift more weight. Here's a breakdown of the best squat shoes for women.
5 Best Deadlifting Shoes for Dominating Your Deadlift. The right shoes help you deadlift more by improving technique, creating more power, and supporting your ankles. Here is a breakdown of the best deadlift shoes and why you should wear them.
3 Best Slippers for Doing Deadlifts. Deadlifting slippers are a tool for safer, stronger lifts. Here is a breakdown of the best slippers for deadlifting, and why you should add them to your training.
6 Best High Top Weighlifting Shoes. High-top weightlifting shoes provide maximal ankle support when lifting. Here's a look at the best ones on the market for lifting like a boss.