Curious about whether the elliptical bike combo is the machine for achieving your fitness goals? Buckle up for the pros, cons, and the best elliptical bike combo trainers for home gyms.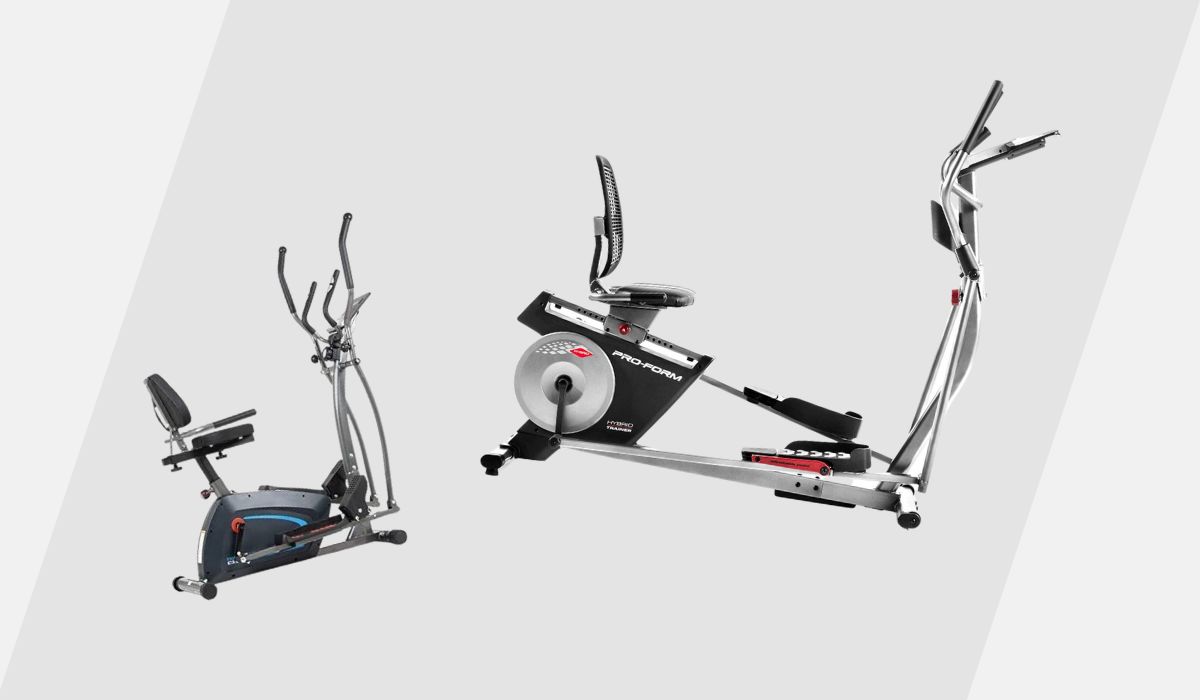 Ellipticals and stationary bikes are two of the most popular cardio machines in the gym.
One gives you a full-body workout, while the other is focused more on training your legs. However, both are amazing for giving you a truly epic cardio training session—whether you HIIT, spin, or just free-train.
Not long ago, some absolute genius decided to put the two machines together, combining them into a single multi-functional option that we know as the "elliptical bike combo trainer."
Now, with just one machine, you can do all of your favorite workouts in the same place. It's a truly amazing addition to your home gym, thanks to all the many benefits it can provide.
There are a few cons you need to know about, though, so we've made sure to list those, too, in our complete guide to elliptical bike combo trainers below.
By the end of this post, you'll know exactly how these machines can upgrade your home gym and help you take your training to the next level.
Let's jump right in.
Benefits of Elliptical Bike Combo Trainers
⭐ Two Machines in One
As the name suggests, the elliptical bike combo combines both the elliptical trainer and the recumbent bike into a single machine.
Typically, the bike seat can be slid far forward so you can sit while you pedal in bike mode, but when you want to switch to elliptical mode, just slide the seat as far back as it can go and stand up on the pedals.
Thanks to the built-in handles (identical to those on the standard elliptical machine), you can still get the upper body workout you want while striding on the elliptical.
The fact that it combines two machines in one means you get double the workout from just this machine.
⭐ Save Money
You'd think that a cardio machine that combines two functions into one would be more expensive than either type of machine on their own. Well, you'll be glad to know that's jut not true!
If you compare the cost of an elliptical bike combo trainer to the cost of elliptical trainers or a stationary bike, you'll see their prices aren't so different.
You can find elliptical bike combos as cheap as $250 to $500, or as expensive as $2,000 to $3,000. Their price tag will actually be roughly the same as an elliptical or stationary bike.
So how, you ask, will you save money?
Simple: with the elliptical bike combo trainer, you just have to buy one machine instead of two.
That's right, instead of paying around $1,000 each for both a mid-range elliptical machine and stationary bike, you can pay around the same amount for a machine that combines both into one.
That's a lot of savings that can be invested into other gym equipment!
⭐ Save Space
Space isn't a huge factor in your average commercial gym, which has entire rooms dedicated to cardio machines.
But for home gyms, where you're working out in your basement, garage, family room, or even a corner of your living room, space is definitely a factor you need to consider.
I'm going to be very clear about this: elliptical bike combo trainers aren't smaller than either elliptical machines or stationary bikes.
In fact, they'll be larger than most stationary bikes (on par with recumbent bikes), and about as large as a rear drive elliptical.
But again, the fact that you only have to use one machine instead of two ends up being a huge space-saver.
You can install the elliptical bike combo trainer so you get both a cycling and elliptical workout, and still have space for another machine (i.e. treadmill, stair climber, etc.) or a squat rack, squat cage, or more weights.
⭐ Joint-Friendly Training
Both the recumbent bike and the elliptical trainer deliver joint-friendly workouts that are suitable for trainees of all ages.
When you're striding on the elliptical, you never lift your feet off the pedals, so there is no impact (like there is when you walk and your forefoot strikes the ground) to travel up your ankles, knees, and hips. It's a much gentler, nearly-no-impact workout.
The same for recumbent bikes. When on a stationary bike, there is often a risk of lower back strain because you're leaning forward and driving your legs downward.
But the recumbent bike changes the angle from vertical to horizontal, thereby largely removing your lower back from the equation. There's more engagement of your hips and knees to pedal, but your spinal muscles are supported by the bike seat.
You'll be able to choose the best workout according to whatever aches and pains you may be experiencing. If your knee is hurting, try striding on the elliptical, where the smooth glide will be gentle on your knees. If you're experiencing lower back pain, you can either stride or cycle, whichever feels best.
The elliptical bike combo machine truly is one of the most joint-friendly machines around.
⭐ Switch Between Standing and Sitting
This is a huge game-changer for people (like me) who like to mix things up to keep their workouts interesting.
I don't know about you, but I tend to get bored of doing the same thing over and over again. The more repetitive a workout is, the greater the chance I'll lose interest and want to do something else. That isn't ideal for cardio training.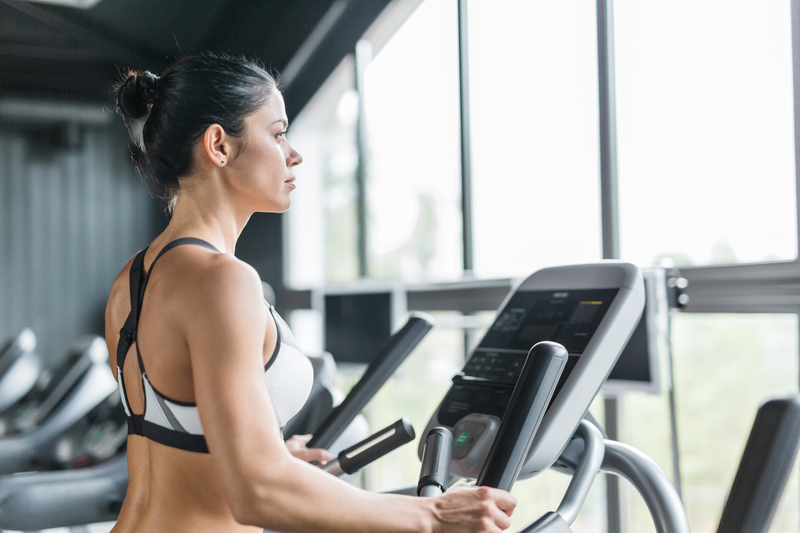 In a perfect world, your cardio training should be challenging enough to keep you engaged physically and mentally. You should be pushing your body hard, expanding your cardiovascular endurance, and that challenge will keep your mind in the present. No boredom, no distraction, just a solid workout.
Thanks to the elliptical bike combo, it's easy to switch things up and keep your home workouts fresh. If you're feeling in a mood to cycle, you can do that.
If you'd rather get in some elliptical training today, easy as pie. And if you want to do both in the same workout—split your time between elliptical and cycling training—you've got that option.
Variety is the spice of life, and the elliptical bike combo gives you plenty of variety to keep you engaged in your training.
Disadvantages of Elliptical and Bike Combo Trainers
Less High-Tech Features
Because the elliptical bike combo trainers are designed to switch between bike and elliptical, they don't have quite as many high-tech features as standalone ellipticals or exercise bikes.
For example, the elliptical part of the machine doesn't offer the option of incline, just increased or decreased resistance. The bike part of the machine is pretty standard for a recumbent bike, though often with fewer seat adjustment options.
The more "budget" elliptical bike combo trainers also don't have as many workout features or pre-programmed workouts.
The higher-end models will feature electronics and screens as advanced as any high-end elliptical or stationary bike, but the lower-end models will typically save money and keep the electronics simple and use an LCD display for your workout data.
Lighter Flywheel
It's not an "across the board" thing, but often with the elliptical bike combo trainers, the flywheel is on the lighter side because of the need to save space and keep the machine light enough for home users to move around in their gym.
The flywheels will usually be in the 14 to 18-pound range, though it's possible to find some with a heavier flywheel (20 and, rarely, 25 pounds).
This isn't a huge problem for the average trainee, but for heavier trainees who need the extra weight to provide sufficient resistance, it can be the difference between a decent workout and a truly challenging, muscle-building sweat session.
Shorter Stride Length
Again, because the machines are designed to combine both elliptical trainers and exercise bikes, the structure has to be adapted for both types of movements, which can impose limits on the design.
One such limit is the stride length of the elliptical part of the machine.
The average and recommended stride length on an elliptical trainer is around 20 inches. Shorter stride lengths (16 to 18 inches) are typically suitable for shorter users, but for taller trainees (above 6'), 20 inches is ideal.
Unfortunately, because the pedals are designed to work for both the elliptical and bike, the stride length has to be short enough that your legs aren't over-extending when sitting down and pedaling.
A good example of this is the ProForm Hybrid Trainer XT, one of the best elliptical bike combo machines on the market.
Because of its dual-purpose design, the elliptical only has a 15-inch stride length. This is more than adequate for the average trainee, but bigger, taller people (like myself) find it slightly uncomfortable because of the shorter stride length.
As you can see, none of these cons are deal-breakers, but it's good to know about them before you invest in an elliptical bike combo machine.
Best Elliptical Bike Combo Machines
If you're serious about using one of these two-in-one cardio machines in your home gym, here are a few of the models I've personally reviewed and can recommend for you:
ProForm Hybrid Trainer XT
⭐ ⭐ ⭐ Best overall bike combo machine for home gyms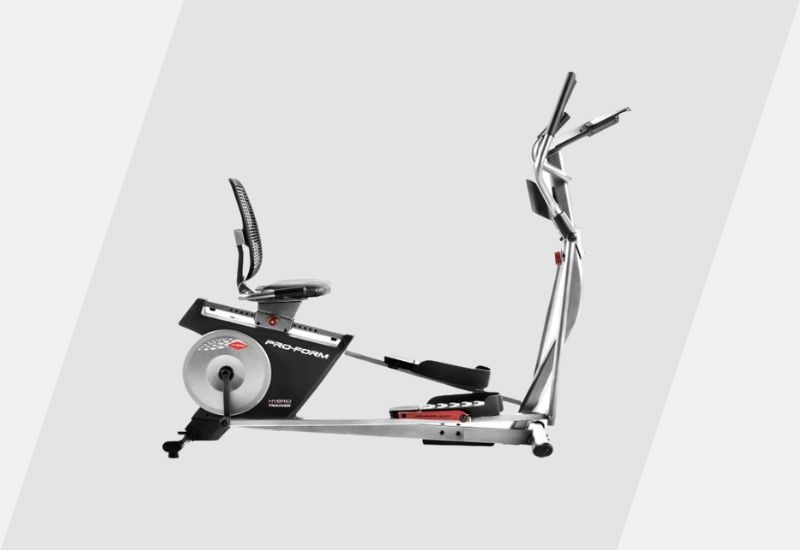 The ProForm Hybrid Trainer XT is the best elliptical bike combo on the market for a variety of reasons, including how easy it is to jump between bike and elliptical modes, a budget-friendly price, and it can be paired to iFit for tons of interactive workout programming.
While it's not really designed for heavier users—the Hybrid Trainer XT is rated for a maximum user weight of 250lbs—it is an excellent machine for people just getting started on their fitness journey and want lots of options for getting their sweat on.
ProForm is the most reputably brand name in the bike combo market (see all of ProForm's ellipticals compared here) and easily take our #1 pick when it comes to durability and overall quality.
| | |
| --- | --- |
| ✅ Pros: | ❌ Cons: |
| Smooth ride well-suited to beginner trainees | 13-pound flywheel feels too light for larger users |
| Switching between the two machines is incredibly easy | Low user weight capacity (250 pounds) |
| Budget-friendly—just $599 | |
| Great workout functionality; highly versatile | |
| Can be paired with iFit for tons of interactive workout programming | |
---
Teeter FreeStep Recumbent Cross Trainer and Elliptical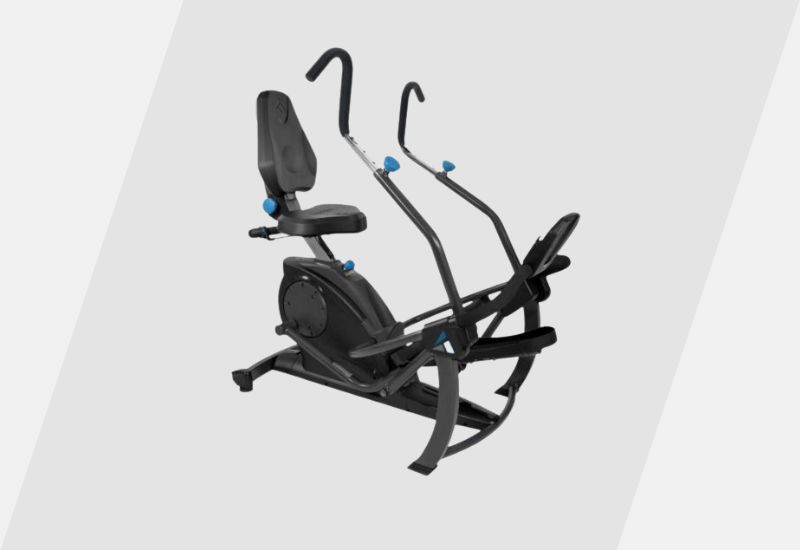 The Teeter FreeStep is more of a recumbent elliptical than an elliptical and bike combo, but for those who want to stay seated when doing elliptical training, it's a great choice.
The seat is oversized and back support is provided so that you can spend more time exercising and less time shifting around trying to get comfortable on the machine.
The Teeter FreeStep also has different editions (LT1 and the LT-3), with both machines offering a decent number of resistance levels (13 in total). The LT3 has a bigger seat, more set positioning options and upgraded bearings for a smoother striding experience.
| | |
| --- | --- |
| ✅ Pros: | ❌ Cons: |
| Elliptical handles can be used while you're riding the bike | Monitor is very basic and lacks pre-programmed features |
| Comfortable seat, good back support | Can't work out standing upright—you have to stay seated |
| Large pedals suitable for oversized feet | |
| Adjustable seat height and recline | |
| Rated for up to 300lbs | |
---
Body Champ 3-in-1 Trainer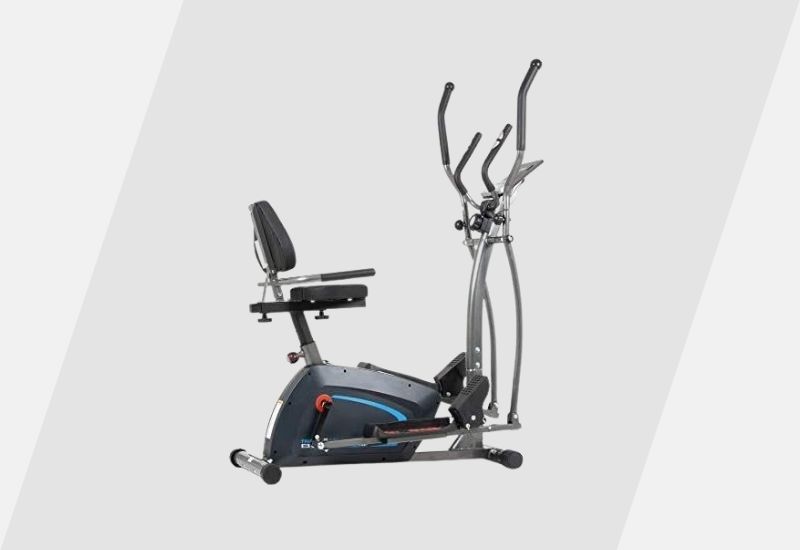 The Body Champ 3-in-1 features a more upright seating option to give users the stationary bike experience as well as a recumbent bike position.
While it doesn't offer a ton of resistance levels—the Body Champ trainer has just 8 levels of resistance for adjusting workout difficulty—it does have a decent stride length of 18" for moderately tall users and has a media tray for parking your smartphone or tablet while working out.
The Body Champ 3-in-1 Trainer is also a bargain at around $400.
| | |
| --- | --- |
| ✅ Pros: | ❌ Cons: |
| Easily switches between sitting and standing | Eight levels of resistance |
| Recumbent handles give you good support and balance while sitting | Assembly process is not easy |
| 21 pre-programmed workouts | |
| Decent magnetic resistance | |
---
The Bottom Line
The elliptical bike combo trainer may be exactly what you need to save space, save money, and still take your training to the next level.
As you've seen by the various machines I shared above, none of these cardio machines are perfect or without their flaws.
However, they offer a versatile workout solution that will let you switch between standing and sitting, elliptical training and cycling.
If you're interested in a way to keep things fresh and engaging in your daily cardio workouts, these machines may be exactly what you're looking for—a great addition to any home gym!
---
More Elliptical Guides and Articles
How Much Do Ellipticals Cost? (44 Different Models Compared). Ellipticals can be a costly investment in your workout goals. Here is a look at how much each type of elliptical costs and how much to spend on one.
What Muscles Do Elliptical Trainers Work? (and How to Build Muscle on an Elliptical). The elliptical trainer is an excellent machine for building cardio and muscle. Here's a look at all of the muscles worked on the elliptical, tricks for changing muscle groups, and how to build muscle on the elliptical.