Battle ropes are a killer way to get in, well, killer shape. Read on for a full breakdown of the best battle ropes for every kind of athlete and gymgoer.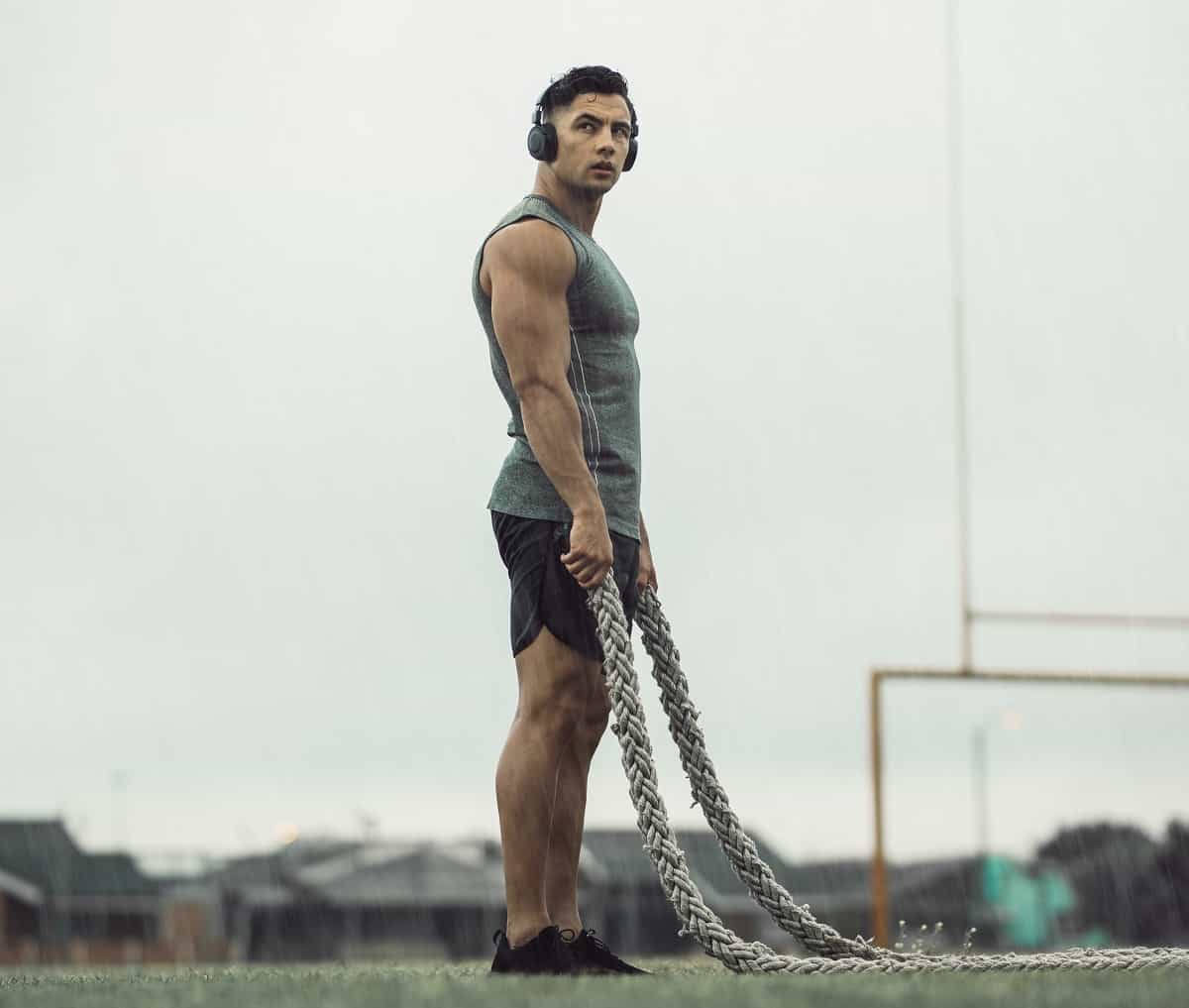 Want a more explosive upper body? Stronger core? Improved aerobic capacity? How about the satisfaction of slapping heavy stuff against the floor?
Then you need 870% more battle rope in your life.
Battle ropes are an upper body form of training that targets your core, shoulders, back, and arms.
Study after study has found that adding battle ropes to your workout routine boosts upper body power, core endurance, and cardiovascular endurance1.
While the original ropes were surprisingly expensive, in recent years, as working out at home has become more popular (thanks, Covid!), battle ropes have come down in price and have never been more appealing for the home-based athlete.
In this guide, we will look at everything you need to know about choosing the best battle rope for you and your training goals.
Let's get to it!
What to Look for in a Battle Rope
There are some key things to look for when choosing battle ropes:
✅ Diameter. Rope thickness is key. While it's tempting to go for the thickest rope possible, keep in mind that your forearms will crap out before your arms will. Thicker the battle rope handles, the more challenging the workout.
✅ Rope length. Setting up a home gym is more popular than ever. But the inevitable drawback is space. If you plan on working out indoors with your ropes, look for a shorter length. Experienced athletes will prefer longer ones as they are more challenging.
✅ Anchor. While ropes can be lassoed around anything sturdy, some battle ropes come with anchors, keeping both sides of the ropes at an even length while you are training and keeping the ropes from sliding around too much.
Okay.
With all that good stuff behind us, let's take a closer look at some of the best battle ropes on the market, including key features, dimensions, and pricing.
---
Rep Fitness V2 Battle Ropes
? Best overall "everything you need" battle ropes
One of my favorite things about battle ropes is that it's nearly a full-body workout.
Although you are swinging away with your arms and bracing your core, your hips and legs are working overtime to provide stability, helping you build a solid foundation of strength and power.
The Rep Fitness V2 Battle Training Ropes take this highly functional training and make it look good with three different colored options.
Like most of the other ropes in this guide, they are made of poly dacron, triple-braided, and have heat-treated handles so that you can stay focused on your workout instead of your grip.
Backed with a three-year warranty, Rep Fitness offers the V2 Battle Ropes in three different lengths and two thicknesses, which means there is a rope that is perfect for your fitness and training goals.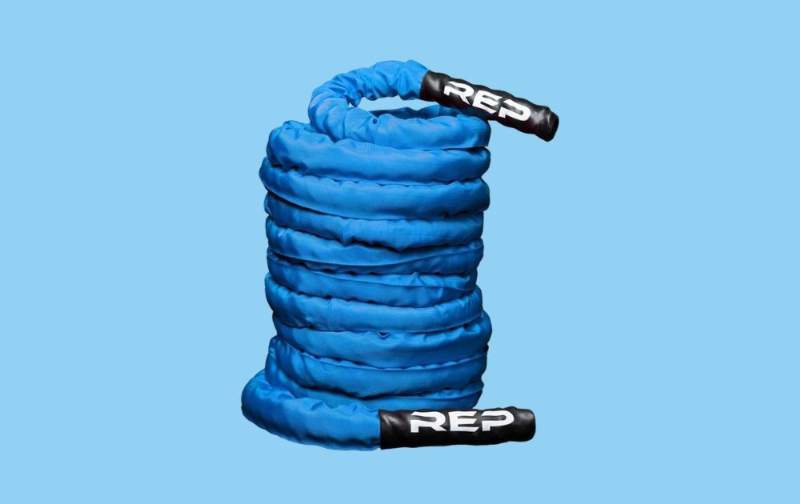 ---
Fuel Performance Battle Rope
? Best battle rope for high-performance athletes
At two inches thick and 50-feet long, the Fuel Performance Battle Rope is made to absolutely kick ass.
Fuel Performance fabricated the three-strand rope with heavy-duty polypropylene with the ends heat shrunk for a sturdy grip. Ropes that are this big and this long are very challenging to work with, making them ideal for the strongest and most explosive athletes training at home.
While smaller ropes give more, making them easier to quickly lash against the floor, Fuel Performance's upper body smasher has added stiffness which makes moving the ropes quickly very tough.
Not recommended for newbies or novice athletes. If you are well-trained and are looking for a way to take your upper body power and core endurance to the next level, the Fuel Performance Battle Rope will push you to the limit.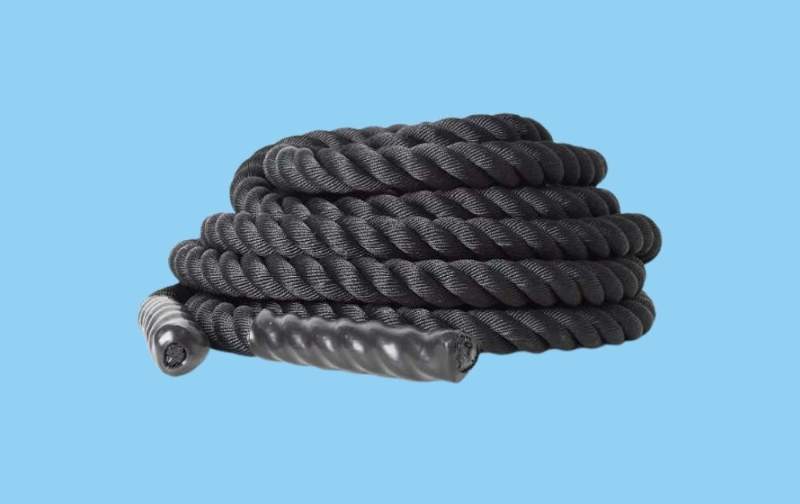 ---
Power Guidance Battle Rope
? Best battle ropes with wall anchor
Power Guidance ships these ropes in a full variety of sizes, accommodating athletes and home-based gym nuts of all abilities.
Made with the usual polydacron materials typical of battle ropes, they are also fully wrapped in a nylon sleeve to protect the rope from getting frayed.
The heat-treated handles are just over 7" long, Power Guidance backs the ropes 100%, and most importantly for those of you who have a dedicated place for your rope at home or in the garage, a wall anchor.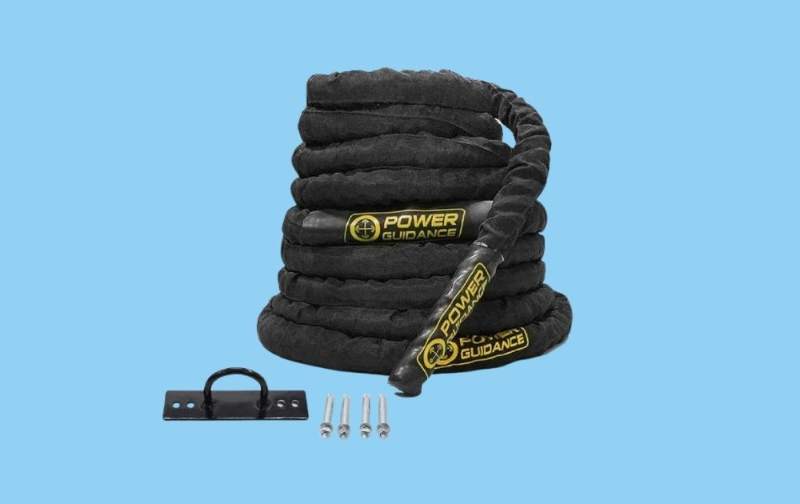 ---
Geardo Battle Ropes
? Best standalone battle ropes
Geardo's Battle Ropes are the ultimate in versatility and durability. Available in 30, 40 and 50-feet lengths, the ropes also come in either 1.5" or 2" diameter.
Geardo's battle ropes are encased with nylon, which helps the dacros rope last far longer. For the athlete who sweats a lot (the author raises his hand), you will appreciate the heat-treated handles that help you maintain a secure grip on the ropes as you torch calories and increase your cardiovascular fitness.
Exceptionally well-reviewed on Amazon, with nearly 500 five-star reviews, the Geardo Battle Rope is one of our favorite ropes for working out at home.
Only downside? No anchor included, a wall or Velcro anchor needs to be purchased separately.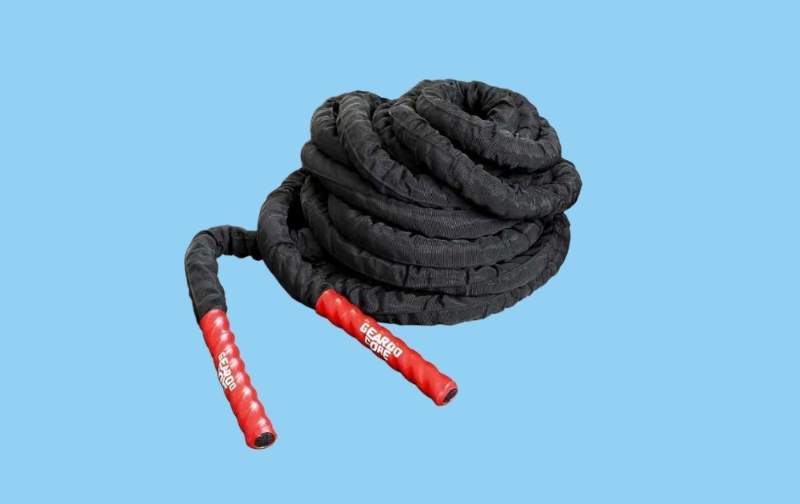 ---
Amazon Basics Battle Training Rope
? Best budget battle ropes
With more and more people training at home, fitness companies are rushing to produce affordable gear. Even companies that you wouldn't traditionally think of as a fitness company are getting in on the rush, including Amazon.
The Amazon Basics Battle Training Rope comes in a variety of sizes and thicknesses, and they even *somehow* ended up as Amazon's Choice for best battle rope. (Quelle surprise.)
The rope itself is a three-strand polyester blend that is surprisingly light and easy to unspool or store. Anchor sold separately.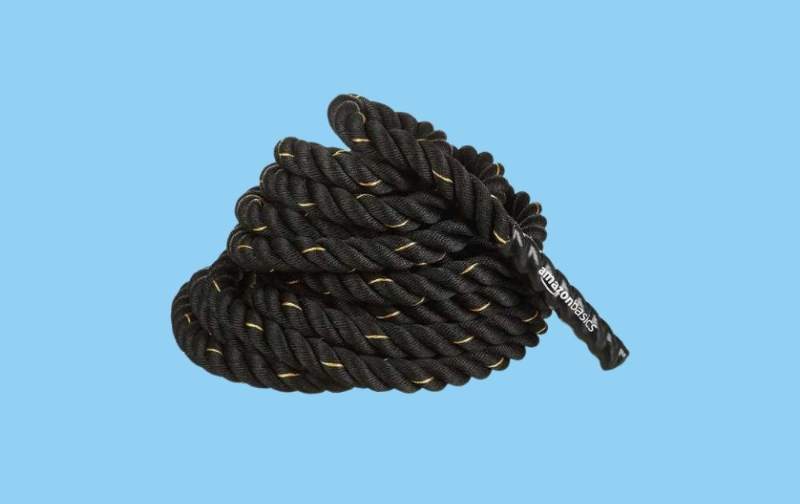 ---
Titan Fitness Black Poly Dacron Battle Ropes
Titan Fitness is one of the leading names in the strength training equipment game, making excellent (and budget-friendly!) gear including air bikes, squat racks, and flat weight benches.
Their Black Poly Dacron Battle Ropes keep the trend going with budget-friendly awesomeness. The ropes start at just $70 and work their way up to $125 for the long-and-heavy version (50-ft with 2-in thickness).
The handles have a smooth PVC finish that reduce slippage when your palms get sweaty, and the tri-strand Poly rope won't fray and break apart like other ropes on the market will (ahem, looking at you Rogue).
The only downside is that you will have to invest in an anchor for the rope. Titan Fitness offers that separately at around $40.
Both are sold exclusively through the Titan Fitness website, which you can access here.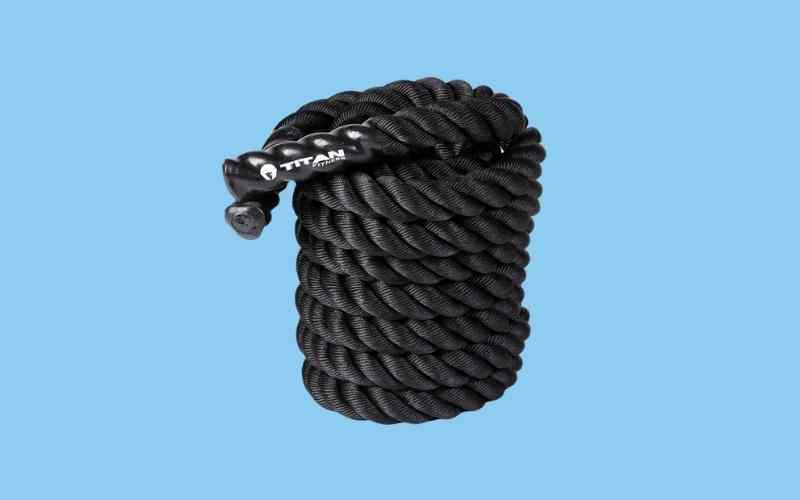 ---
Iron Bull Strength Battle Rope
Iron Bull Strength is a Canadian fitness gear and apparel company that makes outstanding gear for workout nerds. Their barbell pad for hip thrusts is my all-time favorite and I regularly use their elbow compression sleeves when doing heavy upper body lifts.
In terms of an all-in-one battle rope for a home gym, the Iron Bull Strength Battle Training Ropes are great. They come with everything you need to blast away at your upper body.
Made with tough poly dacron, and available in a variety of lengths (30' to 50') and thicknesses (1.5" to 2") and Iron Bull ships these with a nylon sleeve (which you can slide over the rope to protect it from wear and tear during your battle rope workout).
Iron Bull also includes a pair of anchor straps to plant the rope against something sturdy, reducing the rag-dolling that happens with battle ropes when training.
UPDATE: Both Amazon and Iron Bull's official online stores are out of stock. We will update this post once they are back in stock.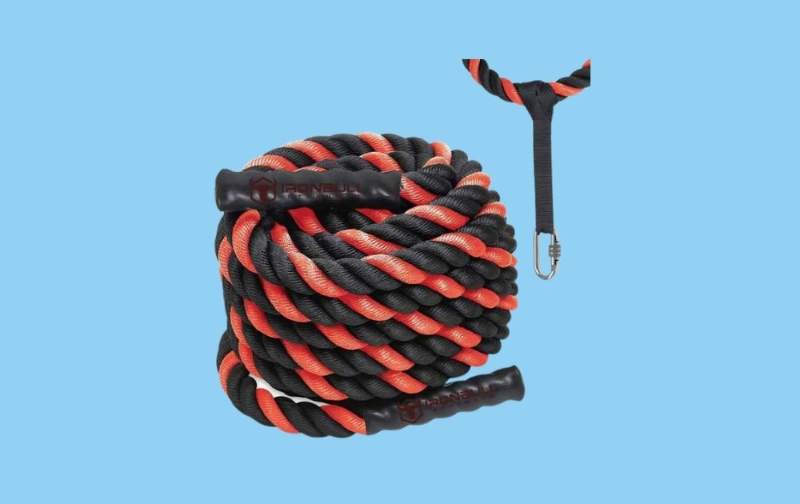 ---
Battle Ropes – FAQs and Buyer's Guide
How do I choose the best battle rope for me?
Battle ropes are sounding pretty awesome right about now, aren't they? When looking for the right battling ropes that match your fitness goals, there are some key things to look for.
Here are the biggies:
? Rope thickness.
Although you might be tempted to go for the thickest rope you can find, make sure that you grip is up to the task (hand grip strengtheners can always help out in this situation, too).
Thicker ropes are much harder and more difficult. The diameter between beginner ropes and harder ropes is only an inch, but this inch packs a ton of difficulty and hurt.
Choose a rope that matches your goals and training.
Thicker ropes are best suited for short, power-focused sets while thinner ropes are ideal for longer, cardio-focused sets and workouts.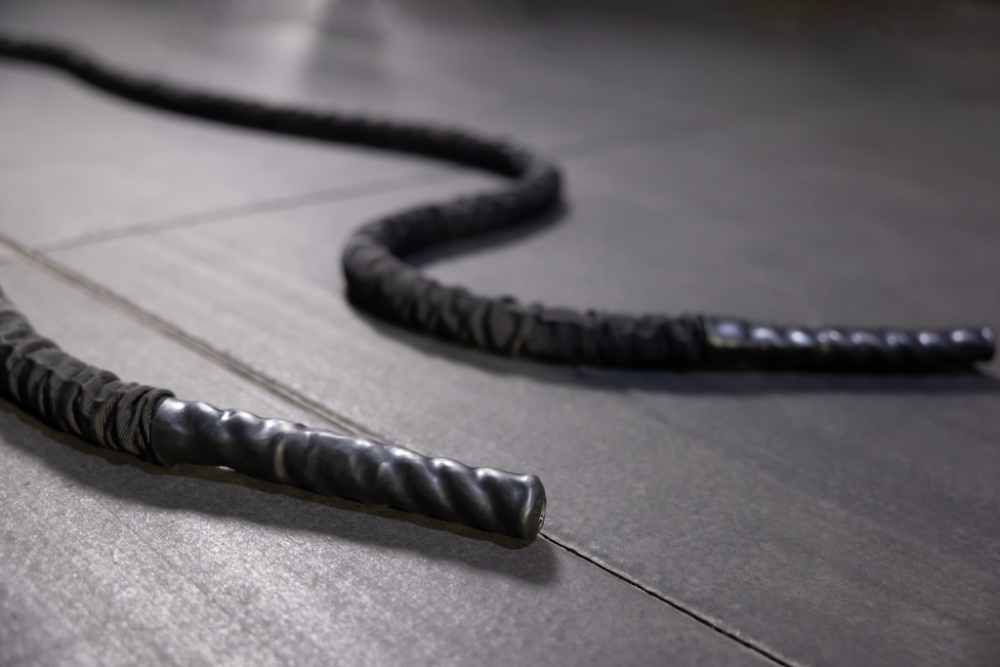 ? Rope length.
The second physical dimension to look for is the length of the rope, with battle ropes ranging from 30-50 feet in length.
As you go up in length, you are being tasked to move more rope, which makes it more challenging. More might be better, but if you are struggling to lift that 50-feet rope after a few seconds you are going to struggle to give yourself a chance to improve.
Additionally, rope length matters when it comes to your workout space.
If you are using your battle ropes at the local football field, no worries. But if you are using it in a small basement, rope length is something you are going to want to pay attention to.
? Anchor.
My first battling ropes, made by Onnit, didn't ship with an anchor. This wasn't a huge issue at first, but when I took it outside or on the road and wrapped it around trees or other posts, the nylon rope would start to get frayed.
Anchors help protect your rope and they also make it easier to keep both sides of the rope even when you are working out.
Look for battle ropes that ship with an anchor (or consider springing a few bucks for one—it will dramatically increase the longevity of your rope).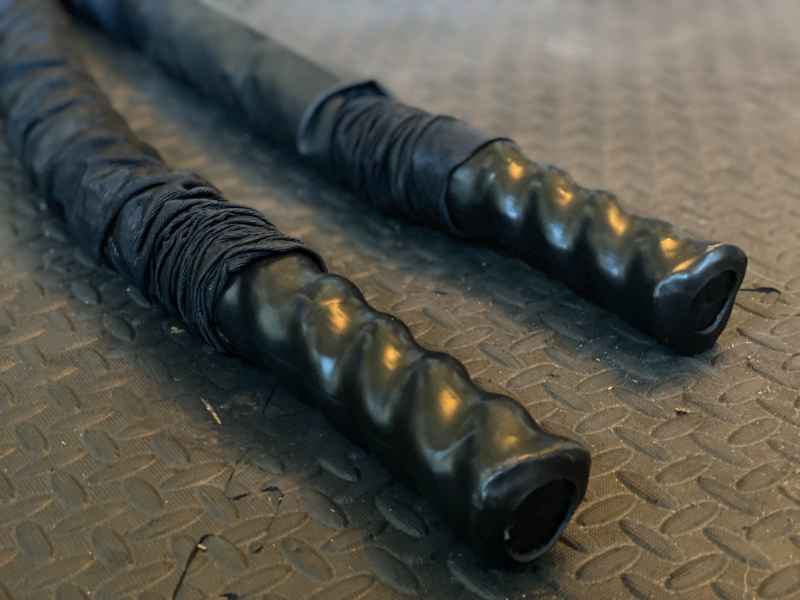 ? Nylon sleeve.
Another tool for extending the life of your battling ropes is a nylon sleeve.
The sleeve is exactly as it sounds—a layer of durable nylon that covers the poly dacron rope, protecting it from the elements and the environment. Kinda like a sock, and the battle rope is your foot.
Some battle rope manufacturers offer this as part of the rope, others include it as an add-on, and others ship the rope naked.
Poly dacro—what battle ropes are almost all made of—are very durable and tough and will stand up to casual use. But for people who want to add some durability to their ropes, a nylon sleeve is a good choice.
? Budget.
Goes without saying that nobody wants to bankrupt themselves when buying fitness equipment. Battling ropes aren't the most expensive types of strength training gear out there, but some of the more premium brands definitely charge a premium price for them.
Generally, as long as the ropes are made of three-braid poly dacron, have heat-shrunk ends for a secure grip, and offer a nylon sleeve to provide extra protection, you've got everything you need.
What is the best way to use a battle rope?
Using a battle rope is fairly straightforward.
Loop the rope around something sturdy like a tree, the uprights on your power rack, or use an anchor to loop it to something immovable (I attached mine to the hitch of my truck when Covid shut down gyms in the spring and summer of 2020).
Make sure both ends of the rope are even, and you are ready to get to work.
There are plenty of exercises you can do with battle ropes. Although most beginners will probably satisfy themselves with the standard alternating waves, as you get more comfortable with using your battle ropes, you will be surprised to see how much variety this simple-looking piece of gear can offer.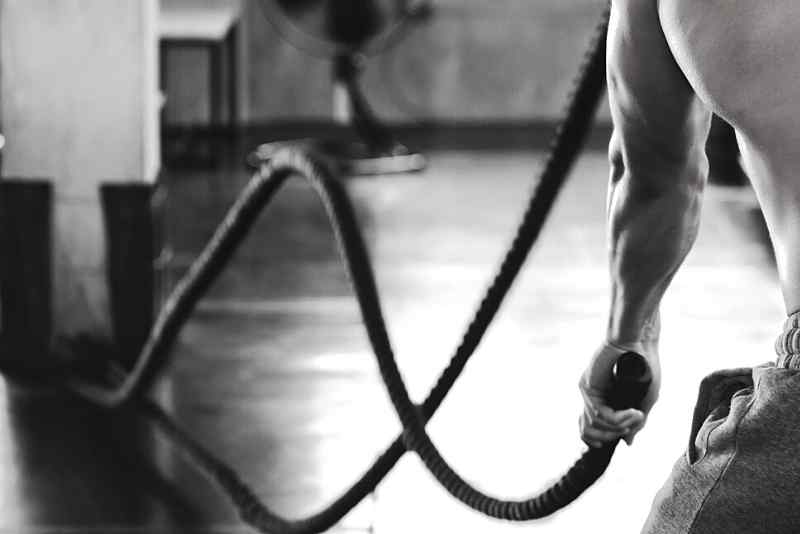 Some of the ways to use your battle ropes include side to side motions, single and double overhead slams, combining plyometric exercises like squat jumps or split jumps, lateral whips, outside spirals, and more.
There are even exercises you can perform with battle ropes while on the ground, including lying T's, and one of my all-time favorites, the side plank wave.
What is the best length for battle ropes?
The length of your battle rope comes down to two things: how much space you have to work with and how fit you are for this form of exercise.
Start out by marking out how much space you have for the rope in your home gym or workout area. If you are looking at a 30-ft rope, half that number and add a few extra feet and that's roughly the distance you can workout within.
Next, keep in mind that a longer rope is a heavier rope. This increases the difficulty of the workout and also makes it more challenging to store between workouts.
If you are short on space (like I am in my home garage), remember that you can still get a great workout with a "short" rope, which is 30-ft and 1.5" wide.
Do battle ropes build muscle?
There's a body of research that shows that battle rope exercises and workouts strengthen the core (especially the obliques when doing unilateral battle rope moves), the muscles up and down your back (particularly when doing bilateral waves or movements), and the shoulders1.
Battle ropes are a proven way to build upper-body anaerobic power, core endurance and boost skeletal muscle performance2.
There is a huge variety of exercises that can be done with a battle rope to target the muscle groups you want to work on. Power slams build explosive power and fire your quads and calves. Lateral whips are a proven way to build shoulder and upper back muscles. And so on.
There is no shortage of ways to use an exercise training rope to chase down your goals in the gym, whether that means building core strength, power in your upper body, or simply burning fat.
How thick should battle ropes be?
Battle ropes come in three levels of thickness, measured in diameter:
1.5 inches
2 inches
2.5 inches
The level of thickness you choose comes down to your training goals.
A thinner (and lighter) rope is easier to hold onto for extended periods of time, making them ideally suited for both beginners and people looking to get more of a cardio-based workout.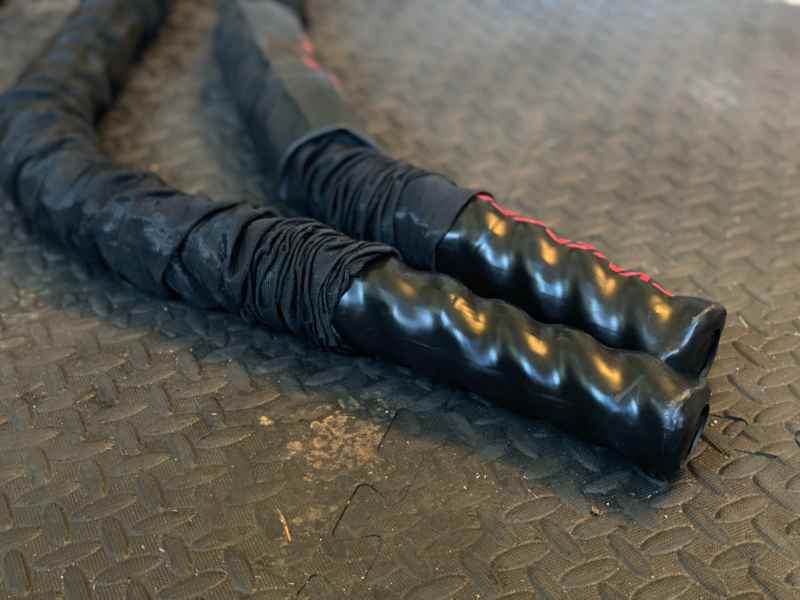 Thick battle ropes are harder to hold onto thanks to their wide diameter and can cause the wrist and forearm to fatigue prematurely. A thicker (and heavier) battle rope is best suited for shorter sets that are focused on developing power.
In both cases, lean towards a rope that has a sleeve and battle rope handles that you can properly grip. Checking both boxes will make working out more comfortable and protect the rope.
The thickness of the battle rope you choose comes down to hand size, training goals, and your present level of conditioning. The top battle rope for you should match your health goals in the gym.
The Final Rep
When battle ropes first came on the scene, I was a little hesitant. They looked a little gimmicky, and to be honest, I wasn't buying that you got get a solid and full-body workout while using them.
Needless to say, I was wrong.
Battle ropes are a killer way to attack your fitness goals, whether you are looking for general conditioning work, want to improve power in your upper body, or simply want a break from your usual HIIT/aerobic training.
Pick up one of the battle ropes in this guide and work your way toward better fitness, more muscle, and a killer core.
⭐ For most people, the Rep V2 Battle Rope is an excellent all-purpose rope that is available in all lengths and thicknesses and comes with a nylon sleeve. REP Fitness also backs the rope with an industry-leading 3-year warranty.
⭐ Lifters and home gym enthusiasts on a budget will appreciate the low price point on the Amazon Basics Battle Training Rope, but if you want an anchor and sleeve they are sold separately.
---
More Guides and Articles Like This
6 Best Machines for HIIT Workouts at Home. High-intensity interval training is the fastest way to get cardio and conditioning under your belt. Here's a look at the best HIIT machines to add to your home gym.