Weight sleds are a versatile way to build speed, power, and endurance. Here are 5 reasons athletes should train with weight sleds.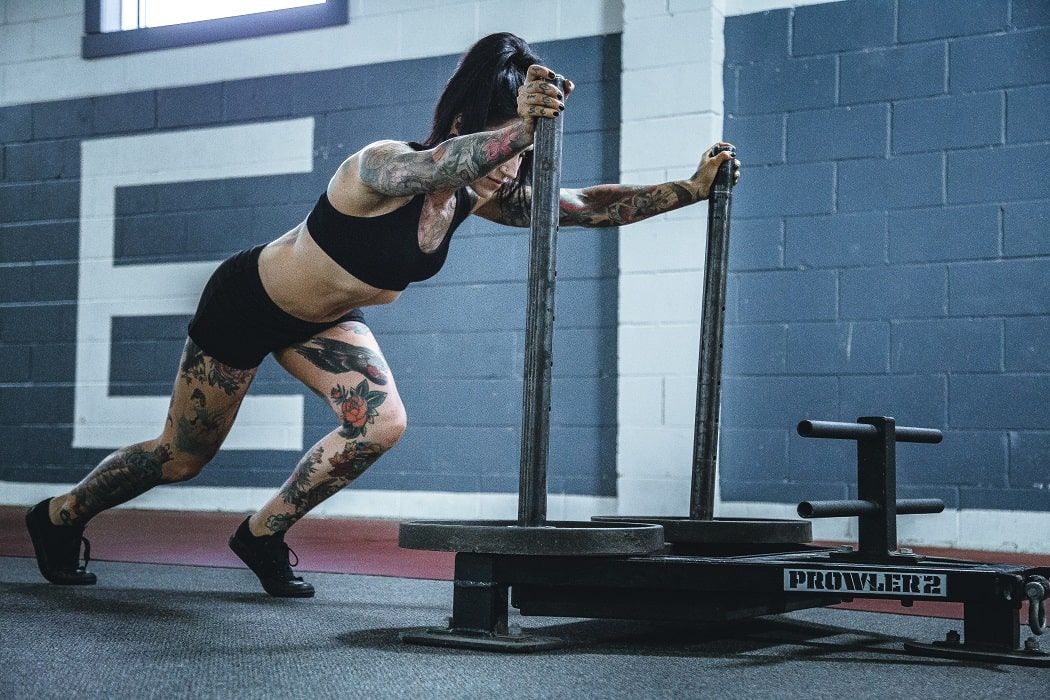 As a kid one of my favorite movies was "Cool Runnings."
The movie, based on real people and a real story, told the tale of a group of Jamaican men as they became the first bobsled team to represent their country at the Winter Olympics.
A classic fish-out-water story, I loved the humor, the underdog component, and the raw athleticism that was involved with pushing a heavy sled across ice and then hurtling down an ice chute at highway speeds.
In recent years, weight sleds have become a popular tool for the broader athletic and fitness communities.
Sleds are a versatile and fun way to improve strength, build endurance, and break the routine of the usual lifting and plyo training.
Weight sleds, or prowlers, can be pushed, pulled and dragged. Weight can be added to the sled for added resistance, and you can unload it for those blistering speed repetitions.
Beyond the fun of imaging yourself participating at the Calgary Winter Games ("Feel the rhythm, feel the rhyme, get on up, it's bobsled time!"), here are some reasons athletes should train with weight sleds.
1. Develop power in a safe manner.
Most explosive and power strength training exercises in the gym are overhead and vertical movements.
The clean and jerk, squatting, deadlifting. Relying too much on these exercises ends up putting a lot of compressive force on the body.
Sled pushes are great because they take the weight off your spine, literally, while still providing the power and strength from the standard lifts.
Often, for athletes who have knee issues, the sled push is an alternative way to train the quads and posterior chain.
2. Speed and power, deluxe.
Sleds build speed and power in an extremely functional manner.
One paper found that youth athletes, training with a weight sled, got the best speed gains when loading up the sled with heavy weight.
Sled pushes and pulls are great because you are loading existing athletic moves and patterns. Simply, sprinting with resistance builds sprinting speed.
3. Easy for athletes of all levels of experience.
The sled push is a functional and "natural" exercise that doesn't require a ton of coaching.
Unlike compound exercises, the learning curve on weight sleds is shorter and is less impact than the big lifts.
4. Accelerate like a boss.
Sleds teach the most important part of developing speed—acceleration.
Coaches tend to fixate on top speed as a primary indicator of athletic quickness, but acceleration is where we spend most of our time when competing and training.
Sled pulls and pushes crank up your starting speed.
5. Can be used for aerobic and recovery work, too.
Sure, loading up the sled for short, high-intensity efforts (with lots of rest, obviously) is great, but sled pulls and pushes are an excellent and low impact form of cardio as well.
Unload the sled, and push it back and forth for 20 minutes. You will be drenched with sweat and cranking up the aerobic capacity like a champion.
Weight sleds – where to buy
As weight sleds have gotten more popular over the years, more companies have gotten into the sled-production game, generally driving down the price of them.
Gotta love competition!
There are a lot of excellent weight sleds out there for athletes, weekend warriors, and general fitness enthusiasts.
Below are my two favorites.
The first, the miR Weight Sled, is best suited for individual athletes and the second, the Rogue Butcher V2, is a more industrial-sized sled that works great for commercial and home gyms.
miR Weight Sled. The miR is an excellent sled for its portability, versatility (push and pull it), and it's well-priced at around $60.
Rogue Butcher V2 Weight Sled. Rogue makes heavy-duty, nearly indestructible gear for athletes. The Rogue Butcher is a beast, weighing 70lbs, and has configurable plastic skis for use on concrete.
Photo by Alora Griffiths on Unsplash