The Titan Fitness Fan Bike is a budget-friendly assault bike with tons of functionality. Here's a closer look and review, including things that I loved (and didn't love) about this air bike.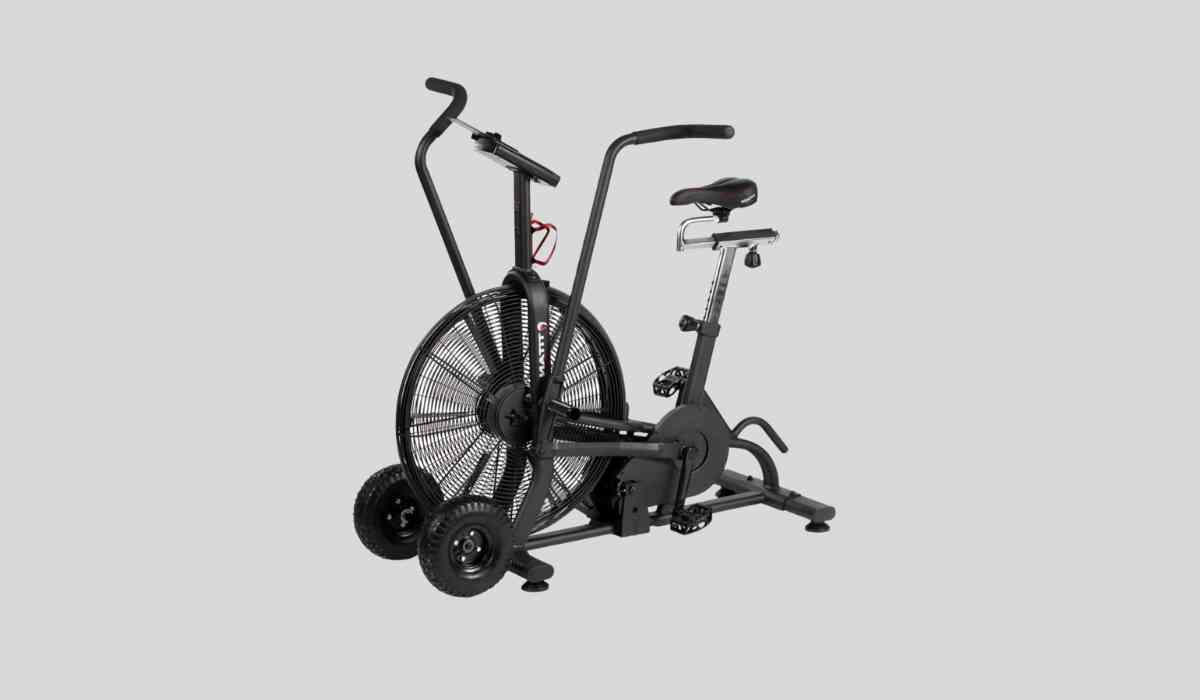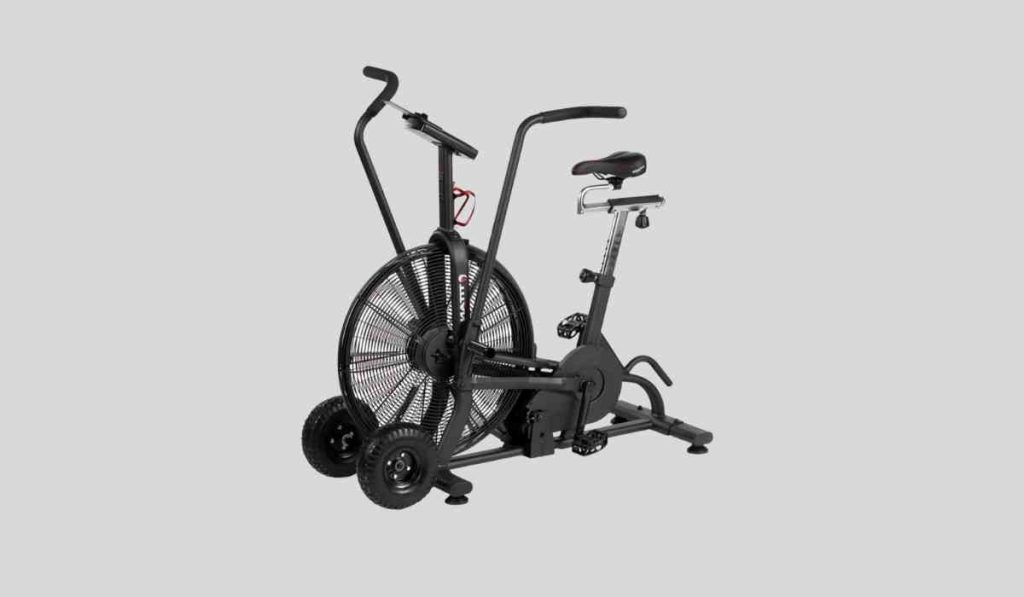 Ready to take your conditioning to the next level?
Build some muscle? Improve cardiovascular capacity? Become better looking*?
(* Results may vary.)
The Titan Fitness Fan Bike might just be the thing to get you there.
It packs all of the features and benefits of an assault or air bike, and combines it with the lowest price point in the biz.
In this in-depth review of Titan Fitness' first-ever air bike, we are going to look at why this bike is the best value-friendly option on the market.
We'll look at the things I really like about the bike and some of the things it can improve on.
By the end, you will have a clear idea of whether it's the best air bike for you.
Let's get in the saddle.
Titan Fitness Fan Bike — Things I Really Like
Alrighty, let's get right into the things I like the most about this air bike:
? 1. The Titan Fitness is the least expensive (quality) air bike on the market
Ask anyone who has built a moderately equipped gym and they will tell you how expensive building out your dream home gym can be. At times, the price can be prohibitively expensive.
With exercise machines like air bikes, which have a lot of moving parts, pricing drifts north quickly.
The Schwinn Airdyne AD7, for example, costs $1,099. The AssaultBike Elite drains $1,299 from the wallet.
The Titan Fitness Fan Bike flips the switch on this trend, being the least expensive air bike on the market.
Retailing for $649 (check Titan Fitness' website for up-to-date pricing and special offers), it edges out the Bells of Steel Blitz 2.0 Air Bike as the cheapest quality air bike.
(Note: There are plenty of cheapo knock-offs that you can find on Amazon for like $300, but they are almost universally complete and total crap.)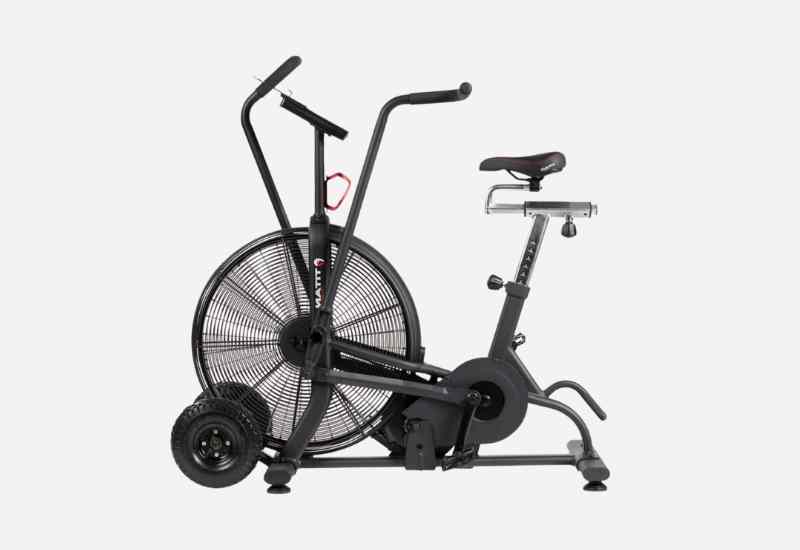 ? 2. Total body workout 9000
The Titan Fitness Fan Bike is an absolutely brutal, err, total workout.
The resistance that comes with this kind of exercise machinery comes down to how hard you want to push things (aka variable resistance).
There's no dial or resistance settings to manage when you get on the air bike, which makes it super easy to bounce back and forth between maximum resistance and low intensity work when doing interval training.
The chain-drive is a benefit in this instance as it allows you to ramp up speed more quickly (there are also downsides to chain-drive fan bikes, which we will cover in the "thumbs down" section of this review).
The fan bike is a complete body workout. Whether you are looking to burn fat, lose some weight, improve athletic performance, or even build some muscle, the Titan Fitness Fan Bike can help you get there.
? 3. Tank treads for super easy portability
The first thing you will probably notice when looking at the Titan Fan Bike is the pair of tires at the front of the unit.
These are GREAT for tilting and moving the bike with ease. While most air bikes, including the Rogue Fitness Echo Bike, the Schwinn Airdyne, and the AssaultBike, all have rubberized wheels along the front cross-member, the Titan bike means you can basically go 4×4'ing with it.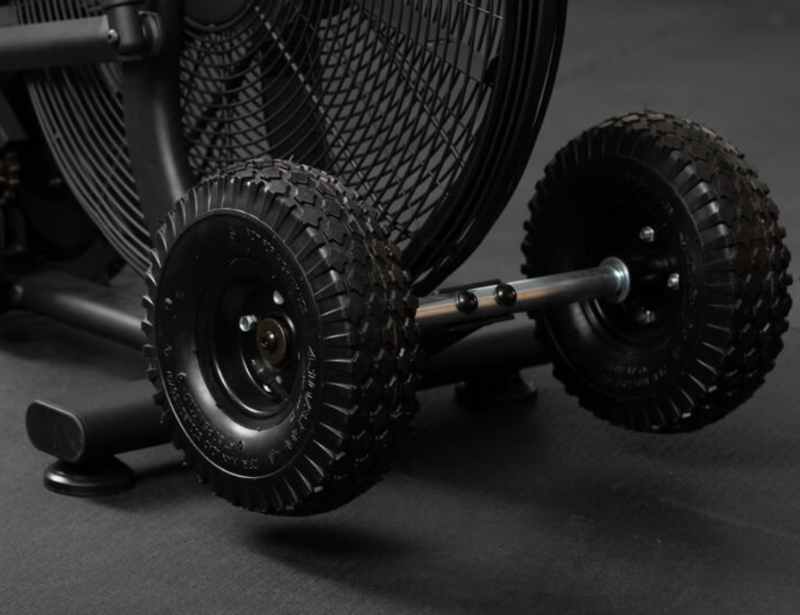 When would this come handy? Moving the bike outdoors to get some fresh air. Wheeling it across turf. Or simply moving it faster between workouts. Or for instructors and classes who need to move a bunch of air bikes in quick succession.
The Titan Fan Bike is also the only assault bike I've seen that has a handle on the back of the frame to more easily tilt the bike when you are ready to wheel it off into the sunset.
Makes moving the bike a literal breeze.
Is a fan bike the same as an assault bike? Yes, they both refer to the same piece of exercise machinery. Also known as an air bike or an Airdyne. The name "assault bike" came into common use thanks to Assault Fitness, who developed the "AssaultBike" in the 2000s for CrossFit athletes, and the name stuck, even though it was Schwinn who created the first air bike back in the 1970s.
? 4. Basic LCD monitor (and yes, I consider this a good thing)
The first time I got on to my wife's Peloton and fired up the monitor, I lost my patience after about :42 seconds.
Why? Because I just wanted to ride the bike, I didn't want to input a long list of information or have to wade my way through a jungle of options.
Some air bikes (and stationary bikes in general) are leaning this way, with manufacturers going the "if one option is good, then 34,504 option is better!" approach.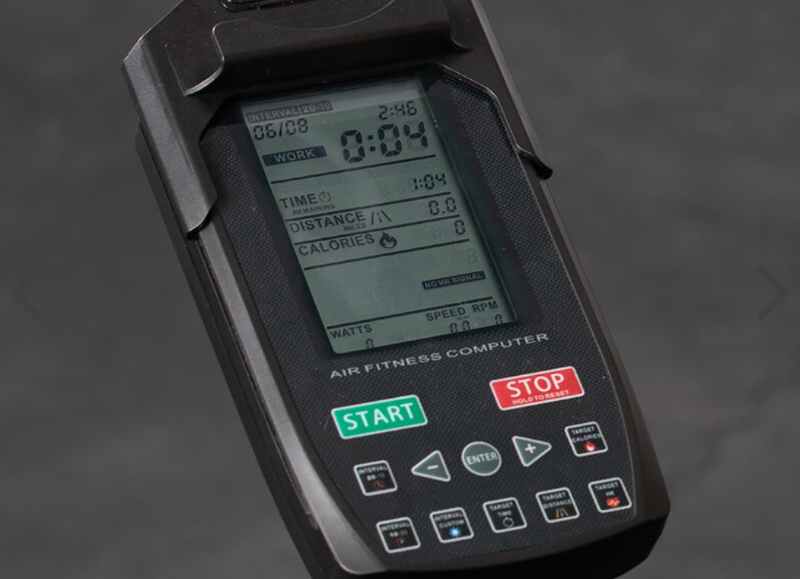 The Titan Fitness Fan Bike's LCD monitor is fairly bare bones, which is exactly what I want out of my workout and time on the bike. A few basic HIIT and interval programs, metrics for distance, calories, speed, and power, and that's enough.
More often than not, simple is better, and for this reason, I actually prefer this monitor compared to more extravagant monitors (Schwinn's Airdyne AD7, for example).
? 5. Custom seat positioning for a stable and comfy
The fan bike can be adjusted both vertically and fore-aft.
The front-to-back positioning can be pinned into place wherever you feel most comfortable, and the 8 height settings allow for a seat from 33" to almost 43".
Users who find the extra wide seat cushions on other air bikes will really like the seat design on the Titan Fan Bike.
It finds a nice balance between the crotch-deadening seats on spin bikes and the double-wide love seats that pass for seats on other air bikes.
Things Some People May Not Like
Okay, while there are things to really like about the Titan Fitness Fan Bike, it's their first time putting out this kind of bike and there are some things that they could improve upon moving forward.
The two things that pop out the most for me include:
? Chain-drive.
The Titan Fitness Fan Bike, like the AssaultBike, uses a chain-drive system. When you are pedaling and pulling/pushing the arm handles, you are transferring power to the fan, causing it to spin.
The method of power transfer—when it comes to air bikes and stationary bikes in general—is accomplished either via chain or belt. There are pros and cons for both, but chain drives tend to require more maintenance over time.
Chain drives are also noisier than belt-driven air bikes. Most users won't really notice a difference, as air bikes are fairly loud to begin with, but it's something to aware of.
? Not as wide as other air bikes on the market
One of the biggest things you want out of an air bike is stability when you are going gangbusters on it.
Obvious, no?
For larger athletes, or for people who may, ahem, get a little squirrelly on the machine with their upper body, the narrow profile of the Titan Fan Bike may not be to your liking.
In comparison, the Rogue Echo is almost 27" wide at the bottom, while the Titan is just over 20" wide.
Compared to other air bikes which are both heavier and wider, this bike doesn't quite feel as sturdy.
The Bottom Line
There are some slight downsides to the Titan Fitness Fan Bike. But for most users, these complaints are relatively minor.
The chain-drive system will work fine for just about everyone, although very experienced air bikers will notice that the initial resistance isn't as stiff as a belt-drive air bike.
And the slimmer profile actually works to the advantage of home and garage gym owners who have less room to work with and don't need their air bike to be built like an M4 Sherman Tank.
At the end of the day, the Titan Fitness Fan Bike is an excellent budget-friendly air bike.
The fan bike can be purchased through Titan Fitness' website by clicking here.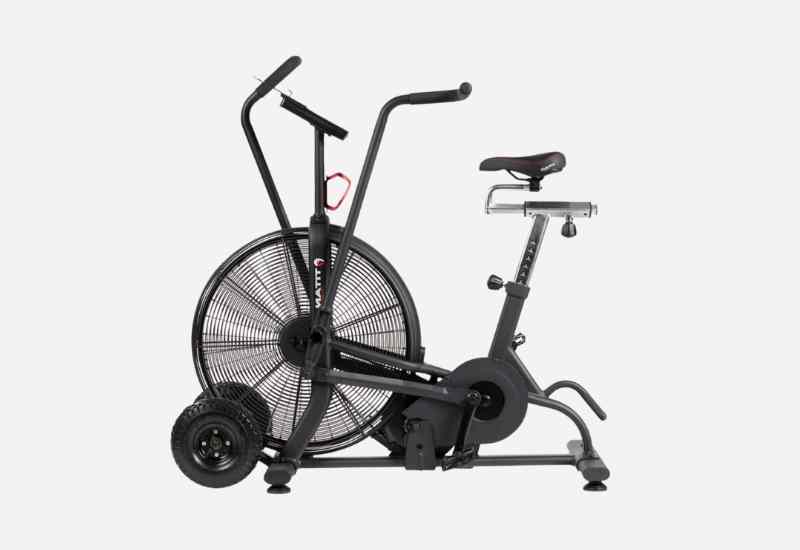 More Air Bike Guides and Resources
⭐ The Best Air Bikes for Home Gyms (Unleash Beast Mode). Ready to perform a laser-targeted attack on your weight loss goals? Here's a detailed look at the best Air Bikes for home gyms.
7 Assault Bike Workouts for Burning Fat, Athletes, Cardio, Beginners, and More. The assault bike is one of the best tools for fat burning and improving athletic performance. Here are seven killer assault bike workouts for beginners, weight loss, building cardio, muscle growth, and more.
Assault Bike vs Echo Bike: Pros, Cons, Differences and Which One is Best. The AssaultBike and Rogue Echo are two of the best air bikes in the gym. Here's a detailed look at the main differences between these two commercial-grade air bikes.