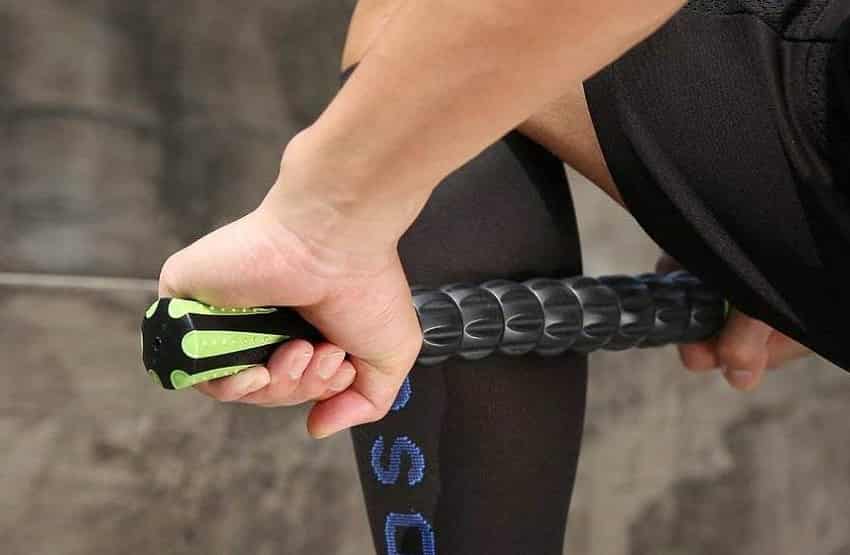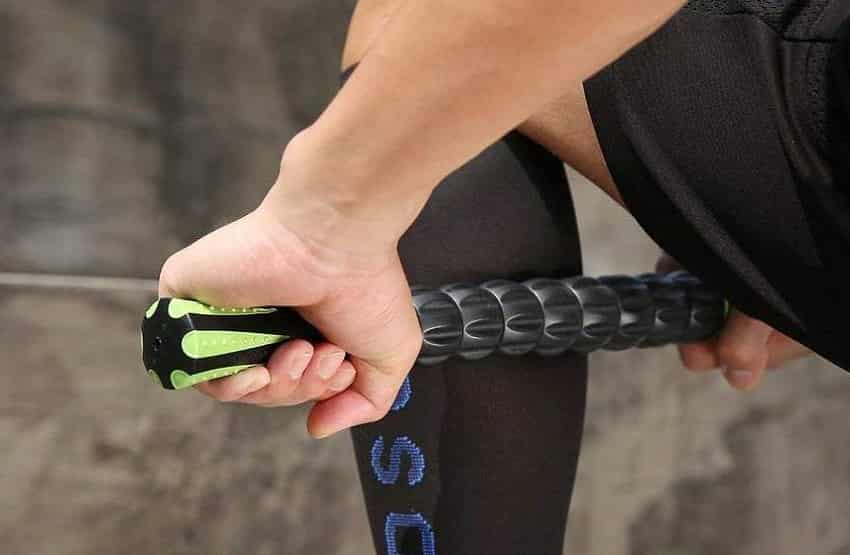 Muscle Roller Sticks are a simple and powerful self-massage tool for increased mobility, speeding up recovery, and boosting performance in the gym (and life!).
Here is a breakdown of the best muscle roller sticks for deep tissue massage, injury management, and more.
Quick Picks
For a deeper look at each of our selections, check out the more detailed breakdown of each muscle roller stick below.
---
Tiger Tail Original Muscle Stick
The black foam cushioning, durability, and comfort on the Tiger Tail makes it our top pick for best-cushioned muscle rolling stick.
The Tiger Tail is the old guy on the block when it comes to muscle roller sticks. It was the first one I purchased, something like seven years ago, and it still works almost as well now as it did then.
Instead of a plastic roller, Tiger Tails have a smooth and cushioned black foam roller. The Tiger Tail has ribbed handles and comes in several sizes. The 18" is the most common size, but there is also a 22" and more travel-friendly 11" version.
The black foam is a good option for those body parts that are too sensitive or too painful to be treated with the plastic muscle rollers.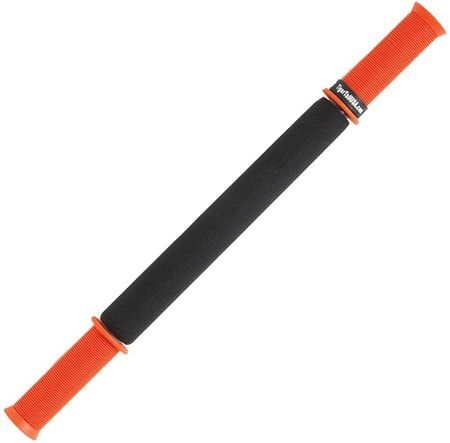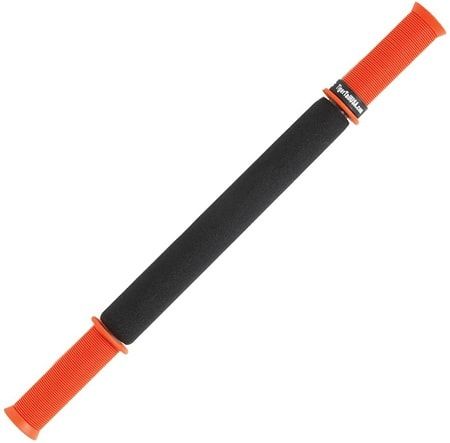 Where to Buy — Tiger Tail Original Muscle Stick

---
Sportneer Deep Tissue Muscle Roller Stick
For those looking for a deeper tissue massage, the Sportneer Muscle Roller Stick features deep-ribbed plastic gears for attacking soreness.
Along with the Tiger Tail, the Sportneer Muscle Roller Stick is a key piece of my mobility and post-workout recovery arsenal. It features ten plastic gear treads that run smoothly and deeply over your skin, hitting deep into your muscles.
The treads just out about 1/4 inch, helping them dive deep into your muscles. The shaft is made of steel, the anti-slip handles are polypropylene plastic, and at 17.5″ in total length, can be easily transported.
Another nice benefit of the Sportneer Muscle Stick is the threaded loop at the top of the stick, which means you can handle it for easy storage.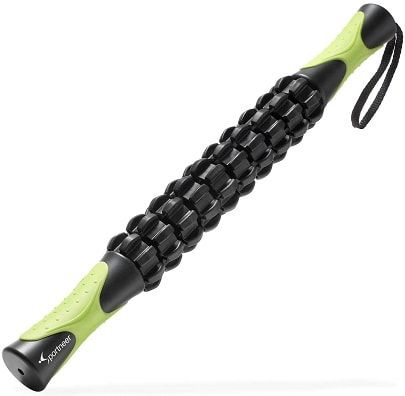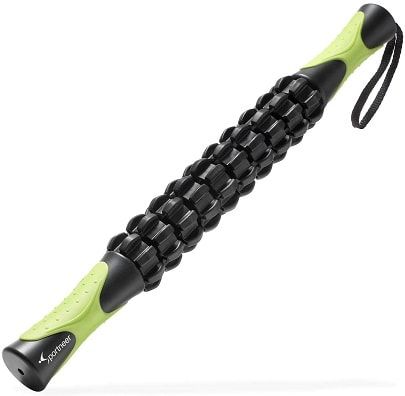 Where to Buy — Sportneer Deep Tissue Muscle Roller Stick

---
IDSON Body Massage Stick
At less than $10, the IDSON Body Massage Stick is my top pick for best bargain muscle roller stick.
Exceedingly well-reviewed on Amazon, the IDSON Body Massage Stick has nine independent rollers and two anti-slip handles that create an ergonomic grip for max comfort and pressure.
Whether you want to target your calves, hamstrings, lower back, or anywhere else, the IDSON Body Massage Stick is a killer pick.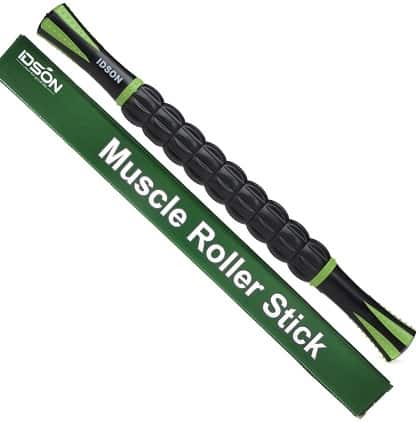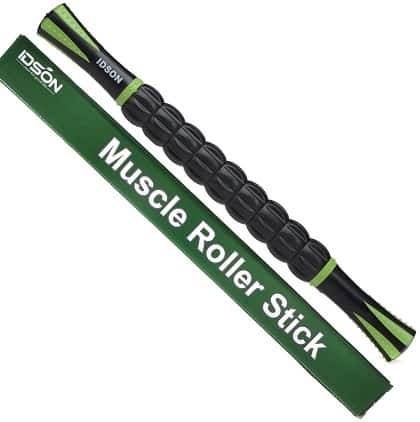 Where to buy — IDSON Body Massage Stick

---
Gaiam Spiked Muscle Roller Stick
The unique design of the Gaiam Muscle Roller–featuring three spiked balls rolling on a steel shaft–gives a smooth and deep massage.
I absolutely love this muscle roller, which features three massage balls covered in soft plastic spikes. The balls roll smoothly when applied over the skin, penetrating deep into your muscles.
Designed to provide a maximal amount of tissue stimulation and also increase blood circulation, the Gaiam Muscle Massage Roller Stick comes in the standard 18″ length.
The handles are a soft rubber that helps you keep a firm and comfortable grip while you blast away muscle soreness and target trigger points.



---
More Recovery Gear Guides
I've put together several other gear guides on products that facilitate athletic performance and increase recovery.
Best Foam Rollers for Athletes and Gymgoers. Interested in foam rolling, but don't know what kind to get or what to look for in one? Here are the best foam rollers for boosting recovery, decreasing muscle soreness, and improving mobility and flexibility in your muscles and joints.
Best Kinesiology Tapes for Improved Performance and Recovery. Looking for some quality kinesiology tape for managing injuries, supporting muscles and ligaments, and improving athletic performance? Here is a breakdown of popular kinesiology tapes, and which kinds of K-tape are best for your particular goals in the gym.