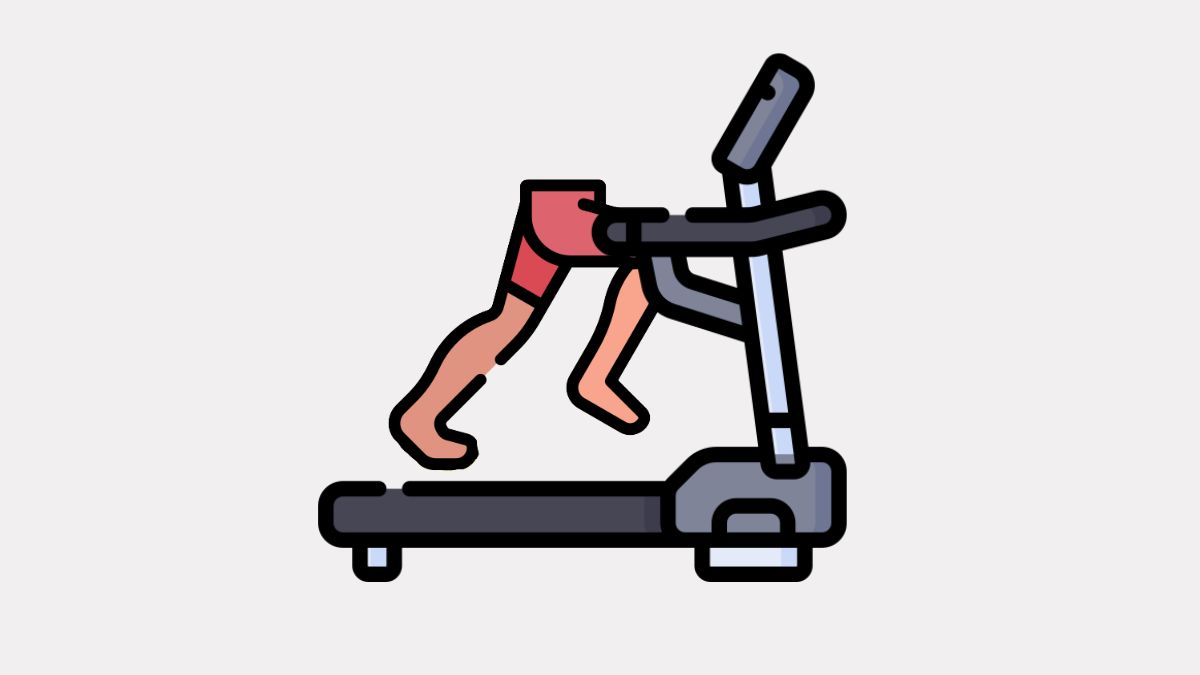 Barefoot running has become a hugely popular trend in modern running training.
The no-shoe, minimalist style of training offers a number of unique benefits that has proven surprisingly appealing to runners who want to maximize their efficiency, endurance, and longevity.
But if the idea of running barefoot outdoors feels a bit scary, you might want to consider first starting off running barefoot on a treadmill. That way, you can try out this technique in a safe, controlled environment.
Below, we'll take a deep dive into barefoot running—in this case, specifically on a treadmill, though the information will translate into outdoor running, too.
We'll look at the benefits and risks both so you can understand how this unique running method will affect you positively and negatively. Then, for your safety, we'll offer some simple tips to help you adapt to barefoot running on the treadmill.
You're in for a fascinating look at how you can use your favorite indoor cardio machine to become a better runner, so let's dive right in!
The Benefits of Running Barefoot on a Treadmill
Benefit #1: Improved Motion
I could take you on a deep-dive through the complex scientific literature delving into the minutiae of barefoot running and how it differs kinetically and kinematically from running in shoes.
However, all that dry text will get real boring real fast, so I'll sum it up and keep it brief.
One meta-analysis of 27 different studies on barefoot running examined a range of factors, such as:
Foot strike pattern
Stride
Joint range of motion
Running economy
Impulse
Rate of loading
Joint movements/power
Ground reaction forces
EMG
What these studies concluded was that barefoot running did provide some minor benefits to kinetics and kinematics.
For example, peak electrical activity in the tibialis decreased as a result of barefoot running, running economy improved, runners increased both their stride length and frequency, and ground reaction forces decreased (leading to reduced joint impact).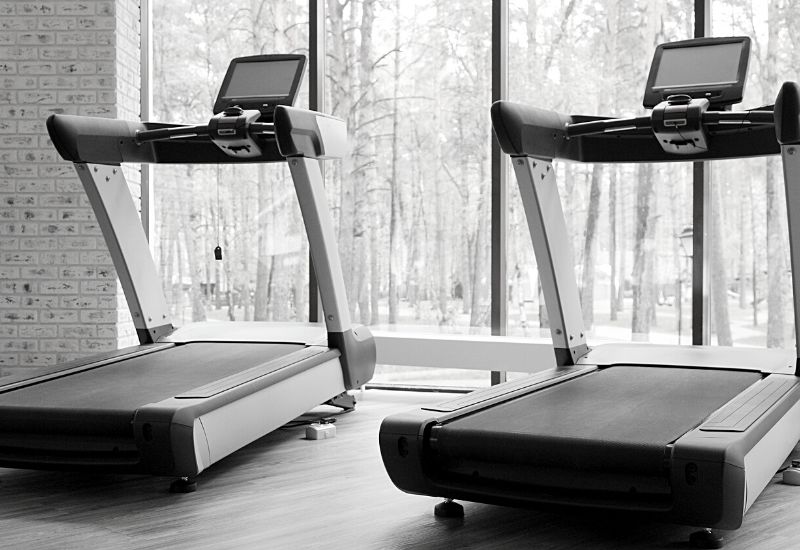 The research on the subject is still very sparse and a lot more studies are needed to determine for sure whether barefoot running can actually improve your performance, but the preliminary research does point toward improved motion overall when running "au natural".
Benefit #2: Reduced Oxygen Cost
One fascinating study found that "running with shoes showed significantly higher VO2 values on both the treadmill and the overground track".
Runners who trained with shoes on not only had a higher heart rate than their barefoot counterparts, but their "Rate of Perceived Exertion" was higher (meaning the workout felt more strenuous or demanding).
As the study concluded, "barefoot running is more economical than running shod, both overground and on a treadmill."
Anything that decreases the oxygen cost—the amount of effort your body requires to absorb and utilize oxygen—will increase your endurance and decrease the difficulty of your run.
Your ability to run longer won't only be affected by what types of treadmills you train on or what terrain you encounter, but also your footwear—or lack thereof.
Benefit #3: Enhanced Memory
Now this is a really cool benefit.
As you know, all forms of running is excellent for your cognitive function. Countless studies highlight the benefits of treadmill running and outdoor running for your brain—everything from better focus and concentration to enhanced mood to greater focus to improved executive function.
But one study, in particular, found a fascinating link between barefoot running and your working memory.
According to the data collected, simply removing your shoes to run improved memory by 16%–an improvement not seen by those who ran with shoes on.
How is this possible?
Well, one researcher theorized:
"The barefoot condition required a more intensive use of working memory because of the extra tactile and proprioceptive demands associated with barefoot running, which may account for the working memory gains."
This leads us right to our next benefit…
Benefit #4: Greater Proprioception
Proprioception is defined as "the sense that lets us perceive the location, movement, and action of parts of the body. It encompasses a complex of sensations, including perception of joint position and movement, muscle force, and effort."
You could also call it "body awareness". You become more aware of how your body is sitting, standing, and moving, which, in turn, gives you greater control over that movement.
No surprise, then, that anything that improves proprioception is a good exercise or activity to incorporate into your daily life.
Barefoot running is definitely amazing for your proprioception. Because your bare (unprotected) feet are striking the ground, you have to be aware of what's underfoot so you can avoid any injuries.
This leads to better working memory (as explained above), but also gives you greater awareness of everything from your stride length to stride frequency to the way your feet strike the ground.
But it doesn't stop there.
There's also a tactile element: the highly sensitive nerve endings in your bare feet register the sensations of the ground underfoot and send them to your brain.
This increases your awareness of both your environment and body.
Benefit #5: Safety
There's no two ways about it: working out in your own home (or a gym) is much safer than training outdoors.
Inside your home, there's no one to get in your way, no risk of collisions with other pedestrians or vehicles, less smog and air pollution to harm your lungs, and no objects (benches, curbs, bus stops, etc.) with which you risk collision.
Safety is why it's recommended to do less-conventional training (like sprint training or walking backward on the treadmill) indoors before taking it outdoors.
And let's be honest: barefoot running is significantly less-than-conventional!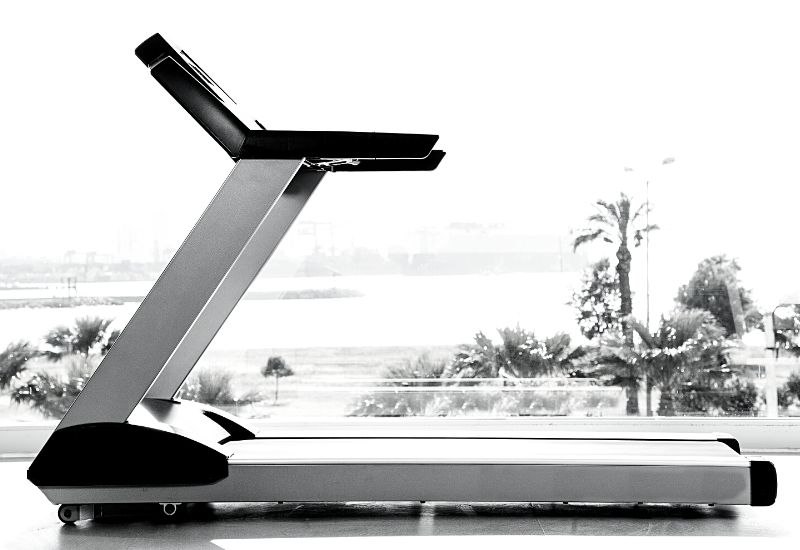 Barefoot running indoors on a treadmill will reduce the risk of you stepping on something sharp/damaging, thereby decreasing injuries. You'll also be free to focus on your movement rather than your environment.
Best of all, you won't have to be self-conscious because there's no one in your home to give you the side-eye for running barefoot down a dirty sidewalk.
Pretty great reasons to take up barefoot running on a treadmill, aren't they?
But before you dive in deep, it's important to take a few moments to consider the risks, too.
The Risks of Running Barefoot on the Treadmill
Higher Injury Risk
One study suggested that, "with the transition to minimalist running, there is increased stress on the foot and ankle and risk of repetitive stress injuries."
What's interesting is that it's not the actual running itself that might cause a higher risk of injuries, but the transition from running with shoes to running barefoot.
Our bodies have become so conditioned to walking and running in shoes that the research suggests conditioning it to a new type of movement may cause injuries.
When running on a treadmill indoors, you aren't putting your feet at risk with sharp objects or uneven terrain like you would running outdoors.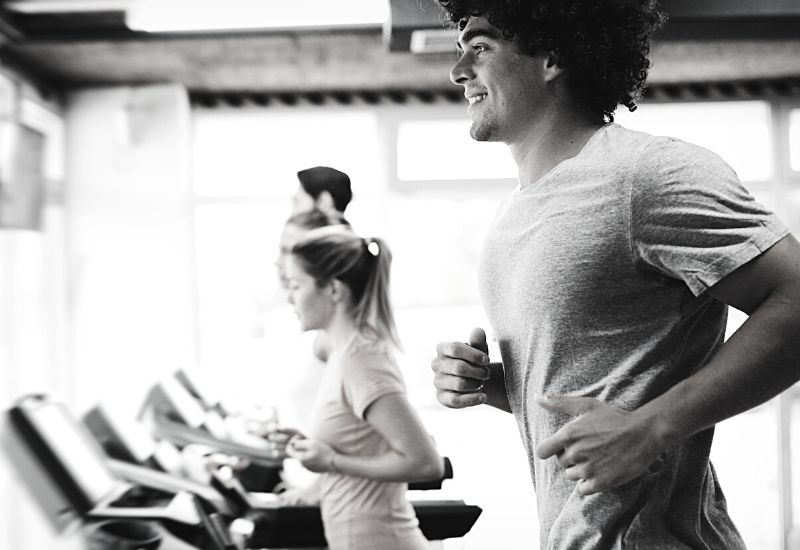 However, there is the very real possibility of developing blisters and burns as a result of the bare-skin contact with the abrasive surface of the treadmill's belt. The constant repeated friction can damage the skin on the bottom of your feet, or a misstep could literally scrape a layer or two of skin off.
It's definitely not an injury-free type of training, so you need to go into it with your eyes wide open.
Repetitive (and Boring)?
One major downside of running on a treadmill, with or without shoes, is that your environment never changes. You're always in the same room, surrounded by the same walls, running in the same place. The décor and background objects may change slightly, but that's it.
People can find running indoors repetitive, even boring for this reason. (This is something that comes up a lot in the debate between treadmill running vs outdoor running.)
And, as you've no doubt encountered, boredom can be one of the worst enemies of training. If your workouts bore you, you're far more likely to experience demotivation and have a much harder time keeping up with the training.
Tips for Running Barefoot on the Treadmill
Now that you've had a chance to weigh up the benefits and risks, it's time to dive right in and learn the best ways to start running barefoot on a treadmill that will deliver all the "pros" with as few of the "cons" as possible!
Here are tips to get you started:
1. Start Off With Just a Few Minutes
Yes, I know this is the opposite of what you're usually focusing on. Shortening your time seems counterintuitive. After all, to max out the calories burned on the treadmill, you need to run longer (or harder).
But that'll come in time. For now, focus on just running for 5-10 minutes without your shoes on—either at the beginning or end of your run.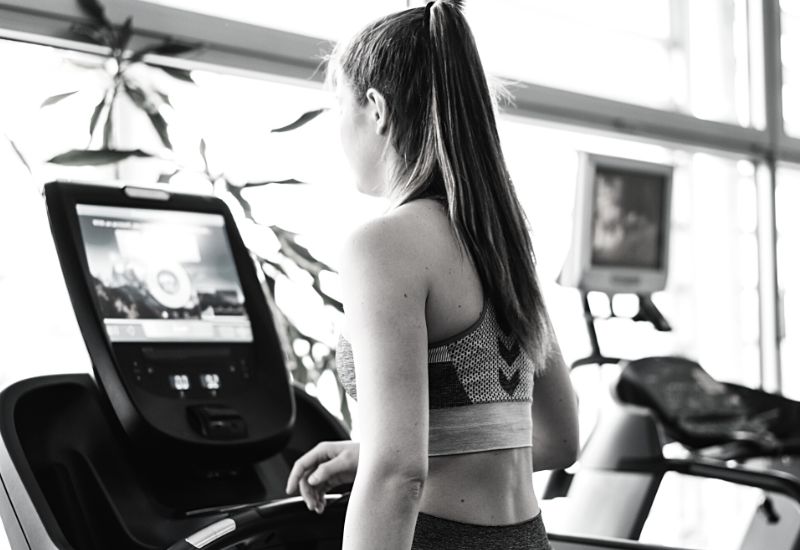 That way, your body can adapt to the new movement and sensations, but with a lower injury risk.
2. Start Off in Minimalist/Barefoot Shoes or Socks
You don't have to transition immediately to running with no footwear on Day One if you don't want to. There is a more gradual step-by-step approach:
Step 1: Shift to barefoot/minimalist shoes. These are designed to mimic the feel of barefoot running, with as little cushioning and material between your sole and the ground as possible.
Step 2: Shift to running only in socks. This will still provide some minor cushioning and protection for your feet, but removes a shoe sole that could interfere with your natural gait.
Step 3: Shift to barefoot running. Once you're comfortable, take off your socks and let your bare feet hit that treadmill.
Done gradually over the course of a few weeks or months, it'll be much easier to get into barefoot running without worrying about blistering or burning your feet.
3. Start off Slow
DO NOT push yourself to a full-speed run or sprint initially. Your body needs time to adapt to the new kinetics and kinematics, and pushing your pace too fast too early will cause your injury risk to skyrocket.
Start off with a slow, steady-pace jog or run, something "light" and easy that you can sustain for 30-60 minutes. Stay at this slower pace for a week or so, and only once the movement starts to feel more natural should you increase your speed.
4. Focus on Your Stride and Motion
Pay attention to your movement, particularly the way your feet strike the ground, your ankles flex, your knees bend, and your leg muscles and hip joints move to propel you forward.
Many barefoot runners find that shortening their stride helps them feel more in control. It will also reduce injury risk, preventing you from skinning your feet with every step.
5. Focus on Your Feet
You need to be aware of how your feet feel during this new movement, because they're the part of your body that is taking the greatest amount of damage and impact.
Pay attention to how your feet strike against the ground, as well as how they push off as you step forward. By focusing on your feet, you'll quickly come to see how you can improve your stride so make each strike and push-off more efficient.
6. Focus on Your Joints
Barefoot running can be great for knee pain on the treadmill, but it can also lead to knee pain at first because you're shortening/altering your stride and the way your feet strike and push off.
Pay attention to your knees, ankles, and hips. If they start complaining, it's a warning that the new gait is affecting them. That's why I recommend you start off with just a few minutes of barefoot running at first, so your joints can adapt to the new movement.
Best Kinds of Treadmills to Use for Barefoot Running
There isn't really a "best type of treadmill" to use when barefoot running.
Really, you'd use the same treadmill that you would for regular running—the only change is that you take off your shoes.
However, I will add two caveats to help you find the right treadmill:
Make sure it can raise the incline. The best incline treadmill will help you to get a better uphill run indoors, making it easier to target your glutes and hamstrings and train the muscles to adapt to the new style of running.
Find a treadmill with good impact-reduction. This is especially critical when looking for treadmills for heavy people, who are already at higher risk of joint injuries due to higher load on the joints.
The Bottom Line
If barefoot running appeals to you, it's definitely the smart choice to give it a try from the comfort of your home before taking it outdoors. Not only is it safer and less likely to cause injuries, but it's just as efficient as outdoor barefoot running.
By following the tips I shared above, you can incorporate this new style of running into your workouts and, hopefully, see the amazing results you're looking for!
---
More Treadmill Guides and Articles
The Beginner's Guide to Mastering the Treadmill Machine (Tips and Workouts). Ready to unleash the full power of the treadmill on your workout goals? Here is the beginner's guide to the treadmill, including tips and workouts to get you started.
How to Build Your Glutes on the Treadmill (Plus Sample Workouts). The treadmill machine is a monster for building bigger and stronger glutes. Here's how to target your glutes on the treadmill and some butt-building workouts to get you started.