Looking to pick up a Life Fitness elliptical for your home gym? Here's a detailed comparison of all of Life Fitness's elliptical trainers, including pros and cons, so that you can decide with confidence.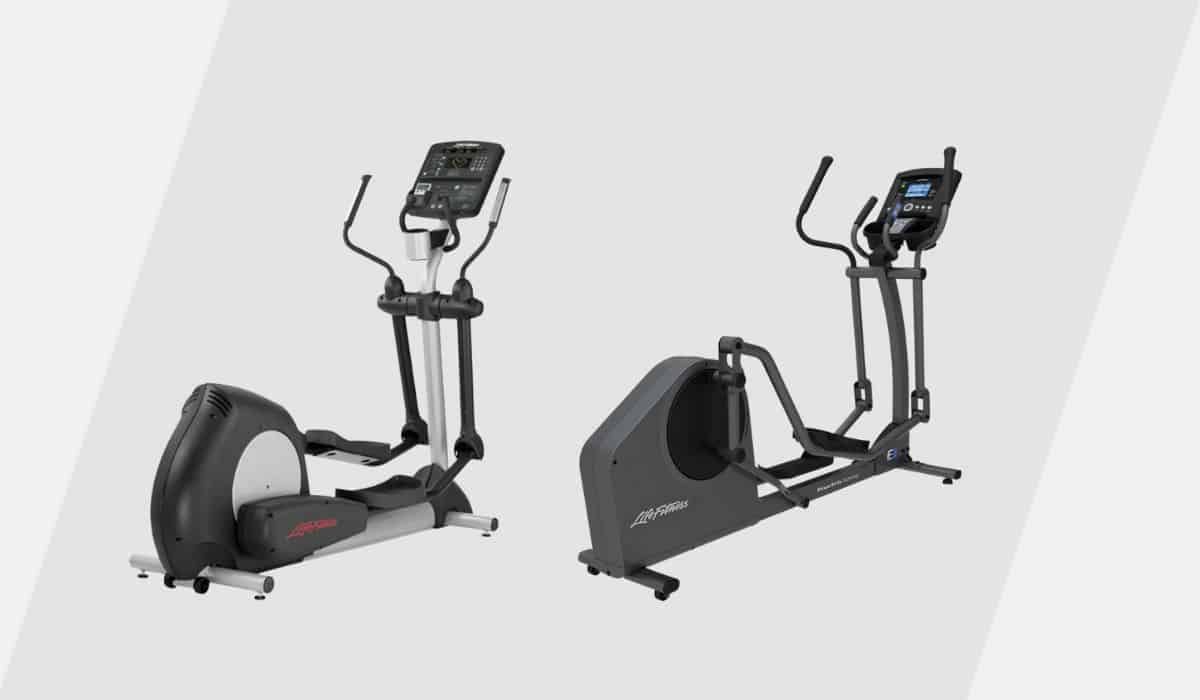 In this comparison of Life Fitness Ellipticals:
If you've ever stepped foot into the cardio room at your local gym, you've almost definitely seen one…
A Life Fitness cardio machine.
They are the ellipticals of choice at just about every gym I've been to over the years. Life Fitness has been building elliptical machines designed for extraordinarily high volume of use for decades.
And now…
Elliptical nerds like you and me can bring home a Life Fitness elliptical.
In this comparison guide, we look at all of Life Fitness's elliptical offerings, including pros and cons of each, so that you can figure out which Life Fitness elliptical trainer is right for you.
Let's jump in and get to striding!
Life Fitness Ellipticals – Comparison by Model
Here is a breakdown of the Life Fitness elliptical machines available for home gyms:
E1 Elliptical Cross-Trainer
⭐ Best for: People looking for a budget-friendly Life Fitness elliptical with low step-up height, quiet stride, and multiple console options.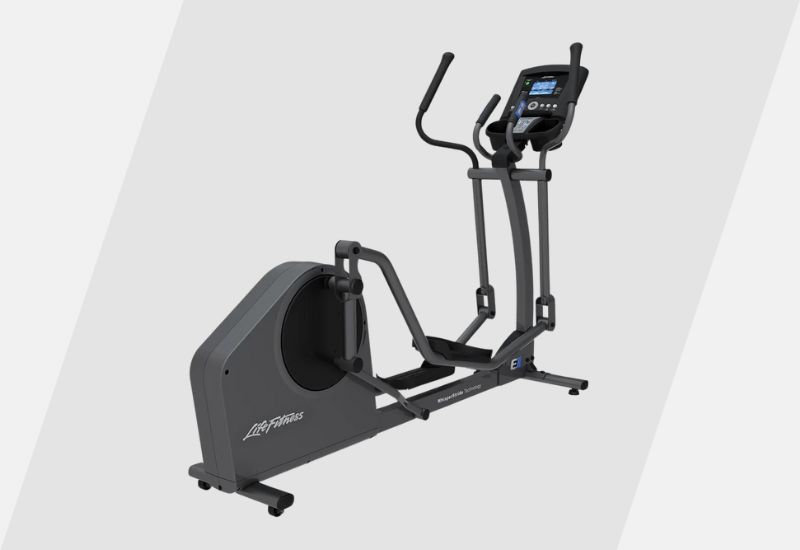 The Life Fitness E1 Elliptical Trainer is an entry-level machine that is designed for home gyms.
Like the other E elliptical trainers in this line, the E1 has a very low step-on height, making it an excellent option for people who don't have a ton of mobility in their hips and knees.
The E1 is an excellent budget-friendly option for people looking to buy a Life Fitness machine, priced at around $2,700. The E1 comes with three different console options, with the consoles progressing in connectivity options as you go up the ladder.
The Track Connect 2, for example, is the most feature-rich console, connecting to the Life Fitness App as well as Apple and Samsung smartwatches.
| | |
| --- | --- |
| ✅ PROS | ❌ CONS |
| Budget-friendly pricing | No incline |
| Low step-up height (6.5") | |
| Very quiet stride | |
---
E3 Elliptical Cross-Trainer
⭐ Best for: People who want a low step-up height, tons of grip positions, and a whisper-quiet rate drive elliptical machine.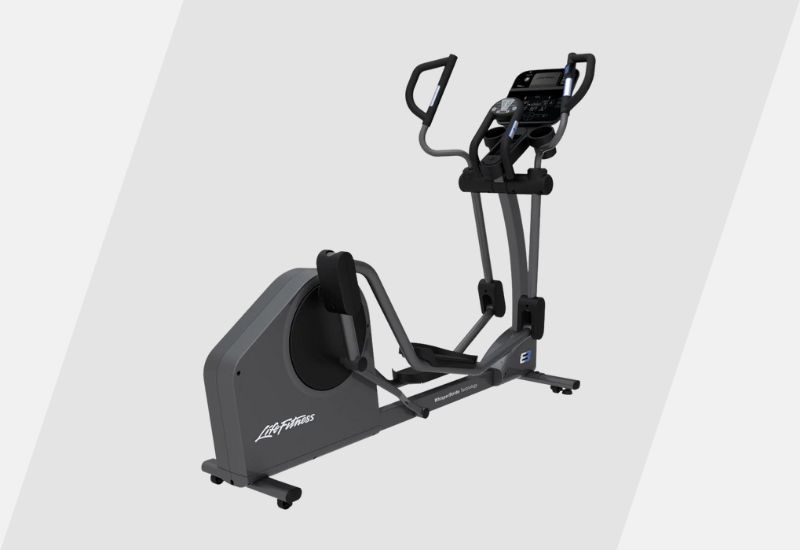 The Life Fitness E3 takes all of the bells and whistles of the E1 and improves upon some key areas.
For starters, the step-up height is half-an-inch lower (just 6"), making it the ultimate elliptical for people with want to be able to literally walk onto the foot pedals of the elliptical.
Second, you get a whole lot more options with the grip variety and amount of tech on the handles.
Instead of just vertical handles, the E3 has horizontal grips that simulate a rowing motion with the hands.
Also, the handlebars have a second mini-console for controlling your workout, and the arms have another set of controls for increasing and decreasing resistance and measuring heart rate.
The price jump for this added set of features is around $1,000.
| | |
| --- | --- |
| ✅ PROS | ❌ CONS |
| Lowest step-up height | She's pricey—starts at $3,719 |
| Tons of grip choices | |
| More controls on handles and arms | |
---
E5 Elliptical Cross-Trainer
⭐ Best for: People who want an adjustable stride length and an exceptionally stable ride.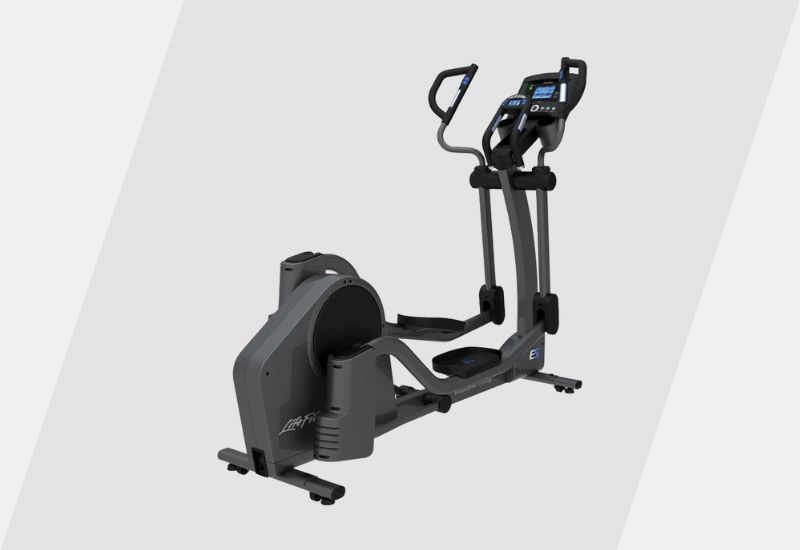 The E5 is the most feature-rich of the "E" ellipticals.
The main feature is a power-adjustable stride length that can be changed between 18" and 24" with the touch of a button.
And speaking of buttons, there is a secondary LCD screen and set of controls on the handle bars, giving you maximum flexibility on how and when you change resistance/stride when working out.
The step-up height is higher than the E1 and E3 at 10" and the E5 Elliptical is a beefier machine compared to its little siblings, weighing a hefty 251lbs.
Users who want an exceptionally sturdy machine with adjustable stride length will love the E5.
The main downside with the E5 compared to other ellipticals with adjustable stride length is the price tag—with a starting price of over $5,200 it's a swift kick in the wallet.
| | |
| --- | --- |
| ✅ PROS | ❌ CONS |
| Adjustable stride length (18-24") | Pricey compared to similar machines on the market |
| Extra controls and screen on handlebars | |
| Sturdy build and weight | |
---
Club Series + Elliptical Trainer
⭐ Best for: People who want a big, crisp HD touchscreen for workouts and streaming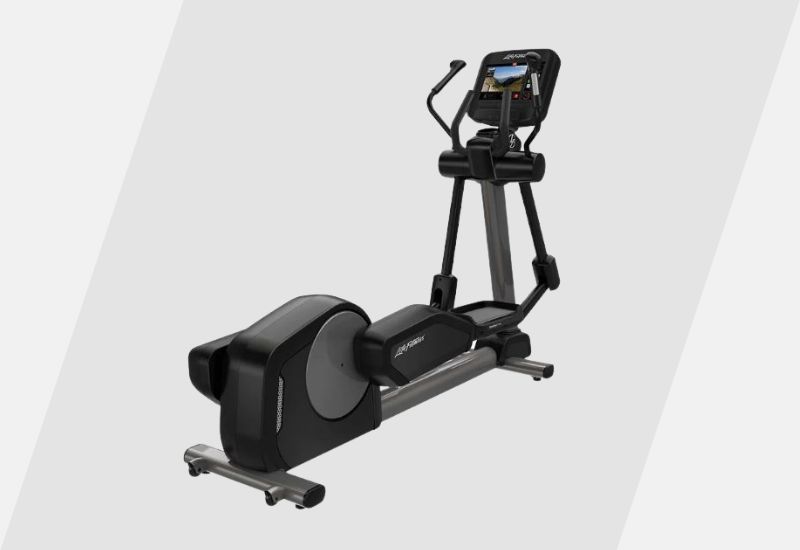 The Club Series +, as you can probably guess from the name of the machine, is a version of Life Fitness's popular line of commercial-grade machines.
It's loaded with goodies, including a huge 16" touchscreen that can be used to do everything from watching Netflix to doing online classes with Life Fitness's AAPTIV app.
The elliptical has Life Fitness's familiar smooth and quiet operation combined with a machine weight of over 300lbs (!!!) for maximum stability when working out.
Price-wise, it's also cheaper than the E5 and has features (the HD screen, in particular) that more users will appreciate.
Being a slimmed-down version of Life Fitness's commercial machines means it still takes up a lot of space, with a working footprint that includes up to 87" of space.
| | |
| --- | --- |
| ✅ PROS | ❌ CONS |
| 16" HD touchscreen for classes, streaming, and games | Takes up a lot of space |
| 20" stride length | |
| Heavy footprint for lots of stability | |
| 25 resistance levels | |
---
Life Fitness Platinum Club Series Elliptical
⭐ Best for: Users who want an elliptical built like a tank, multi-media display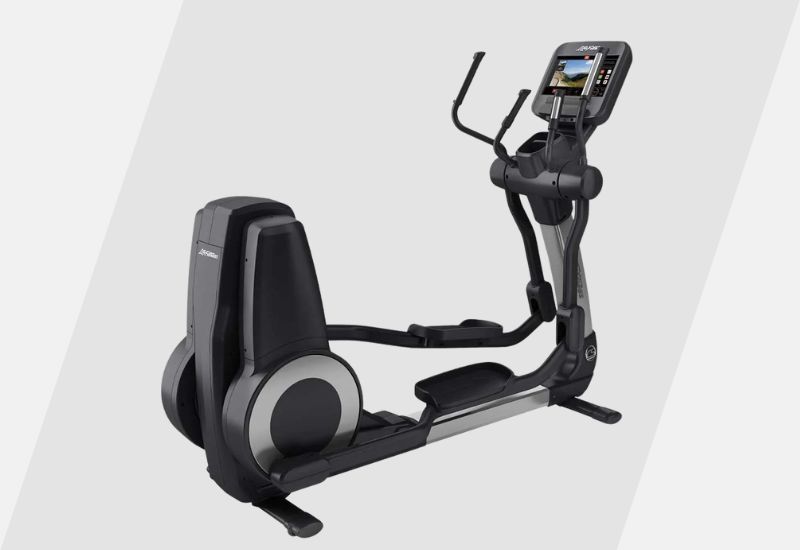 With a name like "Platinum Club" you know that this elliptical is going to bring it when it comes to features…
And you'd be absolutely correct.
The Life Fitness Platinum Club Series has all of the features you'd expect from a premium elliptical machine.
The console showcases a beautiful 16" touchscreen that keeps track of every last detail of your workout, streams video and music, and can be used to browse the web.
The elliptical has heart rate sensors and resistance controls on the handlebars, arms, and on the console so that you can keep your hands on the machine while working out. A 20" stride and extra large, padded foot pedals ensure a comfortable striding experience.
And finally…
This elliptical weighs a beastly 459lbs. Which means that it won't wobble, teeter or rattle no matter how hard you are exercising on it.
Anytime the word "platinum" is in a product name, it's reasonable to assume that the price would also be, ahem, platinum…
The Platinum Club Series Elliptical costs a whopping $6,049.
This machine is also very long, with a length of nearly 90", so this is something to keep in mind if you are short on space at home.
| | |
| --- | --- |
| ✅ PROS | ❌ CONS |
| Built like an absolute tank | Good luck moving it! |
| Super quiet drive | Over $6,000 |
| 16" touchscreen for streaming, browsing, and tracking workouts | Too long for smaller home gyms |
| 25 preprogrammed workouts | |
---
Life Fitness Ellipticals – FAQs
Are Life Fitness ellipticals good?
Life Fitness is arguably the most reputable elliptical machine brand on the planet.
They have decades of experience building and servicing elliptical trainers that get a TON of use in countless fitness centers around the world.
Even though they are priced higher than competitors, the machines have the distinct advantage of being built on the back of an endless amount of experience with ellipticals.
Life Fitness ellipticals are as close as you can get to a commercial-grade elliptical in the comfort of your own home.
What are some comparable elliptical brands to Life Fitness?
The pricing on Life Fitness ellipticals can be hard to swallow for the casual home gym enthusiast.
Fortunately, there are several other cardio machine brands that have the same kind of track record with producing quality elliptical trainers.
They include NordicTrack's ellipticals, ProForm's elliptical trainers, Nautilus, and the Sole Fitness's line of ellipticals.
Where is the best place to buy Life Fitness ellipticals?
Life Fitness has an online store where they sell its full line of elliptical trainers. They sporadically have deals and specials (Life Fitness's Black Friday deals are almost always epic).
Click here to visit the official Life Fitness website and see what kind of special offers they are running right now.
The Bottom Line
Life Fitness is unquestioningly one of the best names in the game when it comes to making cardio machine designed for 24/7 use in the cardio theater of local gyms.
For the home gym enthusiast, there are some excellent options for ellipticals that line up with what you want to accomplish in the gym.
While they can be prohibitively expensive in some cases (well, most cases) for the average home gym enthusiast, they are backed by decades of experience building ellipticals for extended, high-volume use.
Choose the best Life Fitness elliptical that works best for you and get to work on achieving your health and fitness goals.
---
More Elliptical Guides and Resources
Elliptical Buying Guide – Everything You Need to Know to Buy with Confidence. Want to buy an elliptical but don't know where to start? Arm yourself with the knowledge to choose the perfect elliptical for you and your workout goals.
The Different Types of Elliptical Machines (Pros and Cons of Each). The elliptical machine is one of the best tools to achieve weight loss goals. Here's a look at each type of elliptical machine, including the pros and cons of each, so that you can use the right one for you and your training goals.
How Much Do Ellipticals Cost? (44 Different Models Compared). Ellipticals can be a costly investment in your workout goals. Here is a look at how much each type of elliptical costs and how much to spend on one.