The leg press is a killer way to develop stronger and more muscular legs. Here are 7 reasons to hit the leg press machine on your next leg day.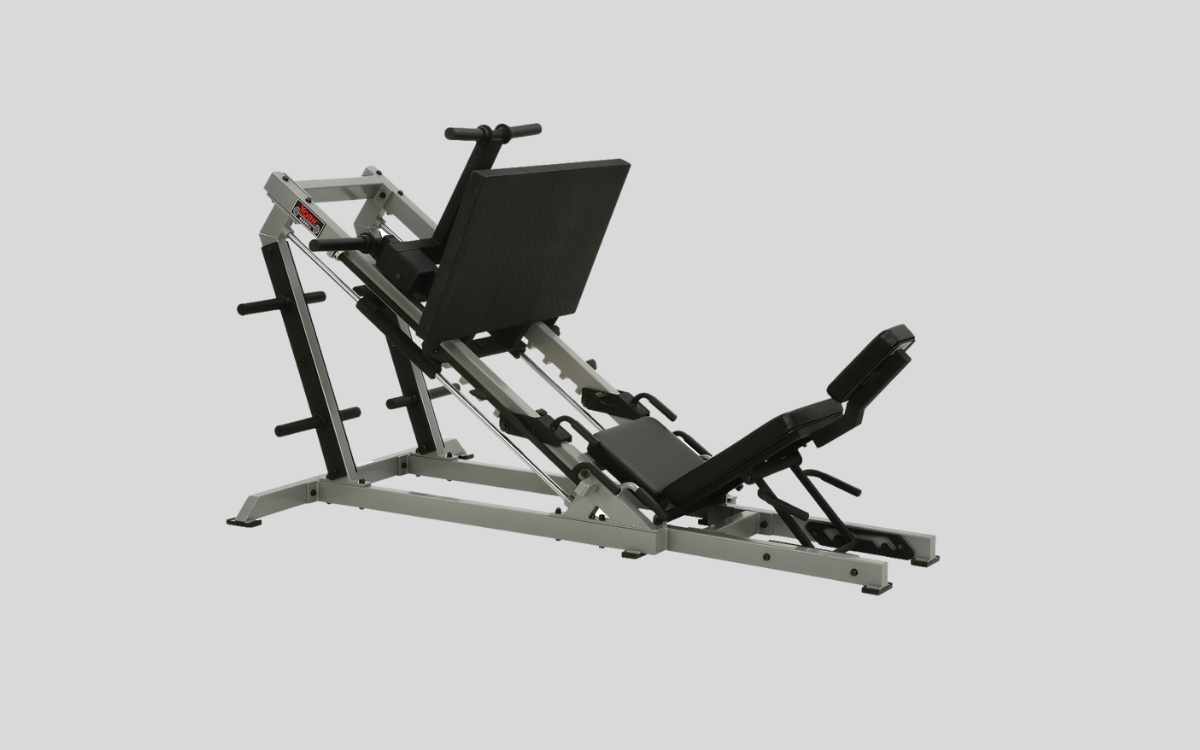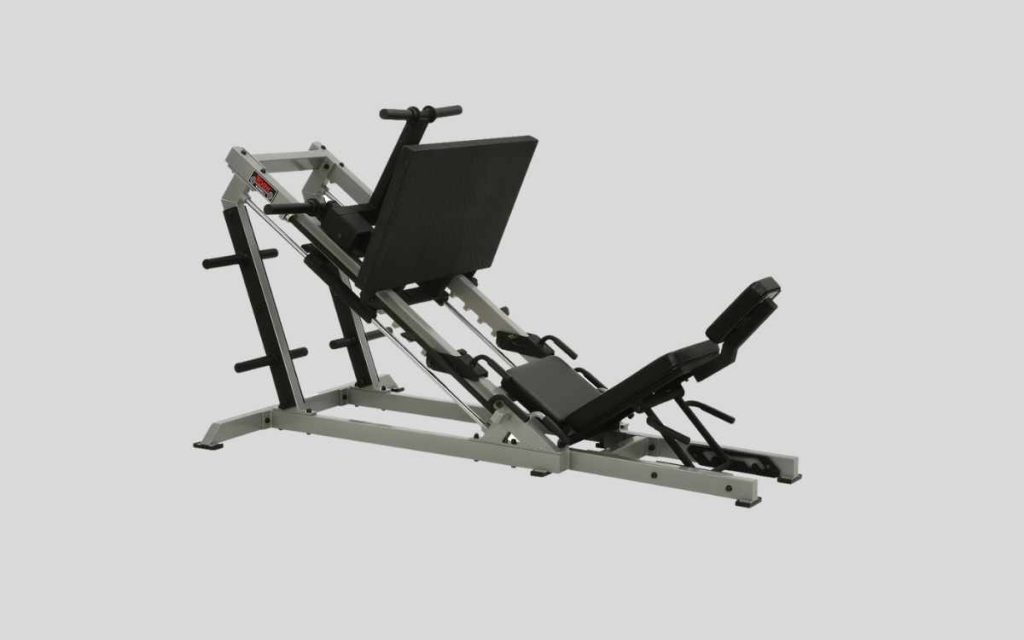 Describe for me a better feeling than racking up A TON of weight and knowing you can press it all.
Go ahead, I'll wait…
The leg press machine is a bodybuilder-favorite because they not only allow you to lift significantly more weight than you could with a squat or lunge, but they also isolate your lower body and reduce the risk of lower back strain.
In many ways, they're the perfect leg-shredding exercise!
This guide will walk you through all of the (surprisingly many) leg press benefits, taking a closer look at the biomechanics of leg presses so you can understand just what makes this exercise so effective.
By the time you're done reading this article, you're going to be as motivated as I am to add leg presses into your leg day workout routine.
Let's jump right in.
Benefits of the Leg Press
Benefit 1: Leg Isolation
Squats engage your lower back muscles (to maintain your balance), and if you don't lift with just the right posture, you can actually end up straining your lower back much more easily.
A surprising number of leg muscle training-related lower back injuries are the direct result of incorrect squat posture.
With the leg press, your legs do all the work—literally. Because your back is supported, there is no engagement of the spinal erector muscles in your lower back.
Trainer's Note: Isolation exercises aren't always the best choice for overall fitness—it's a good idea to work multi-joint exercises as well. However, for pure strength training of specific muscles, isolation exercises are the most effective.
All of the pressure is on your legs: your thighs, hamstrings, glutes, and calves. The result is an exercise that is entirely focused on building your leg muscles without recruiting other muscles.
Benefit 2: Develops Better Overall Leg Power
If you're struggling to increase your squat or lunge weight, you'll find that leg presses can be the secret weapon to "get you over the hump".
Leg presses develop power specifically in your legs—not just your quads, but your hamstrings, glutes, and calves, too.
By focusing the strength training on your leg muscles, you can develop greater power overall, which will translate into greater power that can be recruited when doing squats and lunges.
You'll still need to train these other exercises to engage the secondary/stabilizer muscles that play a role in the multi-joint exercises, but leg presses will take care of the "building greater leg power" part of your training.
Benefit 3: No Balancing Necessary
It's not uncommon for people recovering from injuries (lower back strain, abdominal hernia, knee injury, etc.) to struggle with balance issues.
Trying to do squats or lunges with any of these injuries may be virtually impossible because the muscles required to maintain your balance are still recovering or limited in strength.
And that's where leg presses are the perfect option!
Because your upper body is fully supported and the weight is stabilized on the track, there is no need to struggle to keep it balanced.
All of your focus is simply on pushing and lowering it under control, which develops strength regardless or your balance difficulties.
Benefit 4: More Weight Lifted
How much can you realistically squat? Your bodyweight? Bodyweight + 10%? Already, that's pretty impressive.
But how much can you press on the leg press machine? Now that's a different story altogether!
See also: How Much Does the Sled Weigh on a Leg Press Machine?
Because the weight is pushed along the specific track, there is no need for secondary stabilizer muscles to engage in the action, so all of the work is done by your legs. And your legs have A LOT more power than you might realize.
One fitness community found that the average Sled Leg Press for intermediate-level trainees was around 495 pounds (at their 1-Rep Max), and even beginners were lifting an impressive 180 pounds.
Compare that to 284 pounds for the intermediate-level average squat or 139 pounds for beginners, and you can see just how much more weight is being pressed.
Benefit 5: Easily Adapt Training Focus
I wrote an entire article on leg press foot placement, discussing how just a slight shift of your feet can totally change the focus of your workout.
For example, a low foot stance will double the focus on your quads, while a high foot stance targets your glutes and hamstrings more effectively. Shift your feet out wide, and you strengthen your knees and hip adductors as well.
Because the exercise is so simple, you can focus on making the minute changes in your form and foot placement that will improve the effectiveness of the workout and train all of your lower body muscles more efficiently.
Benefit 6: Gentler On Your Knees
People with lower-body injuries or joint insufficiencies will always be on the lookout for safer, smarter ways to train their leg muscles without risking their knees or ankles.
One study from 2001 compared squats and leg presses, and found that while both lower body exercises led to effective muscle recruitment, leg presses were less likely to exacerbate existing knee problems (both patellofemoral and PCL issues).
Squats just place more strain on the soft tissues around the knees, meaning there is a greater likelihood of damaging the connective tissue or re-igniting an old injury.
Benefit 7: No Spotter Needed
Not everyone has the luxury of bringing a buddy to the gym or paying for a high-priced trainer. Some of us just like to get in, get our solo workouts done, and get on with our day.
There's nothing wrong with working out alone, but it does impose slight limitations on what you can lift because you don't have a spotter to act as a backup in case you hit muscle failure before your last lift. You end up lifting 5-10% less in order to be safe, which leads to a less effective workout overall.
Leg presses are one of the workouts that don't need a spotter. You can self-spot by placing your hands on your knees and pushing upward if your legs hit failure before the last set is done.
See also: What Muscles Does the Leg Press Work?
Or, if the sled is just too heavy to press back up and your legs are gassed, you can let the weights rest in the "low" position at the bottom of their rail and safely slide off the press bench.
As you can see, there are a lot of benefits that make leg press one of the most epic and effective lower body training exercises.
It's not the only workout you should do—you definitely need to add squats, lunges, and other compound exercises into the mix—but it's one that can help you safely develop a lot of leg power.
Tips for How to Do the Leg Press
You already know the basic form, and if you read the article I wrote on leg press foot placement, you'll know how to shift your feet to adapt to the workout.
Here are a few more tips that can help you to master the leg press like a boss:
⭐ Do it barefoot. Shoes provide the necessary support for moving around, but when training your legs, you want as little material between your feet and the floor/hard surface as possible in order to encourage the most natural movement possible.
⭐ Engage the heels. Don't let your forefoot and toes do all the work. Drive your heels into the sled to maximize your push power and engage your leg muscles effectively.
⭐ Pause at the top. Don't lock out your knees, but let your leg muscles do the work of supporting the weight at near-full extension. This will increase muscle engagement and shorten time-to-failure.
⭐ Lower to just the right spot. Go too low, and your lower back ends up doing a lot of the heavy lifting. You want your heels to just stay in contact with the sled, and your glutes shouldn't lift off the seat.
⭐ Keep your knees straight. Don't let your knees collapse inward or spread outward, but keep them aligned with your hips. This will reduce injury risk and maximize muscle recruitment.
Leg Press Alternatives
I've got a full article dedicated to leg press alternatives that will shred serious muscle.
Take a few minutes to check it out and find out why you should incorporate other exercises into your workout—exercises like:
The more varied your leg day, the more your overall functional fitness will increase!
Leg Press Benefits – FAQs
Is leg press better than squats?
Leg presses actually aren't better than squats. A number of studies—including this one and this one—prove that squats are more effective at developing strength and explosive power.
However, leg presses are safer and allow you to lift more weight with less risk of injuring your back.
Should you do squats and leg press on the same day?
Absolutely! Both of these exercises are critical components of a truly effective "Leg Day" routine.
Ideally, you'd start with the more overall challenging exercise (squats), and finish off with the target, isolation leg press.
That way, you train all of your leg muscles and secondary stabilizer muscles, and "clean up" with the leg-focused training at the end to hit muscle failure.
How many reps should you do on leg press?
The answer depends on your goals:
For raw power, work in the 1-4 rep range
For strength, work in the 8-12 rep range
For endurance, work in the 15-25 rep range
The Bottom Line
Leg presses are an athlete's best friend: they're safe, highly effective at targeting your leg muscles, and allow you to press significantly more weight.
Now that you've read the benefits above, it's time for you to incorporate them into your training day to maximize results and develop serious strength and power.
Happy pressing!
More Leg Press Guides
? 6 Best Leg Machines for Your Home Gym. Looking to get your press on in the comfort of your home gym? There are some excellent options on the market for all budgets.
Best Hack Squat Machines for Home and Commercial Gyms. Ready to take leg day to the next level? Here's a look at the best hack squat machines for home and commercial gyms.
How to Use the Leg Press Machine Like a Boss (and Classic Mistakes to Avoid). Ready to take your leg workouts to the next level? Here's a detailed look at how to use the leg press machine, including common mistakes lifters make with this leg machine.