The right stretches before and after swimming will help you swim faster, reduce injuries, and recover faster. Here are the best stretches for an epic swim at the pool today.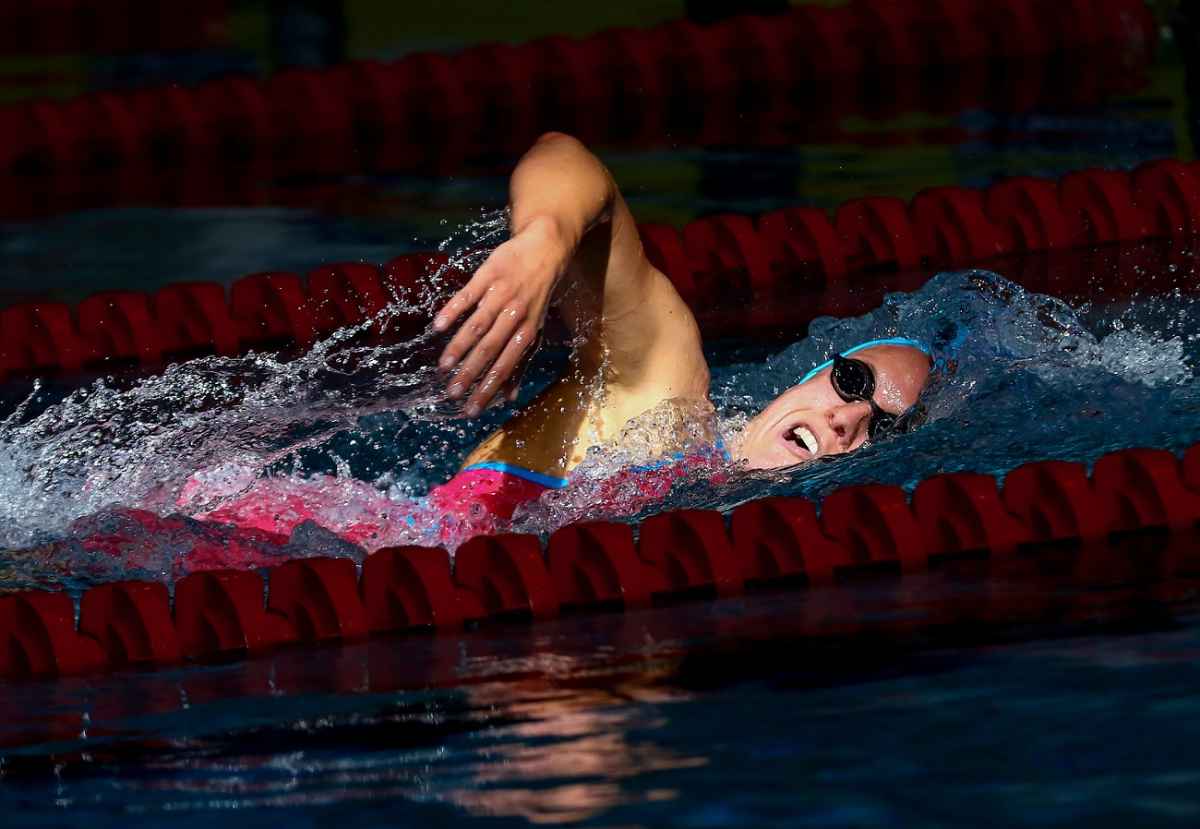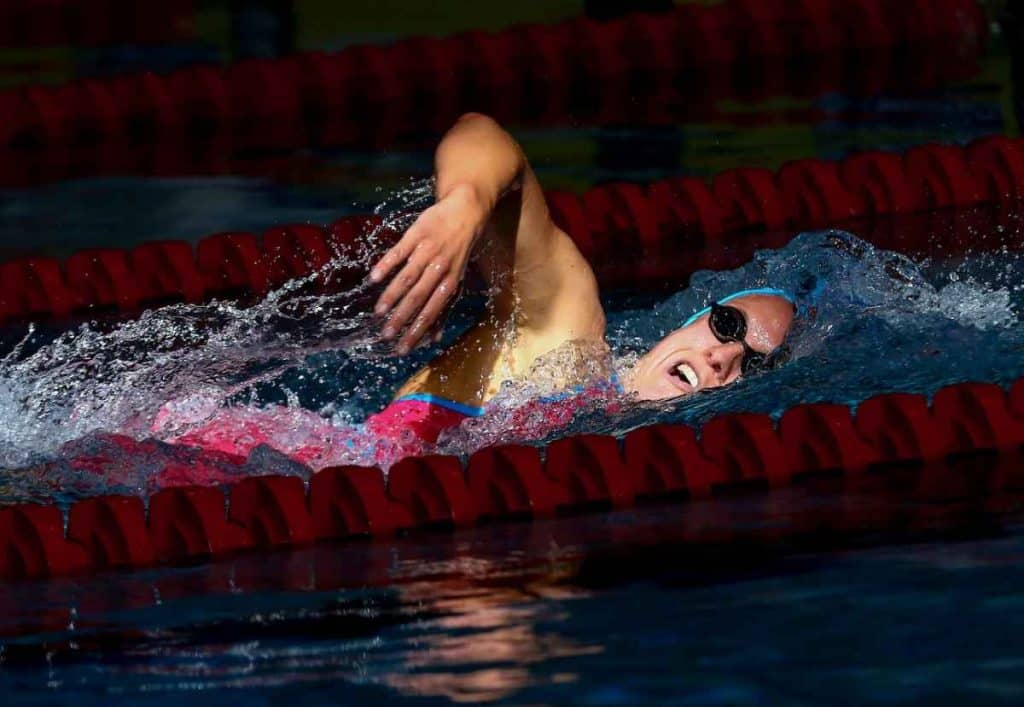 Swimming is an absolutely killer way to get into excellent shape and lose weight.
Not only is it unparalleled for building stronger lungs, it's also low impact, excellent for shredding heaps of calories, and yes, swimming can help you build muscle, too.
Which is why it's so crucial to stay on top of range of motion and flexibility when crushing the laps.
In this article, we will go through the top stretches for swimmers that you should do before and after your workout.
Let's dive right in.
Stretching for Swimmers – The Basics
Before we jump into our favorite stretches, it's key to quickly go over the different types of stretching so that we use the right stretch at the right time.
In this guide, we are going to include two types of stretches:
Dynamic stretches
These stretches are active and yup—dynamic­—in nature. Arm swings, leg swings—instead of sitting and holding a stretch, we are moving our body through the ranges of motion we want to use in the water.
Dynamic stretches also help promote blood flow and increase overall body temperature, which is extremely useful when jumping into a chilly pool.
Research with dynamic stretching supports increased athletic performance when used prior to working out1,2,, making dynamic stretches the best kind of stretches to do before exercise.
Static stretches
Static stretches are what most people think of when they hear stretching.
You stretch a muscle, creating some gentle tension, holding it for 20-30 seconds, and then rinse and repeat on the other side.
Static stretching is a proven way to increase range of motion and mobility3, but there is some research that shows it's not ideal to static stretch right before maximal efforts in the gym or pool.
Studies with runners, athletes and lifters4 showed reduced performance when stretching right before vigorous exercise.
Static stretches are best used when the muscles are already warm (you can also alternate static stretches with rolling on a foam roller, which is more effective than static stretching alone5).
Okay, now that we have that quick set of terms outlined, we can dive into the deep end (swim puns, fun!) with the top stretches for conquering your next swim.
Best Stretches Before Swimming
If you read the previous section (and no, there won't be a test later…maybe), you know that dynamic stretches are what get the body warm, loosen up the joints, and power up athletic performance.
So that's where we will start.
Here is a collection of dynamic stretches to drop into your pre-swim routine.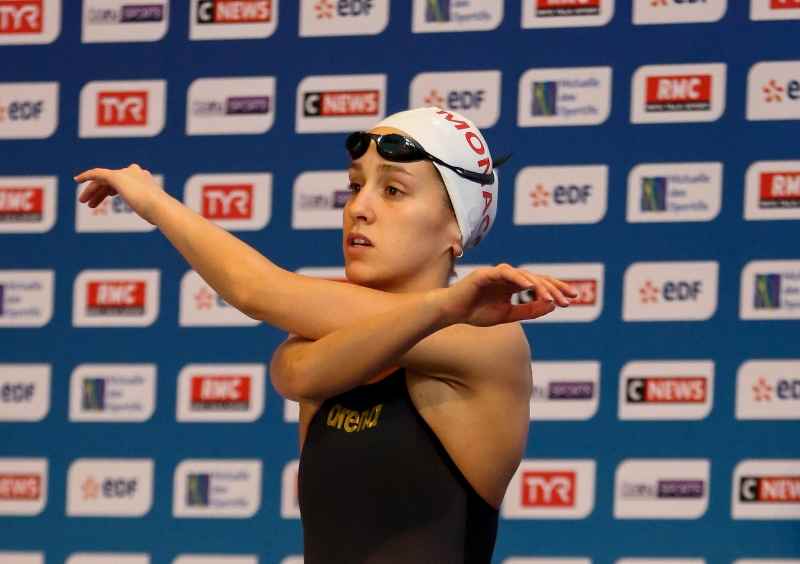 1. Cross body arm swings.
These are great for getting things loose and warm in the shoulders and chest.
Standing straight, extend your arms horizontally
Swing your arms in front of you, crossing them in front of the chest (this is where the shoulder stretch happens)
Swing back out as far as they are willing to go (this is where the chest stretch happens)
Do 15-20 reps
If you feel like maybe you've seen a variation of this stretch before, you absolutely have.
Michael Phelps—you've probably heard of him—did a two rep cross-body arm swing that entered the pop culture lexicon, even doing the arm swings before a tee shot at the Ryder Cup celebrity tournament in 2016 to a raucous crowd.
2. Lateral Overhead Swings.
This dynamic stretch is perfect for loosening up the triceps and the lats, which respectively help you finish the arm pull motion and power up the pull. The lats are the muscles that get worked the most in the pool, so it's important to prime them for a good swim.
How to do it:
Stand with your arms at your side
Swing your right arm laterally and around the back of your head (try and touch your left shoulder with your right hand)
The left arm swings across the front of the body, with the left hand swinging up towards the right arm pit
Repeat on the other side for 15-20 repetitions
3. Trunk twists
If you plan on doing lots of freestyle (front crawl) or backstroke during your swim, generating some range of motion in your trunk and thoracic spine is crucial.
Between the twisting of the upper body and neck to breathe to the side, to being able to undulate your hips properly when doing dolphin kicks, a loosey-goosey trunk will help you get there.
How to do it:
Stand with your hands clenched in front of your sternum, elbows pointed out
Turn to the right, leading with your elbow until you feel a gentle stretch
Turn back to the left, repeating the movement pattern
Repeat for 15-20 repetitions
4. Leg Swings
Our final set of dynamic stretches are a two-pack of leg swings.
I use these as part of my pre-workout leg stretches, whether I'm hitting the gym or the pool, and they are fantastic for unlocking tight hips, glutes, and hamstrings.
Standing with shoulder pointing at the wall, grab something to stabilize yourself
Swing your right leg forward until you feel a gentle stretch in your hamstring
Let gravity do the rest and swing the leg back behind you until you feel a gentle stretch in your hip flexors
Do 20 repetitions
Repeat on other leg
Part two of the leg swings complex:
Turn to face the wall. Place both hands on the wall (or something sturdy)
Keeping your toes pointing forward, swing your leg laterally until you feel a stretch in your hips
Swing the leg back in front of you, so that the bottom of your right knee passes the top of your left knee
Do 20 repetitions
Repeat on other leg
The full set of stretches should take you no longer than 10 minutes to complete, but will loosen up all the muscles you will be using swimming and elevate your heart rate to help you hit the water running, err, swimming.
Now get after that swim workout!
Best Stretches for After a Swim Workout
Now that our swim is behind us, it's time to do some static stretching to help us retain range of motion or even increase flexibility.
5. Doorway pec stretch.
Tight pectorals and resulting poor posture are a common cause of swimmer's shoulder6.
The endless strokes in the pool cause tightness in the chest and shoulder complex, pulling the shoulder forward, causing poor posture, and also increasing impingement in the shoulder (OUCH).
Which makes stretching out the pecs after a big swim essential.
The classic doorway pec stretch is a great way to do this.
Stand in an open doorway, shoulder in line with the doorframe
Raise your arm so that it's 90 degrees, palm facing forward
Step gently forward, feeling the stretch in your pecs
Hold for around :20-:30. Cycle through both arms three times
Looking for a stretching program that can help increase upper body ROM? Hyperbolic Stretching is one of my favorites, a digital stretching program that can also help you improve leg flexibility, do the splits, and more. Read my full review of Hyperbolic Stretching here.
6. Standing lat stretch.
As mentioned earlier, the lats play a huge role in powering the arm motion in the water.
Over the course of a session in the pool, you are racking up a large amount of pulls, which can leave your lats feeling tight and sore.
Stretching out the lats means you will be loose and recovered the next time lap swim comes around.
With one hand hold onto a sturdy object that is about head height
Bend at the hips and sit "back" to create a gentle pull on the laps
You can lean to the side you are stretching for an increased stretch
Hold for around :20-:30. Cycle through both side three times
7. Kneeling hip flexor stretch
The kneeling hip flexor stretch is another "everydayer" that I keep in my stretching routine, whether I plan on ending the day smelling like chlorine or not.
It's an excellent stretch for reducing lower back pain, increasing overall hip mobility,and help counter a lot of the muscle tightening that happens in the hips from hours of sitting over the course of the day.
Flexible hip flexors will also help you kick with a greater range of motion in the water, getting more from your flutter and dolphin kicks.
Here's how to do it:
Unfurl your exercise mat of choice and get down on one knee
The other knee is at 90-degrees in front of you
Lean forward, making sure to lead with your hips (as opposed to bending at the hips and leading with your shoulders)
Move forward until you feel a gentle stretch in your hips
Hold for 20-30
Repeat on the other side, and do both 3 times through
8. Lying hip rotation
This is an excellent way to complete your post-swim stretch. It's a relaxing stretch done on your back that opens up you're your hips, spine, and chest.
The lying hip rotation is also a great time to check in with your breath, taking long and slow inhales and exhales, helping flush cortisol (stress) and speed up recovery.
Pretty much all the wins.
Here's how to do it:
Lay down on your back
Bring the right knee up to 90-degrees
Outstretch your right arm (this will help make this a chest stretch, too)
Using the opposing hand, pull the right knee straight across the body
Your right buttock will come off the ground, but try to keep your right arm flat on the ground to maximize the stretch
You will feel the stretch from your hips up through your chest and into the shoulder capsule
Hold for 20-30 seconds
Repeat 2-3 times
---
How often should swimmers stretch?
You should stretch anytime you lace up your favorite set of swim goggles and hit the water.
Dynamic stretches before you swim will help you warm-up faster and be prepared to swim your best, while static stretches after will increase range of motion, speed up recovery, and reduce the likelihood of injury.
How do swimmers improve flexibility?
Static stretches are best suited for improving overall range of motion. The sweet spot with holding a stretch is the :15 to :30 seconds range. To maximize your time stretching and improving flexibility, do so when muscles are already warm, like after a swim workout.
The Bottom Line
Swimming itself is a form of stretching, when you think about it.
Each time you reach your hand out in the water, place your arms in a streamline, or rotate your neck to breathe, you are stretching muscles.
These pre and post swimming stretches will help you get the most out of your swim and increase your range of motion so that you can swim better than ever.
Hit these stretches, and hit the water ready for action!
---
More Swim Guides and Articles
6 Best Swim Paddles for Training. Looking for a set of swim paddles to take your swim training to the next level? Here's a chlorinated review of the best swim paddles on the pool deck right now.
The Magic5 Swim Goggles Review – These Custom Swim Goggles are a Total Game-Changer. Wondering if The Magic5 Swim Goggles live up to all the hype? Here's a goggles-on review of these customized swim goggles from the lap pool.