Looking for a set of swim paddles to take your swim training to the next level? Here's a chlorinated review of the best swim paddles on the pool deck right now.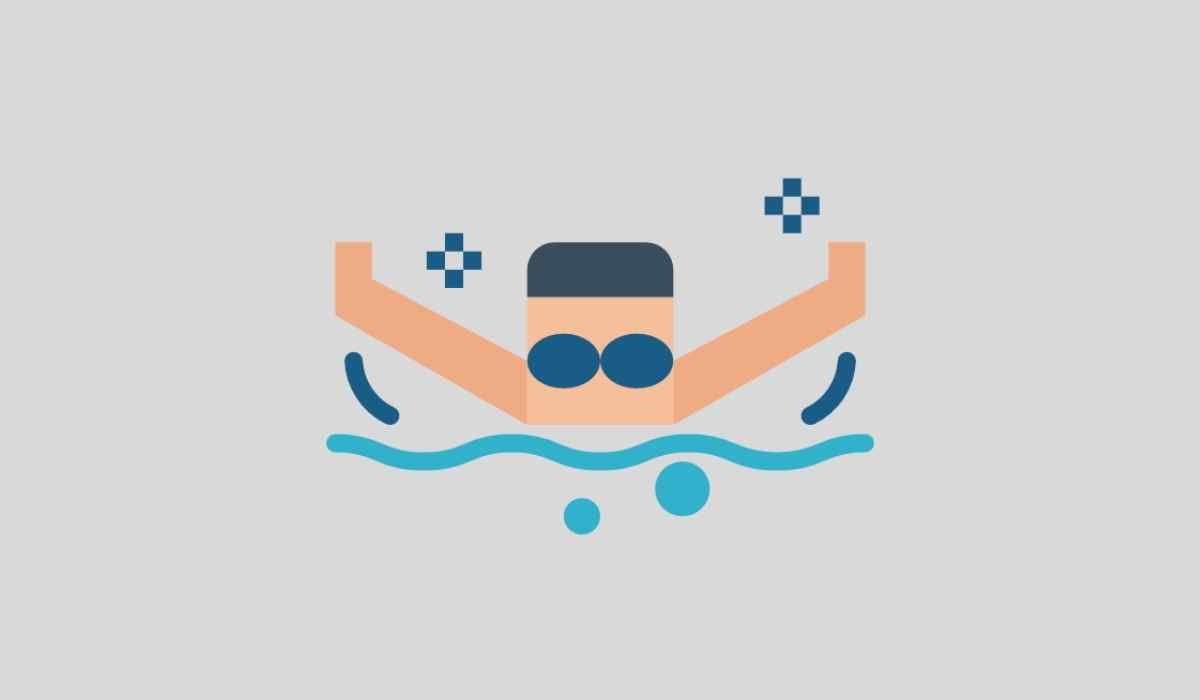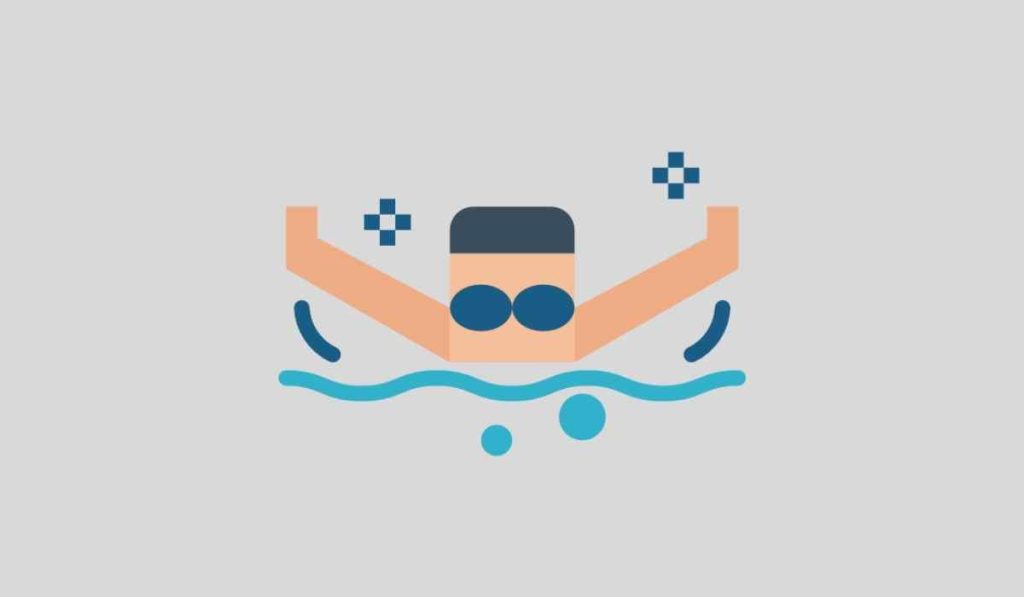 Swim paddles are one of the essential pieces of swim equipment in the pool.
They are awesome for building upper body strength, teaching better stroke technique, and giving you a taste of what it's like to swim with hyper-super-duper speed.
Although the function of a swim paddle is relatively simple, there is a TON of variety when it comes to shape, style, and features of the different swim paddles on the pool deck.
In this guide, we will look at the best swimming hand paddles available for taking your swimming to the next level.
Let's dive right in.
Speedo Power Plus Paddles
Speedo is the big name in the swimwear and swim gear game. They've been around for over 100 years, and the biggest names in the sport have rocked out their gear over the years.
Caeleb Dressel. Katie Ledecky. Ryan Lochte. And yes, the GOAT himself, Michael Phelps.
The Speed Power Plus paddles have long been one of the most popular swim paddles in the mesh bags of swimmers, and with good reason.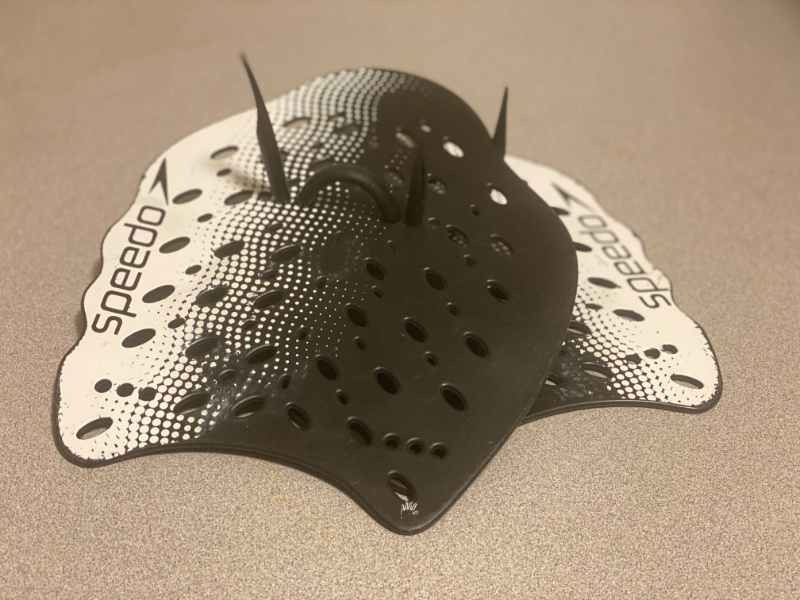 The Power Plus paddles have vents to allow some water to pass through (more closely reflecting how water naturally passes between the fingers) to help you home your feel for the water.
Rubber tubbing can be placed in a variety of holes for a customized fit around the wrist and middle finger.
And Speedo offers them in four different sizes, from XL to junior sizes.
When it comes to developing raw power in the water, the Speedo Power Plus is your best choice.
Swim Outlet carries them in all sizes for just $25.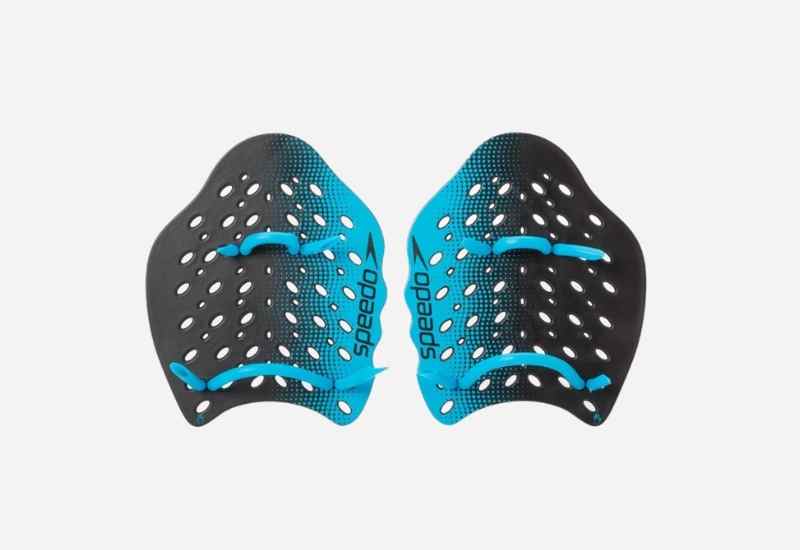 FINIS Manta Swim Paddles
FINIS is one of the leaders when it comes to innovation in the pool.
They made swimming with music a whole lot easier with the FINIS Duo (using bone conduction to transmit music instead of pesky wires and earbuds) and were first on the scene with the front-mounted swimmer's snorkel.
The Manta Swim Paddles are their latest swim paddle, and this strapless swim paddle is designed for maximum power in the water. Available in four sizes, the paddle features vents to allow for a more natural feel in the water and float.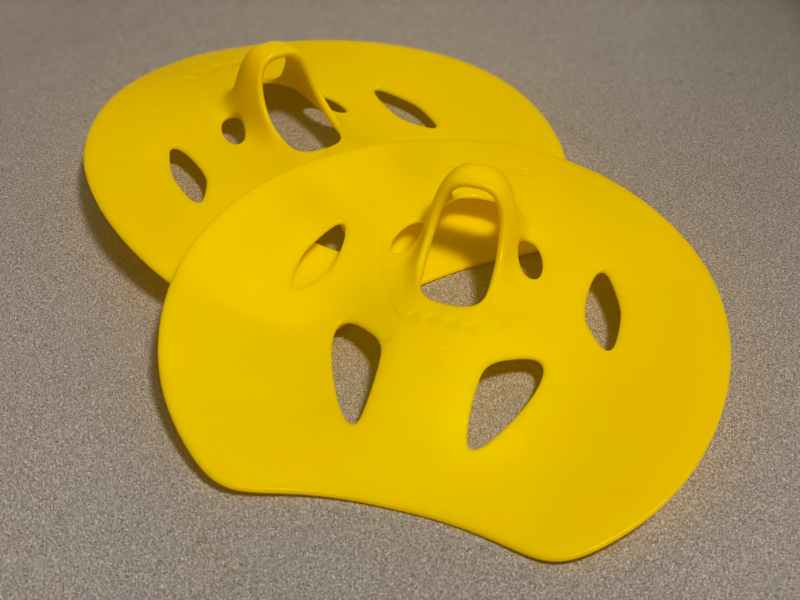 The paddle is extremely comfortably in the palm of your hand, and even though it's strapless, it won't fall off as long as you are pushing water in the correct direction.
(Plus, because there are no straps to worry about cracking, you can swim with confidence that the paddles will keep working as hard as you.)
Additionally, as you can see in the side profile below, the paddle is arced in a way that closely mimics the natural bend of the hand in the water.
The only con with this paddle is that any side-to-side movement (like when you are sculling water) will be a little harder on your fingers as the hard plastic on the paddle will bounce off each side of your finger.
The FINIS Manta Swim Paddles retail for $25 and are available at Swim Outlet.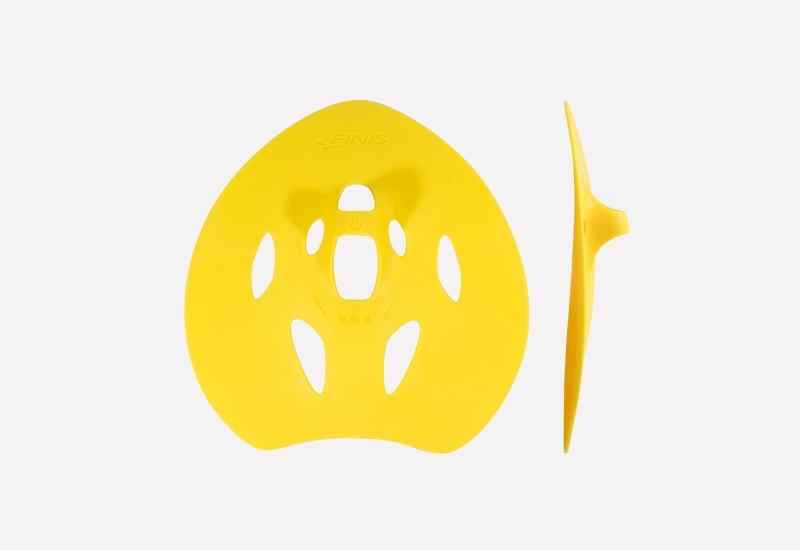 Strokemaker Swim Paddles
Strokemakers are one of the old school hand paddles (on pool decks since the late 1960's!) that still kick butt in the water.
Available in a huge variety of sizes—from XXS to XXL—Strokemakers have small vents to increase that vaunted feel for the water, come with a complete tubing set for a custom fit on your hand, and are shaped to mimic the shape of your hand.
There is nothing particularly fancy about them, which is why I still have a set after all these years. At the end of the day, you want a hand paddle that is going to last, help you get stronger in the water, and simply exaggerates your normal pulling pattern when swimming.
Strokemakers do all of these things, while also not breaking the bank, with a set retailing from Swim Outlet for just $20.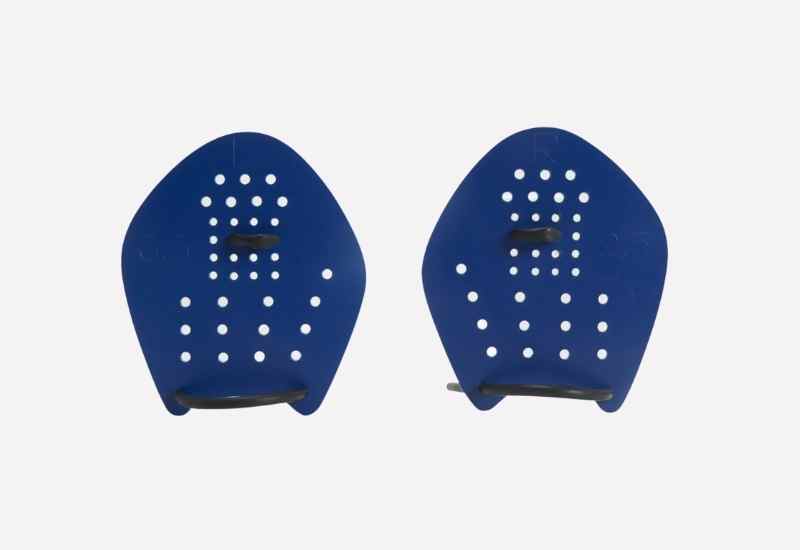 FINIS Instinct Sculling Paddle
One of the perks of hand paddles is that they help you better learn how to "catch" the water. The FINIS Instinct Sculling Paddles take this to the next level.
These paddles are designed strictly for sculling, and not for regular swimming, making them a very specialty paddle.
But holy-chlorinated-pool-water do they help you really finetune your ability to catch water.
The paddles provide immediate feedback in the sense that the moment your palms aren't directly creating pressure on the water, they will slip off as the Instinct paddles don't have straps to secure the paddle to the hand.
Sculling is an excellent drill for learning how to propel yourself through the water, and the FINIS Instinct Sculling Paddles take this drill to the next level.
The paddles retail for around $20 at Swim Outlet, making them an inexpensive addition to your swim training arsenal.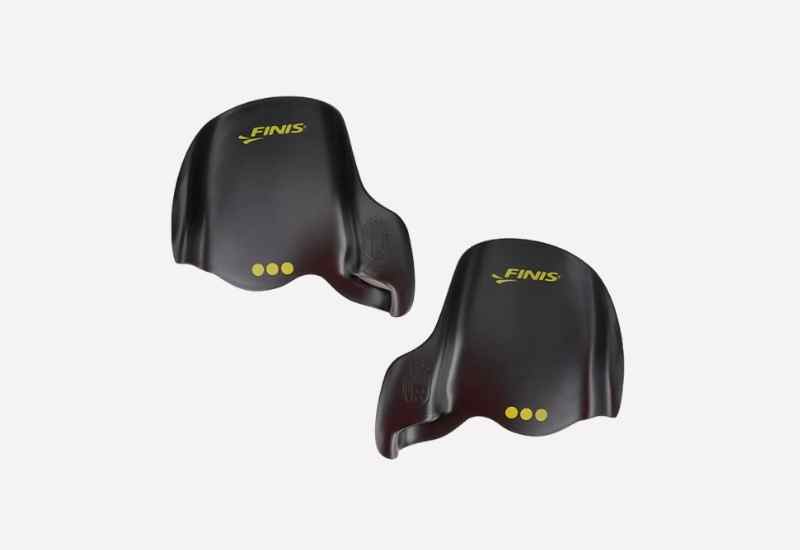 A3 Performance Swim Paddles
A3 Performance is one of the smaller fish in the swim equipment pond, but they produce exceptional kit for competitive and recreational swimmers.
The A3 Performance Swim Paddles are built with a lot of the features you expect from a quality hand paddle, including straps for a secure fit, vents to allow some water flow, and different sizes to match your hand.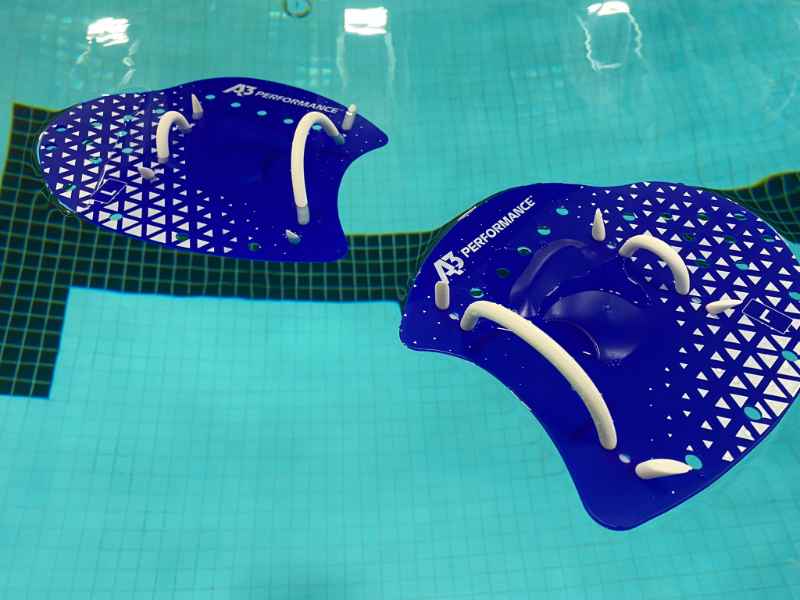 But the thing that makes these bad boys stand out is the elevated contours around the palm. This is better ergonomically, but it's also more akin to how our hand curls ever so slightly when pulling water.
The best swim paddles are the ones that have the most transfer to your normal swimming, and this elevated palm area is a great way to do this.
They are also extremely inexpensive, just $16 at Swim Outlet.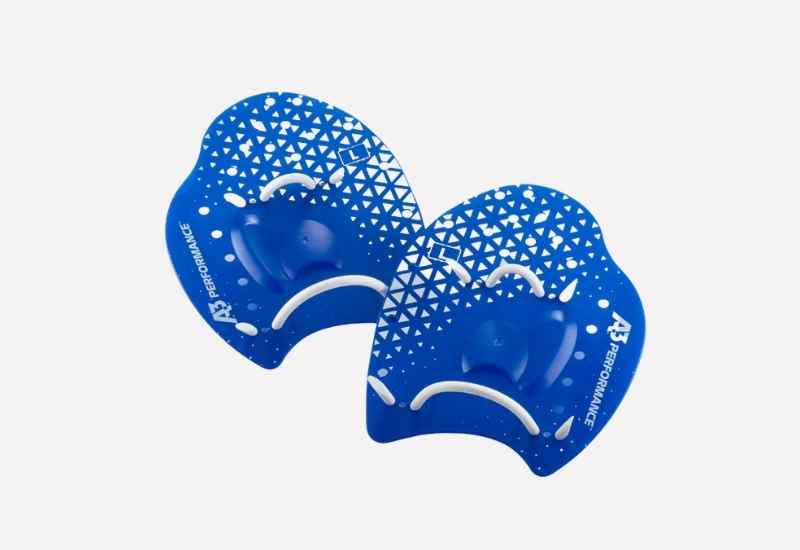 FINIS Agility Swim Paddles
I know…
Another FINIS paddle.
(Told ya that they were leaders in innovation ?)
The FINIS Agility Paddles represented the first big leap forward in paddle design when they were released.
There was finally an alternative to strapping a pair of dinner plates with rubber tubing to your hands and pounding out the mileage.
The clever design of the Agility paddles meant you didn't need to worry about straps to keep the paddles in place.
The key performance benefit of these specific paddles is that they reinforce proper palm placement and positioning while the hand is under the water.
If you start sliding out, or your hand entry isn't clean, or you are pushing more water down than you are pushing yourself forward, the Agility paddles will let you know by sliding off.
(Kind of annoying the first few times that you realize your technique isn't as Phelpsian as you might have imagined, but absolutely worth it as a form of technique correction…)
The Agility paddles are all-stroke paddles (freestyle, backstroke, breaststroke, and butterfly), making them an excellent paddle for swimmers who do a lot of medley training.
Swim Outlet sells them for around $25 and they come in four sizes, from XS to Large.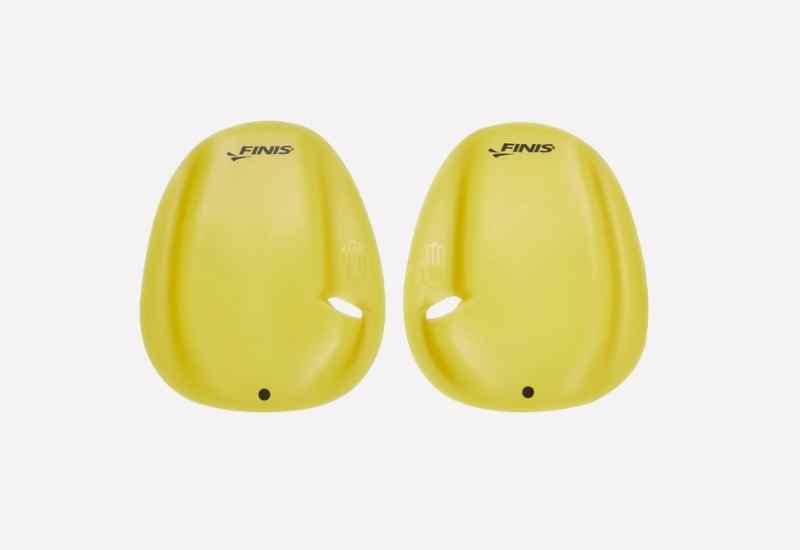 How to Pick the Best Swim Paddles — FAQs
Do swim paddles build muscle?
Building muscle, whether it's in the water or not, requires adding resistance and eating a diet with a caloric surplus.
Hand paddles increase resistance in the water, so yes, they can help you build muscle. (See also: 3 Swim Workouts for Building Muscle in the Water)
The key is using swim paddles strategically and not overdoing it with long, extended bouts of swimming.
Swim paddles are best used for short, power-based sets.
Are swim paddles bad for your shoulders?
Swimmer's shoulder is a very real occurrence for swimmers of all levels.
The overhead movement that is characteristic in swimming in unnatural and over time can add up to a lot of stress and joint damage.
Swim paddles should not be used if you are presently experiencing shoulder pain (just as you wouldn't lift heavy weights if your shoulders were shot) and should be introduced in a sustainable way into your swim training.
Is it harder to swim with hand paddles?
The experience each swimmer has with swim paddles varies by shoulder strength, technique, and paddle size.
Swim paddles add extra load to your shoulders, but they can also help you swim faster.
So while swimming with paddles may feel "harder," the added speed tends to put that consideration into the background.
Are swim paddles good for improving swim technique?
Paddles are great because they exaggerate everything about your arm pull, from how your hand enters the water, the path of the pulling motion, even how soon or how late the hand exits the water at the end of the arm stroke.
Perhaps the best function of swim paddles is that they help over-exaggerate the faults in your technique to help you really get a sense of where you are swimming inefficiently.
(See also: Swim Paddles: Pros, Cons and How to Use Them Properly)
What size swim paddles should I get?
Properly sizing your swim paddles is crucial as it helps avoid over-straining your shoulders and ensures that you keep a stroke tempo that is in the same neighborhood as your stroke tempo without paddles.
When sizing out your swim paddles, aim for a surface area around 25% larger than your hand print. Any larger, and your stroke tempo will crash and place pointless stress on your shoulders and the ligaments around your elbows.
Didn't find the right paddles for you in this guide?
First, off, that stinks, and please let me know which paddles you did end up getting via my contact page so that I can review them, too.
And second, you can check out Swim Outlet's full inventory of swim paddles online here.
More Guides and Articles Like This
8 Best Swim Goggles for Laps, Open Water, and Racing. Swim goggles are one of the essential pieces of swim gear you need to conquer the water. Here's a detailed look at the best swim goggles for laps, open water, racing, and more.
The Magic5 Swim Goggles Review – These Custom Swim Goggles are a Total Game-Changer. Wondering if The Magic5 Swim Goggles live up to all the hype? Here's a goggles-on review of these customized swim goggles from the lap pool.