Curious about Hyperbolic Stretching and whether it delivers on the hype? Check out my full review of Hyperbolic Stretching and see for yourself how effective this program can be.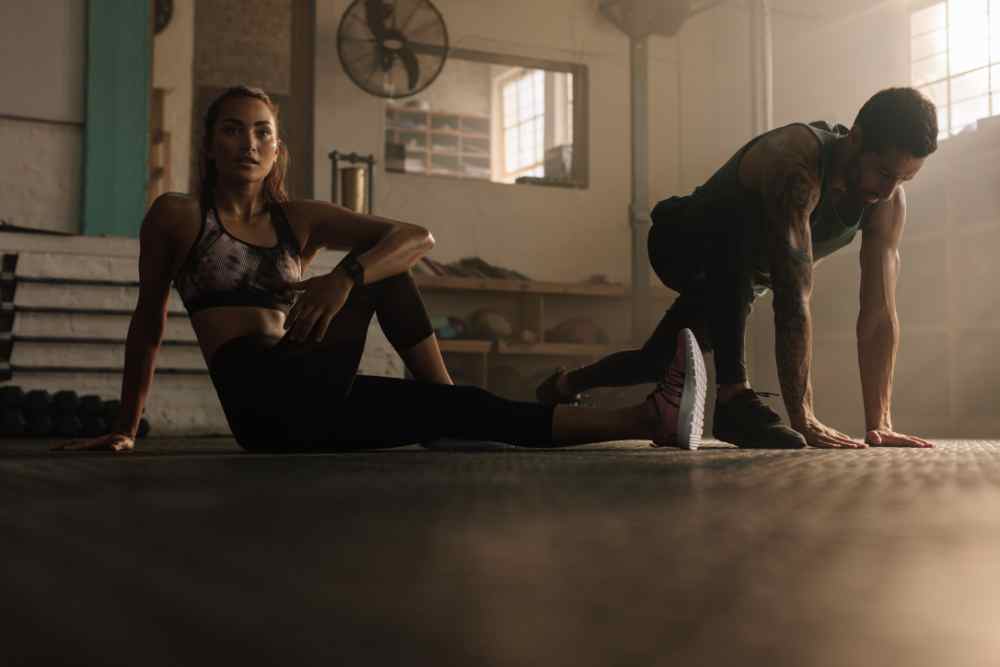 Hyperbolic Stretching is a digital, self-paced, four-week program by Alex Larsson M.Sc.
The program promises increased flexibility and general well-being in less than a month.
Welp, I wanted to give this program a look for myself and see how accurate these claims were, and whether or not it was a bunch of hype or if this was a program that could actually deliver on increased flexibility.
Let's take a deeper look.
What is Hyperbolic Stretching
Hyperbolic Stretching is an online, guided program designed to help you… you guessed it… stretch like a champ!
The exercises and routines included are based on a stretching style known as proprioceptive neuromuscular facilitation (PNF).
PNF been extensively studied over the past few decades and research has shown that it is effective at increasing passive range of motion compared to static stretching [1][2], restoring functional range of motion [3], and when done after or independently of training can improve athletic performance [4].
In other words, done properly, this type of stretching will:
Improve range of motion
Increase flexibility
Help you perform better in your sport or activity of choice.
Not a bad list of benefits!
What's included in Hyperbolic Stretching
I purchased the bare-bones Hyperbolic program, which is a series of self-paced videos that promise to deliver added flexibility and mobility in around 8-10 minutes per day, four times per week.
The course costs $27 (there are a couple of upsells in the checkout process, including a sleep product and an Advanced Stretching Accelerator) and you get lifetime access to the content.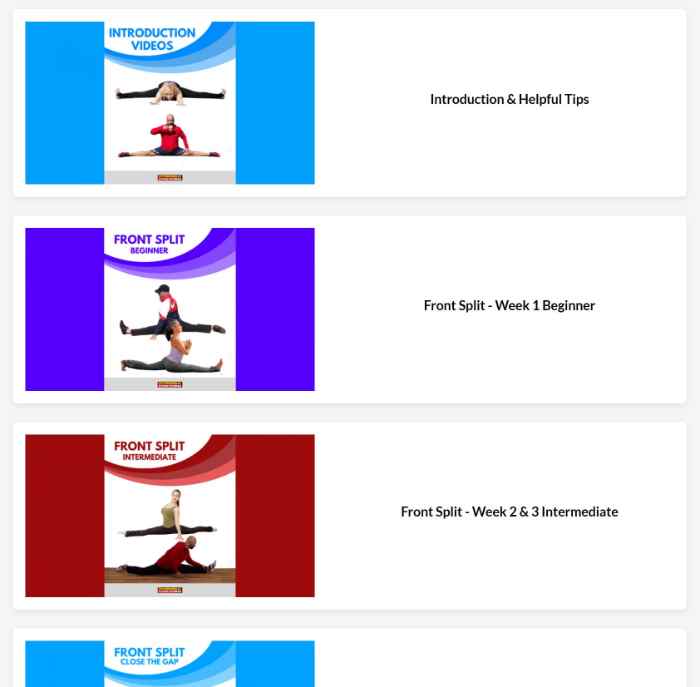 Here's what you can expect to see inside the course:
✔️ The programming is relatively straightforward and includes weekly "workouts" and things to focus on.
✔️ Instructions for each stretch and exercise are fully detailed.
✔️ Video demonstrations and cues for each exercise and stretch.
✔️ Programs for the four big stretches, including front split, side split, pike mastery, and my favorite, the upper body stretching routine.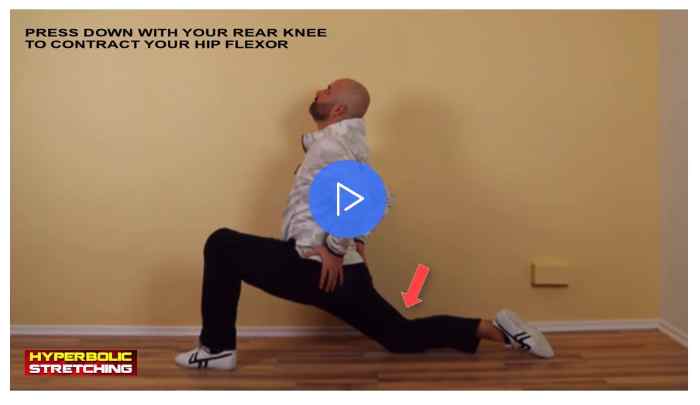 My experience with Hyperbolic Stretching
The main reason I bought this product was for the upper body stretching module.
As someone who spends his time sitting at a desk, lifting heavy weights in the garage, and swimming endless laps at the pool, I spend a majority of my time slouched over.
The rolled-forward shoulders have become a staple of my physical appearance, unfortunately.
The upper body routine includes a series of arm swings, dynamic stretches, and of course, static stretches. This progression is very effective and is similar to the combination of foam rolling and static stretches (which research has shown to be a faster way to improve flexibility compared to static stretching alone). By loosening and warming the joints and muscles you put yourself in a prime position to improve flexibility.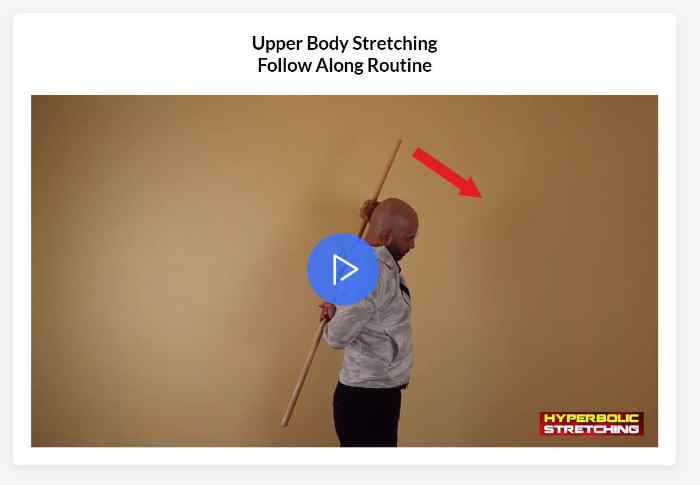 The upper body routine is about ten minutes long and requires a dowel or towel (you could also use a resistance band if you are in a pinch).
The stretches open up your deltoids, shoulders, chest and upper back. Larsson recommends that you use the routine as much as you like, as much as twice a day or as needed.
Who Hyperbolic Stretching is for
Hyperbolic Stretching is definitely a more intermediate or advanced program. And it will work if you put in the work and show up each day.
After a week of using the upper body routine, my chest and deltoids were noticeably more supple. I noticed it especially when lap swimming—where usually I'd hop in the water and feel rusty and creaky, my stroke and range of motion were good from the get-go.
So for me, this program definitely worked. And I will continue using it as part of my recovery and mobility regimen.
People who are already familiar with the routine of stretching, foam rolling, and mobility work will appreciate the program.
Dancers, gymnasts, weightlifters, yogi, or any athlete struggling to get more from their mobility and flexibility work will appreciate the simple, step-by-step programming that this course provides. And of course, athletes and gymgoers who want to power up their performance in the gym and on the field will find the stretches useful.
The thing I like most about Hyperbolic Stretching is its simplicity.
Larsson breaks down each week's worth of stretches quickly and without unnecessary jargon, meaning you can spend more time doing the program and reaping the benefits of added flexibility versus learning anatomy and Googling sciencey words.
The only drawback of the program was that there are no downloadable PDFs of the routines. I don't always want to have to stare at my phone to do a stretching routine—having these easily printable would have been preferred.
Quick Overview
✔️ Hyperbolic Stretching is a 4-week, self-guided course
✔️ Routines are presented in video format
✔️ $27 for lifetime access to the course (click here for current pricing)
✔️ Based on proprioceptive neuromuscular facilitation (PNF), which is a research-backed way to improve flexibility, range of motion, and muscular power.
Hyperbolic Stretching – where to buy
Hyperbolic Stretching is available exclusively at Larsson's official website which you can view here.
You can purchase it securely and Larsson provides a 60-day, money-back guarantee if you aren't happy with the results you are seeing.