Can swimming build muscle? Yes—when done properly. Here are the best practices for building muscle in the pool and three swim workouts to get you started.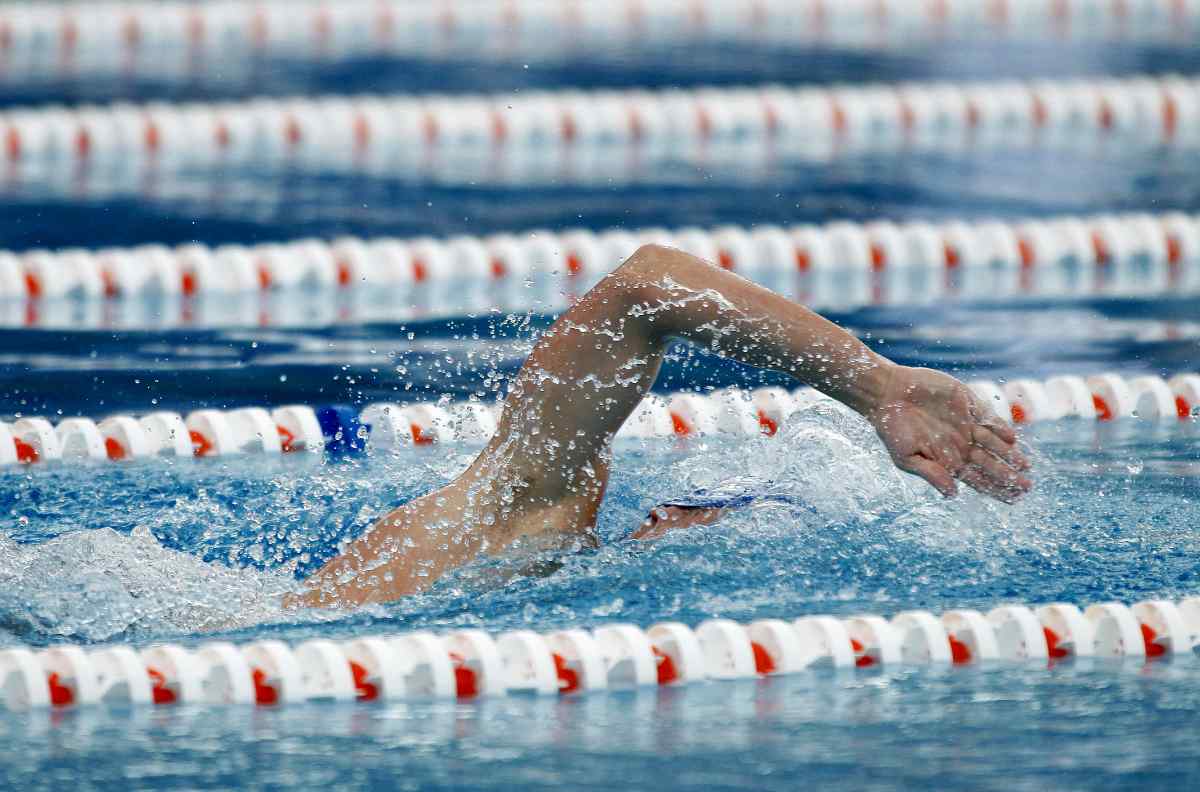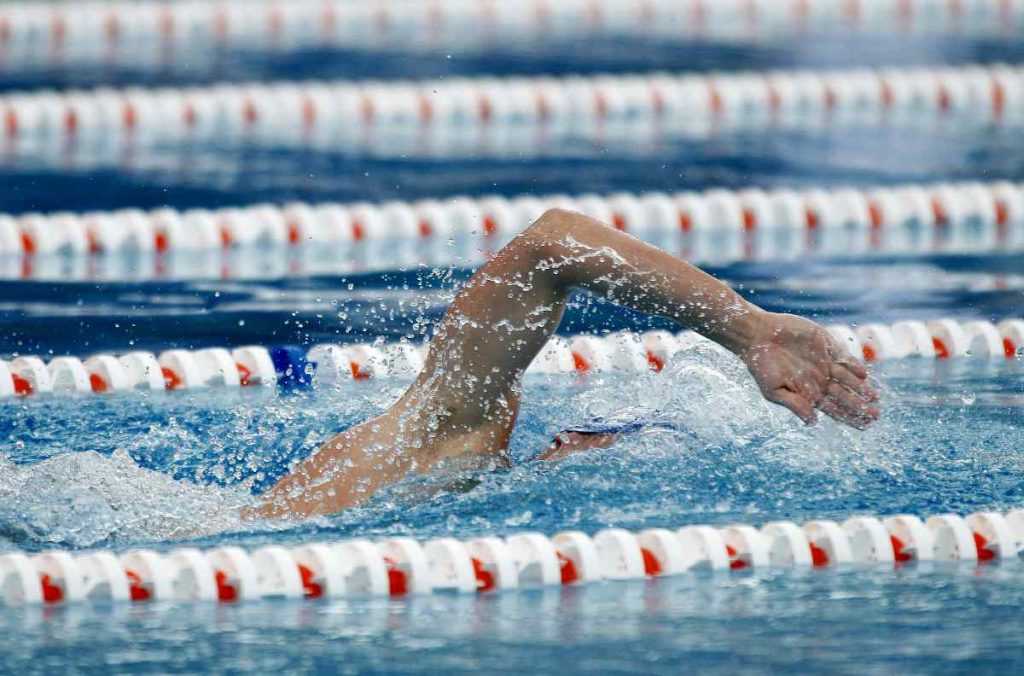 Swimming is one of the best forms of exercise on the planet.
It's low impact, excellent for building pulmonary muscles (stronger lungs = better breathing and improved athletic performance), and swimming can burn a metric butt-ton of calories.
But that's not why you are here.
You want to know if swimming can build muscle, and the answer is, yes.
Here's a look at the best ways to swim for muscular growth, including my favorite tools for getting stronger in the water and some sets to get you started.
Let's dive right in.
The Perks of Building Muscle in the Pool
Before we hop into the best practices for getting strong and muscular in the water, it's key to understand why swimming is such a great way to build muscle.
Low impact.
Swimming is primarily a cardiovascular exercise.
I'm not going to lie to you and tell you that you are going to get the physique of a bodybuilder doing this sport.
But you will get hilariously shredded from the volume of cardio-based resistance training.
Swimming is done in a zero gravity environment, and unless you are banging out countless reps of all-out, max effort reps (with high rest for maximum lactate generation), your nervous system will recover quickly enough to come back tomorrow.
Low impact + you can train more frequently compared to resistance training that is highly demanding on your nervous system.
You can isolate the lower and upper body.
In the same way that you can do "split" training in the gym, isolating different muscle groups, you can perform either full-body centric swim workouts (pure swimming), upper body focused (using a pull-buoy and paddles), or targeting the legs (kicking with a board, using swim fins).
Swimming provides a remarkable opportunity for training the full range of muscles in the body.
There are also a TON of ways to mix things up within these "split" routines as well, as we will see shortly.
Different strokes for different folks
Additionally, there are different swim strokes that you can use to get in shape.
Freestyle (front crawl) is the classic, the one we all learn at an early age, and is also—on average—the fastest way to get across the length of the pool.
Breaststroke and backstroke are the other two popular ones, and when you are feeling like you really want to build those boulder shoulders, the butterfly stroke awaits you.
Of course, that's just the basics of what you can do in the pool.
There are options like pulling, kicking, vertical kicking, underwater fish kicking, using fins, doing drills, using resistance devices (like DragSox, resistance tubing, etc) and so on for nearly unlimited variety.
How to Build Muscle in the Pool
Okay, so let's get to the crux of the matter.
Can you build muscle in the pool?
Absolutely.
But that doesn't mean you should just jump in and bang out 3,000 yards straight of swimming.
Extended aerobic activity (75+ minutes) actually tends to reduce muscle mass, so if muscle-building is the primary goal (and I'm guessing it is, seeing as you are reading this on your smartphone), keep your swim workouts short and with maximal resistance in mind.
Swimming Workouts for Building Muscle
My favorite muscle and power-building swim workouts are below.
You are going to be doing all-out efforts with some added resistance to stimulate as much muscle growth as possible.
The key is getting after the max-out efforts.
Keep the swim workouts short and sweet, add some resistance, and make sure you are eating a caloric surplus and getting lots of protein.
Additionally, because these workouts are on the higher end of the spectrum when it comes to demands placed on the nervous system, aim to do them no more than 3-4x per week to ensure adequate rest and recovery.
Alrighty, strap on your favorite set of swim goggles and let's get to work!
Swim Workout #1: Full body power
Warm Up:
800m as 200m swim, 200m kick, 200m pull, 200m choice drills
Main Set:
4 rounds –
[4×100 as 50 swim, 50 kick, desc 1-4 @2:00 – choose an interval where you will get around :30 rest per repetition]
4×25 swim with parachute all-out @1:00
200m swim loosey goosey
8×25 swim with fins and paddles @2:00 – all-out effort
Warm Down:
100 loosey goosey to recover
Total Distance: 3,700m
Swim Workout #2: Upper body power
Warm Up:
800m as 200m swim, 200m kick, 200m pull, 200m choice drills
Main Set:
5×100 free pull with swim paddles @1:45 (choose an interval where you will get around :30 rest per repetition)
10×25 free with paddles and band fast @:50
4×100 free pull with paddles @1:45
8×25 free with paddles and band fast @:50
3×100 free pull with paddles @1:45
6×25 free with paddles and band fast @:50
2×100 free pull with paddles @1:45
4×25 free with paddles and band fast @:50
1×100 free pull with paddles @1:45
2×25 free with paddles and band fast @:50
Warm Down
200m easy swim
Total Distance: 3,250m
Swim Workout #3: Lower body power
Warm Up:
800m as 200m swim, 200m kick, 200m pull, 200m choice drills
Activation: 8×25 free kick w fins @1:00 as 15m ALL OUT, 10m easy
Main Set:
4 rounds—
4×50 free kick cruise @1:10 (pick an interval where you are getting about :20 rest)
4×25 free kick with parachute or DragSox fast @1:00
Warm down:
200m swim easy
Total Distance: 2,400m
What muscles do you build when swimming?
Swimming primarily targets the shoulders, lats, and in the lower body, the quads and calves.
Secondary muscles include the posterior chain (glutes, hamstrings and lower back) as well as the chest.
You can emphasize muscle groups by training the lower body (with more kick sets in your swimming workouts) or the upper body (using paddles and a pull buoy).
Does swimming make you lose muscle?
Yes, swimming for extended periods of time can make you lose muscle. Anything over 75 minutes and your body will begin to use amino acids for metabolic processes1.
At the end of the day, swimming is an aerobic form of resistance training. It will give you superhuman lungs, but if you are looking strictly for bodybuilding-type muscle mass, you will want to incorporate strength training with free weights or machines to help you bulk up.
The Bottom Line
Swimming is one of my favorite all-time forms of exercise. There's nothing that beats the solitude and quiet of swimming up and down the black line at my local aquatic center.
While the muscle-building benefits may be limited, there are ways to train for more muscle mass and strength in the pool.
The next time you hit the local swim pool, try one of these power-based swim workouts and get your muscle on!
---
More Articles and Guides Like This
6 Best Swim Goggles for Laps, Open Water, and Racing. Swim goggles are one of the essential pieces of swim gear you need to conquer the water. Here's a detailed look at the best swim goggles for laps, open water, racing, and more.
The Magic5 Swim Goggles Review – These Custom Swim Goggles are a Total Game-Changer. Wondering if The Magic5 Swim Goggles live up to all the hype? Here's a goggles-on review of these customized swim goggles from the lap pool.