Elbow compression sleeves are simple and proven workout aids for better workouts. Read on and learn about the best elbow compression sleeves for maxing out big lifts, speeding up recovery, and reducing pain.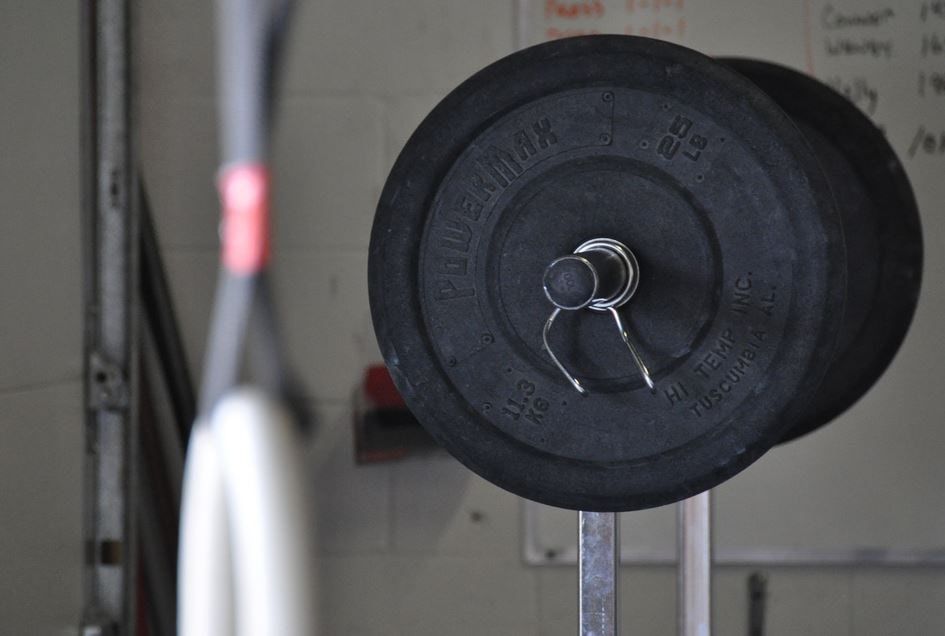 There are some killer benefits to wearing elbow compression sleeves, both in and out of the gym:
✔ You recover faster after hard workouts. Wearing compression gear speeds up muscle recovery [1] after high-intensity training.
✔ Reduces pain from chronic and acute injuries. Elbow sleeves cut down pain from elbow injuries such as tennis elbow [2].
✔ Powers up performance. Wearing a compression garment while training can reduce muscle fatigue [3] and boosts mechanical support.
✔ Keeps the elbow joint warm. The light pressure of sleeves promotes blood flow to the elbow, keeping ligaments, muscles, and tendons warm and ready for battle.
Okay, cool…
Gotta love all those benefits!
But which are the best sleeves for YOU and your training goals?
There are a variety of them on the market, for everyone from the hard-core lifter to the athlete who wants to speed up post-workout recovery.
Read on for a detailed buyer's guide of the best elbow compression sleeves and let's get to weightlifting with happy elbows.
Iron Bull Weightlifting Elbow Sleeves
Iron Bull is a Canadian company that makes killer workout gear. Their barbell hip thrusting pad is one of my favorite all-time pieces of exercise equipment. Iron Bull's weightlifting sleeves are also my favorite sleeves for benching and shoulder pressing.
Iron Bull's elbow sleeves are made specifically for intermediate and serious lifters, whether that means powerlifting or the "get swole" lifter who likes to push big weight. These sleeves are the same high-quality neoprene that they use with their knee sleeves for squats.
The sleeves are made a flexible neoprene that is 5mm thick and are 9" long. A contoured shape means that the sleeve sits comfortably around your elbow. The sleeves have a clean, simple look and have a wide range of color accents—from pink to black/black—and are available in a wide variety of sizes.
No matter what your goals are in the gym, or what kind of upper body lifts you are doing, these elbow sleeves are an essential piece of your training.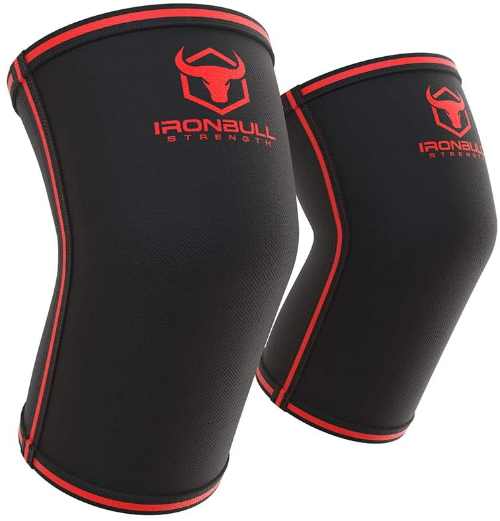 Mava Sports Elbow Compression Sleeve
This sleeve is also in my rotation for working out in my garage gym. The long length makes it my preferred sleeve when my elbow is a little sore from lifting or training.
While the Iron Bull sleeve is my go-to for heavy lifts, the Mava Sports Elbow Compression Sleeve is a better multi-functional sleeve for recovery and general blood flow and pain relief.
The Mava Sport Elbow Compression Sleeve is made of a blend of charcoal fiber, spandex and latex. The fit is excellent, with the spandex providing enough give to wrap comfortably around the arm and elbow.
The length of the sleeves makes the elbow nice and warm, but it doesn't suffocate it. The sleeves provide an awesome combination of warmth and breathability.
Priced affordably, and backed with a six-month warranty, the Mava Sports Elbow Compression Sleeve will protect your elbow and provide the blood flow and pain relief to help manage soreness and injuries.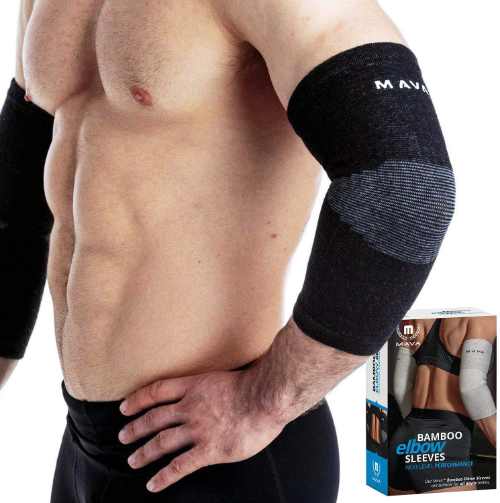 Kunto Fitness Elbow Sleeve
The Kunto Fitness Elbow Sleeve is durable, breathable, and is perfect for general physical activity, including lifting weights.
The form-fitting material, consisting of nylon, rubber and stretchable spandex, promotes circulation, reduces inflammation, and keeps your elbow joint nice and toasty.
I did find, however, that the Kunto fit slightly smaller than the Venom and Mava sleeves. This happens from time to time with fitness gear and apparel, but returning and replacing it for a properly sized version only took a few days.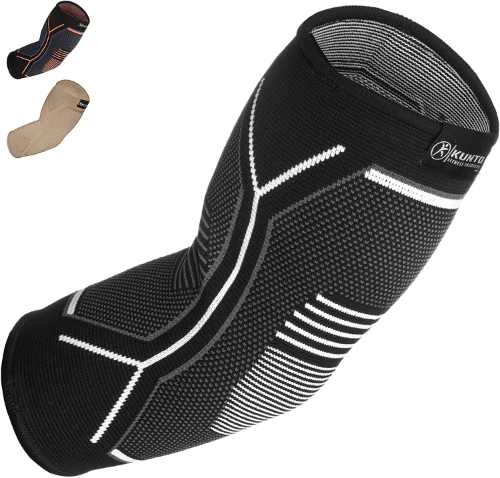 Rip Toned Elbow Sleeves
Made of 5mm neoprene (yup, the same soft and form-fitting material as a wet-suit), the Rip Toned Elbow Sleeves create a snug fit that warms the elbow joint and provide support as you smash PRs in the gym.
Used and recommended by champion powerlifters, the sleeves can also be used to reduce inflammation of common elbow joint injuries.
The Rip Toned Elbow Sleeves come in a pair. Measure the circumference around your elbow with your arm bent at around 30 degrees to ensure that the sleeve you order isn't too tight that it is uncomfortable while still providing compression.
Rip Toned adds a couple of bonuses, including a core training guide and a low carb diet guide. The company fully stands by these bad boys, with a lifetime replacement guarantee for the sleeves.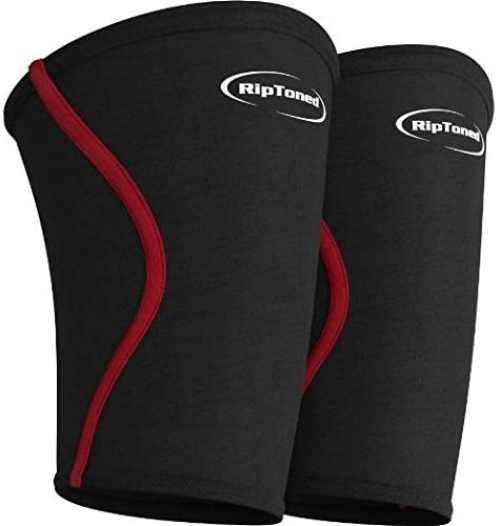 Zealspot Neoprene Elbow Sleeves
Another set of sleeves made of 5mm neoprene are the Zealspot elbow sleeves. While designed primarily for weight lifters, they can be used for your preferred physical activity.
Built with reinforced stitching for added durability, Zealspot ships these with a bonus set of heavy-duty wrist wraps, giving you more protection and support on your arms.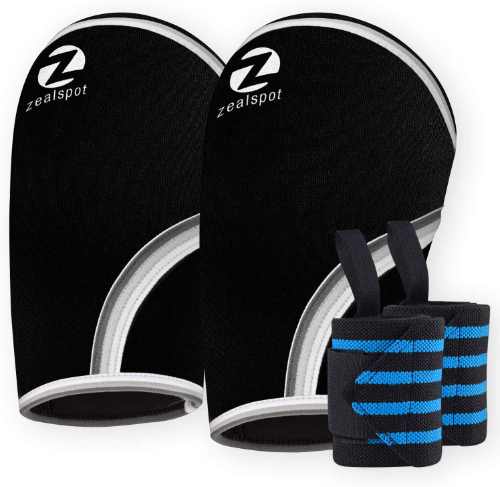 Rehband RX Elbow Sleeve
Most elbow sleeves are relatively cheap, ranging from $10-40. Rogue Fitness' Rehband RX Elbow sleeve is in the north end of that price range.
Rogue Fitness makes great workout gear—I use their adjustable weight bench and trap bar with religious consistency—but this product, at its price point, is pretty meh.
Made with 5mm neoprene and SBR, you get a solid compression and flexibility. Rogue makes stuff primarily for strength and power athletes, and this sleeve fits nicely into their line-up of gear.
It fits great, doesn't scrunch up at the elbow, and it's easy to clean (the author will readily admit that he sweats buckets on buckets in the gym).
Just, at that price point, and the lack of discernible additional features at the added price point, it's hard to recommend.