Massage guns are a popular tool for improved performance and increased mobility. Here's a full list of the benefits of massage gun therapy for athletes, lifters, and people struggling with mobility.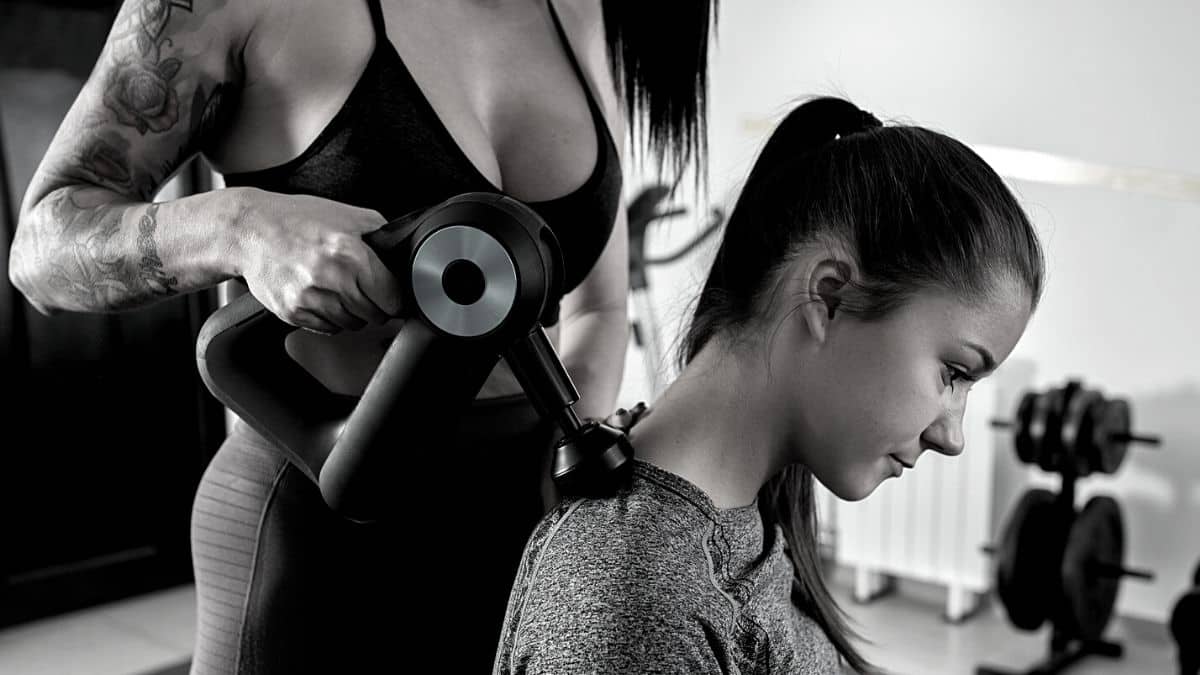 Massage is one of an athlete's best tools to improve performance!
Massage helps to loosen up stiff muscles and joints, encouraging better mobility and preventing tension that could interfere with proper movement.
Plus, it's an amazing way to prevent the pain that results from hardcore training.
There are many massage options available today—everything from massage balls to muscle roller sticks to back massager chairs—but one of the best is the massage gun, a handheld device specifically built for your convenience.
Below, we'll take a look at why massage guns are one of the best self-massage tool options, what benefits it offers, and more. We'll even answer a few frequently asked questions to help you understand how to use it right.
By the end of this page, I have no doubt you'll be ready to find yourself a massage gun to help improve your conditioning and mobility!
What is a massage gun and how does it work?
Let's start off with the basics!
Massage guns are self-massage tools that use percussion, vibration, and deep oscillation to massage your muscles and joints.
When your muscles get stuck in a contracted state (such as after intense exercise, when fatigued, or under a lot of strain), they form knots that are unable to relax.
The nerves within that bundle of muscle fibers gets confused and sends pain signals to the brain. Thus, those knots in your shoulders, neck, back, legs, or arms can feel quite painful even if they're nothing more than your muscles fixed in a contracted state.
Enter massage therapy guns!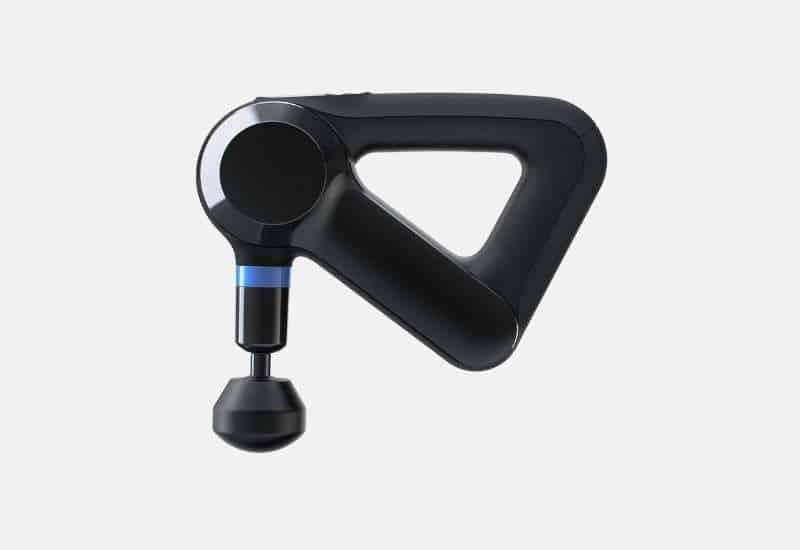 As with regular massage, these massage guns will help to un-stick knotted muscle fibers.
The mechanical stimulus of the massager will spread out the fibers and allow them to return to their normal elongated state. This literally loosens up the tension and un-knots the knots that are causing pain.
Note: Massage guns, like vibrating foam rollers, are a form of vibration therapy, which is a proven way of reducing muscle soreness and increasing range of motion after vigorous exercise1.
The massage gun is simply a handheld alternative to massage. With the handheld gun, you can apply the percussion directly to the trouble spot, rather than requiring a massage therapist to massage your knotted, tense muscles.
It's called "self-massage" for a reason, and as you'll see below, it can offer a number of excellent benefits.
The Benefits of Massage Gun Therapy
Benefit #1: Reduce Muscle Soreness
Delayed onset muscle soreness, or DOMS, is the typical muscle soreness you experience within 24-72 hours after an intense resistance training workout.
The soreness is believed to be the result of microscopic tears to your muscle tissue, which cause inflammation and minor pains.
(Don't worry, this is good damage, as it's what triggers your body to repair the muscles and increase their energy storage capacity—a.k.a., your strength.)
Massage therapy—including massage guns—can help to reduce DOMS by breaking up the adhesions (knots) in the muscle fibers and relax the muscles, preventing the tension and decreasing the inflammation we recognize as DOMS.
Massage therapy has been shown to reduce delayed onset muscle soreness by up to 30% in healthy, uninjured adults1.
Benefit #2: Better Circulation
Massage of all types improves your circulation.
Not only does it relax your muscle tissue, but it also encourages greater relaxation and dilation of the blood vessels.
This leads to better blood flow, as well as an increase in nitric oxide production.
One study found that the percussion massager had a wave-like ripple effect along the blood vessels, muscles, tissue, and bones around the area being massaged.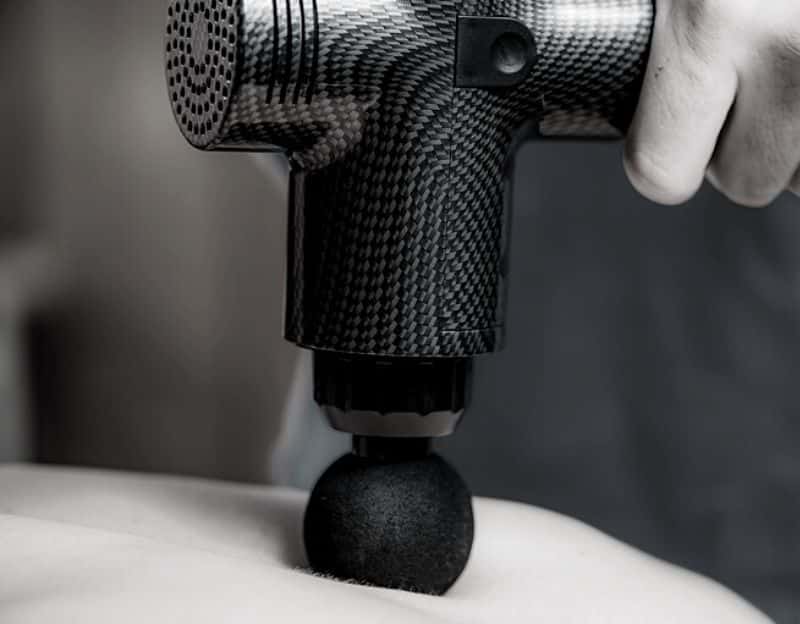 Thanks to your improved circulation, your body will be better able to distribute oxygen and critical nutrients more effectively.
Not only does this speed up post-workout recovery, but can actually improve your athletic performance during your training sessions.
That's why so many world-class athletes use massage (and massage guns) as a pre-workout warmup. 
Benefit #3: Increase Mobility and Flexibility
When your muscles are stiff and sore—either as a result of DOMS or the usual tension resulting from too many hours spent sitting down—massage therapy of all forms is highly recommended (along with stretching) to increase mobility and flexibility.
Warming up, elongating, and softening the connective tissue through massage increases its elasticity and allows you to move more easily.
According to one study from 2020, just a 5-minute percussion treatment was enough to increase the maximum range of motion in the muscles being tested. It enabled the participants to move more freely and easily but didn't decrease muscular strength or the amount of torque generated.
For those who are struggling with flexibility and mobility problems, a massage gun may be just the ticket to help loosen up muscles that tend to get stiff easily.
Spending 15-30 minutes each day on some of your more "problematic areas"—like your lower back, hamstrings, calves, neck, shoulders, and upper back—can help to increase mobility and enable greater movement.
Benefit #4: Reduce Pain
This is a really cool one!
According to research, you can actually block pain signals from reaching your brain by replacing them with another sensation—in this case, the high-frequency stimulations and deep oscillations of the massage gun.
What happens is that the massage sends signals to your brain faster than the pain signals can be relayed. This essentially overrides the pain signals coming from your knotted, tight, or stiff muscles, which actually decreases the amount of pain your brain registers.
It's a truly fascinating way to combat chronic joint pain, and can help you to move more easily despite existing injuries.
Benefit #5: Improved Lymphatic Drainage
Your lymphatic system is incredibly important! It's responsible for protecting your body from disease, and it maintains your immune response to infections and illness.
However, another of its functions is to eliminate toxins and chemicals from your body.
The lymph nodes "trap or destroy anything harmful that the body doesn't need, sieving out lymph fluid and waste products such as lactic acid and deoxygenated blood, which the body then expels or excretes via sweat, urine or bowel movements."
How does the massage gun play a role in this?
Simple: it encourages better lymphatic draining.
The percussion massager will actually help your lymph nodes to eliminate that lymph fluid, which in turn eliminates those toxins and harmful chemicals from the body.
Once it's excreted, your body is "cleaner" and functions much more efficiently. You'll notice a marked improvement in your muscular performance because there is less lactic acid (or its byproducts) built up in your bloodstream.
Benefit #6: Faster Warm-Ups
You can spend a lot of time stretching before your training session or athletic competition, and that's a smart way to reduce injuries. However, as a lot of coaches and sports doctors are finding, using percussion massagers can actually accelerate the warm-up process.
Because of the deep oscillation and percussion, circulation in your joints and muscles will increase far more quickly than with static stretching.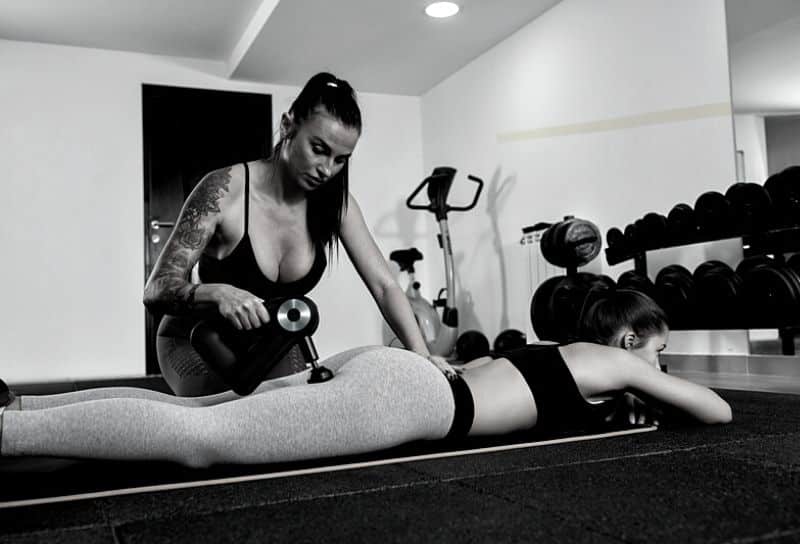 You'll also notice greater mobility and elasticity in your joint tissue, and you will feel a lot "looser" as you get working or playing.
In the same way that dynamic stretches help promote blood flow to the muscles you are going to use in training/competition, a massage gun help prime you for peak athletic performance.
It takes less time and can actually do wonders to decrease your injuries because the massage gun allows you to pay extra attention to tight spots or trouble zones. 
Benefit #7: Great Rehab Tool
The massage gun can be an excellent tool to help you rehab after an injury or surgery. It's amazing for speeding up the recovery process by increasing the blood flow to the injured site, ensuring your body can more efficiently transport the oxygen and nutrients required to repair the damage.
At the same time, it can also break up scar tissue to prevent the wound from stiffening and losing flexibility. It can even encourage the recovery of atrophied or damaged muscles.
You may not be able to use the massage gun immediately after your injury or surgery, but it's a great tool to have on hand to use in the days of recovery and rehab to follow.
Benefit #8: Enhanced Mental Health
This is one of the truly great benefits of massage of all forms, including percussion massage!
Many studies have shown that regular massage can lead to better mental health, including improved mood, lower anxiety and depression rates, and enhanced feelings of relaxation.
Because it's usually conducted in a safe, relaxing space, it can help you to feel calmer and less stressed out by everything going on around you. Pair it with other relaxation tools—such as aromatherapy and relaxation music—and you can see noticeable improvements in your mental health.
Plus, it's excellent for people who are dealing with chronic pain. Chronic pain can lead to high levels of anxiety, higher depression rates2, and other mental health problems stemming from having to constantly live with pain.
The pain-reducing effects of the massage gun can actually help you to feel better overall, lifting your mood and helping you to cope with chronic pain.
You don't only have to use it for sports-related injuries or problems—you can whip it out any time to help you relax and unwind!
As you can see, there are a lot of truly awesome reasons to use the massage gun. Adding it into your daily pre- and post-workout routine and evening relaxation time can do wonders to improve your athletic performance and your life overall.
Massage Gun Benefits — FAQs
Is it good to use a massage gun every day?
You can use the massage gun every day, but you should use it the same way you would a foam roller or an EMS machine—i.e. using it to treat a specific trouble spot or tight zone.
For example, if you know you've got Leg Day coming up, use the massage gun to loosen up the tight joints and muscles in and around your lower body. Use it again after the workout to encourage muscle relaxation and prevent soreness.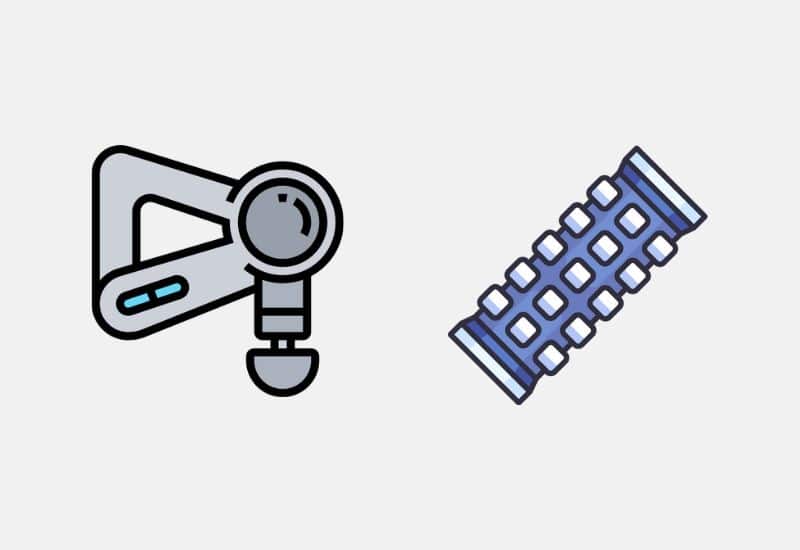 On the next day, which (in this example) you know will be Push Day, use the massage gun only around the muscles and joints you'll be recruiting on that day. The following day, Pull Day, you can focus on the muscles recruited by your pulling exercise.
Rotating through the muscles you massage every day will help you to maximize the benefits of the massage gun and prevent over-use (which leads to tightness in your muscles).
Is a massage gun more effective than a massage?
There are many great arguments explaining why the best massage therapy gun can offer a better-quality massage than a massage therapist, due to the percussion.
They mimic the movement of fingers, but they can get deep into the tissue and vibrate/oscillate at a speed far faster than any human can move. In that sense, it's "more effective" than massage.
On the other hand, a massage therapist has been trained to identify the real problem spots, the knots you may not even know you have that could be the source of your pain. They'll know how to address these trouble spots more effectively.
The outcome of both massage options is good for you—better mobility, flexibility, circulation, and muscle/joint function—so it's worth considering both for optimal performance.
The Bottom Line
For anyone looking to step up their fitness game, a massage gun can be a very useful tool!
Not only will it help to alleviate soreness, but it can encourage better mobility and enable your muscles and joints to move through the full range of motion for whatever exercises you're incorporating into your training sessions.
This leads to better strength gains and a lower risk of injury, as well as faster recovery times from any existing injuries. It's an inexpensive tool that can make a HUGE difference in the way you train.
---
More Guides Like This
5 Scientifically-Backed Benefits of Foam Rolling. The foam roller is one of the most popular additions to the local gym. Here are 5 scientifically proven benefits of foam rolling, as well as some tips for how to foam roll like a complete pro.
Active Recovery: 5 Ways to Recover Faster After a Hard Workout. Conquering the gym means working out and recovering like a champ. Here's why you should start doing active recovery sessions after those tough workouts.