Speed up recovery and improve performance with this collection of the best self-massage tools for athletes and gymgoers.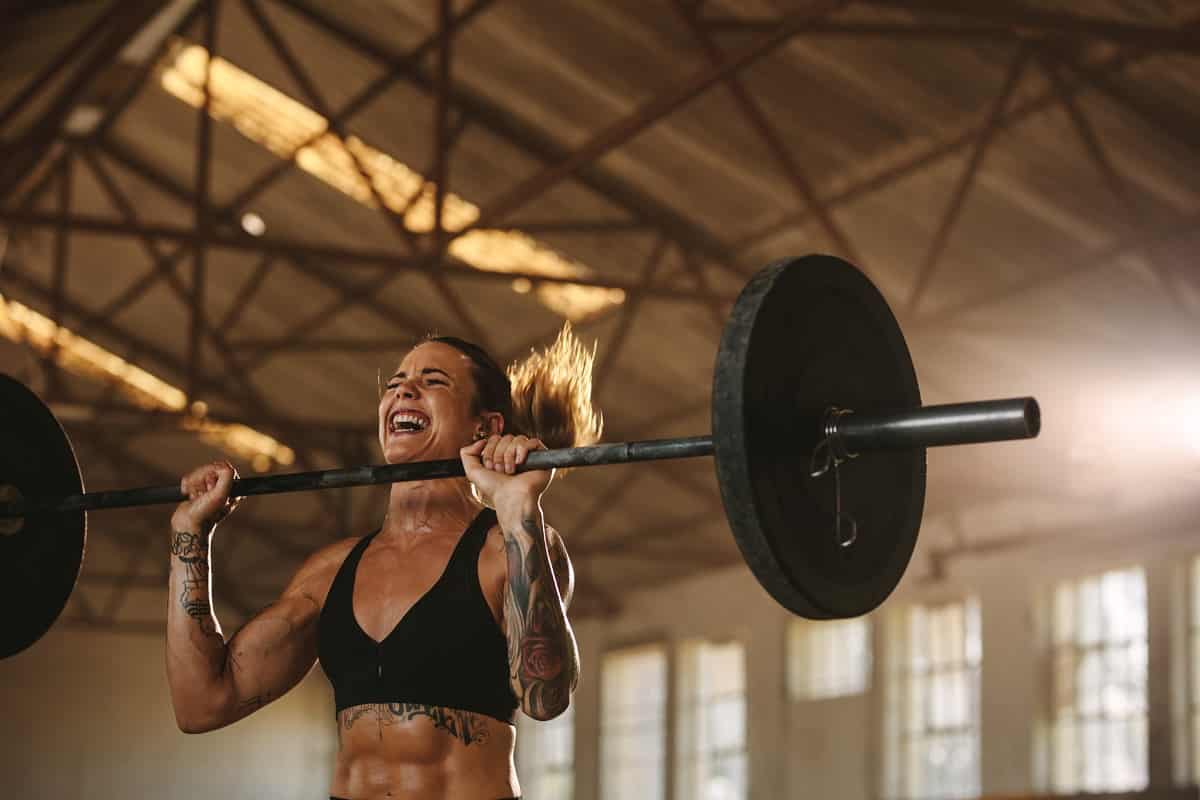 We are workout nerds and (obsessively) research and use workout gear. When you buy stuff through our links, we may earn a commission at no cost to you.
One of the hardest parts of training and working out isn't necessarily the workouts.
(Although those are plenty tough.)
It's the soreness, stiffness, fatigue, and tightness that comes from all of that pushing yourself in the gym, on the court, and in the pool.
Until recently, you had to dish out big bucks to regularly see a physical therapist or masseuse to get the benefits of myofascial release and massage.
No more.
Nowadays, there is a wide variety of self-massage tools that athletes can use to:
? Reduce soreness and DOMS. Most massage tools have been shown to significantly decrease delayed onset muscle soreness, freeing you up to return to training a little sooner.
? Recover in the comfort of your own home. No traveling to a clinic to get treatment—you can tackle tough muscle knots, soreness, and perform active recovery at home.
? Save a whole bunch of money. Some of the pricier self-massage tools require an upfront investment that can feel like a swift kick to the wallet. But these tools quickly pay for themselves in the clinic visits and fees you avoid.
? Recover at your own convenience. Self-massage tools don't have to be solely used at home. Use a massage ball to rub out your foot fascia on the plane. An EMS machine in the locker room after practice. A muscle roller stick while sitting at your desk. Accessibility means you will use it more often.
Below are the best self-massage tools for athletes so that you can recover faster and improve athletic performance.
Read on, and let's get to recoverin'!
BEST SELF-MASSAGE TOOLS: FOAM ROLLERS
Foam rollers have taken over stretching areas and commercial gyms over the past decade or so, and for good reason.
Foam rolling is a proven way to decrease soreness, increase blood flow, and help you recover faster. I've always loved foam rolling as a way to cool down after a hard workout, if not physically, then mentally as well.
TRIGGERPOINT FOAM ROLLERS
The gold standard in foam rollers for years has been the TriggerPoint series of rollers, available in a wide range of colors and lengths.
You can't really go wrong with these.
From beginners to experienced athletes, the TriggerPoint patented grid design helps tackle soreness, knots, and loosens tight muscles and joints in an effort to help you bounce back faster than ever.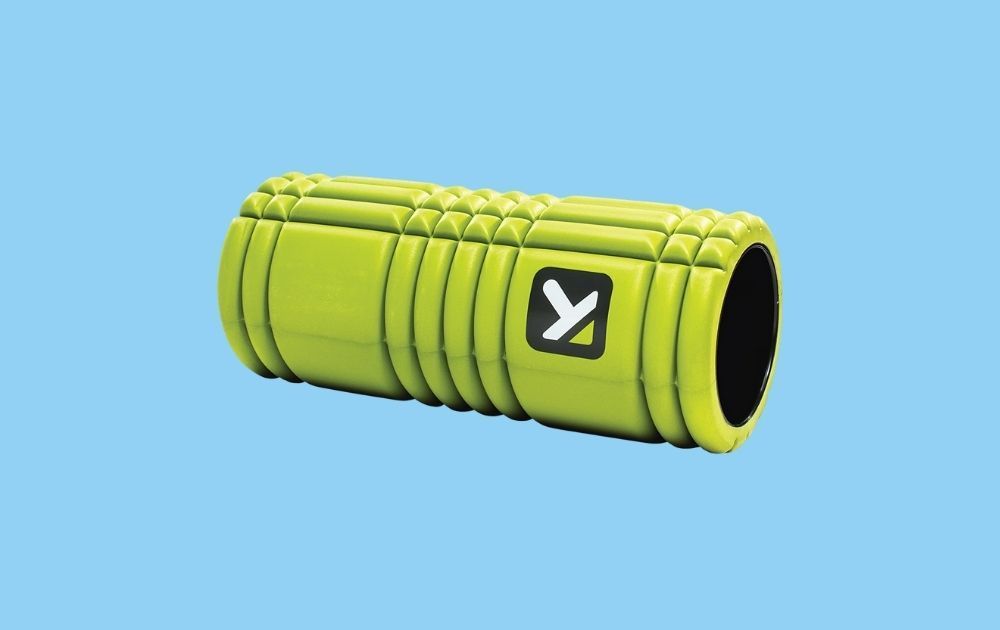 RUMBLE ROLLER – BEST FOR EXPERIENCED FOAM ROLLERS
More advanced foam rolling enthusiasts will want to give the Rumble Roller a, well, roll. If you haven't tried rolling before, this is not the foam roller you want to start with.
The Rumble Roller's tall plastic knobs, which mimic thumbs, are pointier and ouchier than regular rollers, allowing you to really attack the nooks and crevices of your muscles.
Although it looks like a medieval torture device (and at times it can certainly feel like it), I've found the Rumble Roller particularly useful for attacking the areas around the shoulder blades and other hard to reach spots that grid-patterned rollers miss.
Rogue Fitness sells them in three different sizes and even two levels of firmness, with the blue ones being a little softer (speaking very relatively here haha) than the black ones.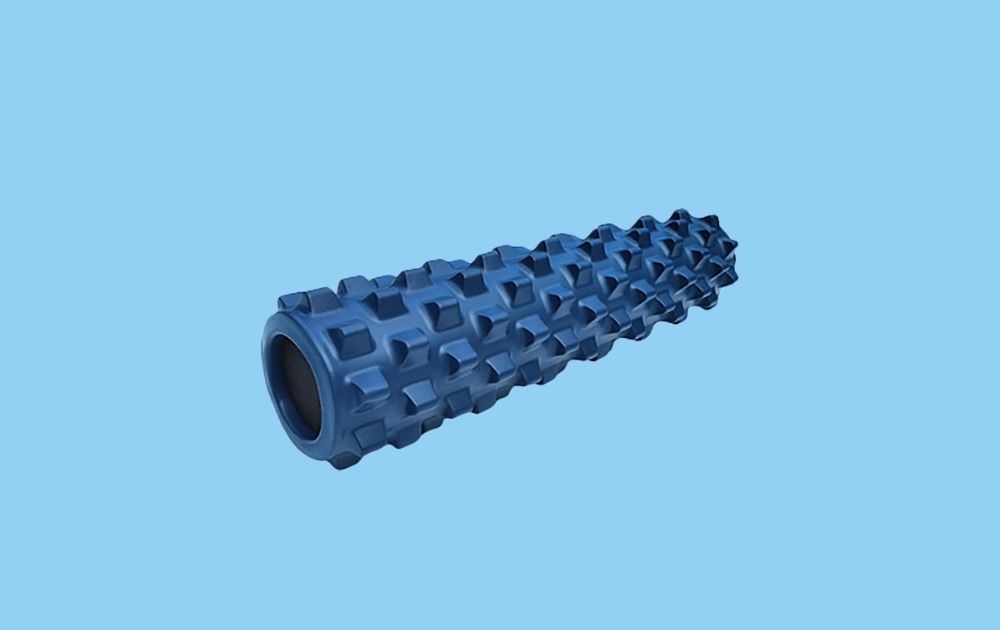 TRIGGERPOINT VIBE VIBRATING FOAM ROLLER
Why on earth would you want a foam roller that is bouncing around like bacon in the frying pan?
Welp, the best vibrating foam rollers take advantage of the standard benefits of foam rolling and combines it with the proven benefits of vibration therapy for a 1-2 recovery punch.
While there are a lot of different vibrating foam rollers on the market, mostly knock-offs, TriggerPoint's vibrating foam roller leads the pack. Four different vibration speeds, a standard 12-inch length, and about two hours of sizzle, err, vibration per charge.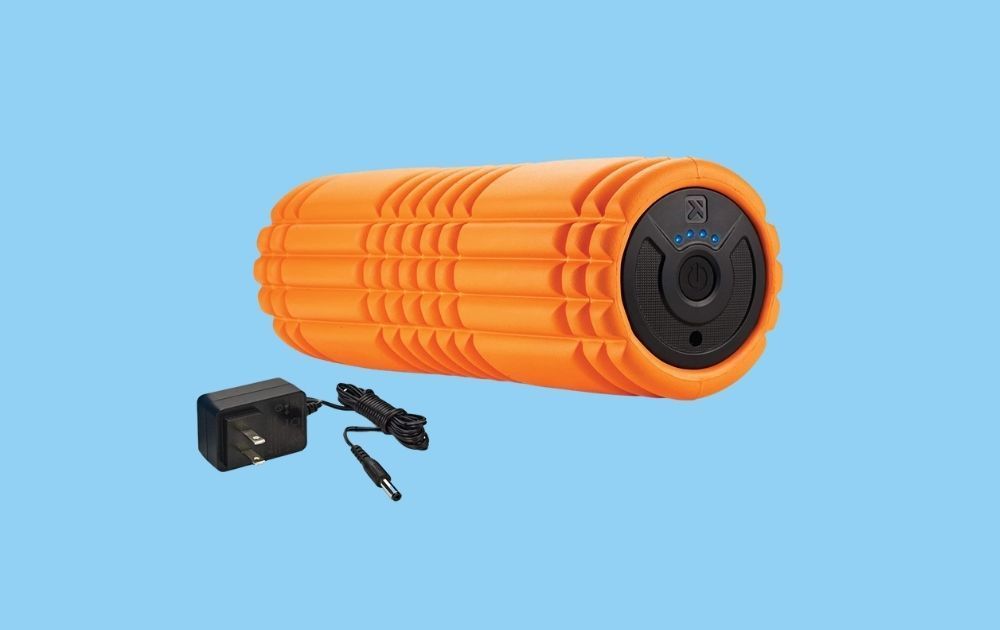 SELF-MASSAGE TOOLS: MASSAGE BALLS
Massage balls are a great way to get little bursts of massage and self-myofascial release.
You don't need the floor space that a foam roller requires, they are super portable, and massage balls are dirt cheap.
BEASTIE MASSAGE BALL
The first time you lay eyes on this thing you might think—what in the wide world of sports is this? It's a mean, green, muscle-knot donkey-kicking massage ball is what it is.
Like it's big brother, the Rumble Roller, the Beastie Massage Ball has deep knobs that help laser-target hard to reach muscles and body parts.
Available in two different levels of firmness, and made with a nonporous, bacteria resistant shell, the Beastie is a premium massage ball (and one of my top-rated massage balls) designed to wrecking-ball muscle knots.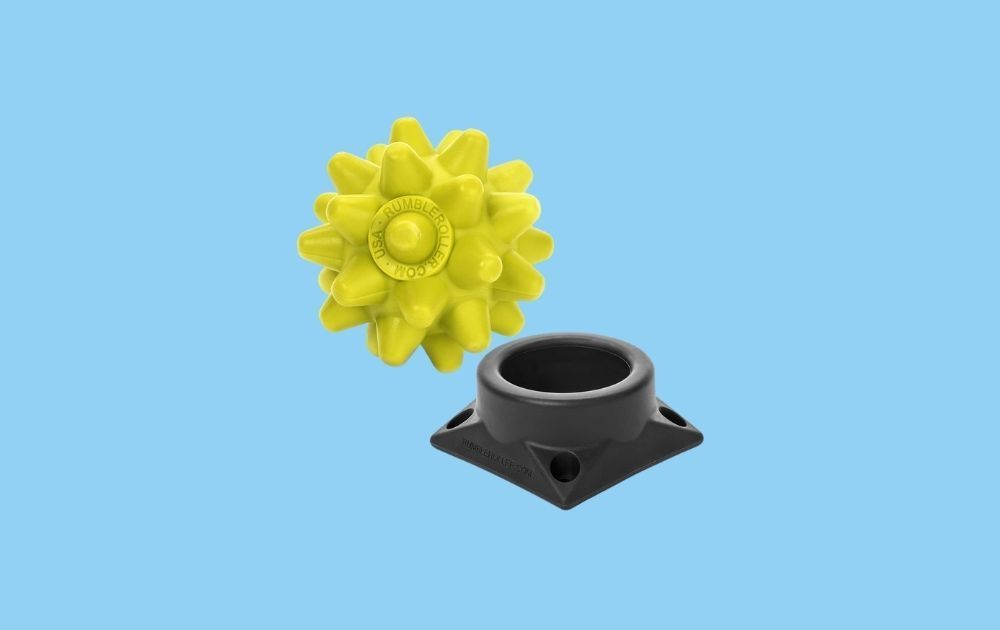 LACROSSE BALL
A cheaper alternative to the Beastie and other textured massage balls is a simple lacrosse ball. Even though they don't have the added knobs, they are still a very effective way to get some self-massage on the go.
I have a half dozen of them scattered over my life (much to my wife's chagrin), from the cup-holder in the couch, to my office, to the center console in my truck.
Whether you want to roll out the bottom of your feet, self-massage forearms, traps, or even the muscles around your scapula, massage balls are portable and don't require any space to use.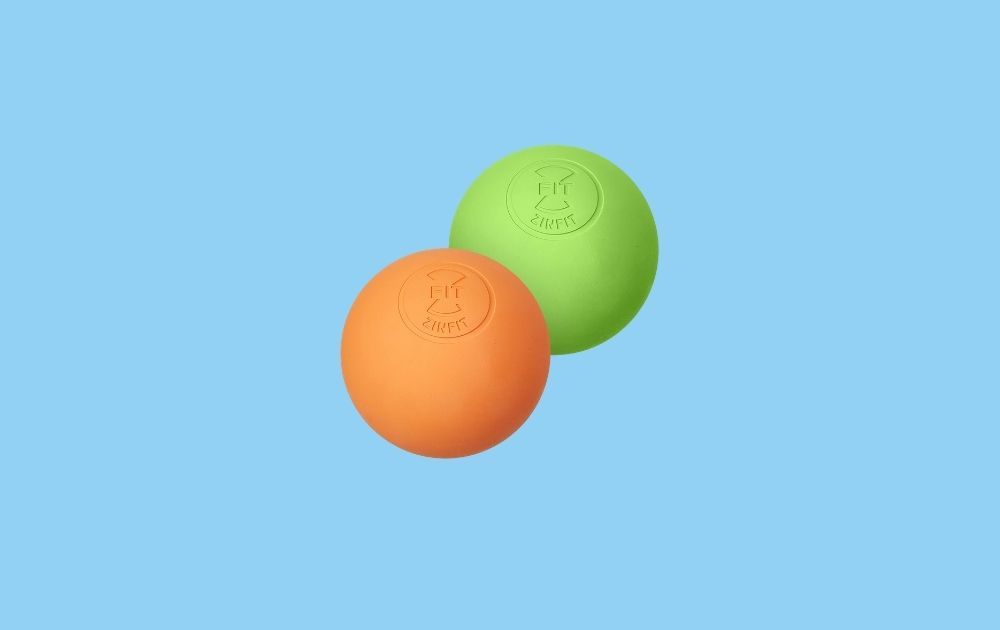 SELF-MASSAGE TOOLS: MUSCLE ROLLER STICKS
The muscle roller stick is another do-it-yourself massage tool that is easy to carry around and use.
Made with two gripped handles on either side, the stick rolls smoothly over your muscles and skin to promote blood flow, work out knots, and help kickstart the recovery process.
While Tiger Tails are the most popular one, I prefer the deeper ridges that comes with plastic-ribbed roller stick. Independent blades roll smoothly, and the half-inch tall blades attack those pesky notes and promote blood flow like a champ.
SPORTNEER MUSCLE ROLLER STICK
The Sportneer muscle roller stick has become my favorite muscle roller stick over the past couple of years. It has over 80 points on the stick for a natural and
Made of durable plastic blades made on a steel rod, lightweight, and easy to store in your gym bag or keep dangling beside your desk, the Sportneer Massage Roller Stick is a killer way to get deep tissue massage on the go.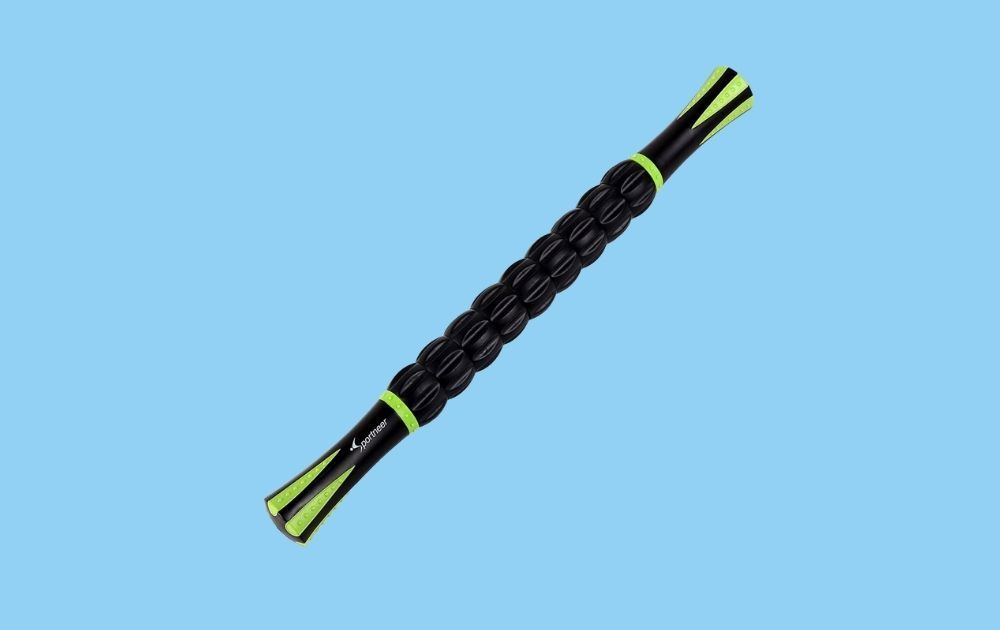 TIGER TAIL FOAM ROLLER STICK
The original, the Tiger Tail, takes the foam from a foam roller, tightens it up, and puts it on a steel rod that you can use to knead out your muscles and soreness.
Although the Tiger Tail is a recovery tool used by thousands of athletes and therapists worldwide, I find that the foam begins to catch a little bit after a while.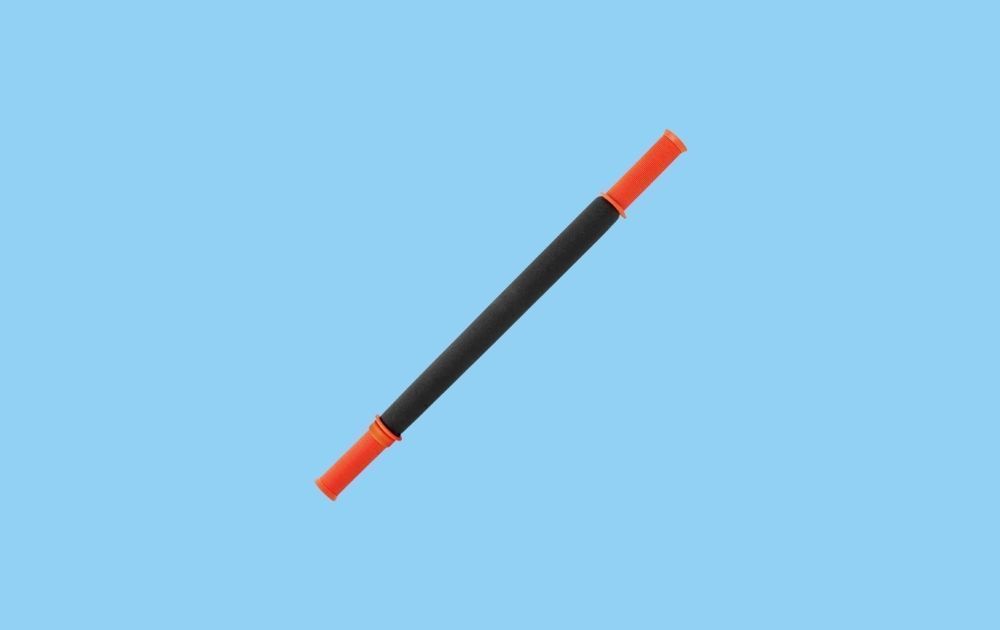 BEST SELF-MASSAGE TOOLS: EMS MACHINES
Now we move into the more pricey self-massage tools.
EMS machines have been used in one form or another for decades, first by Eastern Bloc countries before seeping into elite competition.
The best EMS machines facilitate active recovery by contracting your muscles. Advanced EMS machines also have strength and conditioning programs. Try using one of the muscle-building programs on your quads and I can almost guarantee you will be a little shocked (ha–pun!) by how much muscle contraction the impulses can generate.
The technology has gotten cheaper and more accessible, even just over the past few years.
(Note: Readers often email me talking about how cheap TENS machines are compared to EMS machines. This is because EMS machines are designed for active recovery and muscle contraction, while TENS machines are designed only for pain relief. They are completely different machines.)
COMPEX SPORT ELITE 2.0
Compex produces a line of EMS machines that are budget-friendly (the Sport Elite 2.0 is around $300) while also high quality.
While Compex makes a couple of wireless EMS machines–one of which forgoes the main unit and uses a smartphone app to control the intensity of the "zapping"–the wired ones are still the best for battery length and impulse intensity.
The Compex Sport Elite is a great entry-level EMS machine and still carries its weight when compared to the more expensive, pro-rated EMS machines on the market.
It has several recovery programs, a pair of warm-up programs (use them on your legs before your next big leg day–you will feel a difference), and four strength programs.
Compex ships it with a carry case, a bunch of electrodes, and a proprietary adapter for quick charging.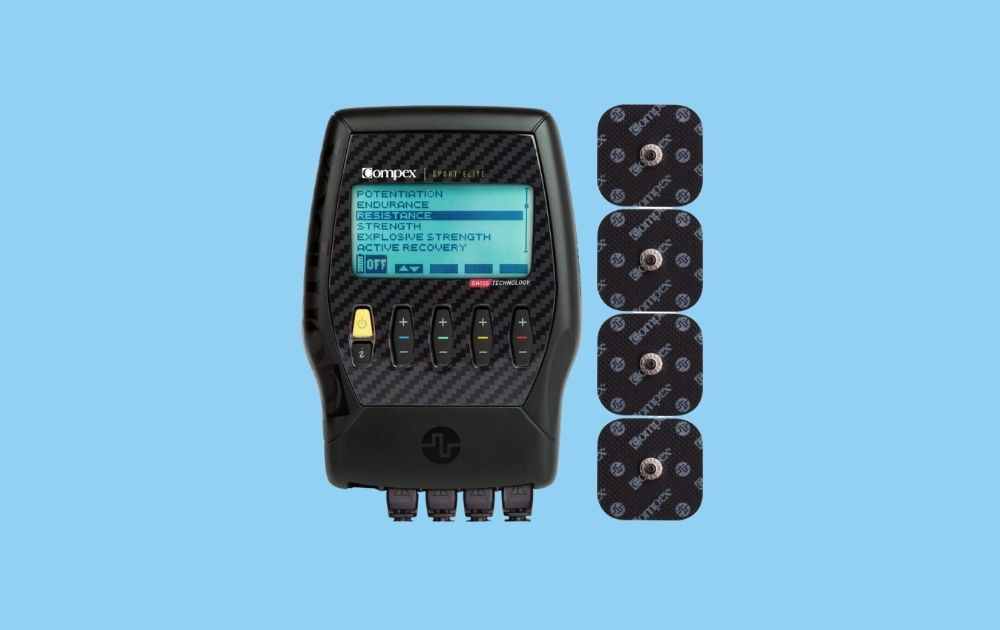 MARC PRO PLUS EMS
The Marco Pro Plus was the very first EMS machine I ever got back in 2013.
They've updated it since then, and the Plus nowadays has a whole bunch of added features, including a redesigned LCD screen, improved wires, and a new TENS setting that combines the features of a TENS machine with all of the athletic performance-boosting benefits of an EMS machine.
The Marc Pro has a large range of intensities and "pulses" that help flush muscles, remove metabolic waste, and leave you feeling refreshed and rejuvenated.
While I was training to qualify for the Rio Olympics in 2016, my Marc Pro was part of my nightly ritual. Twenty minutes on my legs a couple of hours after training left me feeling almost like new the next morning.
The Marc Pro Plus is definitely not for the casual athlete–it retails for around $1,400 (they also have a "regular" MarcPro that is less expensive, around $600– check Amazon for current pricing and availibility).
If you want a top-of-the-line EMS machine that is utilized by countless professional teams and athletes–including the Los Angeles Lakers, Tour de France winners, MLB All-Stars, and more–the Marc Pro Plus will put you in excellent company.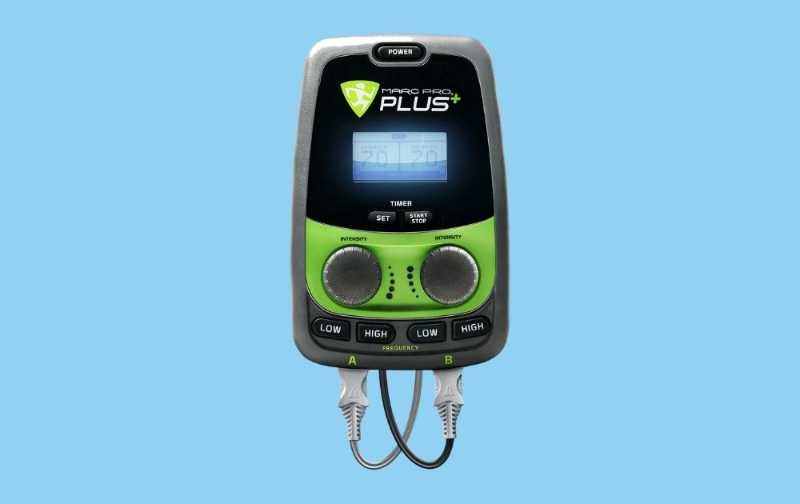 BEST SELF-MASSAGE TOOLS: MASSAGE THERAPY GUNS
Odds are good that at some point you have come across an ad on social media about the Theragun, a percussive massage therapy gun that hammers your muscles, jostling loose knots and encouraging blood circulation to kickstart recovery.
While not cheap, and they aren't very quiet either, they do provide a hypnotizing if not thorough self-massage experience.
THERAGUN MINI
Theragun, the O.G. in the therapy gun market, still makes the best of the best, with plenty of generic knock-offs to choose from on Amazon.
While the Theragun Pro might be out of the price range for more casual athletes and weekend warriors, the Theragun Mini offers most of the same speed options at a significantly more accessible price point (around $200).
The Theragun Mini comes with a carrying case, is easier to lug around when on the road, and is backed by the same guarantee that Theragun uses with all of their therapy guns.