Crush muscle soreness, increase range of motion and crank up recovery with our breakdown of the best vibrating foam rollers.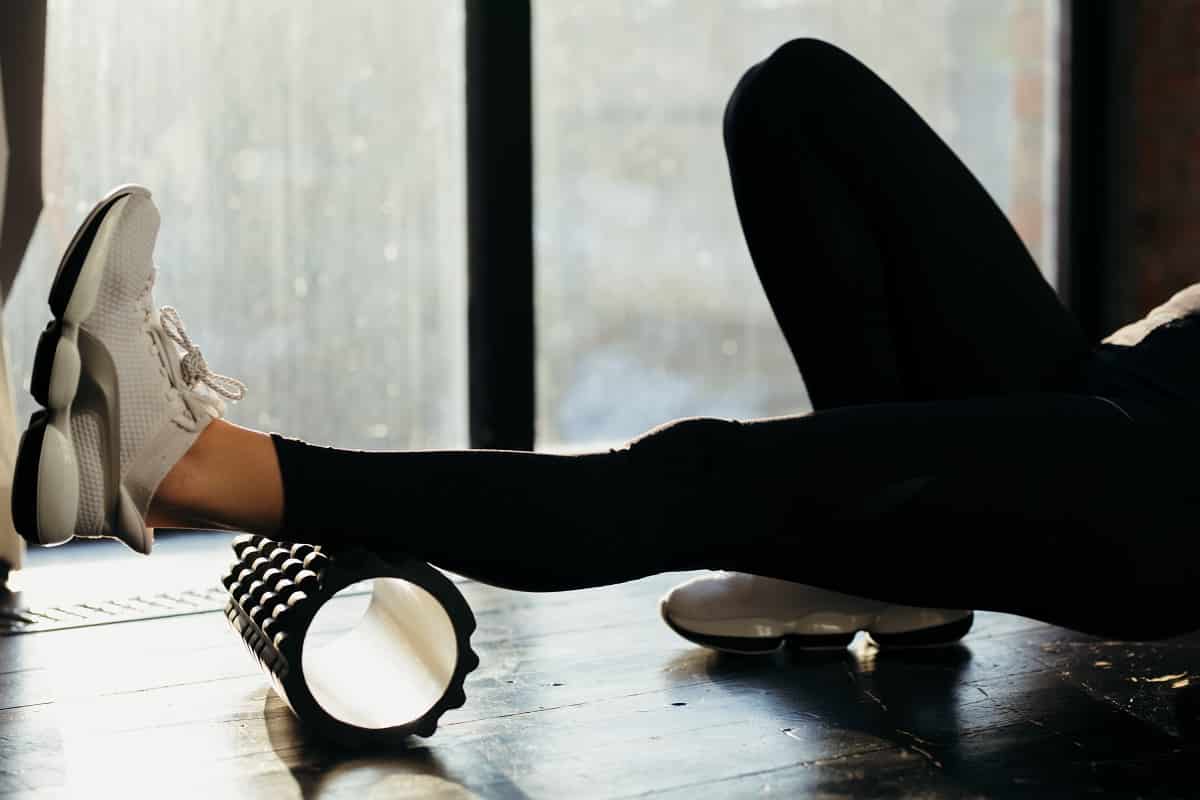 Foam rollers are a killer way to improve mobility and recover from challenging workouts.
While traditional foam rollers and muscle roller sticks do an exceptional job with myofascial release, decreasing soreness, and improving range of motion, vibrating foam rollers take things to the next level.
The benefits of foam rolling have been well documented, but a study with elite athletes found that vibration therapy was a way to reducing delayed onset muscle soreness and improving range of motion.
By combining the benefits of foam rolling with vibration, you get a two-for-one recovery and performance-boosting punch.
Vibrating foam rollers are generally similar, but there are a few different models and types to choose from.
Varying speeds, depth of the knobs and grids, and price are things to consider when choosing the right roller for you.
Read on and get your recovery on with my breakdown of the best vibrating foam rollers.
TriggerPoint GRID Vibe Vibrating Foam Roller
TriggerPoint and their line of foam rollers are one of the original myofascial tools for athletes and gymgoers. Your local gym likely has a range of these brightly colored rollers lining the stretching area.
While the TriggerPoint Grid is the o.g. (and one of the best foam rollers out there), the Grid Vibe takes things to the next level, incorporating a four-speed vibration option. The battery, when fully charged, gives you about two hours of foam rolling joy (or pain, as can sometimes be the case).
The pictured model below is 12-inches long and weighs just 2.5 pounds. Trusted by countless athletes worldwide, TriggerPoint's GRID Vibe is an excellent addition to your recovery toolkit.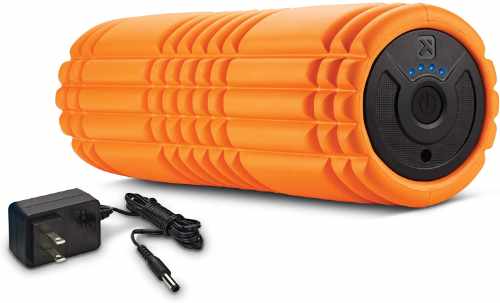 Flyby Vibrating Foam Roller Massager
The first vibrating foam roller I ever tried was this one, the FlyBy Vibrating Foam Roller, on the recommendation of a high-performance athlete I have worked with over the years.
The thing vibrates and vibrates fast—your first time rolling on it will be an experience—up to 3700 vibrations per minute. Four speed settings give you versatility. The battery carries a better charge than the TriggerPoint vibrating roller, with a fully charged battery giving up to four hours of use. (Battery life depends on vibration speed.)
Flyby's roller is made of a soft and durable EPP foam that doesn't soak up sweat (one of the key things I look for in gym and recovery gear is how they are going to cope with my overly sweaty skin and soaked shirts).
Light, easy to charge, and with enough speed settings for stubborn knots or a softer massage, the FlyBy Vibrating is an essential tool for better workouts and faster recovery.
(Oh, and it's also like $10, making it the cheapest on our little list.)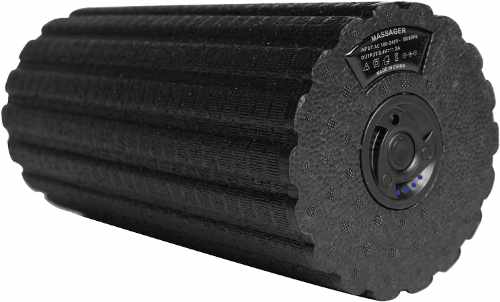 Vulken Vibrating Foam Roller
Want a vibrating roller that is longer? I hear ya.
One of my favorite foam rollers of all time is the Rumble Roller, partly because of the deep knobs but also because of how long it is.
The Vulken Vibrating Foam Roller is longer than traditional rollers (at 17" compared to the "regular" length of 12") but it isn't so long that you can't pack it with you when traveling.
With a peak vibrating speed of 3,800, it will rattle and vibrate your muscles into recovery mode. A rechargeable lithium-ion battery gives you up to four hours of vibrating delight.
The Vulken roller comes with a carrying bag and despite its extra size is very light (just over two pounds).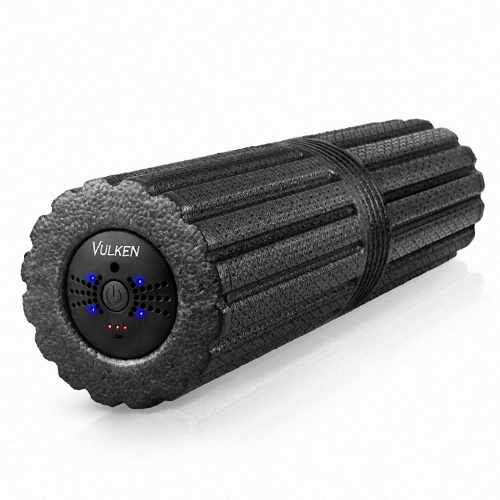 URBNFit 5-Speed Vibrating Foam Roller
Made in the pylon orange that has basically become a staple of foam rollers, the URBFit 5-Speed Vibrating Foam Roller is basically knock-off of the popular TriggerPoint rollers.
Generally, the perk of a good knock-off is a reduced price point, but the URBNFit roller is basically the same price as the TriggerPoint VIBE. So, there's that.
Key features include up to five speeds (900-3600 vibrations per minute) and a rechargeable battery that is charged through the included micro USB cable.
At its lowest speed setting, the roller can last up to six hours on a full charge, and URBNFit includes a printed and digital guide that walks you through different rolling positions and exercises.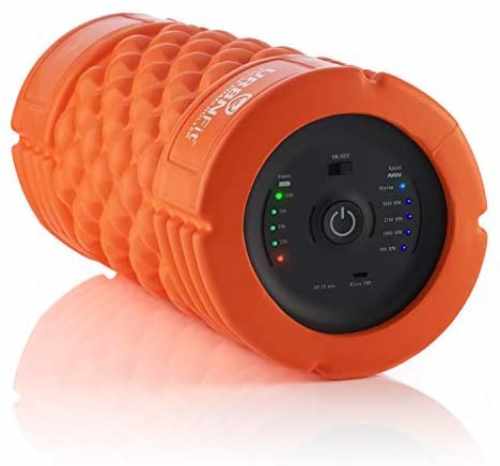 Vibra-Mauler Vibration Foam Roller
Winner of the best name in our collection of vibrating foam rollers has to go to the Vibra-Mauler. Aggressive, bright, and packed with options, it lives up to its name for massage and self-myofascial release.
A digital read-out on the side of the roller gives you speed settings—8 in total, crowning the Vibra-Mauler as the roller with most speed settings. The other side of the roller has a handle making it easy to lug around from your home office to your home gym. (And to your neighborhood gym, too.)
The manufacturer lists 10 hours of use when the roller is fully charged through a USB outlet. At 13-inches it's a "regular" sized roller, and they back the roller and motor with a 12-month warranty.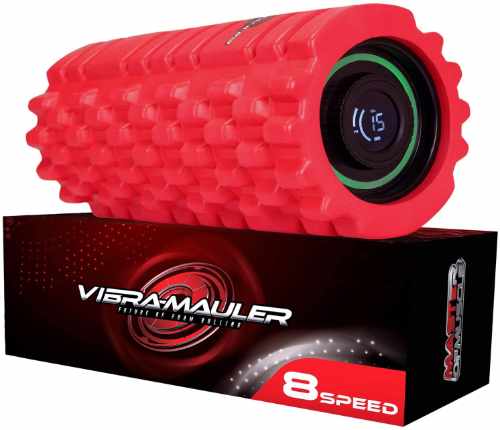 LifePro SURGER Vibrating Foam Roller
No matter what kind of exercise you are doing, the cranked-up motor in the LifePro SURGER Vibrating Roller will increase bloodflow, blast away muscle knots, and speed up recovery.
LifePro markets their roller as having the most powerful motor on the market, and it's hard to disagree the first time you try. On the highest setting, the roller rattles and vibrates hard enough that it looks like it is ready to leave the house and get a job.
With two grid patterns (use the grid for tougher to target muscles and problem areas, the flatter for a more relaxing and soothing massage), four speeds, and a no-questions asked lifetime warranty, LifePro's SURGER delivers the goods in a compact and powerful roller.