Kickstart recovery and reduce muscle soreness with one of our favorite massage therapy guns. Read on and get recoverin'.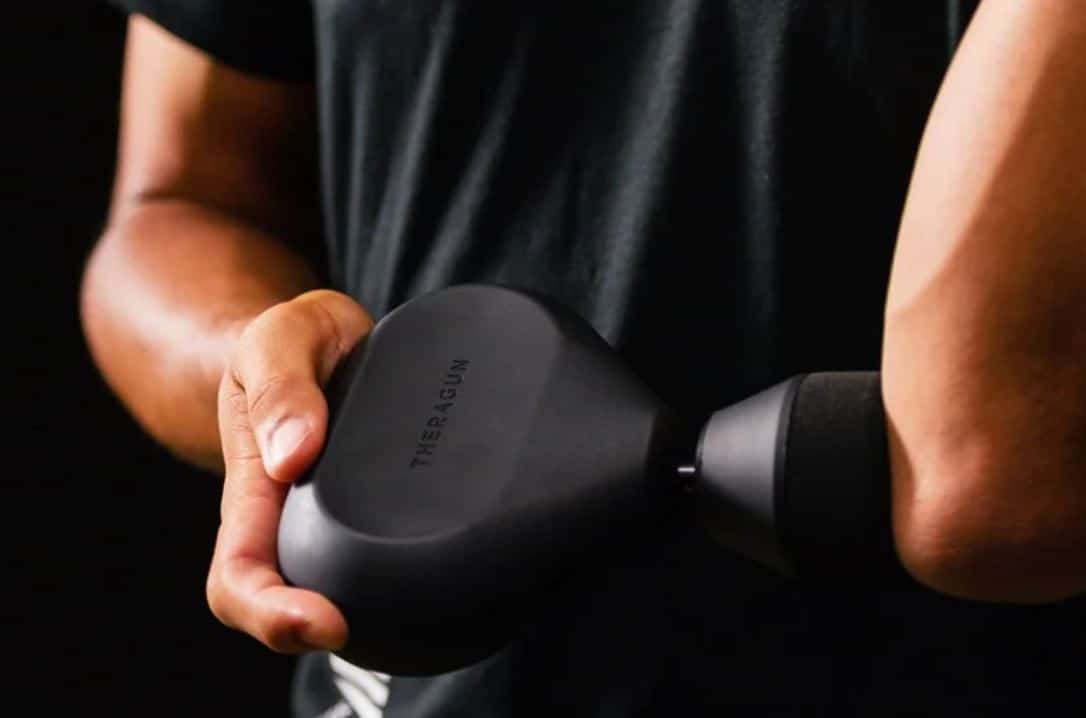 Massage guns are one of the latest forms of recovery and self-massage tools. They work by pounding away at your muscles up to 2,500 times per minute, loosening up knots, increasing blood flow, reducing soreness and pain.
Instead of having to dish out for a massage with your local physical therapist, you can get the same benefits in the comfort and privacy of your own home (or car, or hotel room, or locker room, etc).
Research [1] found that 5 minutes of vibration therapy was the same as a 15-minute massage for decreasing soreness, increasing range of motion, and 1RM. In this study, both vibration therapy and massage significantly beat out the control group for helping people bounce back from a strenuous workout.
Massage guns are awesome as they are portable, versatile, and a fraction of the cost of a masseuse. Most therapy massage guns cost around $200, which is about two massages at my local clinic.
Massage guns are a great addition to your post-workout and/or post-competition recovery routine. Add them to your regular stretching, rolling on a foam roller, proper rest, nutrition, hydrating like an athlete, and so on.
Here is a breakdown of the best massage therapy guns on the market, key features, as well as which one is the quietest.
Let's dive in.
Theragun G3Pro Percussive Massage Therapy Gun
? Best "money is no object" option for therapy guns
Theragun is the original, the O.G. on the block, the one who blazed a path for the other models and brands that followed. Theraguns are everywhere, from your local athletic training facility to the sidelines and locker rooms of countless professional sport teams.
Theragun's PRO, its fourth-generation massage gun, has about five hours of battery life. An OLED screen shows you how much you are thumping into your soft muscle tissues. The arm rotates up and down for optimal positioning and a comfortable handgrip. Five different speed settings allow you to adjust the RPM.
Theragun is continually updating its massage gun, and this latest iteration is significantly quieter than its predecessor (the 3rd generation model). It's still not as quiet as other therapy guns.
If you are looking for a "silent but deadly" massage gun look elsewhere, but for everyone else, this thing kicks butt. Priced at around $600, the Theragun G3PRO is the priciest option on this list.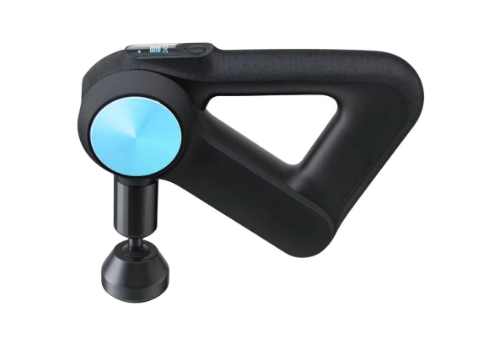 VYBE Percussion Massage Gun
If you are wincing from the price tag on the Theragun, no worries, you can still get all of the therapeutic and recovery-boosting benefits of a massage fun with a less intimidating price tag.
The VYBE Percussion Massage Gun gives you nearly all of the same features as the fourth generation Theragun at about one-third the cost. Massage your muscles and loosening up ligaments and tendons with nine different speed settings and eight different head attachments that can target every nook and cranny in your body.
I regularly use a lacrosse ball to target hard to reach corners on my body (like my shoulder scaps, for instance), and the smaller head attachments on the VYBE are great for tackling those hard-to-massage spots.
Battery life is comparable to the Theragun, it's quieter, and at around $200, the price tag on the VYBE is tough to beat.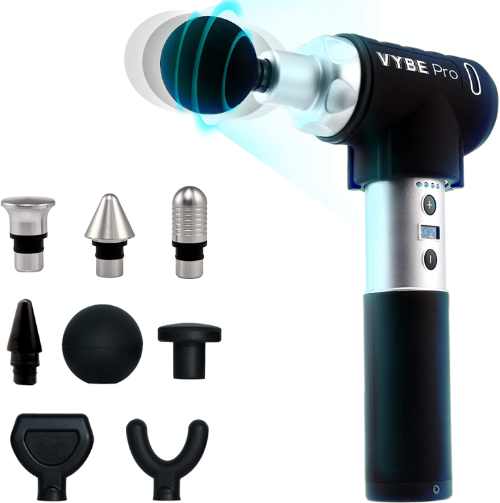 OPOVE M3 Pro Massage Therapy Gun
? Best for noise-reduction
For the athlete or gymgoer that does all of their recovery work in the comfort of their own home, noise level isn't too much of a concern when it comes to their massage gun.
If, however, you will be self-massaging in public, or you are going to be tackling soreness and tight muscles around your neck and shoulders, a quieter massage gun is preferred.
These things have little motors, after all, and can get thump loudly. The OPOVE M3 Pro is a sneaky-sneaky quiet gun. No matter which of the three speeds you run it on, the M3 Pro is still quieter than the "quiet" setting on most other guns.
The M3 is very light (just over two pounds), affordably priced (around $200), and its 24-volt brushless motor can chug along for around three hours, giving you a couple of weeks of use between charges.
Includes five different attachment heads and a convenient carry case for when you are on the road.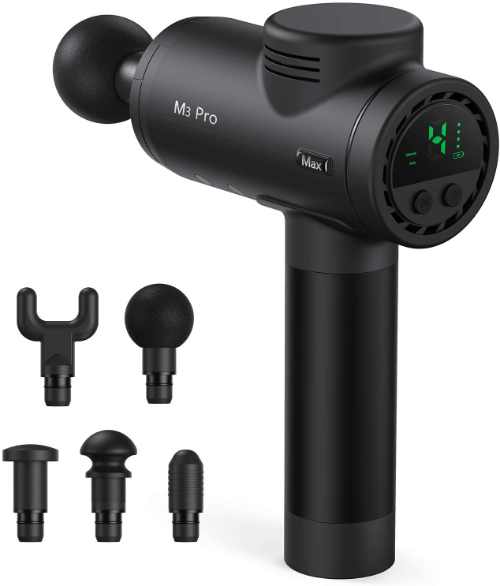 RecoverFun Mini Massage Gun
The RecoverFun Mini Massage Gun is ideal for athletes and gymgoers who travel a lot and want something small and compact. About half the size of regular massage guns, the Mini doesn't sacrifice too much on power and features.
The unit comes three head attachments, runs on four different speeds (up to 3200 percussion per minute), and its small frame weighs just over one pound.
The Mini is charged through USB outlet and carries a 90-minute charge when fully loaded up on power, which is the on the low side of things with the massage guns I have tried out and reviewed.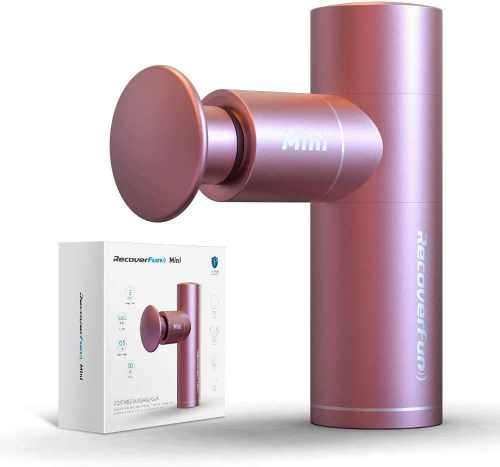 Sportneer Percussion Massage Therapy Gun
? Best battery life
If battery life is one of the primary things you are looking from your massage gun, the Sportneer is your best bet. This thing can last up to six hours on a single charge, far and away the best battery life on this list.
One thing that I really liked about this gun (that will also help extend the life of each charge) is an auto-shutoff feature after ten minutes of inactivity. The Sportneer massage gun comes with half-a-dozen head attachments, perfect for attacking all of your muscle tissue and tough-to-get-at spots.
Sporting five different speed settings, a carry case, and a respectably quiet noise level (45 dB on the fastest PPM setting), the Sportneer is an affordable ($120ish) way to fire up some recovery-boosting self-massage.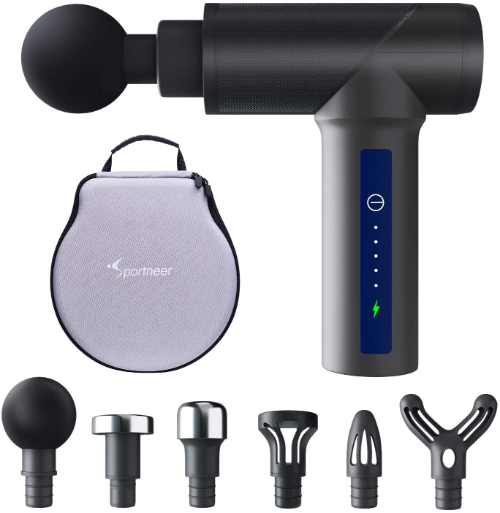 Theragun Mini
? Best compact massage therapy gun
I enjoy doing recovery work while sitting at my desk writing. This means I have a stim machine, muscle roller stick, lacrosse ball, and a Theragun Mini in my desk drawer.
It's the convenience and portability of these tools that make the difference.
If I don't need to drive down to a massage clinic or go to my garage gym to tend to my recovery, I am far more likely to do it. I suspect you are the same, too.
This is just one of the reasons I love the Theragun Mini.
The Theragun Mini carries all of the heavyweight features of full-sized massage guns. Combine that with Theragun's reputation for quality and durability, and you've got a winner.
Made with "QuietForce" technology, the Mini has three different speed settings, ranging from 1750 to 2400 PPM. Battery life is around 2.5 hours. At that rate, I charge it around once a month.
A power adaptor, battery case, and one standard ball head attachment are included. Faster recovery, easy to hold and handle, and quiet, the Theragun Mini is an essential part of your workout and competition recovery.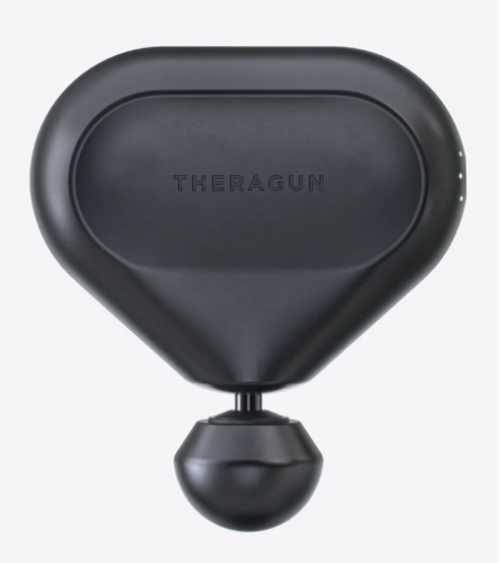 Recommended Reading
I've had a chance to try out and review lots of other "tech" recovery tools. Check out my reviews and detailed breakdowns in the guides below.
6 Best EMS Machines for Athletes (and Why They Are Worth It). EMS machines speed up recovery, build muscle, and help you become more explosive. Here is a breakdown of the best muscle stim machines for athletes and gymgoers.