The lat pulldown is a great upper body exercise that builds muscle in the back, shoulders, and arms. Here are six benefits and reasons to include the lat pulldown in your workout regimen.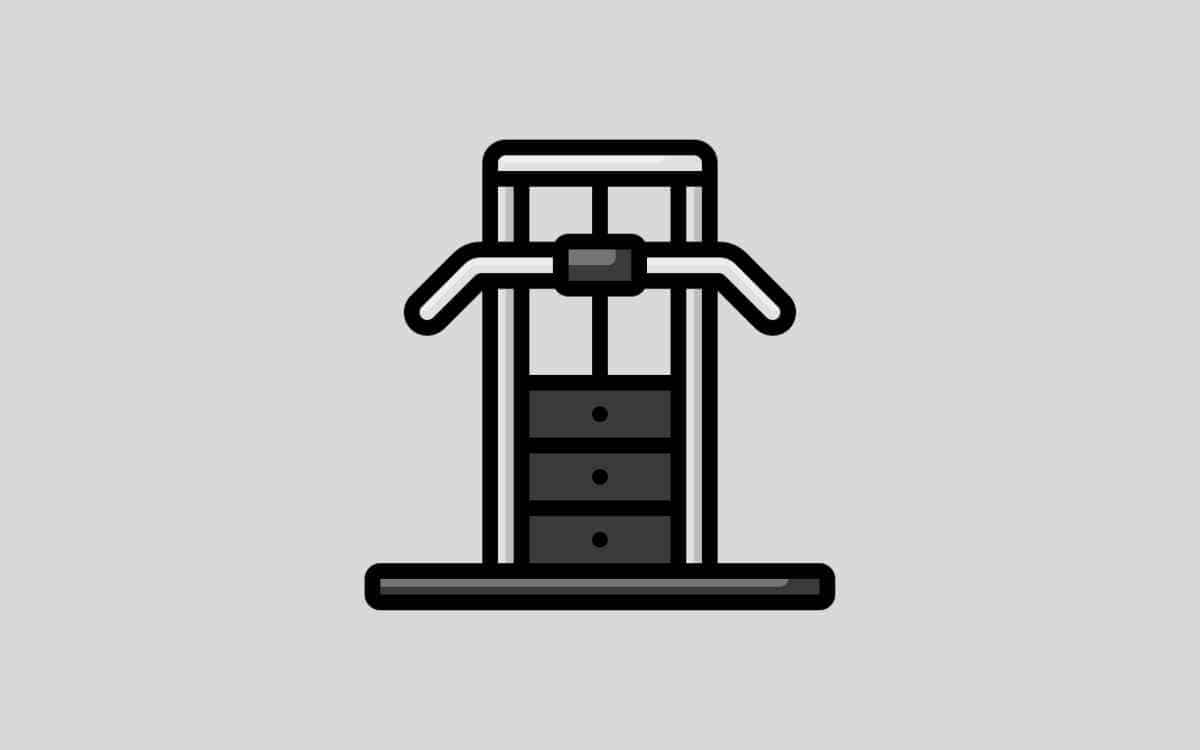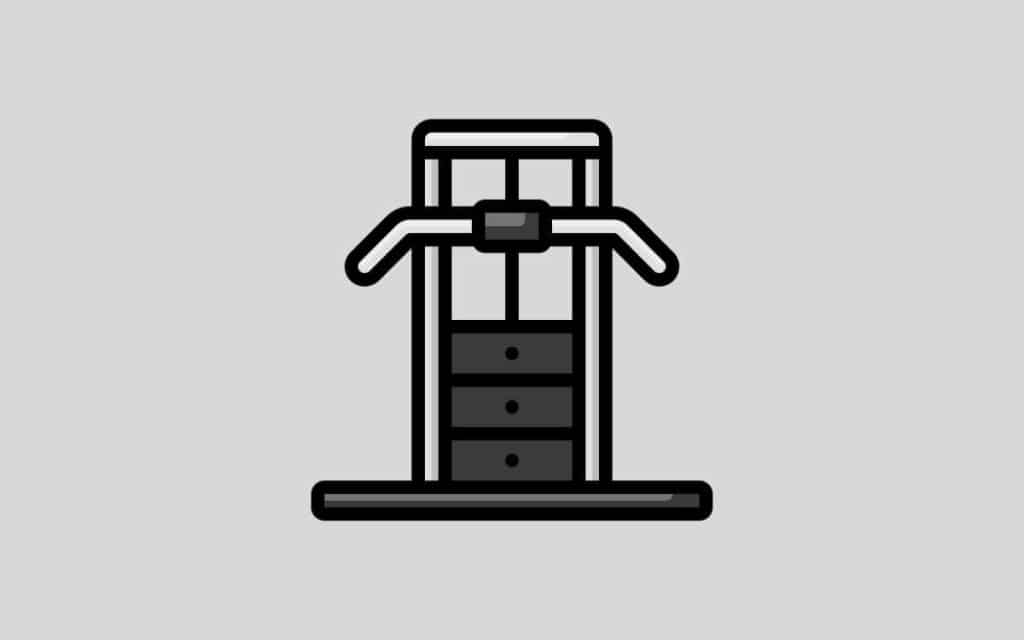 Lat pulldowns are the best equipment-based alternative to pull-ups—so a great choice for anyone who's not quite up to the level of cranking out pull-ups by the dozens.
Which, let's be honest, is a lot of us!
People who have lifted weights for years still can't do pull-ups because of injuries, high bodyweight, or their shoulder and arm muscles just aren't up for the challenge yet.
It takes a certain body type to max out on pull-ups, but lat pulldowns are for everyone.
Think about it: no matter how fit you are, how light or heavy you are, how much or little strength you're packing in your upper body, you can always sit on the seat and pull the lat pulldown bar down like a boss.
Lat pulldowns are, for many people, the ultimate back muscle-building exercise. They'll shred upper body "pull muscles" very effectively, and help you develop raw power, strength, and endurance.
Below, I'll share with you the many benefits of lat pulldowns so you can see why they deserve a place in your weekly workout routines.
The Benefits of Lat Pulldowns
Benefit 1: Work (Nearly) Your Entire Upper Body
This open kinetic chain exercise targets every "pull muscle" in your upper body, including:
Shoulder joint and shoulder girdle
Rhomboids
Trapezius
Latissimus dorsi
Biceps
Forearm muscles
Wrist/hand muscles
There's even some activation of the chest muscles throughout the exercise, along with the elbow flexors and extensors.
Really, the only upper body muscle not worked is the triceps muscle, but pretty much every other muscle is engaged throughout the pulling motion.
This makes it highly effective for building serious upper body strength!
Benefit 2: Easily Adapt Your Workout
The lat pulldown is one of the most versatile upper body workouts around.
First off, you can choose from a number of lat pulldown grips, from wide grip to narrow grip. Then you've got a number of bars you can switch out—V-bar, Double D bar, handle bar, and more. You can also mix it up with the many lat pulldown alternatives around.
What this means is that you've got lots of options with just ONE exercise!
You can get a highly effective workout for your back and shoulders using only lat pulldowns (and all its many variations).
Benefit 3: Great for Beginners
This is probably the benefit that makes lat pulldowns one of the most popular upper body exercise around.
When you first start out with your workouts, you may have no idea what you're doing (unless you work with a trainer). You'll have to muddle your way through your training sessions using information you've gathered watching videos or reading articles like this on the internet.
Some exercises can be very dangerous unless you're shown how to do them correctly—for example, the deadlift or good mornings. Even with the fan favorite pull-ups, you run a real risk of injuring yourself if you perform the exercise incorrectly.
With lat pulldowns, however, your injury risk is very low, and it's surprisingly easy to master the form.
One study found that all it took was minor instruction to help inexperienced weightlifters to significantly increase muscle activation in lat pulldowns.
No need for continuous demonstration or a trainer to correct your form—just a few quick tweaks to posture and movement, and you're good to go!
But there's another benefit that many newbies to the gym will love: you can lift a decent amount of weight right off the bat.
You may struggle to do pull-ups or chin-ups initially because your muscles aren't strong enough to lift your bodyweight. There's no shame in that—it's just a matter of time and regular training.
However, with lat pulldowns, you're not lifting your bodyweight (it stays firmly planted on the seat), but pulling weight down towards you.
(Banded lat pulldowns are one of my favorite variations for beginners to this exercise.)
That means all of your upper body muscles are engaged to pull on that handle. You might be surprised by how much weight you can pull when you're not struggling to pull yourself up.
Even if you haven't yet achieved more than a pull-up or two, you'll be able to train with nearly your bodyweight—thus helping you to level-up faster and get closer to finally completing a full set of pull-ups.
Benefit 4: Minimal Injury Risk
There is some risk of injuring yourself if you perform the lat pulldown incorrectly.
Because it's a multi-joint movement, there is some potential that you could strain your shoulders, neck muscles, elbows, or wrists throughout the range of motion. If you lean back during the pull, you could strain your lower back.
However, the beauty of lat pull-downs is that they allow you to shift position to adapt to your physiology.
You can pull straight up and down or tilt slightly back according to the mobility of your shoulder joints. You can adjust the angle of your elbows (in front of you or out to the sides), and switch up the bars so you can grip the handle that feels most comfortable for your wrists.
It's a low-impact exercise that offers full customization, so you'll have an easier time protecting your joints throughout the full range of motion.
Benefit 5: Greater Core Activation
This is absolutely a good thing!
When you move—run, jump, play sports, etc.—your whole body is engaged. Your upper body moves your arms, your lower body moves your legs, and your core works to coordinate movement between them both.
It's a no-brainer, then, that exercises that work your core in tandem with your upper body, lower body, or a combination of both will be excellent for your overall fitness. A stronger, more mobile and flexible core will enable you to move easily and reduce your risk of injuries.
A study compared chin-ups to lat pulldowns and found that though chin-ups led to better engagement in the lats, biceps, and shoulders, lat pulldowns led to better engagement in the abdominal muscles.
When you perform the pulldown, your abs have to engage to stabilize yourself in your seat. Your hip flexors are also recruited, and only once your core is stabilized can your upper body muscles activate to pull down.
Because of the greater core activation, lat pulldowns are better for your overall functional fitness and mobility than the more upper body-isolated chin-ups and pull-ups.
Benefit 6: Greater Pulling Power
As I've mentioned a few times, lat pulldowns (like pull-ups) target the "pulling muscles"—i.e. the muscles that engage in order to pull something toward you.
Test it out for yourself: stand in a doorway, place your hands on both sides of the frame, and pull toward you. You'll feel the activation in your forearms and biceps, obviously, but your shoulder and upper back muscles will also fire up throughout.
Lat pulldowns work all of these muscles, which translates into greater pulling power—not only in the gym, however, but in every aspect of life.
More pulling power is necessary for a lot of exercises, such as:
Swimming
Rowing
Kayaking
Paddleboarding
Wrestling
Jiu-jitsu
MMA
Cross-country skiing
Gymnastics
It'll even be useful for helping you carry in the groceries, clean out your garage, and care for your lawn!
Lat Pulldown Benefits – FAQs
Are lat pulldowns as good as pull-ups?
This question stirs up A LOT of debate in every online fitness community and gym around the world. There will always be die-hards who say that pull-ups are better, just like there will be people who say lat pulldowns are better.
As you can see by the benefits listed above, there are many reasons to love lat pulldowns—even include them in your workout over pull-ups. If you're not strong enough to do pull-ups, don't have a pull-up assist machine, or don't want to use pull-up assist bands, lat pulldowns may be a great choice.
See also: Lat Pulldowns vs Pull-Ups: Pros, Cons and Differences
One important thing to know about lat pulldowns: they fix your position (on a seat), allowing you to maximize focus on your lats, and also allow you to control your resistance. They may not be better than pull-ups (according to science), but they're certainly safer and more easily adaptable.
Should I lean back for lat pulldowns?
When using a lat pulldown machine or a weight pulley system, you lean back, and engage your trapezius muscles along with your lat muscles, which allows you to pull down more weight. However, it shifts from the standard lat pulldown to more of a "rowing" movement, and it decreases the load on your lats.
You can lean back for lat pulldowns to focus on the traps and add in a new variation on the standard.
However, to focus on your lats you should only lean back slightly—just enough you can bring the bar to your chest without grazing your chin.
How heavy should I go on lat pulldown?
Beginners can start in the 70 to 90-pound range to test their fitness, increasing the weight according to the difficulty. For more advanced lifters, an ideal weight range will be anywhere from 200 to 300 pounds (depending on size and strength).
However, don't worry so much about hitting a certain weight with your lifts. Instead, find the weight that pushes your lats to their limit—struggling to complete the last 2-4 reps on the last set will ensure muscle failure. Add or remove weight as needed; what matters is that you can safely and effectively train your muscles!
The Bottom Line
Lat pulldowns are an amazing addition to your upper body workouts because of how effective they are at targeting not only your back muscles, but also your shoulders, biceps, forearms, and even your core (abs and hips).
As you can see by the benefits above, they deserve a place in your "Pull Day" or "Back Day" training sessions—either instead of or alongside pull-ups!
---
More Guides Like This:
5 Best Lat Pulldown Bars for Home Gyms. Lat pulldowns are a killer exercise for a stronger and muscular back. Read on for a breakdown of the best lat pulldown bars for home and garage gyms.
Best Lat Pulldown Machines for Home Gyms. Here is a breakdown of the best lat pulldown machines for home and garage gyms.
6 Lat Pulldown Alternatives for a Strong and Muscular Back. The lat pulldown is a cornerstone of most back-building programs. Here are the best lat pulldown alternatives to help you conquer your workout goals.