The lat pulldown is an excellent way to develop a stronger, more muscular back. Here's why banded lat pulldowns might be the best variation of this exercise.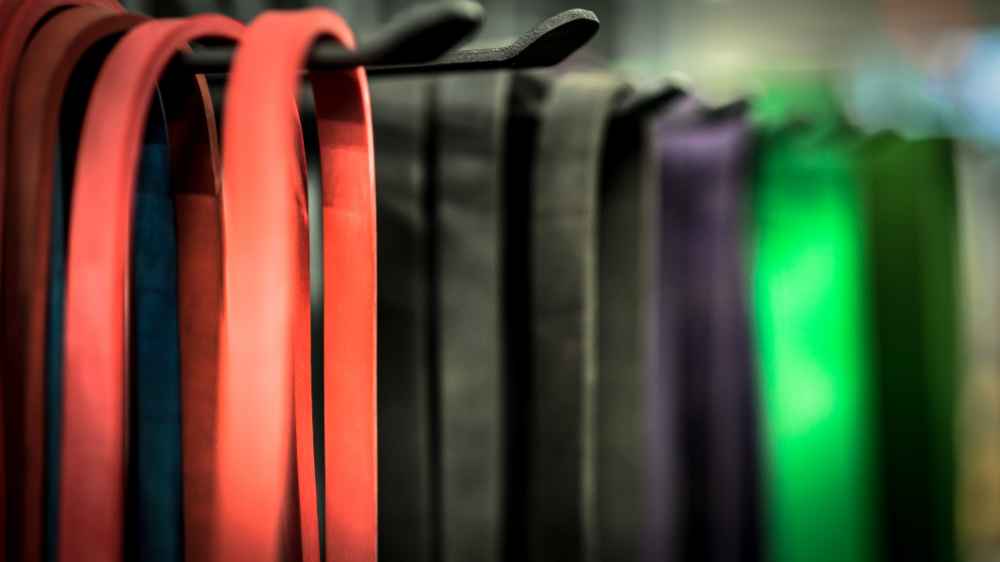 Get ready to shred those lats in a new (and better?) way!
Lat pulldowns are one of the best upper back exercises you can do. Thanks to the consistent provided by the lat pulldown machine, your "pull" muscles spend maximum time under tension—leading to faster muscle fatigue and more visible growth.
But what if you don't have a lat pulldown bar machine at home? Or what if you're on the road and need to get in your workout but aren't near a gym?
In this case, the banded lat pulldown is exactly the exercise you need to target your lats, shoulders, biceps, and forearms.
Below, we'll dive into the basics of banded lat pulldowns, explain the benefits, and walk you step-by-step through the proper form and posture for the exercise.
You'll even learn a few variations on the exercise to help you take your upper back workout session to the next level.
Let's jump right in.
Lat Pulldown – The Basics
Let's start off with the basics: what exactly is the banded lat pulldown?
Banded lat pulldowns involve pulling a resistance band anchored over your head down toward you (hence the name). Because you're using resistance bands instead of a cable machine, you can do the exercise anywhere, with far less equipment.
It's also gentler on your joints and easier to adjust the lat pulldown grips to reduce strain on your elbows, shoulders, and wrists.
The latissimus dorsi muscles are the primary muscles targeted by all lat pulldowns (hence, the "lat," short for "latissimus").
Your lats are the largest muscles in your back, recruited for quite literally every pulling motion: rowing, pull-ups, pull-downs, etc. Whether using a lat pulldown machine or a pulley system for home gym, pulldowns work these muscles, maximizing upper back strength and increasing your pulling power.
Lat pulldowns also hit a lot of secondary muscles, including:
Biceps
Forearms
Deltoids
Trapezius
Rhomboids
Abdominal muscles
Your arms and secondary back muscles help your lats to pull, while your abs engage to keep your upper body stable and upright while you pull downward.
Benefits of Banded Lat Pulldowns
You might be wondering, "Are banded lat pulldowns as good as regular lat pulldowns? How about pull-ups?"
The debate of lat pulldown vs pull-up really is as old as time itself, and people are divided on which is best.
Typically, I like to focus on capability: if you can't do pull-ups, go with lat pulldowns. Or, mix in both exercises to maximize muscle recruitment and build functional strength.
When it comes to banded lat pulldowns, there are a lot of benefits specific to this variation on the standard lat pulldown. As you'll see by the list of banded lat pulldown benefits below, there are a lot of great reasons to incorporate it into your workout:
Benefit 1: Increasing Resistance
One of the great things about using resistance bands is that the exercise gets harder the more you pull.
The tension immediately begins increasing from the moment you start stretching the elastic band, and it increases as you pull toward your chest.
At the low point of the rep, when your hands are near your chest, the tension is at its max and your muscles are firing at full capacity.
TRAINER'S NOTE :
Cable machines and resistance bands both maximize "time under tension", which in turn leads to better muscle hypertrophy.
You end up working harder with less "relaxation" between reps, and your muscles have to engage through both the concentric and eccentric phases of the exercise.
Benefit 2: Gentler On Your Joints
One of the best benefits of lat pulldown and banded lat pulldowns is that you have a lot of freedom to move along the plane/s of motion most comfortable for your body.
Pull-ups involve a single plane of motion—directly upward—but people with reduced joint mobility may struggle to perform the exercise without the jerky "kipping" motion (swinging) to gain momentum. This actually reduces the effectiveness of the pull-up and increases injury risk.
With lat pulldowns and banded lat pulldowns, however, you can adjust your position (move forward or backward) to allow your wrists, elbows, and shoulders to move along the plane of motion that feels most comfortable.
There is no need to swing or jerk, but you can keep your movements smooth and controlled.
TRAINER'S NOTE :
Test various grip and arm positions to find the one that feels best for you, and allows you to maximize lat engagement.
Banded lat pulldowns take this a step farther and offer even more flexibility. With regular lat pulldowns, you grip a solid bar or D-ring handle that locks your wrists and elbows in a certain position throughout the full range of motion.
For people who have reduced joint mobility (myself, for example, due to a childhood wrist injury that didn't heal correctly), the limitations in grip options can make the exercise uncomfortable or even painful.
Resistance bands, though, are just elastic bands, and you can twist your wrists to find the perfect angle to pull down. Not only does this allow for greater customization of the exercise, but less risk of joint strain or injury.
Benefit 3: Better Posture and Form
What I love about resistance band lat pulldowns is that you're not really lifting "heavy" weight, so there's no need to struggle to pull through those last few reps.
The resistance bands weigh nothing, so there's no perception of a heavy load. The fact that the resistance gradually increases throughout the full pull range of motion allows you to get a better workout with less struggle or jerkiness.
See also: 7 Dumbbell Back Exercises (Plus Benefits and a 20-Minute Back Workout)
By taking off the "weight" part of this exercise, your mind is freed up to focus on maintaining the correct form and posture.
Spending a few weeks regularly training at banded lat pulldowns will help you to improve your regulat lat pulldown and pull-up form.
Benefit 4: Do It Anywhere, Anytime
This is absolutely the best part of banded lat pulldowns!
Really, all you need to perform this exercise is a set of resistance bands (with sufficient tension) and a solid object from which to suspend them (hook, door frame, bar, etc.).
You can fit a full set of resistance bands into your home gym or take them on vacation, and you'll be able to get a truly excellent upper back workout anywhere you go!
How to Do Banded Lat Pulldowns – Step by Step
✅ Step 1: Set up the bands. Attach the resistance band to the door frame, hook, bar, or whatever other overhead object will keep them securely anchored in place.
✅ Step 2: Set up your form. Stand, sit, or kneel beneath the bands, whatever posture feels best. Your arms should be extended to their full length at the "resting point" of the exercise.
✅ Step 3: Brace and pull. Tense your core muscles, roll your shoulder blades back and down, and pull the ends of the resistance bands toward you. Keep pulling until the bands reach roughly the level of your chest.
TRAINER'S NOTE :
Only pull as far as is comfortable. If you don't have full range of motion and feel pain in your joints, stop pulling above shoulder level.
✅ Step 4: Pause at the bottom. Pausing for a 1-count at the "bottom" of the exercise (when your hands are near your chest/shoulders) will maximize muscle engagement and prevent you from releasing too quickly. Make a conscious effort to squeeze your lats during this pause.
✅ Step 5: Slowly release the tension. DO NOT ease off the tension too quickly—that will diminish the effectiveness of the eccentric phase of this exercise. Make sure to release slowly to really feel the burn!
✅ Step 6: Pause before full extension. You never want your arms to fully extend, because this allows the muscles in your arms, shoulders, and back to relax. Instead, stop just before full extension, with your muscles still under tension. Hold for a 1-count, then pull once more.
TRAINER'S NOTE :
To build power, work in the 3-6 rep range. To build strength, work in the 8-12 rep range. To build endurance, work in the 15-25 rep range.
✅ Step 7: Repeat as desired.
---
Banded Lat Pulldown Variations
Looking for some good lat pulldown alternatives?
Here are my personal favorites:
Variation #1: Banded Straight Arm Pulldowns
This variation will shift the focus away from your lats and lead to greater engagement of the chest, triceps, and shoulder muscles. It's a great exercise to focus on the secondary muscles that work during lat pulldowns, as well as target your "push" muscles in a new way.
Variation #2: Single Arm Pulldowns
Grip a band or cable in just one hand, and perform the exercise one arm at a time. Unilateral upper body exercises increase core engagement and help you to build seriously powerful abs and back muscles.
TRAINER'S NOTE :
For these exercises, consider investing in a quality resistance band. Powerlifting bands, like those made by Rogue, Elite FTS, and Iron Bull Strength, can generate up to 272lb of tension and won't snap on you.
Variation #3: Close Grip Lat Pulldowns
Shifting your hands to grip the bands close together engages the rhomboids (the muscles of your upper back right next to your spine) more fully. You also target the biceps, shoulders, and upper chest muscles in a way regular-grip lat pulldowns don't.
Variation #4: Wide Grip Lat Pulldowns
Swinging your hands out wide keeps the focus primarily on your lats, but gets the traps involved, too. You'll develop greater power for pull-ups with this variation.
---
What are some other ways to do lat pulldowns?
Lat pulldowns are a highly effective exercise for building back muscle and strength. Using heavy resistance bands for this exercise is one option, but there are other ways to target the upper back and pulling muscles.
Using pull-up assist bands is an excellent way to work the lats. In fact, research1 shows that performing assisted pull-ups are better for building strong lat muscles compared to using a lat pulldown machine.
For people who want to do lat pulldowns, but don't want to invest in a lat pulldown machine for their home gym, have the option of a weight pulley system. Cable pulley systems for home gyms are a cost-friendly alternative, costing around $50-100. They are also highly portable and take up nearly zero space.
---
The Final Rep
Banded lat pulldowns are a versatile upper back exercise you can do anywhere, even if you struggle with regular lat pulldowns or pull-ups.
The great thing about them is that they'll help you to develop the "pulling" power you need for other upper back exercises, and give you that broad, well-defined back musculature you've been working toward.
More Lat Pulldown Guides:
⭐ 5 Best Lat Pulldown Bars for Home Gyms. Lat pulldowns are a killer exercise for a stronger and muscular back. Read on for a breakdown of the best lat pulldown bars for home and garage gyms.
⭐ Best Lat Pulldown Machines for Home Gyms. Here is a breakdown of the best lat pulldown machines for home and garage gyms.
5 Lat Pulldown Grips (Pros and Cons of Each). Conquer the lat pull-down and target the right muscles with this guide to the best grips on the pulldown bar.