Built like a tank and priced like a champ, the SteelBody Deluxe Adjustable Bench is one of the best workout benches on the market. Read my detailed review.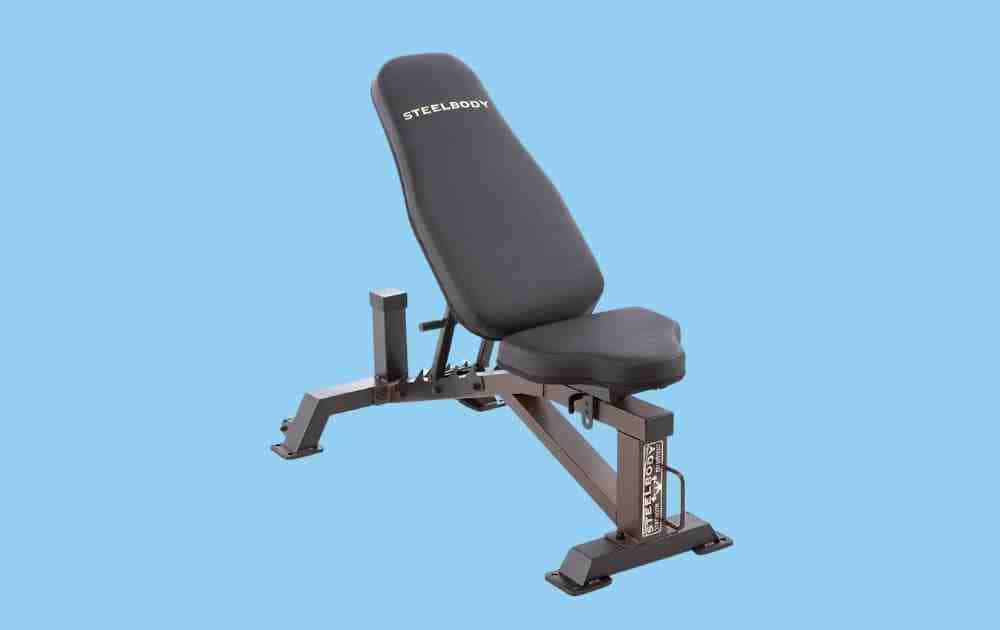 Working out at home is kind of, well… the best.
No lineups for equipment. No one hovering over you. Full control of the playlist selection.
The real challenge becomes stocking your home gym with the right equipment.
And one of the first things the home gym enthusiast goes for is a sturdy weight bench.
But there are a TON of options on the market.
From the premium, commercial-grade benches to the flimsy, $65 cheapo benches that look no stronger than an ironing board.
That's when the SteelBody Deluxe Adjustable Weight Bench rolls up.
It's affordable (around $230), hilariously sturdy (rated for up to 800lbs), comfortable (2" pads), and has plenty (6) of incline options.
When it comes to picking the best adjustable weight bench for you and your workouts, this just might be the one.
Let's take a closer look at this bad boy.
SteelBody Deluxe Adjustable Bench – The Rundown
Here is a detailed look at what I liked (and didn't like) about the SteelBody Deluxe Adjustable Bench.
Let's go:
✔️ Built like a tank.
Let's start off with the obvious. This thing looks like it was designed to attack a well-fortified position. (Or maybe it's the well-fortified position? Hmm.)
The back of the base is extra wide for additional stability, the steel tubing is oversized, and the 11-gauge steel is powder-coated to prevent corrosion and rust. (Cause let's be honest, we are going to be sweating on this thing. A lot.)
✔️ Lots of incline options.
The SteelBody has six different angles that the back pad can be placed at, including fully horizontal. Grades include 20, 30, 45, and 70 degrees, the latter of which is almost upright enough to do overhead shoulder presses.
The seat is also adjustable, with a lever under the seat pad giving you five different positions to angle the pad to correspond with how angled you've set the back pad.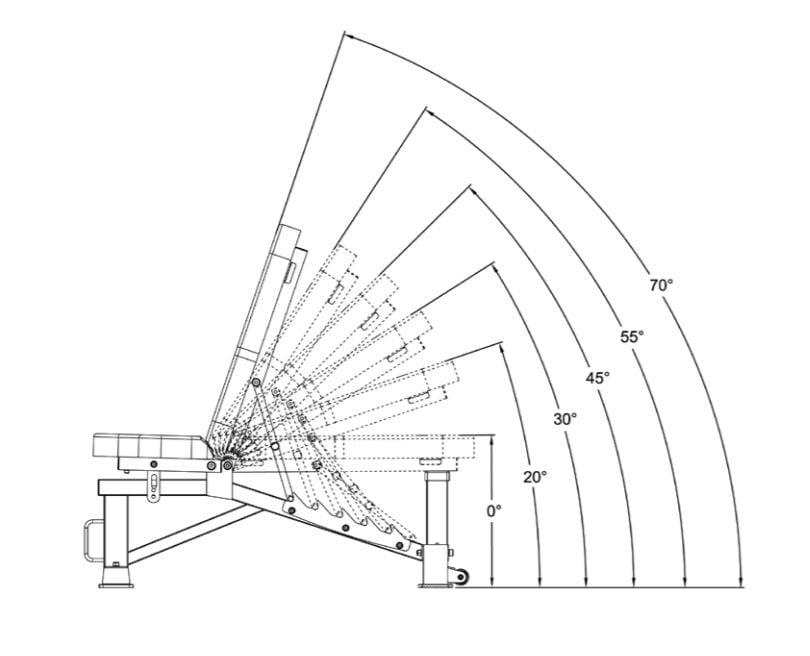 I've always appreciated this aspect of adjustable workout benches and have never understood incline benches missing this feature.
When doing heavy incline lifts, for example, being able to sink my body into the "V" created by the back and seat pads helps secure my body and keep my butt from sliding down the seat.
✔️ Rated for up 800lbs.
Even though the Amazon description lists the SteelBody bench is rated for up to 300lbs, the bench is actually equipped to handle up to 800lb of lifter and weights.
That's punching up for its price point.
Most of the time if you are looking at benches that are rated in that neighborhood, you are going to start paying significantly more (Rogue's Adjustable Bench 3.0, for example, with its 1,000lb weight rating is nearly $600).
800lbs is a great weight rating for a low-cost bench.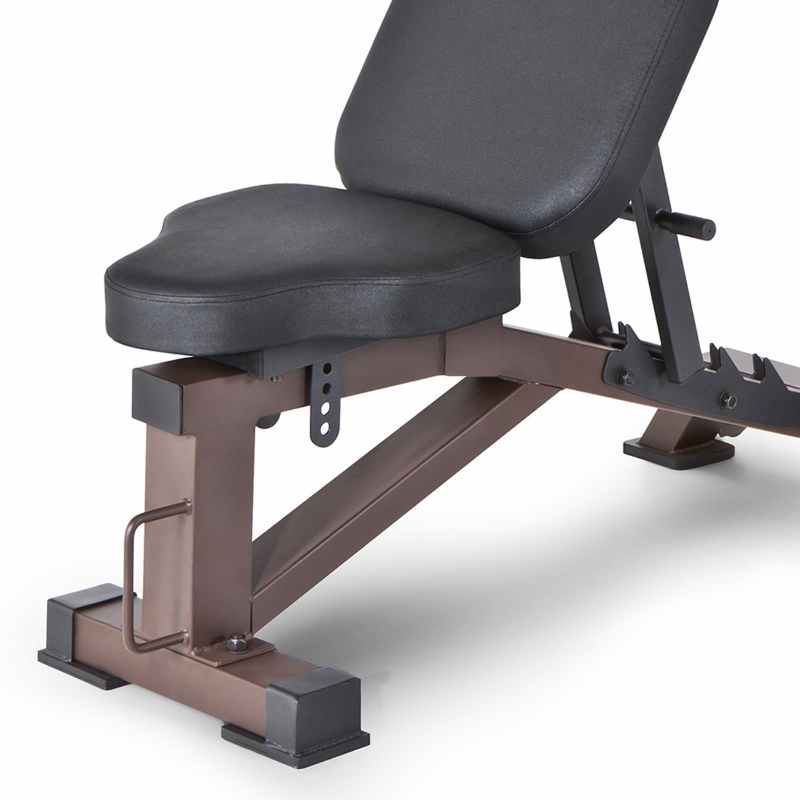 ✔️ Thick pads and a canvas vinyl cover.
For a cheaper bench (in the $200s), you get some surprisingly good padding. The pads are just over 2" thick, giving your body plenty of support when banging away at your PRs.
Additionally, the pads are covered with a canvas vinyl fabric that is sweat-resistant and easy to wipe down and clean after those big workouts.
✔️ Easy to move around your home gym.
One of the key things I look for with home gym equipment is how easily I can move the gear, especially with heavier stuff like workout benches.
The SteelBody adjustable bench makes wheeling the bench around easy with a dedicated handle under the seat and two transport wheels at the bar. The feet are rubber-tipped to prevent scuffing and slipping when arranging the bench.
While it's not a foldable workout bench and it can't be easily stowed vertically like some other benches, the fact that you can wheel it out of the way between workouts is crucial.
✔️ Heavy-duty… but surprisingly not that heavy.
At first glance, this thing looks like it should weigh a ton. And yet, it weighs in at a somewhat light 50lb.
Lighter than the Bowflex 5.1s Adjustable Bench (60lbs), the Bells of Steel Commercial 3.0 bench (85lbs), and Rogue's Adjustable 3.0 bench (120lbs).
There is some good news and some okay news with how light the SteelBody bench is.
Being a lighter bench makes it easier to move around. And being a lighter bench means it doesn't have that same heavy anchor of thicker and heavier benches.
❌ Lack of upright seat positioning.
While close, at 70 degrees, the SteelBody bench doesn't have an upright seat position that would make it ideal for overhead tricep extensions and shoulder presses.
In my opinion, the top adjustable weight benches have an 85-degree incline position that is perfectly suited for overhead dumbbell exercises.
70 is close, but not quite there.
SteelBody Adjustable Weight Bench – Where to buy
Ultimately, the SteelBody Deluxe Adjustable Weight Bench kills it when it comes to the most important things most of us are looking for with this kind of bench.
Lots of incline positions. Sturdy construction. Extra-wide base for stability. Thick padding.
And a price point that you can't really argue with, at just $220-230 (check Amazon for current pricing and availability).