Belt squats are an excellent way to safely level up your training. Here's a detailed review of the Rogue Rhino Belt Squat, including pros and cons, and why it's the best of its kind on the market.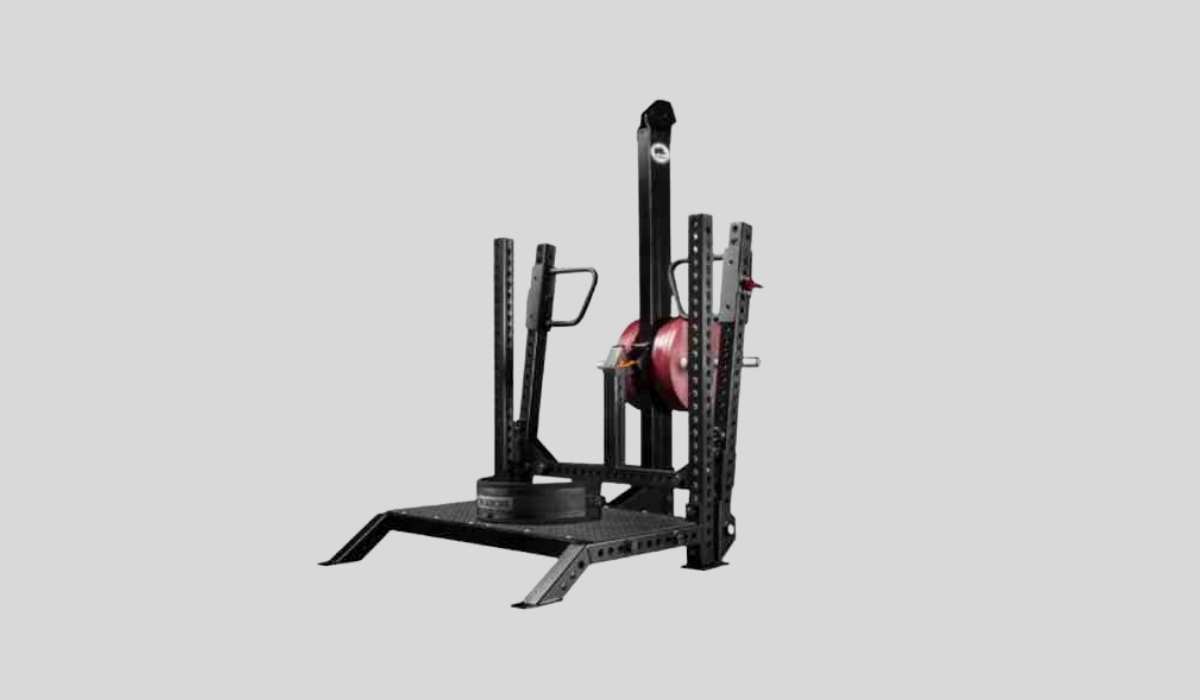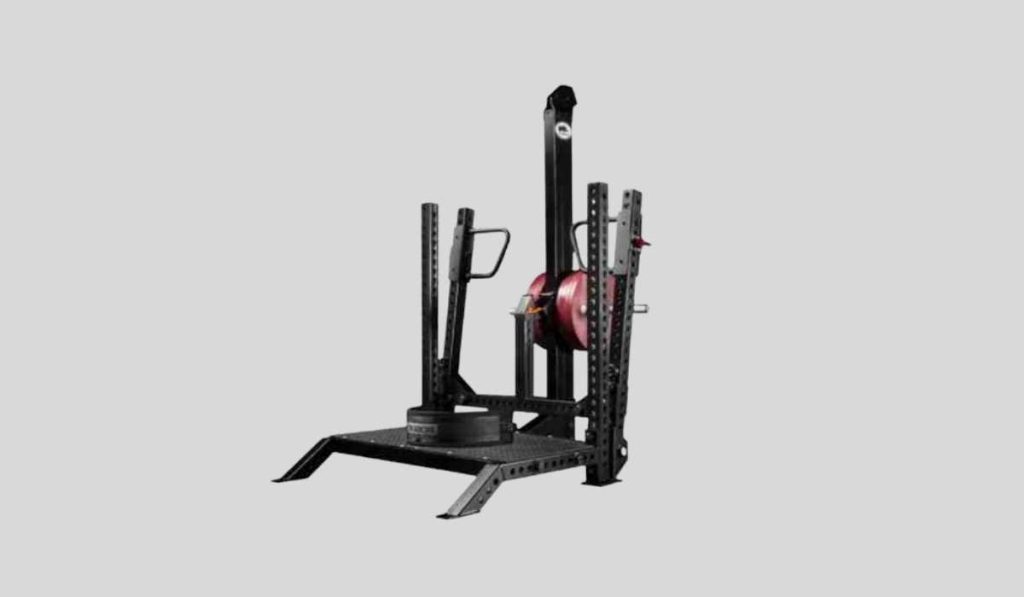 Rogue is the big dog when it comes to making strength training equipment that works as hard as athletes do.
The Monster Rhino Belt Squat Machine continues this trend, with a hilariously overbuilt frame that can handle everything you can throw at it.
In this guide, we'll take a little look at the reasons why I really like the Rhino, some of its key features, and also some of the things I did not like about it.
If you are in the market for a belt squat machine, and you're thinking about short-listing the Rhino in your search, you've come to the right place.
Let's jump right in.
What is the Rogue Rhino Belt Squat Machine?
Put simply: the Rhino is a monster of a machine that is primarily designed to help you do belt squats.
The Rhino is built in the United States by Rogue Fitness, one of the leading makers of gym equipment for both home and commercial gyms.
Although Rogue is heavily known for its influence in the CrossFit world, its equipment transcends CrossFit and can be found in countless gyms across the planet.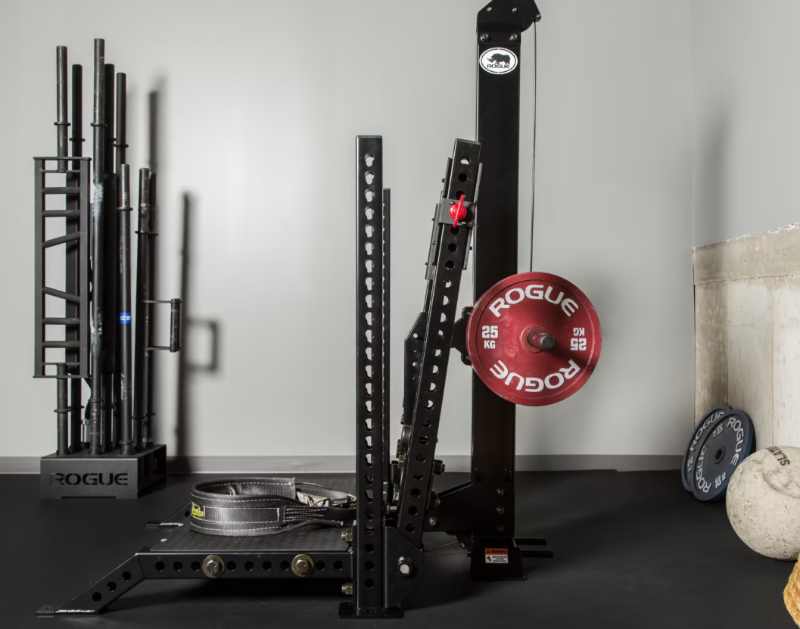 Belt squats are awesome for a variety of reasons, including being easy on your back and shoulders.
Stuck with Your Training in the Gym?
Join 12,000 lifters and athletes and sign up for FREE access to my 5-day email course on how to conquer the most common gym mistakes.
From goal setting to lifting technique, you will learn how to overcome the mistakes in the gym that are holding you back from getting bigger and stronger.
Unsubscribe anytime. No spam.
Belt squat machines can be used for a variety of exercises beyond just squats—as we will soon see—but they are a fairly specialized piece of strength training equipment.
Things I Love About the Monster Rhino Belt Squat
Let's get into the nitty-gritty about the things that make me gush about the Rhino.
1. Strongest belt squat machine on the market
While the options of belt squat machines for home gyms is fairly limited, the Rhino easily leads the pack in terms of build quality.
The 3" x 3" frame is built with American steel at the Rogue factory in Columbus, Ohio. The trolley system—where weight is loaded onto the machine—has over 15" of sleeve length for loading your bumper plates or cast iron plates.
Rogue tends to overbuild their stuff, which can be overkill for some lifters and users, but for those who want a seriously robust unit of a belt squat machine, this is the one.
2. Perfect for basements and workout areas with low ceilings.
Building out a home gym exploded in popularity in recent years with gyms getting shut down thanks to the pandemic.
While some have unlimited overhead space for full-size racks, most of us have limited space to work with.
The Rhino has a total height of 78.5" which is significantly shorter than the standard 85-90" height of power racks. In a way, it's like a short squat rack, making it ideal for basements and low-clearance workout areas.
3. Multi-grip, adjustable handles
Hand grip is one of the underappreciated aspects of machines in the gym.
Not everyone has the same affinity for an overhand or even a neutral grip when going HAM on a lift. The Rhino gives you tons of options for handgrip positioning on the arms.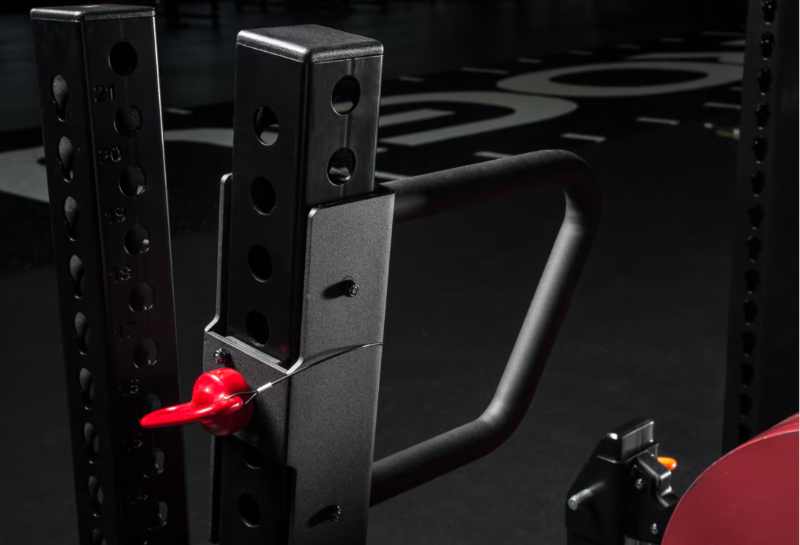 The height of handles is super easy to change, utilizing a pin locking system that takes literally moments to adjust. In other words, the Rhino is excellent for home (and commercial) gyms that features users of different heights and grips using the machine.
4. Exceptionally versatile
Although it's called a belt squat machine, there is so much more you can do besides your garden-variety squat.
Exercises you can do with the Rhino include:
Standing calf raises
Marches
Bulgarian split squats
Romanian dead lifts
Box squats
Bent over row
Etc
The exercises you can do with a belt squat machine are only limited by your imagination.
5. Comes with Rogue Multi-Belt
Rogue makes a wide range of gear, from squat racks to weightlifting belts, so it would be reasonable to assume that they'd ship the Rhino with a quality belt.
Made specifically for the Rhino, the Rogue Multi-Belt is a pimped-out dip belt that has five D-rings for get a custom size fitting.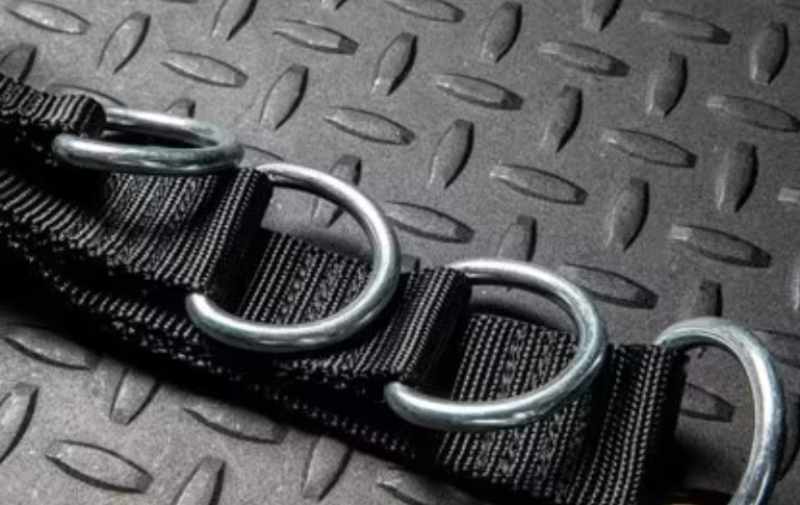 The belt also has a mesh lining for breathability and padding to help eliminate some of that painful rubbing and friction that happens along the hips.
6. The Rhino is heavy as hell
And this is a good thing!
The last thing you want to feel when you are pushing heavy weight on a lift is the equipment beneath you starting to rock or wobble.
The Rhino weighs over 500lbs when fully assembled.
While Rogue is quite adamant about bolting the machine down to the floor (note the highlighted passed below), beginner and intermediate users will be fine without bolting it down.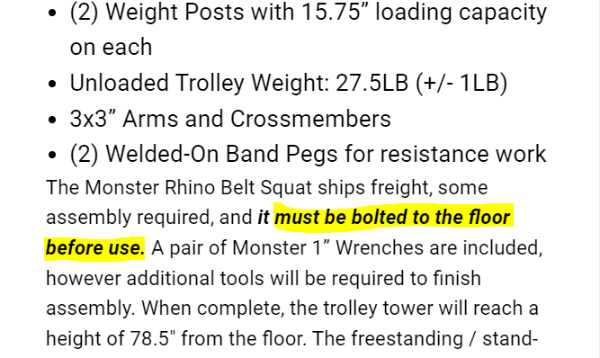 The extended feet at the front of the machine, combined with the overall poundage of the machine (plus whatever weight plates you load the machine with, further weighing it down), means it is plenty stable.
7. Welded band pegs
Introducing heavy resistance bands to your lifts is a great way to bust through a plateau, increase time under tension, and help you improve end-of-range power and strength.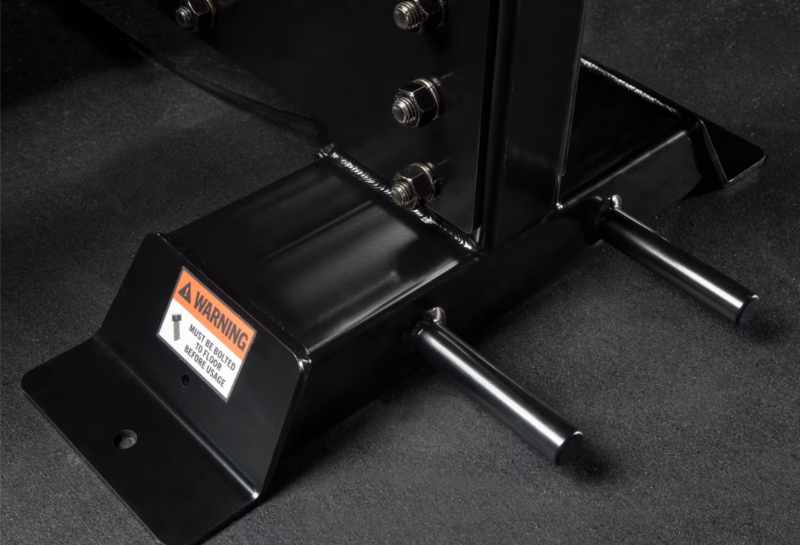 The Rhino has band pegs that are welded to the bottom of the machine. (Two on each side.)
Strap on your favorite bands and improve acceleration through your lifts and build strength and power in the lockout phases of all of your lifts, whether we are talking about belt squats, rows, deadlifts, and so on.
What You May Not Love About the Rhino Belt Squat Machine
Alrighty, so far it's been all rainbows, puppy dogs and gainz.
There are some things that people may not love about the Rhino:
Takes a while to put together. The Rhino is a fairly complex piece of gym equipment, between the trolley, pulley and the overbuilt weight of the unit, with the lightest piece of the assembly weighing over 125lbs. Assembly takes around 2-3 hours for people comfortable with this kind of assembly.
Pricey. Rogue retails this monster of a machine for around $2,200. While this isn't as expensive as some other options like the EliteFTS Belt Squat ($3,359), there are less expensive options out there such as the Bells of Steel Belt Squat Machine 2.0, which retails for less than $1,000.
Rhino Belt Squat Machine — FAQs
What is the starting weight of the Rogue Rhino belt squat machine?
The starting weight, with just the trolley system, is 27lbs. Rogue notes, however, that the weight ratio is 1:1, meaning that what you are lifting is basically true weight (unlike a Smith machine or a leg press machine).
How long does it take to put together the Rogue Rhino Belt Squat?
Putting together the Rhino takes around 2-3 hours. If you have experience assembling gym equipment, then you should be able to speed through assembling the machine.
Rogue's customer service is also exceptionally fast and communicative. I've never had to wait longer than 24 hours for detailed responses when it comes to their products.
The Rogue Rhino Belt Squat Machine – Final Verdict
I love the Rhino. It's one of those machines that sounds overbuilt on paper, but when you step onto the platform and feel the stability and durability, you know it's going to last a lifetime or two.
And it's why I have no problem recommending it, using it, and keeping atop of our list of the best belt squat machines for home gyms.
Rogue sells the Rhino exclusively through their official website, and regularly has specials and deals on shipping.
Check here to see current pricing and deals.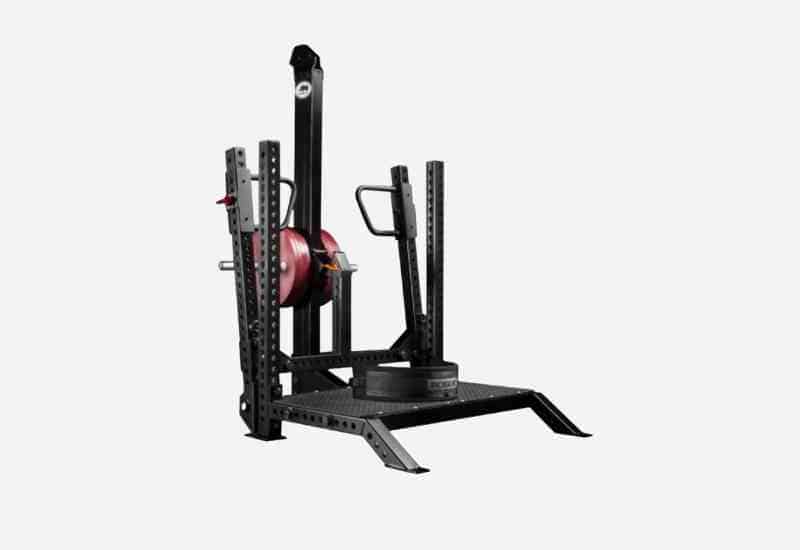 More Belt Squat Guides
The Best Belt Squat Machines for Epic Lower Body Workouts. Looking for the top belt squat machines on the market for home gyms? Here's a detailed look at the best options right now, including key features, where to buy, and more.
6 Benefits of Belt Squats (And Disadvantages). Belt squats are an excellent exercise for developing lower body muscle and strength. Here are the main benefits of this powerful squat alternative.