By padding the barbell, you can focus on lifting more weight, proper technique, and reducing painful bruising. Here are some effective ways to protect your hips when doing hip thrusts.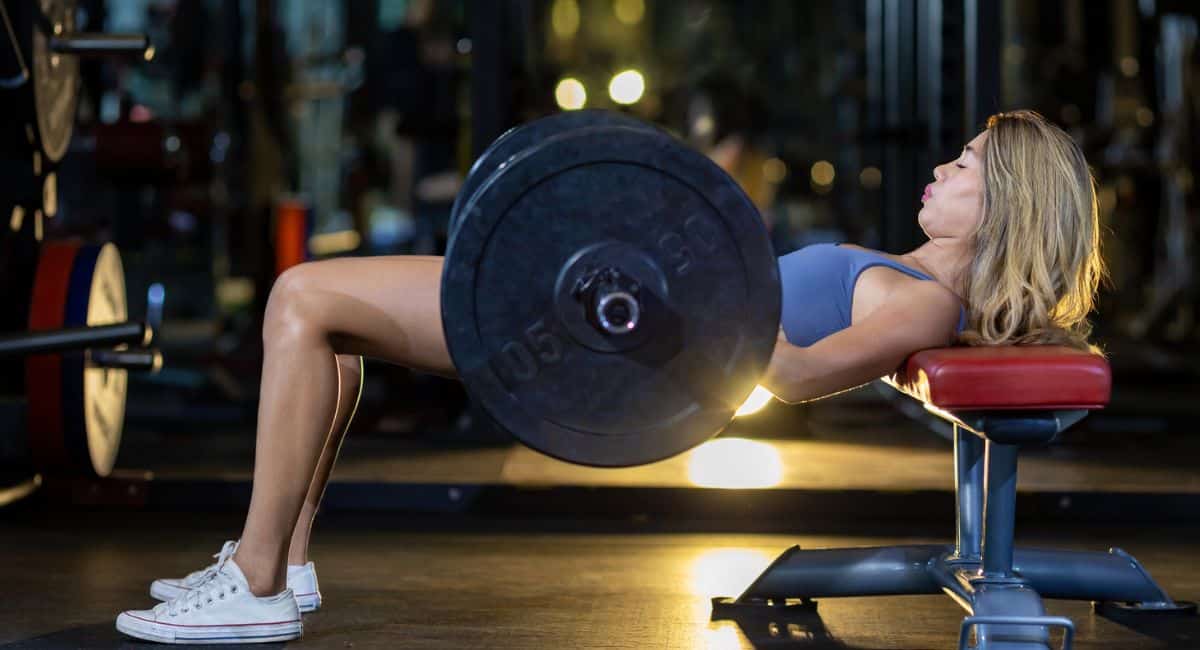 The hip thrust is a killer exercise for developing muscle and strength in the glutes, hamstrings, and lower back. It's an exercise that is easy to learn and is highly effective at targeting the posterior chain.
But performing the exercise can be uncomfortable, with the weight of a barbell digging into the pelvis and hips, which can result in bruising and soreness.
To alleviate the discomfort of resting a fully loaded barbell on the hips, you can use padding so that you can focus on lifting with proper technique and more weight.
The best ways to pad the barbell when performing hip thrusts include a barbell pad, hip thrust pad, pool noodle, yoga mat, and towel.
Next, we will examine the specific advantages each of these pads offers, and help you to decide which type of padding is perfect for your hip thrusts and workouts.
How to Pad the Barbell When Doing Hip Thrusts
There are a variety of ways to pad the barbell when doing hip thrusts. The best ways to pad the barbell include:
Barbell squat pad
Barbell pads are high-density foam that are designed specifically to reduce the discomfort that happens when lifting a loaded barbell in the gym.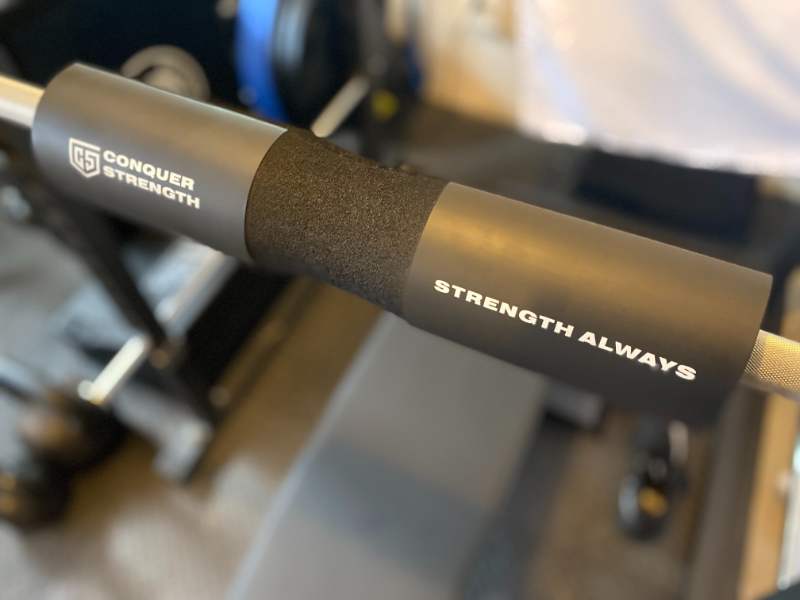 Although they were originally designed for squats, to protect the neck and shoulder from pain and discomfort, barbell squat pads have become an essential hip thrust exercise accessory and are the best type of barbell pad for hip thrusts for various reasons.
Barbell pads are easy to place on the barbell; some have optional straps to further "lock" the pad into place, are highly portable, and are inexpensive.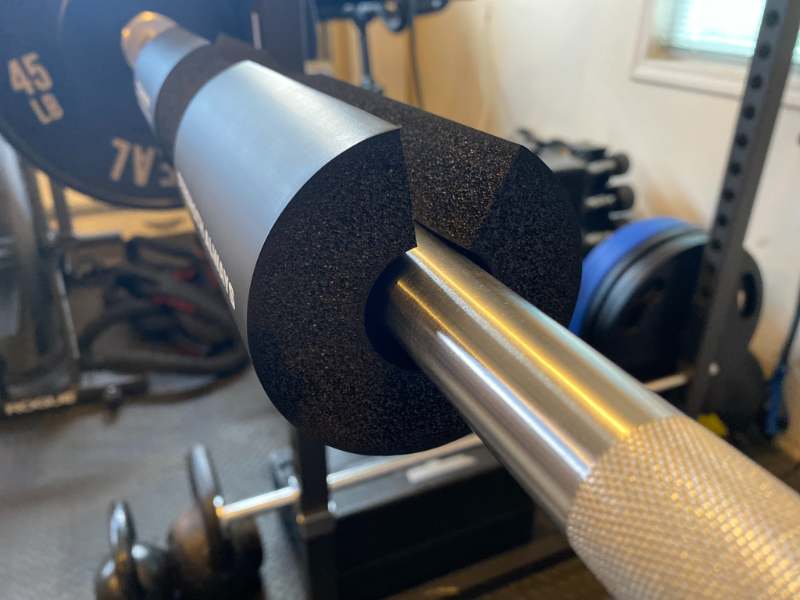 My favorite barbell pad, the Conquer Strength Barbell Pad, is extra thick (1.5" thick), is over 17" in length, and has removable safety straps for added peace of mind.
Additionally, it's thicker than the barbell pads you will find at your local gym, many of which have been battered by constant, high-volume use.
Pick one up, throw it in your gym bag, and hip thrust in comfort.
Hip Thrust Pads
With the explosion of popularity of the hip thrust exercise as a booty builder in the gym, so has the number of strength training accessories and machines for building a strong backside.
Hip thrust machines and glute drives have become one of the most popular gym machines for glutes at my local gym. Countless influencers pitch "booty building" programs. Fabric resistance bands for high-volume glute exercises like bridges and crab walks are regularly at the top of the best-seller list on Amazon.
Hip thrust pads, while not as popular as a standard barbell pad, have also become ubiquitous for lifters on glute day. The concept is super simple—a flat pad that rests between your hips and the barbell. Unlike a barbell squat pad, which wraps around the barbell, a hip thrust pad is more of an "open" source of padding.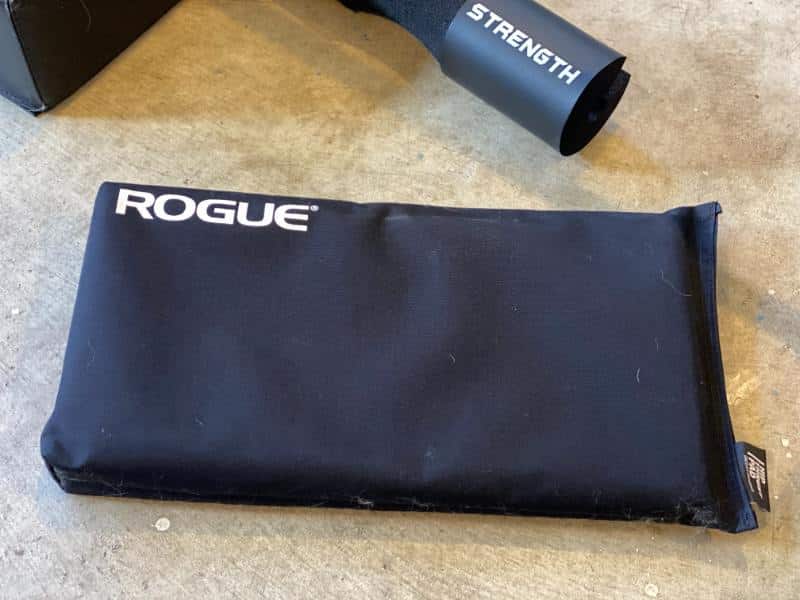 The Rogue Abmat Hip Thrust Pad is the best example of this type of pad, with a sturdy top layer that bears the brunt of the barbell and enough flexibility to allow the barbell to stay in place when doing hip thrusts.
While a little pricier than a barbell squat pad, the larger pad size distributes weight more evenly and makes it ideal for more experienced trainees pushing a lot of plates with hip thrusts.
Pool noodle
Looking for a creative DIY hip thrust pad that costs no more than a couple of dollars? If yes, hit up your local hardware or pool store and purchase a pool noodle.
Pool noodles are swimming and floatation aids made of buoyant and thick polyethylene foam. To use a pool noodle as padding to protect your hips when doing thrusters, cut off a section of the pool noodle (15-20" depending on your preferred padding length) and slice a vertical cut along the top.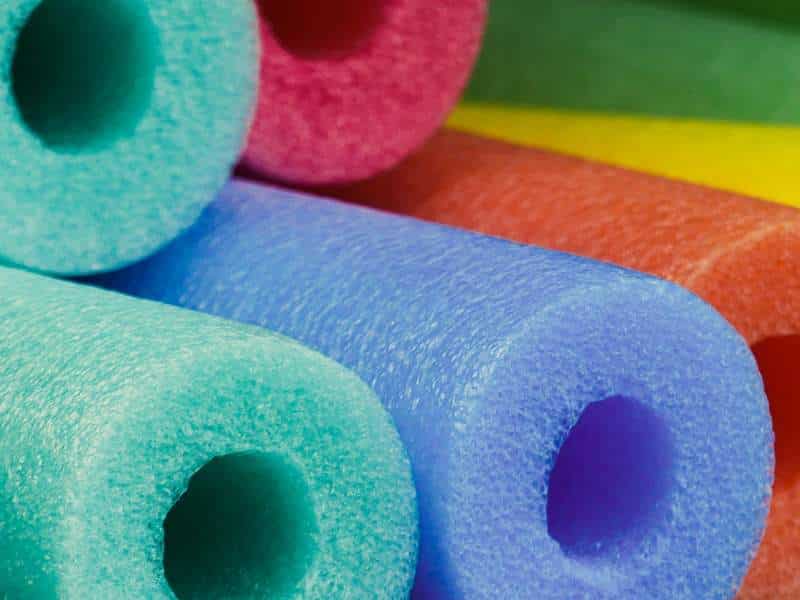 This will allow you to snap the pool noodle into place on the barbell. Presto—padding for hip thrusts!
This solution is ideal for beginner-intermediate level trainees, and I wouldn't trust it for weights of 300lbs and up.
Yoga mat
A yoga mat is another excellent way to protect your hips and pelvis when performing barbell hip thrusts.
One of the benefits of hip thrusts is that you can push a lot of weight vertically, developing lots of muscle on your back end.
(In fact, one study published in the Human Kinetics Journal, "A Comparison of Gluteus Maximus, Biceps Femoris, and Vastus Lateralis Electromyographic Activity in the Back Squat and Barbell Hip Thrust Exercises," showed that barbell hip thrusts significantly outperformed traditional back squats for mean and peak glute activation.)
A yoga mat can be used to lift more weight comfortably when doing barbell hip thrusts. Wrap and fold the yoga mat under the barbell to achieve your desired level of protection.
The mat can be folded more often to provide more protection, giving lifters and trainees an "adjustable" option for protecting the hips when thrusting.
Towel
Finally, we have another DIY option: using a simple towel and wrapping it around the barbell when doing hip thrusts to protect the hips from bruising and soreness.
Towels vary in size and thickness, from your smaller gym towels to larger, bath-sized towels, so the amount of padding will vary. Like yoga mats, padding can be increased by repeatedly folding the towel before placing it between the bar and your hips.
Towels aren't the best option for padding the barbell when hip thrusting as they can fall off easily and don't offer as much protection as the options listed above, but for beginners in the gym, they can provide some light padding and protection when rolling the barbell over the hips for thrusters.
What are the benefits of using a pad when hip thrusting?
Hip thrust pads are an essential accessory for lifting more comfortably when performing barbell hip thrusts. Padding the bar allows you to avoid the discomfort of a weighted barbell against the pelvis, eliminating painful bruising and soreness.
Padding for hip thrusts allows you to lift more confidently and add more weight to the barbell, speeding up glute gains in muscle size and strength.
What muscles does the barbell hip thrust work?
The primary muscles worked with hip thrusts are the glutes and hip extensors. The lower back (erector spinae), knee extensors, and the quadriceps muscles also contribute.
Compared to other lower-body exercises in the gym, the barbell hip thrust is a highly effective glute exercise that activates more glute fibers than back squats and split squats (Journal of Strength and Conditioning Research; Williams et al., 2021).
What are some variations of the hip thrust?
Barbell hip thrusts can be intimidating for newer lifters, especially when you see how much weight other trainees can push when performing hip thrusters.
The best hip thrust variations include the glute bridge, banded hip thrusts, dumbbell hip thrusts, stiff-legged deadlifts, and pause-rep hip thrusts.
The difficulty ranges from easy to more experienced with each exercise, giving lifters a full range of options for building big glutes without having to worry about all of the equipment and gear required to do barbell hip thrusts.
More Hip Thrust Guides
How to Master the Hip Thrust Exercise (Technique, Reps, and More). Here's everything you need to know about performing the hip thrust—the best exercise you can do for strong and muscular glutes.
Dumbbell Hip Thrust – Benefits and How to Do It Like a Pro
. The dumbbell hip thrust is an effective exercise for building glute strength and improving athletic performance. Here's a deeper look at the benefits and how to properly do the dumbbell hip thruster.