Looking for some ways to spice up the almighty hip thrust? Here are five hip thrust variations for developing maximum glute muscle and strength.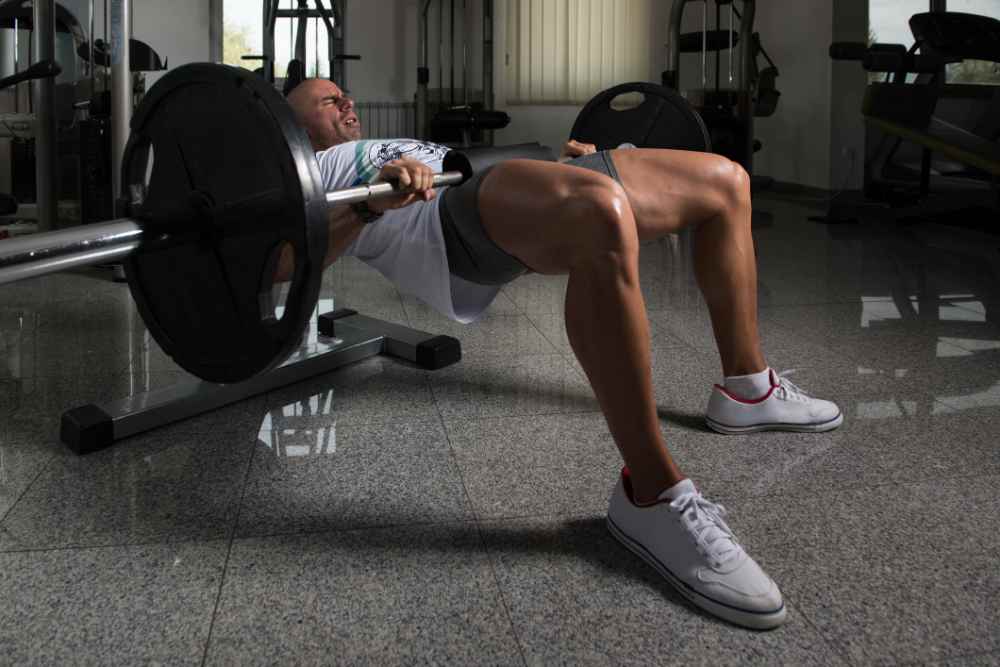 When it comes to building serious glute power and strength, you won't find many exercises better than hip thrusts.
Not only are they a very easy exercise to master, but they require startlingly little in the way of equipment. Really, all you'll need is a weight (barbell or dumbbell will work), a hip thrust pad to cushion your lap, and a bench, chair, or solid box at roughly knee height.
With that, you're ready to get working and feel the burn in your glutes.
In this guide, I'll walk you through not only the basics of how to do a hip thrust, but also a few of my favorite hip thrust alternative exercises you can do at home, at the gym, at the office, even on vacation!
You'll find that these glute-and-hip-targeting exercises become a critical component of your daily training, and the key to developing greater overall lower body strength.
With no further ado, let's dive right in…
Hip Thrust – The Basics
I always like to take a moment to look at the "essentials", everything you need to know about the exercises I'm sharing.
First off, let's talk about the hip thrust muscles worked.
The hip thrust works three primary muscles:
Gluteal muscles, which include the gluteus maximus, minimum, and medium. The primary focus is on the gluteus maximus, but works all three.
Hamstrings, which include the biceps femoris, semimembranosus, and semitendinosus. These muscles all work to "pull" your legs, and are critical for building lower body strength.
Hip adductors, the muscles in your inner groin that stabilize your pelvis and facilitate leg movement.
In addition, there is also some engagement of the lower back and abdominal muscles, which helps to build core strength. In fact, greater strength in your core and pelvis is one of the best benefits of hip thrusts.
Trainer's Tip
Control is the name of the game! The more in-control you are throughout the range of motion—which often translates into slower, more conscious movement—the better the muscle engagement, leading to greater strength development.
A few other benefits of hip thrusts include:
Bigger, more powerful glute muscles. For those who care about the way they look, hip thrusts are one of the best exercises to give you those well-rounded, "thicc" glutes you want.
Enhanced explosive power in your lower body. Because this exercise targets the glutes, hips, and hamstrings, you develop more explosive power in your lower body for exercises like Sled Pushes or sprints.
Greater squatting and lunging strength. While the primary focus of hip thrusts aren't on your quads, they still help to increase your squatting and lunging strength by increasing the strength of the secondary muscles (glutes and hamstrings) that work with your quads throughout.
Improve your posture. By strengthening your hips, hamstrings, glutes, and core, you improve your posture—both when sitting and standing. The fact that this exercise targets all these critical muscles can actually counteract the negative effects of spending 6+ hours per day sitting down.
Lower injury risk. Any exercise that strengthens your core and pelvic area is an absolute winner in my books, because it drastically reduces injury risk through literally every movement. You'll improve your balance and stability, and the core muscles that facilitate upper-and-lower-body movement will be more resilient and less likely to be damaged.
Really, hip thrusts are one of the best lower body exercises you can do, hands-down.
While it shouldn't be the main focus of your Leg Day workout—squats, lunges, and leg presses should be the heroes—it's definitely one to include in the mix to ensure you're getting a truly efficient workout that builds overall greater lower body strength.
Now that we've got that out of the way, let's get to the fun stuff!
My Favorite Hip Thrust Variations
Variant #1: Glute Bridge
For any newbie looking for an easy place to start and not feeling quite up to the challenge of hip thrusts, glute bridges are the perfect option!
They're typically done with just your bodyweight, and there's no need for equipment AT ALL.
See also: Hip Thrust vs Glute Bridge: Pros, Cons and Differences
Seriously, you can do them with nothing more than a Yoga mat or even on the bare floor. Because they're a no-gear workout, they're one you can take on the road or do at the office.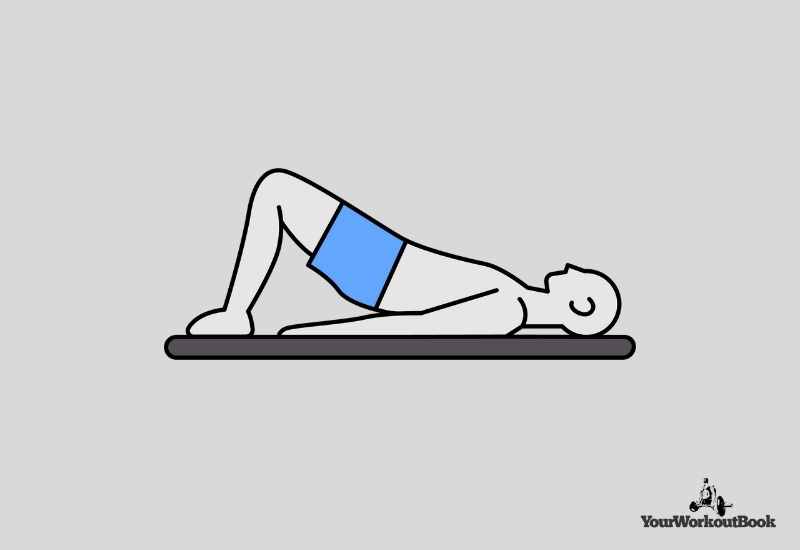 Glute bridges focus a bit more on your lower back, with less engagement of the hamstrings. However, they're still highly glute-focused and recruit your hip muscles, so they're a great hip thrust variation to build glute muscles.
Trainer's Tip
Step the difficulty up a notch by lifting one leg off the floor. This will increase core engagement and target each of the glutes specifically.
Variant #2: Dumbbell Hip Thrusts
When you think hip thrusts, you're probably thinking about barbell hip thrusts because they're typically the go-to variation. However, I actually prefer the dumbbell hip thrust for one simple reason: it's easier to balance.
With barbell hip thrusts, you've got the bar resting on your lap with the weight hanging out in empty air on either side of you. One wrong move to the right or left, and the bar could tip or slip.
There is more recruitment of the core muscles—including the obliques and abs—with barbell hip thrusts because of how much effort is needed to maintain your balance throughout.
This means that you tire out more quickly and are less likely to pay attention to the more important aspects of your form because you're focused on trying to stay balanced.
With dumbbell hip thrusts, there's no need to balance. The weight is placed directly on your lap. All you have to focus on is those direct upward thrust motions, ensuring your form is correct and you're targeting the right muscles.
Trainer's Tip
Step the difficulty up a notch by lifting one leg off the floor. This will increase core engagement and target each of the glutes specifically.
Variant #3: Banded Hip Thrusts
Instead of working with a weight, use a resistance band to add variety into your workouts.
Resistance bands provide a different—and interesting—form of resistance than free weights or machines.
To put it simply (without getting into the fancy schmancy scientific terms), they generate gradually increasing resistance across the entire range of motion.
Free weights, on the other hand, are simply weights that you have to lift—hardest at the lowest point of the exercise, but far less challenging in "rest" position. For example, at the top of a bicep curl, there is virtually no muscle recruitment because the weight is "resting" on your arms.
Resistance band hip thrusts are a great variation to try because there is no direct load on your hips, but the bands still generate a great deal of resistance as you thrust up.
They're a great option for a home workout or travel training option—after all, bands are inexpensive and lightweight enough you'll always have space in your closet or luggage. All you have to do to difficulty is add another band!
Variant #4: Stiff-Legged Deadlift
The stiff-legged deadlift is a deadlift variation that specifically targets the hamstrings, glutes, and hip flexors.
Standard deadlifts allow you to bend your knees, which targets the lower back and glutes. However, with your knees locked (stiff), your lower back muscles can't engage fully, so the focus is shifted downward to the same muscles worked by hip thrusts.
Trainer's Note
Standing exercises are less effective at engaging your hip muscles1 because your hips no longer have to work once you reach the standing (neutral) position.
Hip thrusts will lead to more effective hip recruitment, but stiff-legged deadlifts are a good alternative to consider if you want to change up your workout.
Variant #5: Pause-Rep Hip Thrusts
This is a fun way to step up the challenge level of any of the hip thrust variants above. It doesn't matter whether you work with bodyweight, barbells, dumbbells, or resistance bands—this variation will max out the challenge level.
Trainer's Tip
Pause-rep hip thrusts target muscular endurance more than strength or power.
For pause-rep hip thrusts, you still go through the normal hip-thrusting motion. However, you extend your pause at the top (in tabletop position) to 3-5 seconds.
Holding this position for longer will maximize muscle recruitment and push you to fatigue much faster.
Hip Thrust Variations – FAQs
How can I make my hip thrust more challenging?
Very easily!
Add more weight.
Pause for longer at the top of your rep.
Consciously contract your muscles throughout the entire range of motion.
Include another resistance band around your waist or knees.
Do more reps.
What is the best way to progress to heavy barbell hip thrusts?
With hip thrusts, because there is some lower back engagement, you want to make absolutely certain you've mastered the proper form before progressing to heavy weights. Start off with a "moderate" load, just enough weight you can easily perform 10 reps without straining or "jerking" through the last few reps.
Once you find that moderate weight, add between 2-5% more weight. This will push you out of "easy" territory and start you working on a more challenging load. Focus on maintaining good form and keeping your movements tightly controlled.
Work until that added weight becomes your new "easy"—you're able to complete three full sets without struggling on the last few reps—then increase your weight.
Do this two more times. At this point, you will have mastered the form and developed adequate strength in your lower back, hips, glutes, and hamstrings. You're now ready to safely transition to heavy barbell hip thrusts, working in the 2-6 rep range to build raw power.
The Bottom Line
Hip thrusts have proven to be one of the most effective glute-focused exercises around, which is why so many trainers, athletes, and fitness pros incorporate it into their lower body routines.
These hip thrust variations can be a great way to add spice to your weekly workouts and keep things fresh, keeping your body guessing.
I recommend occasionally working in these variations—every 3-4 sessions—in order to work your muscles and joints in a new way and maximize mobility in your core and hips. You'll see results in no time!
More Hip Thrust Guides:
? 8 Best Barbell Hip Thrust Pads for Monster Glutes. Hip thrust pads are a quick way to protect your hips, stabilize the bar, and push more weight. Here is a breakdown of my favorite barbell pads for hip thrusts.
How to Master the Hip Thrust (Technique, Reps, and More). Here's everything you need to know about performing the hip thrust—the best exercise you can do for strong and muscular glutes.