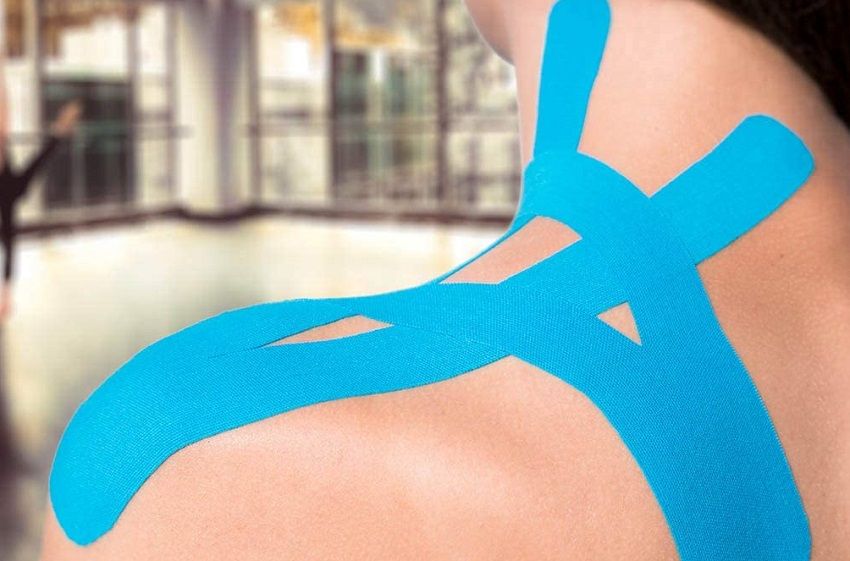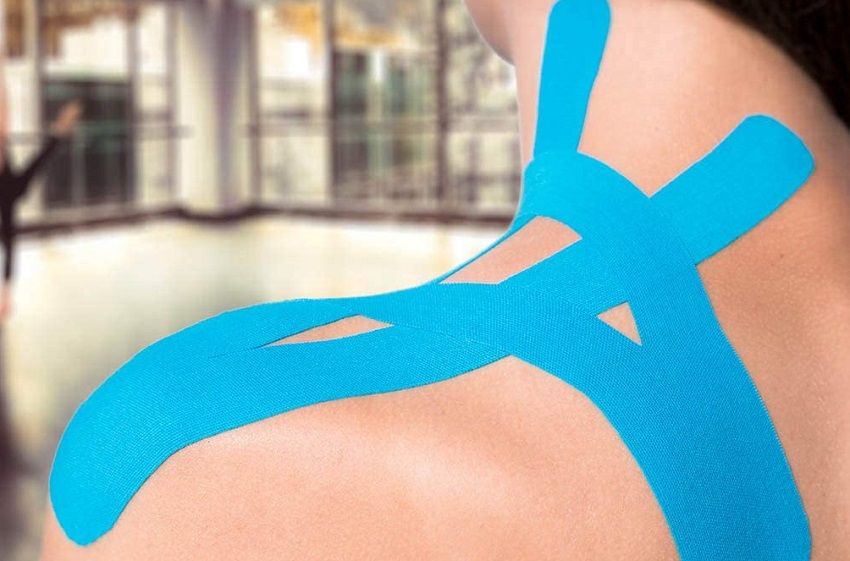 Looking for some quality kinesiology tape for managing injuries, supporting muscles and ligaments, and improving athletic performance?
In this thorough guide to the most popular kinesiology tapes, I will break down the features and benefits of using kinesiology tape, and which kinds of K-tape are best for your particular goals in the gym.
Quick Picks for Best KineTape:
Read below for more information on K-tape, its effectiveness, and a deeper breakdown on our selection of the best kinesiology tapes.
---
What is kinesiology tape?
Kinesiology tape (or K Tape) is an elastic tape designed to support muscles and joints, relieve pain, while helping athletes and gymgoers maintain the range of motion they expect in the gym or on the playing field.
Developing in the 1970s by Kenso Kase, a Japanese chiropractor, this lightweight and usually brightly-colored tape typically lasts for a few days of steady wear, kinesiology tape can be used to treat a variety of injuries and ailments.
Does kinesiology tape work?
Kinesiology tape is designed to help the healing process by lifting skin away from injured and sore muscles, increasing blood flow to targeted areas and improving lymphatic drainage.
While the research and science on kinesiology tape is a little mixed, one study found it to be effective in reducing pain [1]. The psychological edge of wearing the tape is another factor as well, with a study [2] finding that athletes wearing KinTape, "fake" KinTape, and no tape all performed the same.
Researchers from the second study surmised that previous studies finding KinTape improving performance was likely chalked up to the placebo effect. Which means, in essence, if you put on the tape because you think it will improve your performance, it will.
---
Best Kinesiology Tapes
With all that fun stuff out of the way, here is a breakdown of my favorite types of kinesiology tape and where to find them.
Stuck with Your Training in the Gym?
Join 12,000 lifters and athletes and sign up for FREE access to my 5-day email course on how to conquer the most common gym mistakes.
From goal setting to lifting technique, you will learn how to overcome the mistakes in the gym that are holding you back from getting bigger and stronger.
Unsubscribe anytime. No spam.
RockTape Original Kinesiology Tape
The RockTape is a strong and comfortable K-tape that is available in nearly twenty colors. It comes in as our top overall pick for best kinetape.
RockTape original K-Tape is my favorite kinsio tape for everyday use. With countless five-star reviews on Amazon, this highly durable and comfortable K-tape stretches with your body, staying comfortable and secure for up to five days of use.
RockTape comes in pre-cut ten inch by two inch strips, so you don't have to fool around with scissors while applying the tape, and the full spool is over 16 feet in length.
RockTape's Original K-Tape is also water-resistant, which means you can shower, swim, and sweat profusely and still get a few days of support.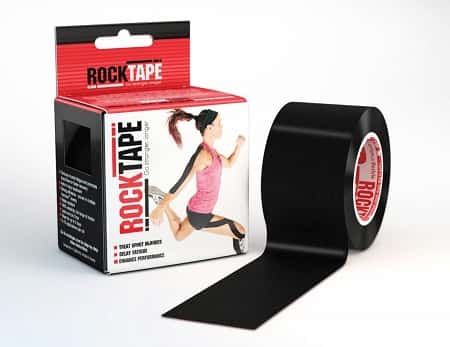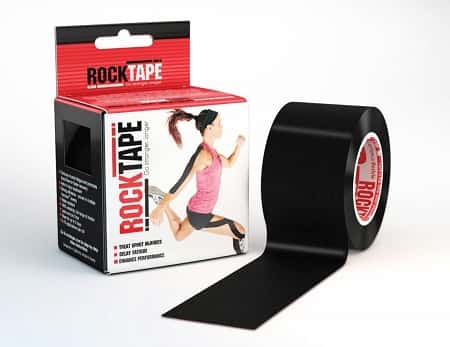 Where to Buy RockTape Original Kinesiology Tape

---
KT Tape PRO Synthetic Elastic Kinesiology Water Resistant
The KT Tape PRO Water Resistant KinTape is our best pick for water-resistant K-tape, making it ideal for swimmers and heavy sweaters.
While many tapes out on the market say they're water resistant or waterproof and they are to some degree, they aren't going to hold up quite like the KT Tape Pro Synthetic Elastic Kinesiology Water Resistant Tape will.
As a former competitive swimmer, regularly logging up to 65,000 meters a week in the pool, I leaned on KT Tape PRO when dealing with a nagging injury or soreness. I used it particularly around my shoulders and scaps; the tape would stay firmly in place for several consecutive practices.
That's a lot of overhead arm movements, with the tape actually living up to its water resistant status. The KT Tape PRO is make of cotton and is latex-free.
You don't need to be a chlorinated athlete to get a ton of value out of the KT Tape PRO. If you sweat quite heavily during your workouts and need something that won't budge, this tape is for you. Used by Olympians and elite athletes alike.
Another benefit of the KT Tape PRO: most colors of the tape come pre-cut and ready to go, so you can just apply and get rolling.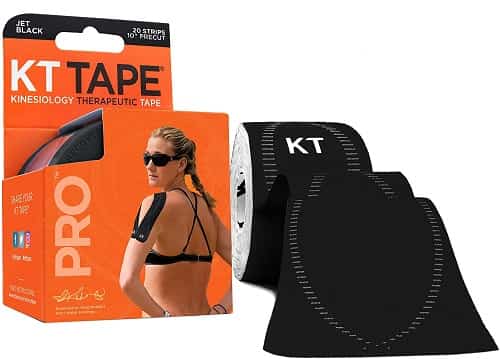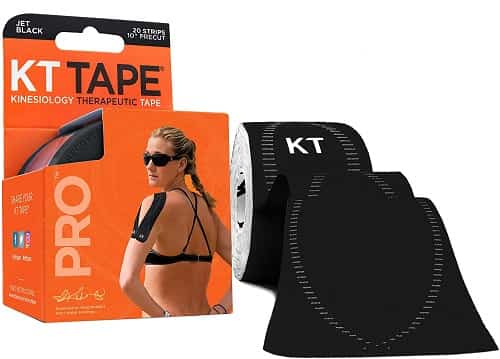 Where to buy KT Tape Pro Water-Resistant Kinesiology Tape

---
Sparthos Kinesiology Tape
Looking to K-tape on a budget? The Sparthos Kinesiology Tape is our top pick for the budget-friendly athlete.
The Sparthos Kinesiology Tape is a durable, long-lasting K-Tape that comes in at about half the price as the other kinesiology tapes on this list, making it cheaper alternative to KT tapes. With your k-tape you get a detailed guide for tape placement.
The Sparthos K-Tape comes in all the usual colors, from black to the familiar electric blue. Keep in mind that the tape, which comes in a total length of 16.4 feet, is not pre-cut.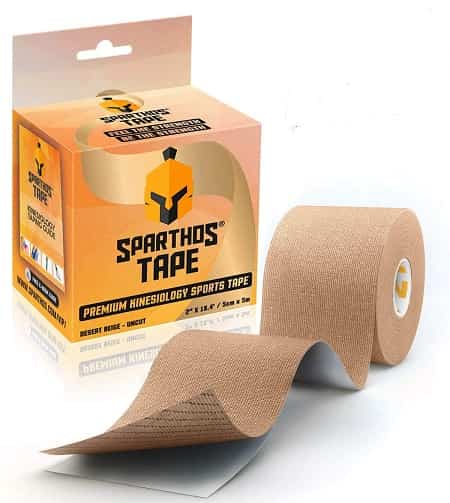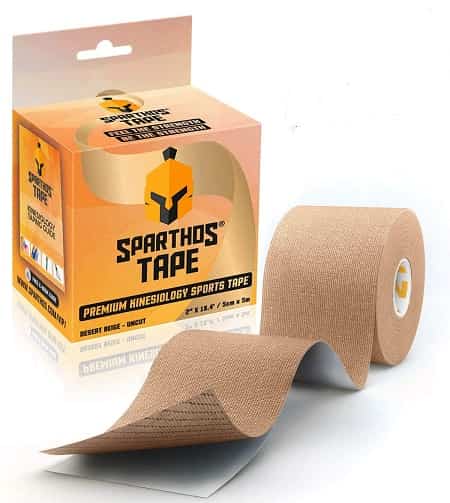 Where to buy Sparthos Kinesiology Tape

---
TheraBand Kinesiology Tape
The TheraBand Kinesiology Tape provides indicators on teh tape that stretch and elongate to help you get the right amount of stretch, making it an excellent K-tape for beginners.
One of the obvious considerations when it comes to applying K-tape or any other kind of performance enhancing tape is to make sure that you are getting the right amount of stretch when putting it on.
The TheraBand Kinesiology Tape intelligently solves this problem by giving you a visual representation of how much stretch is being applied to the tape. Printed shapes on the exterior of the tape elongate, letting you know when you have reached a 25 or 50% percent stretch.
TheraBand K-tape is one of the cheaper K-tapes available, and also comes uncut. Available in seven different colors.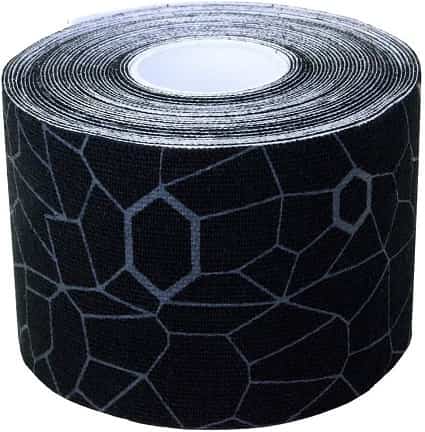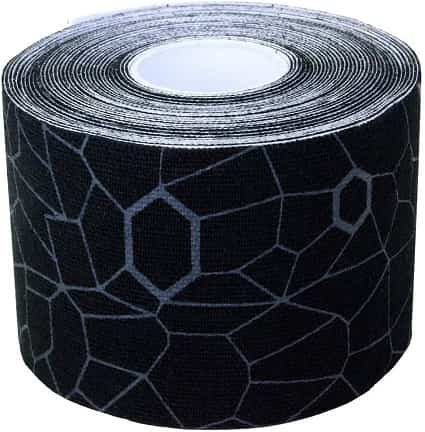 ---
More Gear Guides
Best Foam Rollers for Athletes and Gymgoers. Looking for reviews of the most popular foam rollers on the market? Here are the best foam rollers for boosting recovery, decreasing muscle soreness, and improving mobility and flexibility in your muscles and joints.
5 Best Knee Sleeves for Working Out. Protect your knees by increasing blood flow and adding stability to the knee with this selection of the best knee sleeves for dominating your workouts.