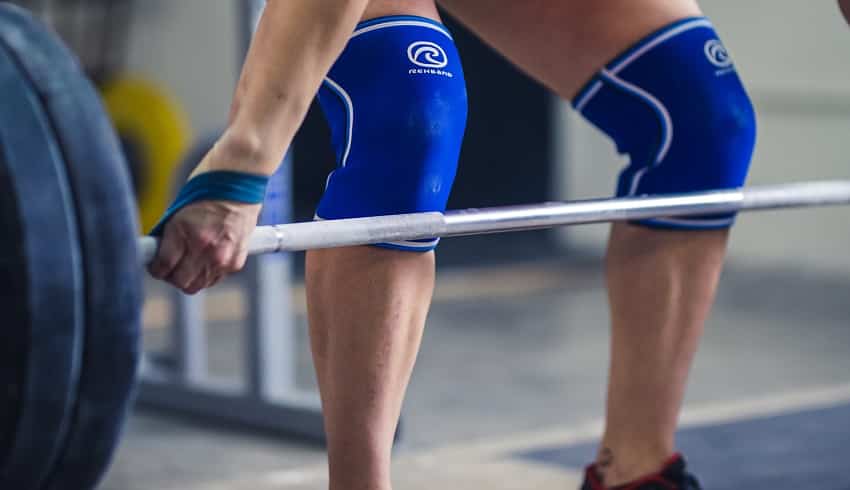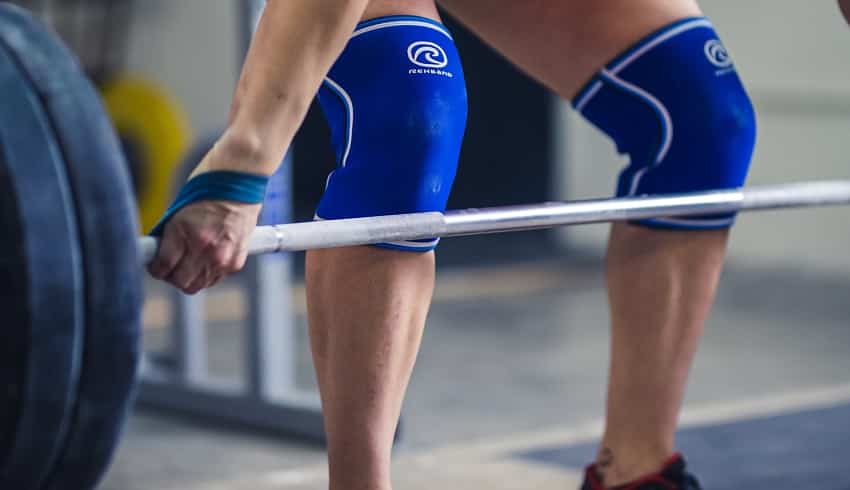 Knee sleeves help to promote blood flow and provide stability during heavy lifts. Here is a detailed look at the best knee sleeves for squats, CrossFit, powerlifting, and more.
Knee injuries are a frustratingly common injury in sport and recreation, and one of the main tools athletes, gymgoers and everyone in-between have been using to help protect the knee from wear and tear is compression gear.
More specifically, knee sleeves.
Knee sleeves are an excellent way to keep your knees healthy, happy, and performing like a boss.
When you pick up a pair of the best knee sleeves for your workout, they'll perform two functions:
First, they'll help keep the knees warmer. They are tightly placed around the knee and this will ensure that you receive maximum blood circulation and that heat is kept in. The compression that comes along with knee sleeves promotes blood flow. A warm knee is a better-lubricated knee.
Second, they'll also help to provide some support as well. While they won't provide support like knee wraps will (that's a totally other product that is primarily designed to provide support and help increase how much weight you can lift) or a knee brace, knee sleeves do give a little bit of support to the knee.
No matter what your goals in the gym, there are excellent knee sleeves for every kind of physical activity.
In this guide, we are going to take a look at the top sleeves, what to look for when buying one, and take a deeper look at the research behind the effectiveness of squatting and lifting with knee sleeves.
Let's jump right in.
Rogue 7mm Knee Sleeves
Rogue is one of the leading names in the strength training world, making high-quality gear for athletes (both recreational and professional). While generally known for CrossFit, Rogue's knee sleeves work just as well for powerlifters and lifting nerds.
The Rogue 7mm Knee Sleeves are the thickest ones they offer. Made of neoprene and a SBR blend, the sleeves are designed for maximum stability and comfort in the gym. Contoured seams help properly compress the knee joint while not sacrificing range of motion and mobility.
These sleeves are available in a range of colors and patterns, from XS to XL, and are sold exclusively through Rogue's website.
These sleeves are certified for IPF and IWF raw and open competitions and are also one of the very few knee sleeves on the market that are made in the USA.
The only downside is that they are priced at the higher range of the spectrum, with a pair retailing for $85 (check Rogue's website for current pricing and shipping options).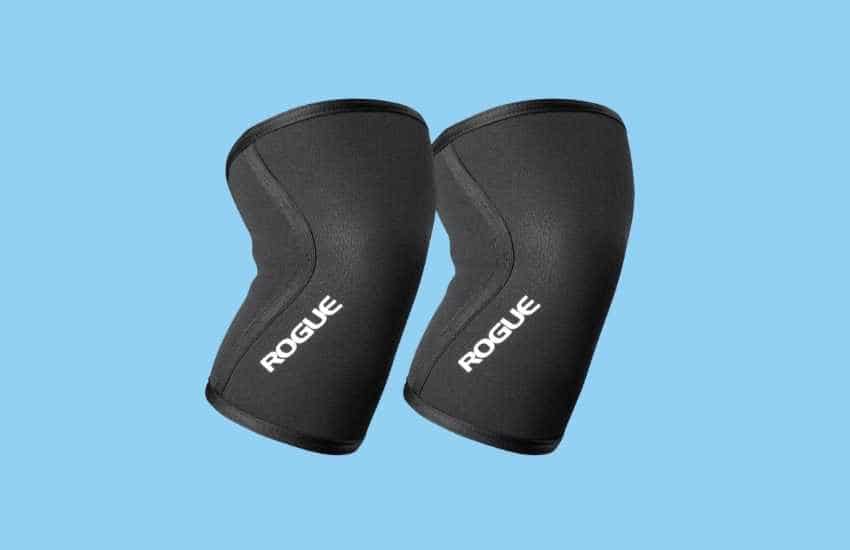 Iron Bull Powerlifting Knee Sleeves (7mm)
Iron Bull is a Canadian-based apparel and gym equipment manufacturer that makes some of my favorite training gear, from barbell pads for hip thrusts to bumper plates, Iron Bull consistently delivers high-grade, kickass stuff.
These knee sleeves are no exception. (I've also used and love Iron Bull's elbow sleeves, as well.)
Iron Bull's knee sleeves are 7mm thick, have a neoprene shell that provides exceptional support, whether you are doing CrossFit, powerlifting, or simply doing heavy squats today at the gym.
The sleeves are certified for IPL and USPA competitions, are available in a wide range of primarily black with colored accents, and come in five different sizes, all the way up to XX-Large.
One of the things I really like about these particular knee sleeves is the silicone gel strips at the top of the sleeve which helps keep them in place while working out.
Instead of perpetually adjusting and tugging the sleeves up, they stay in place while you are training.
Sleeves, when worn properly, help to provide support to the knee joint to reduce patella movement. For anyone who wants to protect their knees while squatting, the Iron Bull 7mm Knee Sleeves are an essential addition to your workouts.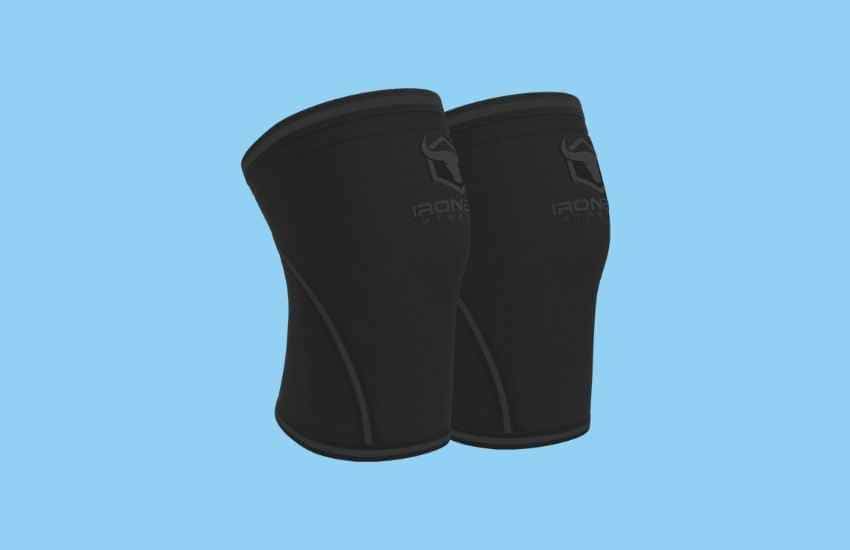 PowerLix Compression Knee Sleeve
Best knee sleeve for day-to-day wear
If you want a full coverage knee sleeve that's great for combating pain associated with arthritis and other knee injuries, this one is a top pick. It can be worn both during your workouts as well as on a day-to-day basis as it's comfortable enough to go from the gym to the office.
Made with tight but breathable compression fabric, this knee sleeve will maintain its elasticity for months of wear so you won't have to worry about it slowly becoming looser and looser as you do with many other knee sleeve products.
One of the biggest complaints many have about knee sleeves is how itchy they are, but you can sidestep this because there is no neoprene found in this particular product.
The PowerLix knee sleeve is unisex, has an anti-slip construction, and gives the compression support you are looking for.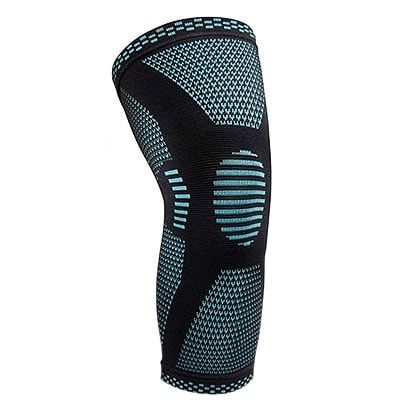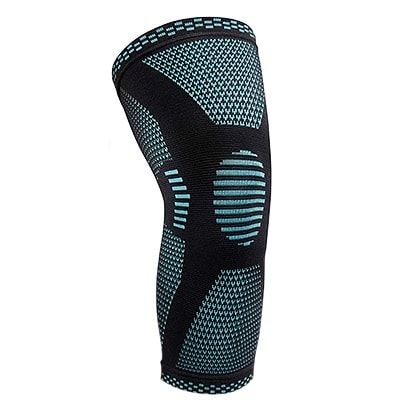 Mava Supports Knee Compression Sleeve
Get pain relief fast from tendonitis, strains, and sprains, or enjoy getting being able to get back to your normal activity post-surgery when you wear the Mava Supports Knee Compression Sleeve.
This sleeve is designed to help speed up recovery as it promotes muscular circulation within the knee and also features a no slipping or rolling design.
Priced right at less than $20, it's an affordable choice for everyone.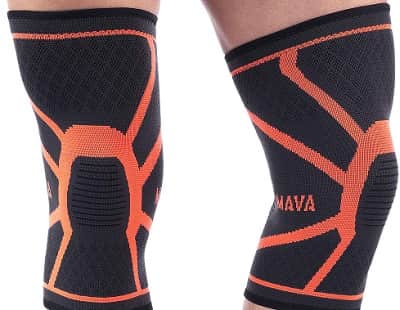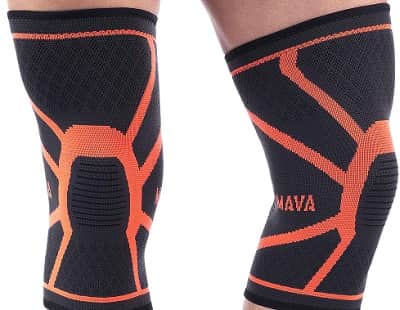 Cambivo Knee Brace Open Patella Support
Want something that lets your knees breathe a little better? The Cambivo Knee Brace is a great option as it has holes where the knees are placed so you don't ever feel so trapped in. This said, that does not mean it sacrifices on support.
The nice thing about this knee brace is that it doesn't slide over, but rather adjusts with two adjustable straps so you can get it fitting exactly as you want it to.
It also washes and dries quickly so is easy to maintain.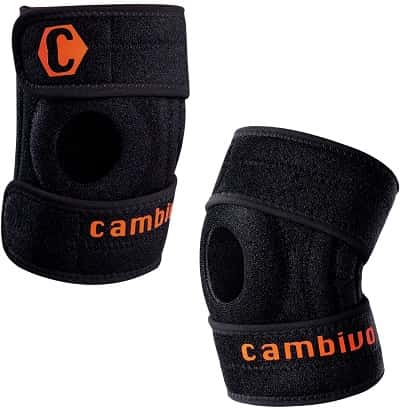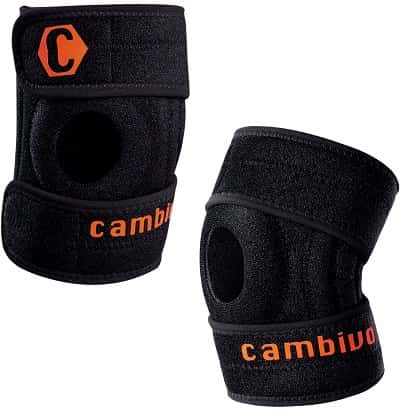 Sable Knee Brace Support Compression Sleeves
The Sable Knee Brace Support Compression Sleeve is another budget-friendly option for those who are looking for a little extra support and want a product they can put on and be done with.
The Sable Knee Sleeves slip on easily and will stay up during all your activities no matter whether you're playing sports or hitting the gym.
This knee sleeve comes as a pair, so there's no need to purchase a second one, which makes these ideal for those who are simply looking for all-around joint care.
They're made to be lightweight and less irritable on the skin, so are great for those looking for comfort and support.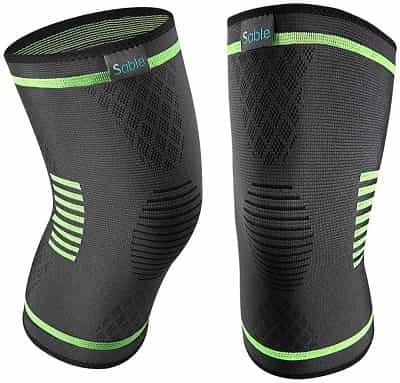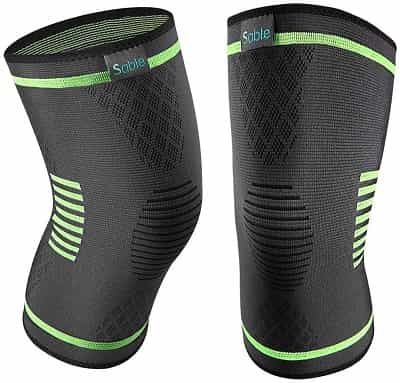 Nordic Lifting Knee Sleeves Support & Compression For Weightlifting
If it's a knee sleeve for weight lifting you're after, the Nordic Lifting Knee Sleeves are a great choice. These knee sleeves are shorter in length than other conventional knee sleeves and are ultra-thin, so won't feel bulky or heavy while you are wearing them.
For someone who wants that barely-there feel and who needs just that extra bit of support as they go about their lifts, this is a fantastic choice.
They can be used for any style of weight lifting or Crossfit exercise and will also come in helpful when doing powerlifting as well.
They are a little more expensive than some of the other brands listed here but if you are serious about staying in the game, a small price to pay for any lifter.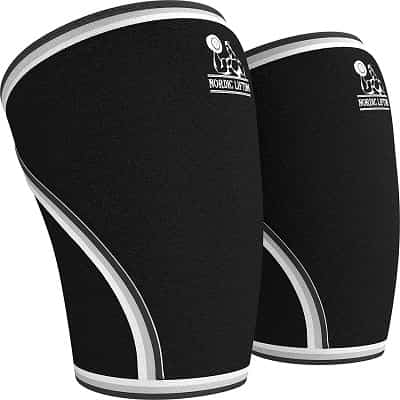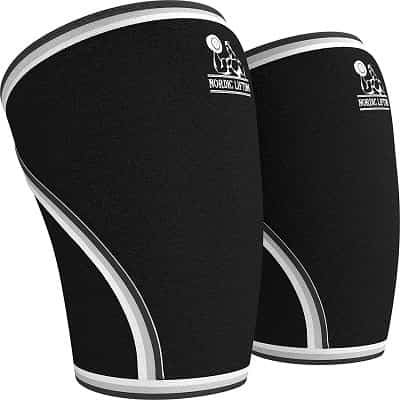 ---
How to Choose the Right Knee Sleeves for Working Out
Knee sleeves are fairly standard when it comes to function. Protect and stabilize the knees.
But when you start shopping around, you'll notice that there is a wide variety of materials, thicknesses, lengths, and so on.
Here is some more detailed information on knee sleeves so that you can arm yourself with the lingo and lay of the land.
Materials and fabrics
Knee sleeves for squatting and powerlifting are usually built with neoprene, which is a synthetic rubber that is soft (in other words, won't rub and chafe your skin), breathable, and provides a nice balance of compression and flexibility.
Neoprene is the same stuff that you find in wetsuits, so you know that they are going to keep your knees nice and toasty, promoting blood flow to the knee joint.
For gym users who don't need a super strong sleeve, but are looking more for general warmth and moderate compression, look for knee sleeve that is made of nylon, polyester, or elastane (and its branded versions, Lycra or Spandex).
Polyester is a super durable fabric that doesn't fade or stretch, while elastane is basically the opposite, a fabric designed to have a little stretch but will also thin and fade over time.
Knee sleeves made with these materials will usually have a blend that maximizes the benefits of both fabrics.
Thickness
A major consideration for choosing the right knee sleeves is thickness. When it comes to heavy lifts, you want a sleeve that is going to provide maximum stability and rigidity (which is why powerlifters will usually use knee wraps).
Knee sleeves vary widely in thickness, with the higher end of the spectrum being 7mm. Sleeves range from 3-7mm in thickness. The 3mm sleeves are good for general warmth but won't provide a ton of rigidity.
Serious lifters will want sleeves that are 5-7mm thick as they provide the highest amount of compression and stability.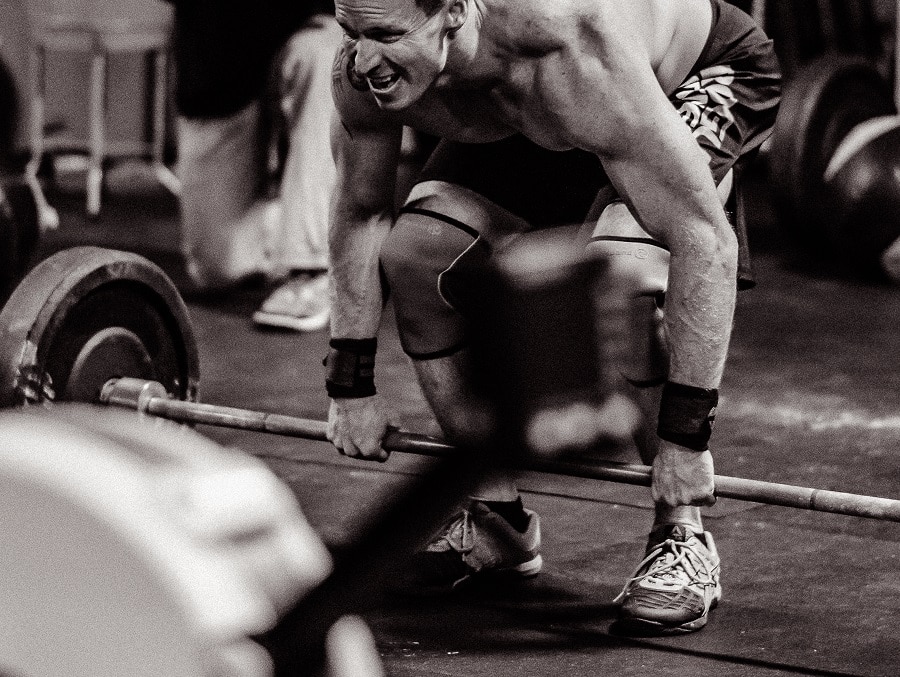 Knee Sleeves – FAQs
Who should wear a knee sleeve when exercising?
There are a few different reasons to wear a sleeve around your knees when working out. The main benefits they provide include:
Stability and support. Powerlifters in particular will appreciate the stability that comes with wearing knee sleeves. The thickness contributes to added compression that can boost a lifter's confidence when performing heavy lifts. For competitive powerlifters, there are knee sleeves that are certified for competition.
Warmth and blood flow. For others, a knee sleeve is another form of compression gear, which benefits you primarily by keeping the knee joint warm. If this sounds like you, look for a knee sleeve that is less rigid (aka less thick)and provides added coverage.
Athletes (pro and recreational). Knee sleeves are popular among athletes of all types, from people who like to take evening walks to CrossFit athletes to weekend warriors who want a balance of mobility and stability so that they can play longer. In this case, find a knee sleeve that walks the line between thickness and breathability.
Do knee sleeves help you squat more?
Powerlifters and weightlifters frequently wear knee sleeves when doing squats, and for good reason. They work.
Ultimately, the benefit comes from adequate compression around the knees. The added stability and support helps maintain proper technique when squatting.
One study took a group of experienced lifters and have them wear either a minimally-supportive sleeve, a knee sleeve according to manufacturer's sizing recommendation, or a sleeve that was one size down (and thereby tighter around the knee) and had them do one-rep max barbell squats.
When lifters wore sleeves that were tight or the proper size, they significantly out-lifted the minimally-supportive knee sleeves. [1] Another study with lifters showed that they reported feeling more stable when lifting 70% of their max when wearing sleeves [2].
Knee sleeves also tend to be more comfortable than knee wraps, with another study finding that athletes preferred sleeves over wraps when it comes to comfort [3]. Sleeves, compared to wraps, provide more flexibility and a more natural range of motion.
Do knee sleeves help to prevent injury?
Knee sleeves have a few different functions, and one of the main ones is that they keep the knee joint warm. By retaining heat, lifters and athletes often report feeling less stiffness and pain when working out [4].
Of course, nothing can replace a proper warm-up, mobility work, and lifting with proper technique, but knee sleeves can be a tool in your injury-prevention plan.
The Final Rep
There are fewer things more rewarding than being able to use your body to the fullest limit of its abilities.
That said, protecting your knees is crucial so that you can spend more time lifting and less time icing and cursing under your breath because you tweaked your knee again.
To recap:
⭐ For athletes who do a lot of Olympic lifting, the Rogue Fitness Knee Sleeves provide a great balance of mobility and support.
⭐ Powerlifters will love the 7mm thickness of the Iron Bull 7mm Powerlifting Knee Sleeves and the stability they provide.
Choose the right knee sleeves for your workouts, get the benefits of added support and warmth, and take your strength training to the next level!
More Gear Guides
Compression Gear: What It Does and Does Not Do. Unsure about the hype surrounding compression gear? I took a look at some research and studies that tested the effectiveness of wearing compression garments while exercising.
7 Best Home Gym Essentials. Looking to get started with working out at home? Here are my home gym essentials for beginners.