Ready to take your nutrition to the next level? Here are six killer cookbooks for meal prepping that will help you master your diet and nutrition.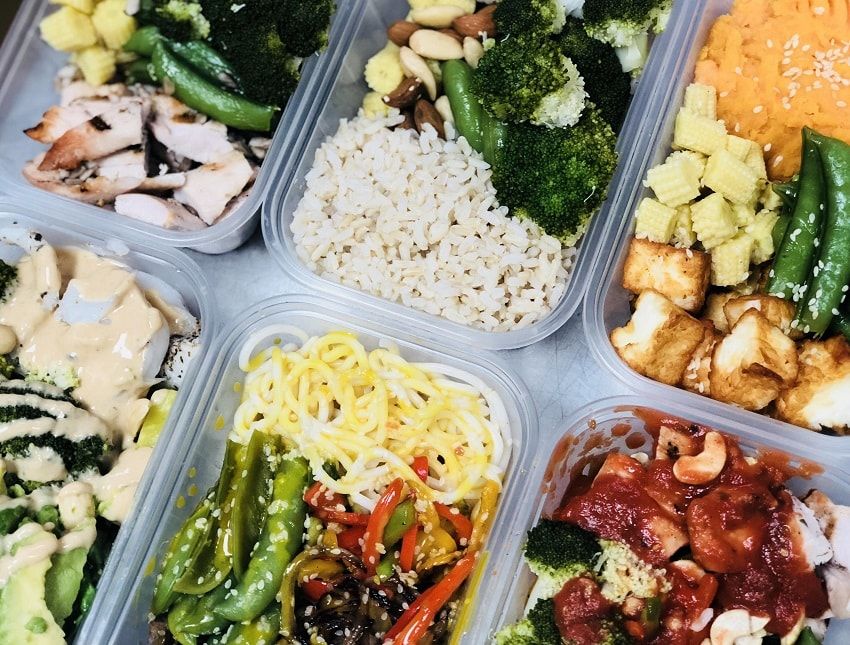 Meal prepping is one of my all-time favorite strategies for improving performance in the kitchen, and by extension, performance in the gym and playing field.
But far too often, gym-goers and athletes will admit that they like the idea of meal prepping, but are hesitant to commit.
Either they don't know where to start, feel intimidated by having to cook that much food at once, or because they fear the bland and boring nature of meal prepping.
But meal prepping can be delicious, it can be simple, and it can be approachable even for those who aren't naturals in the kitchen.
That's where this collection of the best cookbooks for meal prep comes in.
They take the guesswork out of your meal prep efforts, give you plans that you can follow, and a series of recipes that can be made wholesale and still taste really good after a few days in the fridge.
Here is breakdown of my favorite meal prepping and planning books.
Let's go!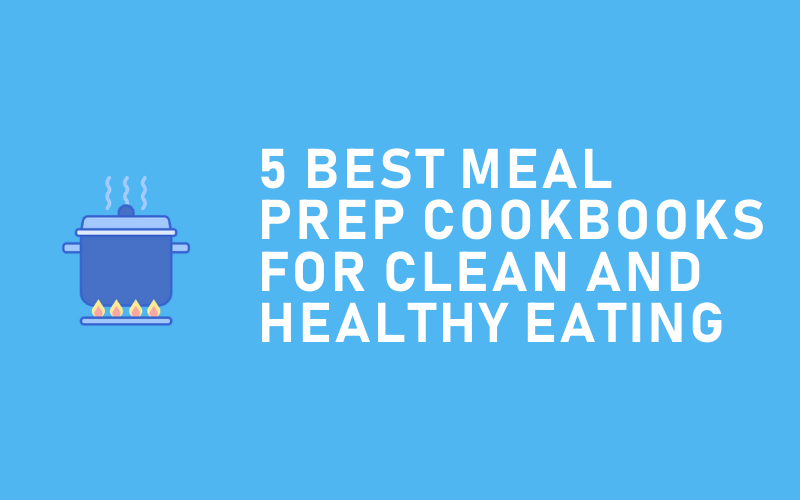 The Healthy Meal Prep Cookbook: Easy and Wholesome Meals to Cook, Prep, Grab, and Go by Toby Amidor, MS, DN, CDN
Toby Amidor's "Healthy Meal Prep Cookbook" provides three complete plans that last two weeks each. Included are dozens of clean meals that you can whip up.
Forget boring and bland meals, the recipes include some delicious stuff, including overnight oats (which basically taste like a dessert), barbecued pulled-pork, and Hawaiian chicken skewers.
Amidor covers all the basics of meal prepping, including the equipment you will need, some basic pointers on planning and preparation, as well as how to properly refrigerate and freeze your meals to maximize taste and best-before.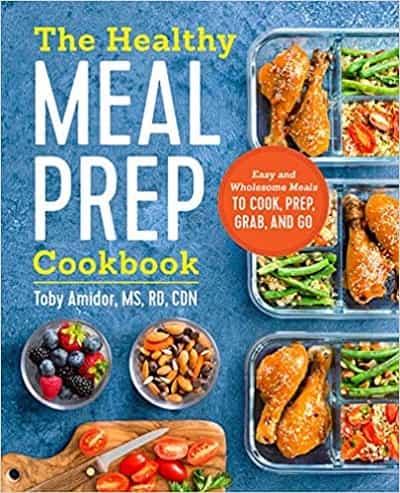 Cook Once, Eat All Week by Cassy Joy Garcia
Originally a four-week plan on her website (fedandfit.com), Cassy Joy Garcia expanded the popular online series into a 400-page meal prep cookbook that covers all of the essentials of meal prep (and then some).
Cook Once, Eat All Week includes a full six months of meal plans. Garcia outlines how to be efficient with your time while preparing the meals, best practices for storing and reheating meals, and cranking up meal size up or down depending on your nutritional needs.
For those with various diet considerations, including Paleo, low-carb, nut allergies, etc, Garcia provides easy alternatives and sub-ins.
The one complaint that came up in numerous reviews was Garcia's reliance on nightshades in a good deal of her recipes. If nightshades are not in your nutritional wheelhouse, this is something to consider.
Other than that, this is a very detailed, clearly-laid out set of recipes for meal planning and prepping.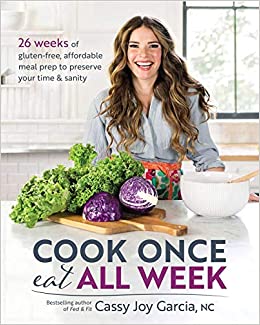 Fit Men Cook: 100+ Meal Prep Recipes for Men and Women by Kevin Curry
For a lot of us, variety is the spice of life and the key to enjoyment when it comes to sitting our butts down and eating a meal. Kevin Curry, a popular fitness influencer and app creator, complied his favorite hundred quick-fix recipes that deliver on time and taste.
Curry's heavy online presence is reflected in the content between the recipes, with plenty of hashtags, mini listicles (e.g. The 5 Common Pitfalls of Dieting).
Curry's voice shines through his writing and encouragement. Well organized with plenty of tasty recipes and meals, Fit Men Cook: 100+ Meal Prep Recipes for Men and Women is essential reading for anyone looking to expand their meal prep roster.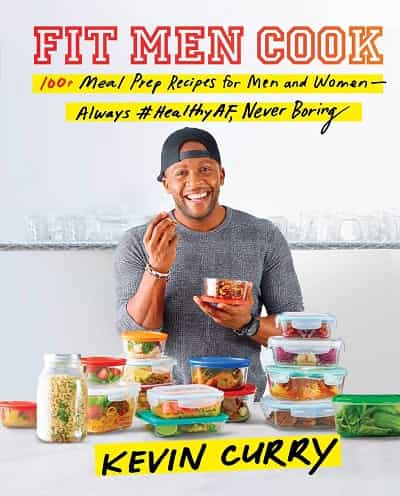 Keto Meal Prep by FlavCity by Bobby and Dessi Parrish
Best keto meal prep cookbook
Keto has become one of the mainstream diet plans over the past few years. And why not? Who doesn't want to eat more bacon and meat over the course of the day?
While keto sounds great on paper, properly putting together the macros to maintain a state of keto is tricky.
Fortunately, Keto Meal Prep by FlavCity helps remove the confusion inherent in this nutritional plan, breaking down over 125 ready-made meals that can be cooked up and bundled up.
The meals, and everything required to prepare them, are thoroughly explained and broken down.
Each recipe is featured in full-color, Instagram-worthy splendor, and the Parrish's sense of humor shines through the introduction and instructions.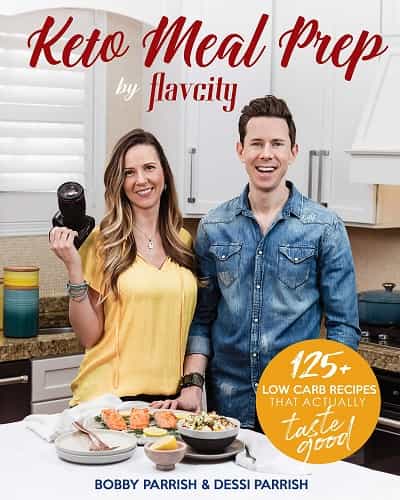 Beyond Body
Beyond Body is more than just a book, it's a truly personalized meal plan and personalized wellness book that is based on your specific lifestyle, nutritional preferences, activity levels, and existing health conditions.
Here is how it works: you fill out an online questionnaire that takes about 5-10 minutes that narrows down the foods you like, activity levels, and tailors a meal and workout plan for your age, sex, weight, and weight loss goals.
While not strictly a meal-prepping cookbook, it is much more than that, and has the advantage of coming in three different formats.
Beyond Body is available as an eBook (the custom book shows up in your inbox within 24hrs of ordering), a physical book (customized with your name on the cover, too!), or an app.
In my Beyond Body review I detailed my experience with ordering and using the book, including the recipes, and found it to be a highly cost-effective alternative to hiring a dietitian and personal trainer to build a personalized meal and workout plan.
To take the Beyond Body book questionnaire–which is free–click on teh link below to get a sense of how detailed and personalized the book is.
Meal Prep for Weight Loss: Weekly Plans and Recipes to Lose Weight the Healthy Way by Kelli Shalal, RD
Meal Prep for Weight Loss is another outstanding choice for meal prep recipes. Shallal, a registered dietician and personal trainer, leverages her years of working with clients to create a set of three-recipe and six-recipe plans that provide a steady stream of healthy, tasty recipes.
Although everyone has slightly different dietary needs, this book provides easy sub-ins and ways to customize the meal plan to your particular dietary requirements, whether it is total caloric volume or food sensitivities.
The keto cookbook provides a clear breakdown of each of the recipes, shopping lists, the equipment you will need, and general information on healthy foods.
And of course, as with all the meal prep books on this list, Shallal outlines everything you will need to know about preparing and cooking your meals in an efficient manner.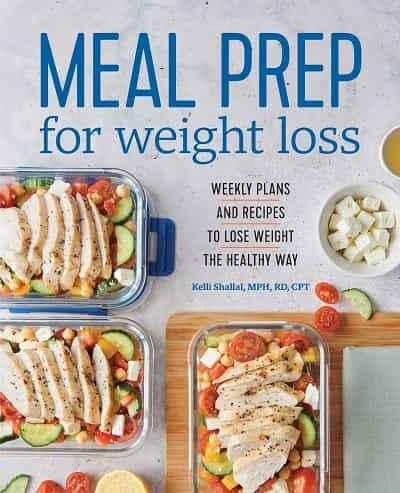 More Stuff Like This
6 Best Meal Prep Containers for Portion Control and Better Nutrition. Meal prep is a powerful way to get your eating habits under control. Here's one of the essential tools of successful meal preppers.
Keto Custom Plan (Full Review). This program is a fill-in-the-blanks plan for those looking to try the keto diet. Here's a detailed look at one of my favorite meal planning tools for the keto diet.
The Smoothie Diet (Review). Looking to inject smoothies into your diet to help speed up weight loss and get more veggies? Check out this primer, and a full review, for people looking to try smoothies.