Wondering if The Smoothie Diet is an effective and proven way to lose weight? Here's a full and detailed review of this 21-day smoothie diet plan and see for yourself if it's the right plan for you.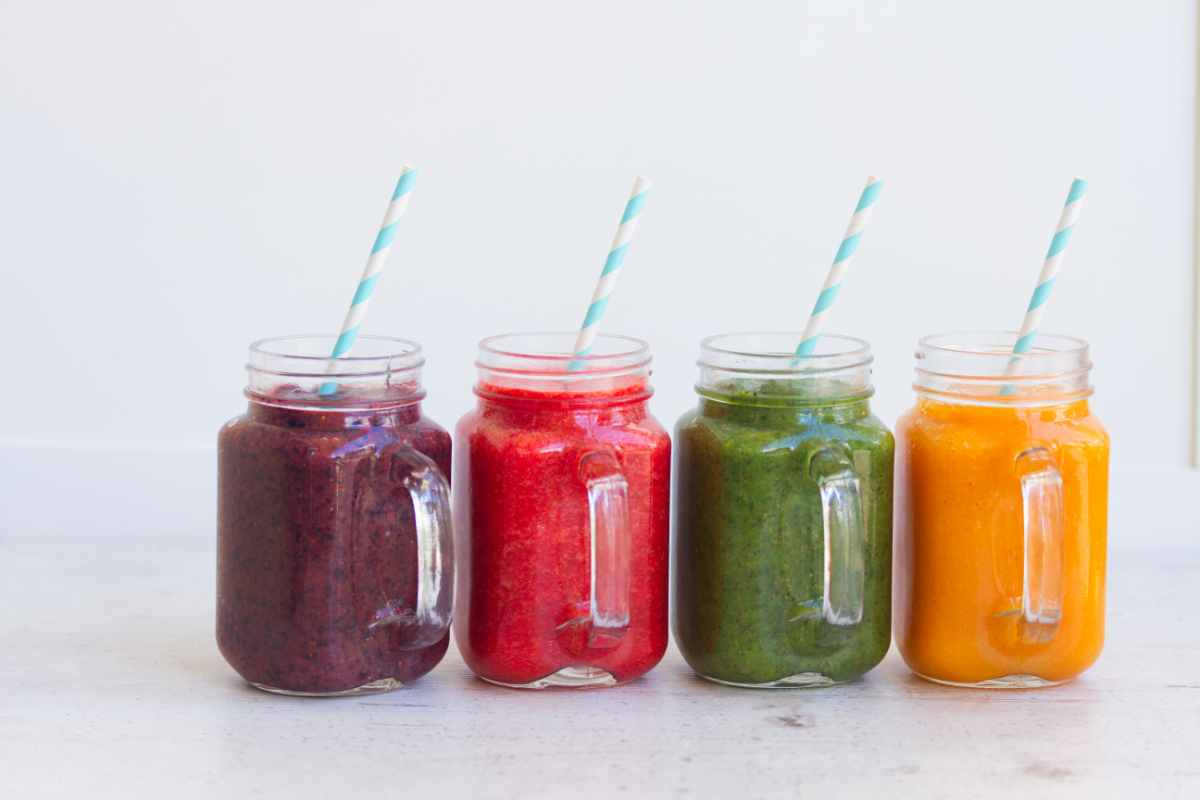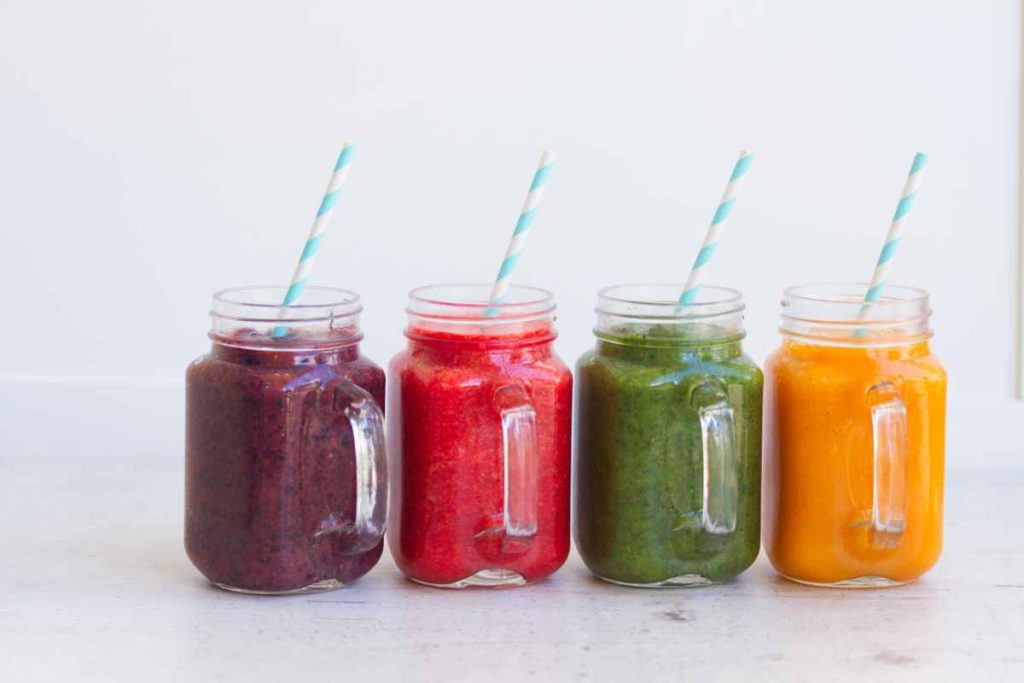 The Smoothie Diet is a 21-day nutrition and diet plan that uses… you guessed it… smoothies to help you lose weight.
Created by health coach Drew Sgoutas, CHC, AADP, the nutrition plan is designed to improve gut health, make your skin look healthier, and of course, help you go into a caloric deficit so that you can burn fat and lose weight.
But does it live up to the promises it makes?
I purchased The Smoothie Diet for myself to see what it was all about, how effective it was, and who would benefit the most from this type of nutrition plan.
As with just about every diet, the details matter.
And while this type of diet plan can create some dazzling short-term results, its sustainability is something I know a lot of people struggle with.
Let's jump right into my full review of The Smooth Diet.
The Smoothie Diet – The Basics
The Smoothie Diet is built around a three-week cycle that is designed to help you lose weight while also getting all of the benefits of healthier skin, clearer mindset, stabilized blood sugar levels, and so on.
But primarily, it's a detailed and clear 21-day plan that uses yummy shakes that are super healthy for you and easy to make.
Stuck with Your Training in the Gym?
Join 12,000 lifters and athletes and sign up for FREE access to my 5-day email course on how to conquer the most common gym mistakes.
From goal setting to lifting technique, you will learn how to overcome the mistakes in the gym that are holding you back from getting bigger and stronger.
Unsubscribe anytime. No spam.
In other words…
✔️ Maximum convenience. Diets are hard enough. Smoothies take a lot of the work out of the equation when it comes to meal prepping, planning, etc. Smoothies are fast and easy to make and The Smoothie Diet simplifies the process.
✔️ Healthy. The smoothies in this plan are built for overall health, as well as weight loss. The shakes are balanced for optimal health and energy levels. Smoothies have a wide range of benefits for different types of eaters and nutritional requirements, and The Smoothie Diet has a smoothie (or two) for every kind of dieter.
✔️ Tasty recipes. While I don't advocate a long-term strictly smoothie diet for anyone, smoothies are a valuable weapon in your battle for healthy eating. It doesn't take much to make a smoothie that is healthy and super tasty. I found the recipes in this program to be very palatable and adapted some of them in my usual day-to-day nutrition plan.
Now, let's take a look at what comes with The Smoothie Diet.
What's Included with The Smoothie Diet
The Smoothie Diet is a digital purchase that costs $37.
It's basically an eBook.
When I purchased The Smoothie Diet, I got the basic version, which included three main components: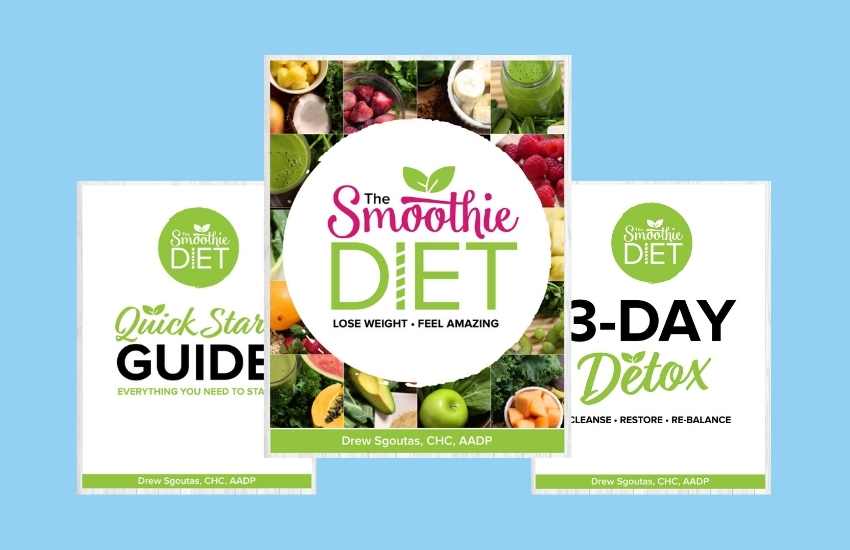 ✔️ Smoothie Core Guide. This is the main part of the diet plan, including 71 pages of recipes, an overview of the food and equipment you will need, ideas for swapping out greens and fruits with comparable options, and more. Basically, the first third of the guide is information for how to prepare and store your smoothies. In other words, smoothie and blending 101.
✔️ 3-Day Smoothie Detox. Many users will want something short-term to help "reset" their system or simply lose a couple of pounds. That's the goal with the three-day detox guide, which has a variety of smoothie recipes, including shopping lists and prep instructions.
✔️ Smoothie Diet QuickStart Guide. For people who are experienced with smoothies, The Smoothie Diet includes a "quick start" version that removes the FAQs and gets straight to business with a shopping list, ideas for swapping out greens, a 21-day schedule (sort of like a to-do list), and of course, all the recipes and instructions you need for the smoothies.
There is a long list of add-ons and additional products you can order along with the base guide, including one-on-one coaching, but for people who are comfortable with making shakes, the recipe book is probably enough.
Each recipe includes:
Full list of ingredients with measurements.
Clear directions on how to prepare it
Some fun facts about the ingredients and recipes to help you not only eat healthy, but become better informed about nutrition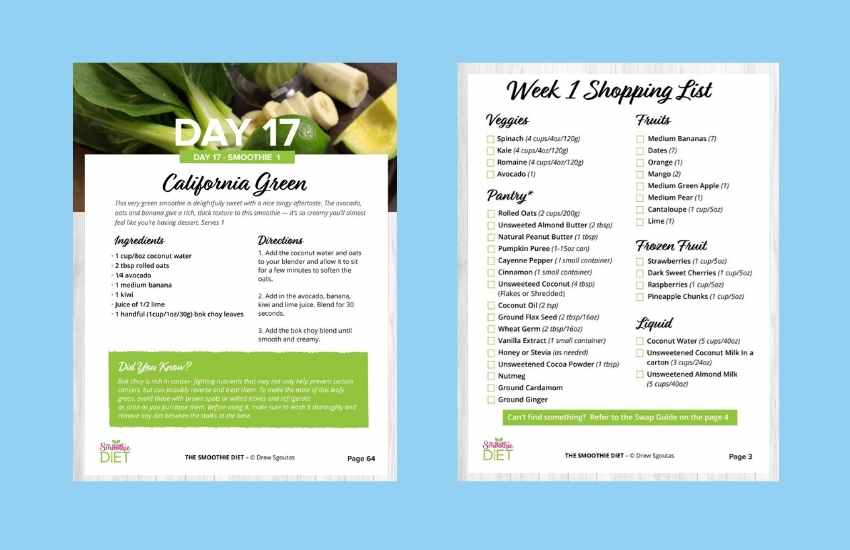 My Experience with The Smoothie Diet
I've long incorporated smoothies and a variety of shakes in my nutrition plan over the years.
Mostly, my shakes have been used for post-workout fuel or for early mornings, when my appetite is usually a little lackluster and more often than not, I am short on time.
Ultimately, I was really happy with the smoothies that are included in The Smoothie Diet.
The recipes were easy to understand and follow.
The instructions were clear.
The smoothies were tasty, so I could see how someone could use this plan repeatedly over time to lose weight and feel healthier.
I especially appreciated the swappable items.
Not all of the vegetables in the recipes were in season when I shopped for them, and The Smoothie Diet made it easy to change ingredients without upsetting the macro count for each smoothie.
The price point is totally reasonable as well, at $37.
Additionally, the fact that it was a digital download was a nice bonus.
No waiting around for my Amazon delivery guy to drop off a book, and I could access the digital files from my phone or tablet while I was in the kitchen doing my meal prep.
But will The Smoothie Diet help me lose weight?
Taste, and clarity of instructions aside, this is probably the main thing you are wondering.
And the answer is…
Probably.
Let me explain…
Using smoothies have plenty of benefits, beyond the convenience, taste, and targeted nutrient intake.
There's plenty of research showing how they can help.
In one example, a three-day smoothie diet (followed by 14-days of regular eating), showed a significant decrease in weight and body mass index on day four and improved gut health even two weeks later [s].
Smoothies are also an excellent way to increase your fruit and vegetable intake. According the CDC, only one in ten Americans hit their daily requirements for veggies [s]. Ouch.
Smoothies are a convenient and quick way to power down more veggies. They are an excellent source of phenolic compounds, which have a wide range of benefits for the body, including antioxidative, immunomodulatory, and antimicrobial [s].
So yes, The Smoothie Diet can help you lose some weight and help you feel better.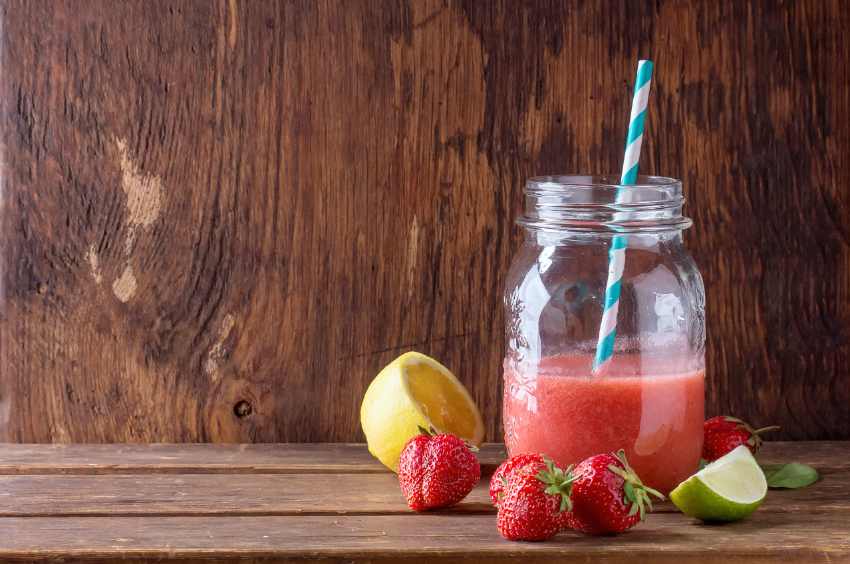 And for people who struggle to get enough veggies and fruits, using the recipes can help you over the long-term get healthier, lose weight, and even feel better.
The main issue I have with this kind of diet, and it's the number one concern that is voiced with a smoothie-centric nutrition plan, is the worry that the shakes and smoothies aren't enough to keep you satiated.
I think we can both agree there's just something about chewing and eating your food that makes you feel full.
There's plenty of reasons and research to demonstrate this.
One research study showed that participants who ate an apple reported being fuller compared to eating a commensurately portioned apple that was pureed or juiced [s].
Eating solid foods takes more time, which has the effect of it being better remembered, which has been shown to increase the sense of satiation after eating.
In other words, because eating and chewing food take longer, our brains register ourselves as being fuller [s] even though the energy intake is the same.
If you want to avoid the potential sense of hunger that comes from relying on using smoothies to fuel your body, consider sipping your shake or smoothie over time instead of gulping it down as fast as you can.
And, as always, make sure you are drinking lots of water over the course of the day to help dampen those hunger pangs.
Quick Overview
The Smoothie Diet is a 21-day smoothie plan (and includes a three-day detox plan)
Recipes are easy to follow, shopping lists included, clear prep instructions.
Ideal for both new and experienced dieters
$37 for lifetime access (click here for current pricing)
The Smoothie Diet – Where to Buy
The Smoothie Diet is available exclusively through Drew's website, which you can view here.
The digital download is backed by a 60-day money-back guarantee, so if you aren't stoked on the recipes, or you aren't seeing the results you were hoping for, your purchase is guaranteed.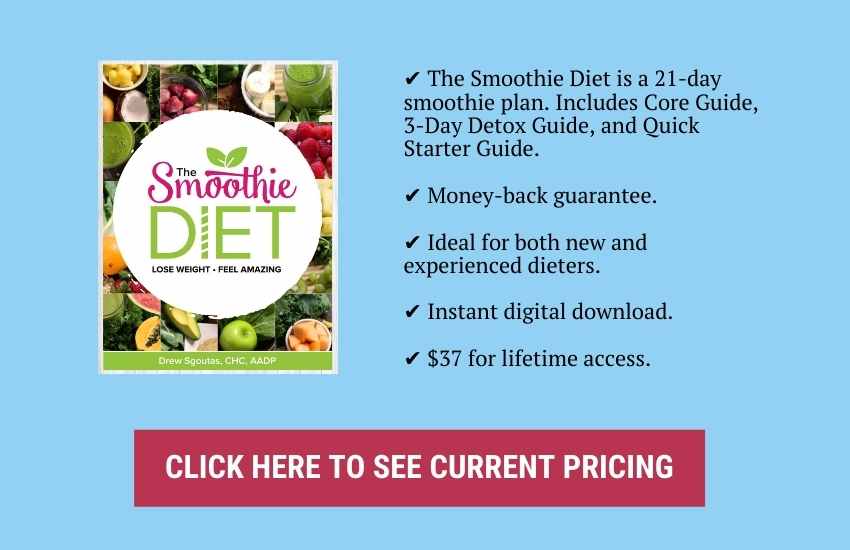 References
Henning, S.M., Yang, J., Shao, P. et al. Health benefit of vegetable/fruit juice-based diet: Role of microbiome. Sci Rep 7, 2167 (2017).
CDC. 2022. CDC Newsroom. [online] Available at: <https://www.cdc.gov/media/releases/2017/p1116-fruit-vegetable-consumption.html> [Accessed 3 January 2022].
Li AN, Li S, Zhang YJ, Xu XR, Chen YM, Li HB. Resources and biological activities of natural polyphenols. Nutrients. 2014 Dec 22;6(12):6020-47. doi: 10.3390/nu6126020. PMID: 25533011; PMCID: PMC4277013.
Flood-Obbagy JE, Rolls BJ. The effect of fruit in different forms on energy intake and satiety at a meal. Appetite. 2009 Apr;52(2):416-22. doi: 10.1016/j.appet.2008.12.001. Epub 2008 Dec 6. PMID: 19110020; PMCID: PMC2664987.
Robinson E, Almiron-Roig E, Rutters F, de Graaf C, Forde CG, Tudur Smith C, Nolan SJ, Jebb SA. A systematic review and meta-analysis examining the effect of eating rate on energy intake and hunger. Am J Clin Nutr. 2014 Jul;100(1):123-51. doi: 10.3945/ajcn.113.081745. Epub 2014 May 21. PMID: 24847856.