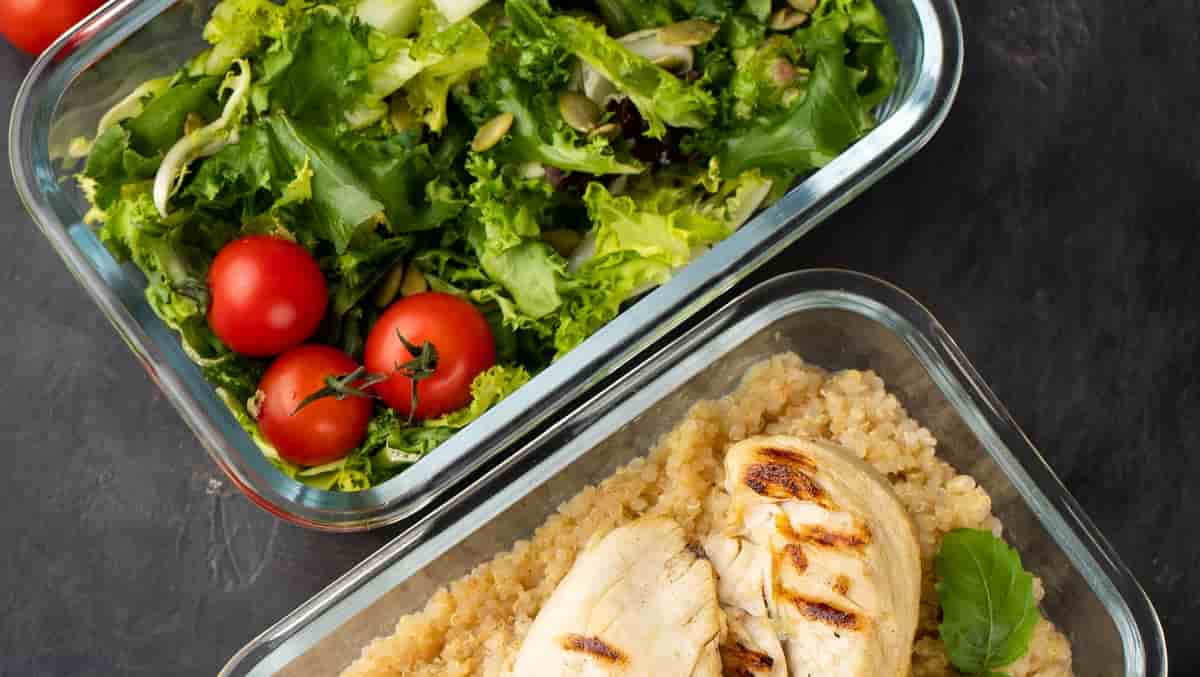 There's plenty of fads, gimmicks, and "hacks" for getting a hold of your nutrition and diet.
But no matter the diet plan you choose, there is one strategy that transcends them all—meal prepping.
The concept is so simple that it seems "too easy"—plan out your meals, make them in advance, and when meal-times come around, you have a ready-made meal that is healthy.
Meal prepping makes eating healthy convenient (no need to battle those urges when your meal is already made) and frees up a ton of time during the week to focus on other things.
That said, meal prepping can be a bit daunting, particularly for people just getting started with it. Cooking a week's worth of meals at once can feel a little overwhelming.
There are some things you are going to need, including recipes (check out these cookbooks for meal prepping), a food scale (here are my favorite food scales for meal prepping), and yup…
Meal prep containers!
Good thing is that most meal prep containers are cheap, reusable, and easy to clean. They come in a variety of shapes, with a varying number of compartments, and are available in plastic or glass.
Read on, find the best meal prep containers for your budget and goals, and let's get to work on dominating your nutrition.
PrepNaturals Glass Meal Containers
⭐ Best glass meal prep containers
The PrepNaturals Glass Meal Prep Containers are premium, high-quality containers. They look great and are available in two different sizes (24oz or 36oz), the Glass Meal Prep features two compartments for separating your meals.
Easy to stack, they are made of borosilicate glass which is freezable and safe for the oven and microwave. The lids snap on securely and give you an airtight seal, extending the shelf life of your food and also preventing pesky spills.
Being a premium glass prep container, they are more expensive, with a 5-pack of the largest ones (36oz) setting you back about $36 (check Amazon for current pricing and availability).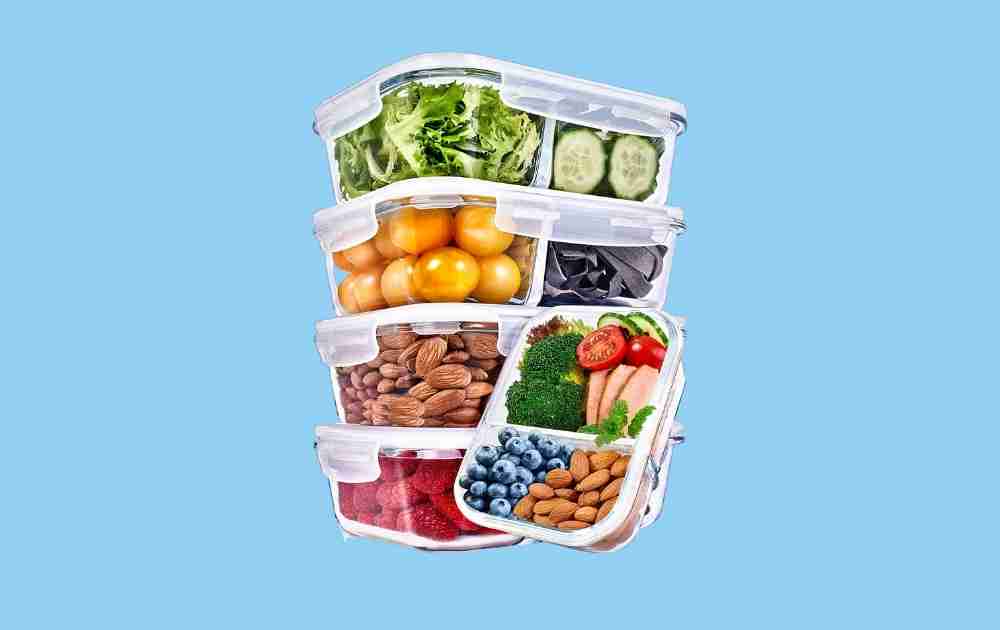 SimpleHouseware Meal Prep Containers
⭐ Best plastic meal prep containers in bulk
For the more aggressive meal prepper, who wants to cook up a ton of meals at once, you are going to wanna go bulk with your containers. These meal prep containers made by SimpleHouseware check all of the boxes.
Each container is 28oz and has two compartments. The plastic is made of BPA-free and food-safe plastic. They are microwave, dishwasher, and freezer safe, and the lids provide an airtight seal when you snap them onto place.
SimpleHouseware offers these in packs of 16 ($15) or 40 (just $26—check Amazon for up-to-date pricing).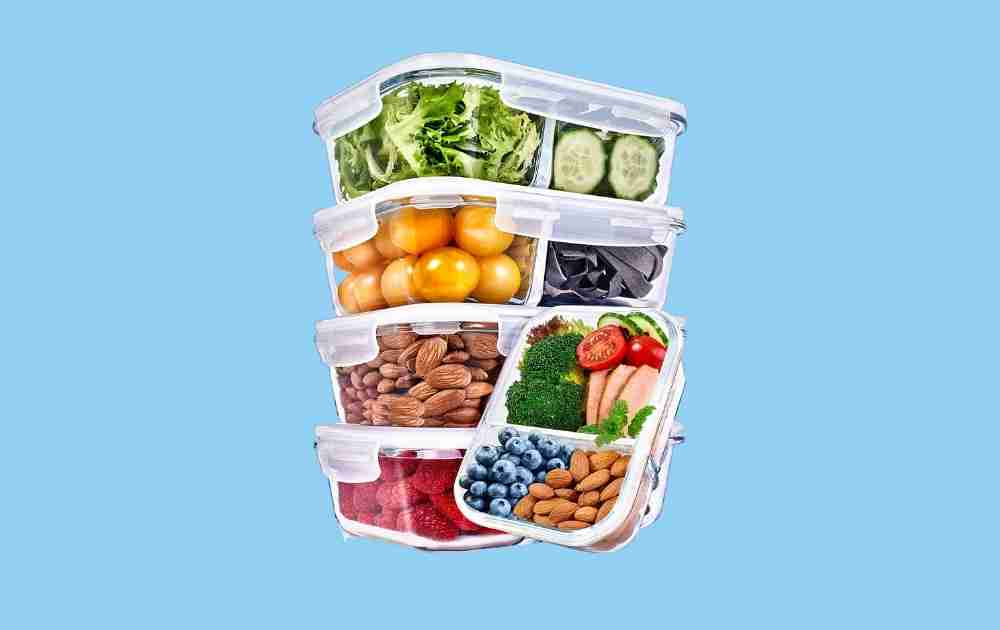 Fitpacker Meal Prep Containers
⭐ Best one-compartment plastic meal prep containers
For meal preppers who aren't worried about their meal getting mixed and who aren't OCD about their carrots and chicken touching in the meal prep container, Fitpacker makes an excellent one-compartment container.
These are the meal prep containers I started out with and generally rely on for daily use. Key features include the things we all want from a solid meal prep container: Freezable, microwavable (without the lid), and good-to-go in the dishwasher. Secure locking mechanism to keep food fresh and from spilling when on the go. Volume of 28oz, perfect for most meal sizes.
A 16-pack of the Fitpacker Plastic Meal Prep Containers will run you around $20 (check Amazon for current pricing).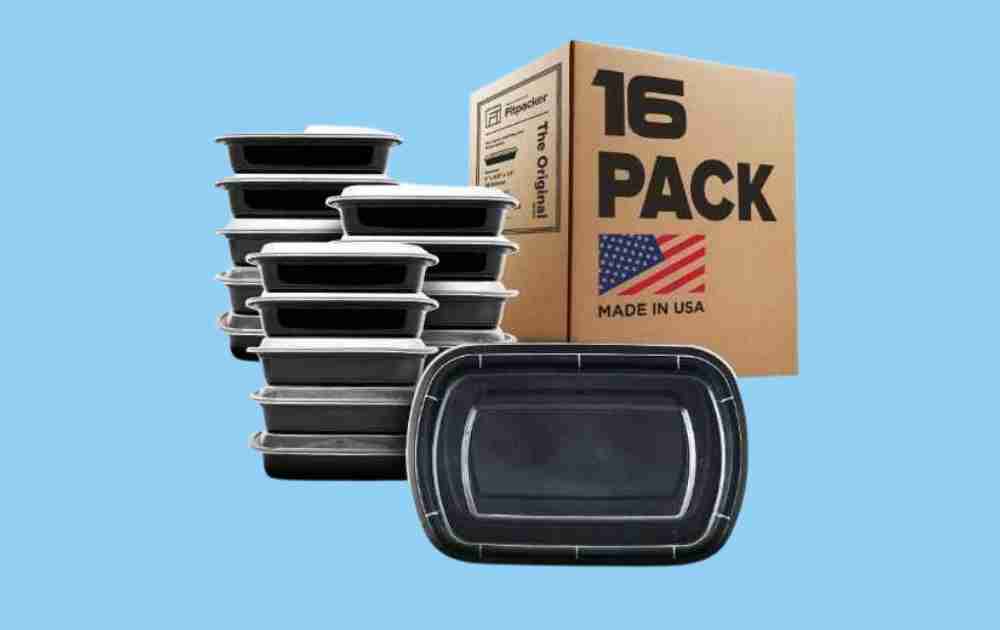 Prep Naturals Glass Meal Prep Containers (One Compartment)
Another entry by the folks over at Prep Naturals, this glass container has one compartment for your meals.
The lids are about as secure as Fort Knox, locking in all of that flavor, something is appreciated when you cook your meals on a Sunday and eat it on a Friday.
Glass containers are great as they won't wilt and warp over time, and Prep Naturals' meal prep containers are consistently raved and loved on Amazon (these ones have over 15,000 five-star reviews alone on Amazon—click here to read 'em).
Prep Naturals offers them in a variety of quantities, with an 8-pack of 36oz containers (huuuuge) setting you back around $39.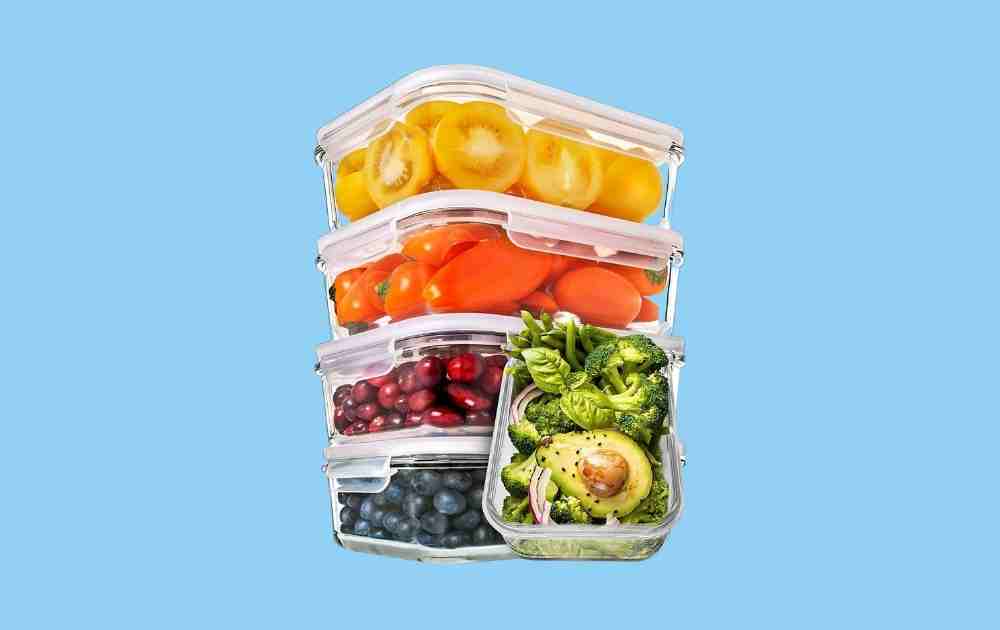 OXO Good Grip On-The-Go Salad Container
⭐ Best meal prep container for salads
Soggy salads aren't so fun. It can be a little disheartening to peel open your lunch or dinner and find your salad has been utterly soaked from the water and juices from the fruit or from your salad dressing of choice.
OXO Good Grip tackles this problem with an elegantly designed meal prep container that is perfect for keeping your salad components separated. Three air-tight (or rather, dressing-proofed) compartments keep the dry stuff away from the wet stuff until it's time to chow down, and a clear, secure-lock lid has four locking tabs to keep everything where it should be.
Easy to disassemble and clean between meals, the OXO Good Grip Salad Meal Prep Container is a no-brainer for the meal preppist who likes their salads not drenched.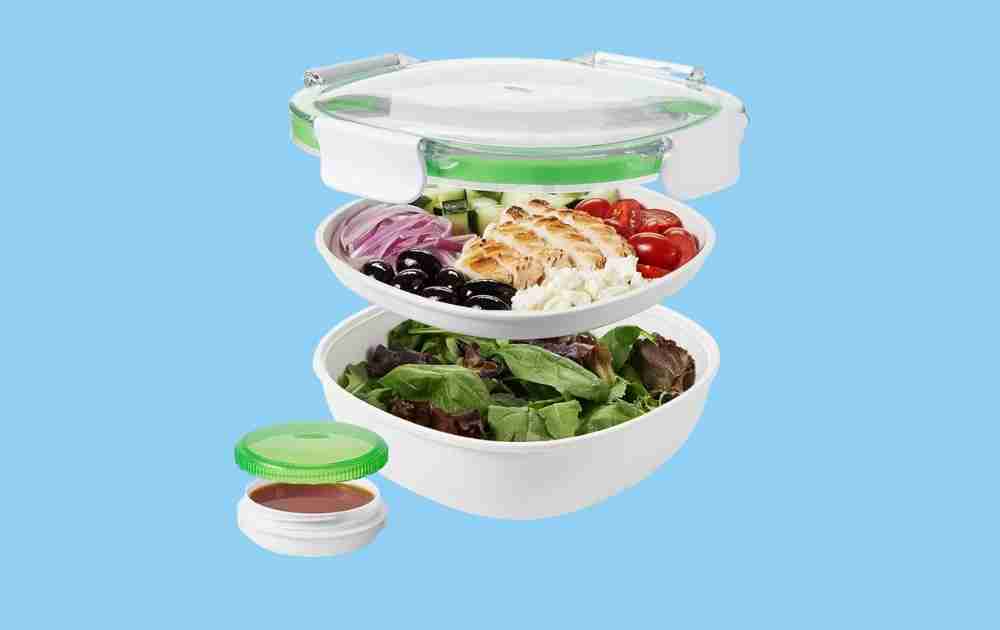 Simplehouseware Meal Prep Containers (Three Compartments)
⭐ Best three-compartment meal prep container
Variety is the spice of life, and our meals should be no different. The Simplehouseware three-compartment Meal Prep Storage Container boxes are perfect for those of us who like a mini three-course meal (or who simply want to separate the components of our meal).
These containers have all the usual bells and whistles for a great meal prep container: secure locking tabs to keep your food from spilling and splattering, easy to stack in the freezer or in the cupboard between uses, and can be placed in the microwave, freezer, and dishwasher.
Made with BPA-free plastic, these containers are safe for food, and are some of the best-priced you will find, with a 30-pack of containers running you about $29 (check Amazon for up-to-date pricing).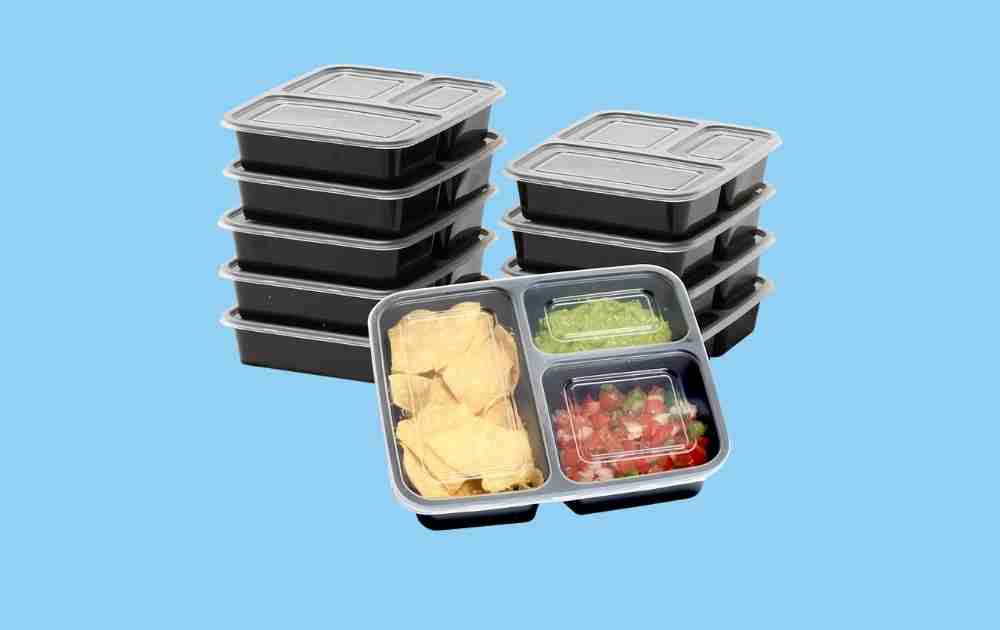 More Meal Prepping Resources
Fail to plan, plan to fail. Cliché, but true. Meal planning and prepping is one of the best things you can do to take control of your diet and your health.
Below are some more helpful guides on mastering this simple but extremely powerful nutritional strategy.
How to Meal Prep Like a Boss. Meal prepping is a killer strategy for improving your nutrition and athletic performance. Here's your ultimate guide to conquering the prepping of your meals!
Hacking the Food Journal: How to (Finally) Conquer Your Diet. The food journal is the simplest, most powerful weapon in your fight to awesome nutrition. So why aren't you using one right now?