Want to torch some belly fat and develop a stronger core? Here are my favorite battle rope exercises for building rock-solid abs.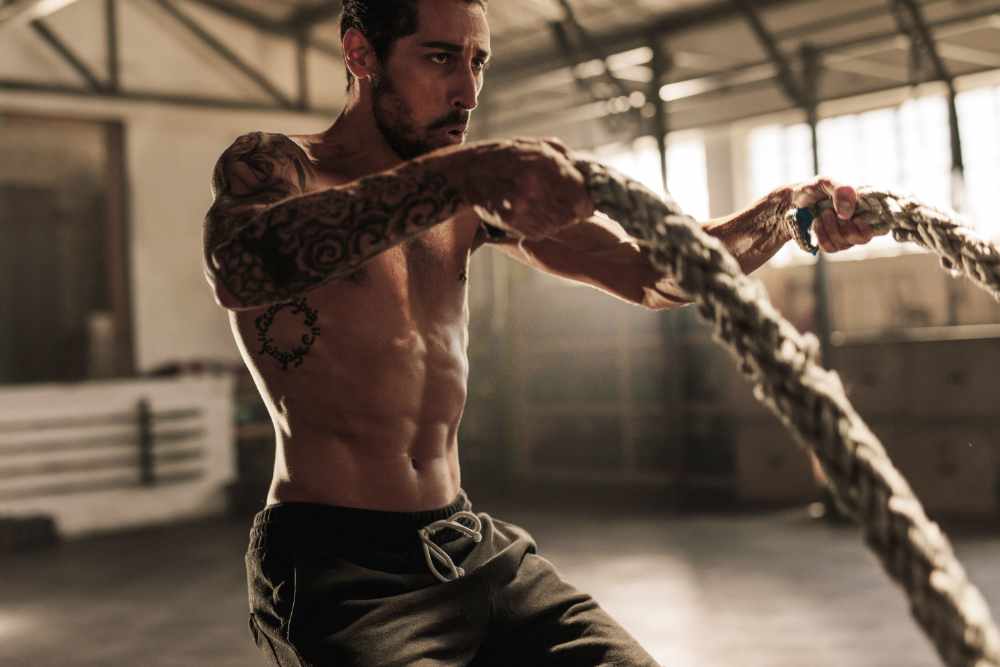 Battle ropes are one of my all-time favs when it comes to conditioning and power development tools.
They are simple in design but wildly effective in function.
Battle ropes (or rather, battle rope), push the limits on everything from aerobic capacity to developing better grip strength.
And yes…
Building a stronger core and chiseled abs.
Here are some of my favorite exercises for developing superhero core strength using a battle rope.
Unilateral waves
Battle rope exercises target the upper body in a big way. The first time I wailed away on them my traps and lats were sore for about three days (didn't help that I grabbed a 2.5" rope and went to town on it for about 30 minutes).
But battle ropes are excellent for targeting the core, especially the obliques and lower back (lumbar erector spinae). And one of the ways to really get after your core is by doing unilateral movements with them.
This means alternating arm by arm when you pick up the rope. It forces the opposing side of the body to contract and counter-balance the movement on the working side, activating your core.
A study published in the Journal of Strength and Conditioning Research found that the obliques were significantly more activated when waves were done unilaterally versus bilaterally1.
Unilateral waves are the prototypical battle rope exercise most people think of first:
Get into a half squat position
Pick up the rope
Keep your elbow relatively still
Lift the rope one at a time in a half-bicep curl, trying to maintain a fluid wave in the rope
Front plank wave
Planks are one of the most popular exercises for developing stronger abs.
It's low impact, encourages excellent posture and has a wide list of variations that can target different parts of your core.
So what happens when we combine the plank exercise with the unilateral wave?
A whole bunch of core awesomeness, that's what.
Facing the rope, get into a front plank position
Shift your weight slightly to the side that is being rested
Pick up the rope with the work side
Keep your hips square to the ground and back flat
Perform lateral waves with the rope, keeping the core braced
Side plank wave
Another variation on the plank is the side plank. This is where you prop yourself up on one forearm and face out to the side. The obliques and lower back muscles work to keep your body straight.
Side planks are an excellent way to increase activation in the nondominant side of your body, firing up the internal and external obliques2.
With your chest facing the rope, get into a side plank position
Keep your torso straight and avoid sagging
Pick up the rope with your free hand
Perform lateral waves, keeping your back and core firm and braced
Front plank slams
Want a more advanced, power-building exercise for cranking up your core strength and blasting your abs?
A way to push the limits on core stability while also developing a more explosive mid-section?
Try doing front plank slams.
Get into a front plank, facing the rope
Pick up the rope and draw it up at half the pace you normally would
Slam it down at full velocity
Contract your core throughout the whole movement
Inhale on the way up
Because the intensity and effort is getting cranked up, perform fewer reps. 5-7 is usually enough before form begins to falter—remember, the goal here is maximum output so take plenty of rest between rounds.
Russian twists
Russian twists—sit on the ground, and using a medicine ball or dumbbell twist and touch the ground next to you and repeat—are a fantastic way to promote rotational power in your core.
This makes it an essential ab exercise for anyone who needs to twist and maintain a stable core—golfers, baseball players, swimmers, and so on.
While most of us have done Russian twists with a handheld weight, using a battle rope adds a level of difficulty that takes this exercise to the next level.
Because the rope is undulating and unstable, it makes the twist even tougher.
Here's how to get after it:
Park your butt on the ground, chest facing the rope
Raise your feet off the ground
Grasp the ends of the rope
Keep your hands together and "wave" the rope over your feet to the side
Maintain a straight torso throughout
Standing bilateral power slams
I don't know about you, but I prefer doing core work standing up. Farmer carries, rotational movements with a band, and so on.
There's something about sitting on the ground and doing ab crunches that steadily zaps my motivation.
Anyhoo.
That's the main reason I love power slams.
See also: What Size Battle Rope Should I Get?
This exercise is exactly as it sounds. Grab both ends of the rope, raise them to about shoulder height and slam them into the ground like a thunderclap.
Power slams are essentially a standing crunch. As long as your core is braced, and you power the movement from your midsection, slams will light your abs on fire.
Get into a half squat position
Pick up both ends of the battle rope
Raise to about shoulder-height
Slam them down at full speed
Keep the midsection braced throughout
Breathe in on the way up
Power slams with battle ropes (you could also perform this exercise with a medicine slam ball) are an excellent way to build core endurance and strength, but they are also a really satisfying way to exercise.
After all, what's more pleasurable than having the instant auditory feedback of your power and speed?
Putting it all together
Now that you have the lay of the land for effective battle rope exercises for developing core strength and endurance, it's time to put together a routine or circuit.
Here are a few ideas for how you can put it into practice:
10 minutes of 15-seconds of work and 45-seconds of recovery. Choose an exercise and hammer away at it.
Use it in a Tabata routine (20 seconds of work, 10 seconds of rest performed 8 times through). Choose one exercise or cycle through different exercises for variety.
Do a cardio-based battle rope workout (15 seconds on, 45 seconds rest) for 20-30 minutes, and then finish with 3-5 rounds of power slams.
The sky is the limit with battle ropes and developing epic levels of core strength.
The next time you pick up the rope try out one of these battle rope ab exercises and work your way to a powerful and chiseled midsection.
More Battle Rope Guides
The Best Battle Ropes for Crushing Your Fitness Goals. Looking to pick up a battle rope for your home gym? Here's a detailed look at the best battling ropes on the market, what to look for when shopping for one, and much more.
How to Use Battle Ropes at Home. Curious about adding battle ropes to your home gym? Here's what you need to know about using this awesome piece of workout gear at home.
Benefits of Training with Battle Ropes. Battle ropes are a great way to get a full-body workout. Here are some more reasons to get after your fitness goals with this piece of workout gear.