Wondering if swim paddles are right for you? Here's a detailed look at the benefits and disadvantages of hand paddles, as well as some expert tips for how to use them properly.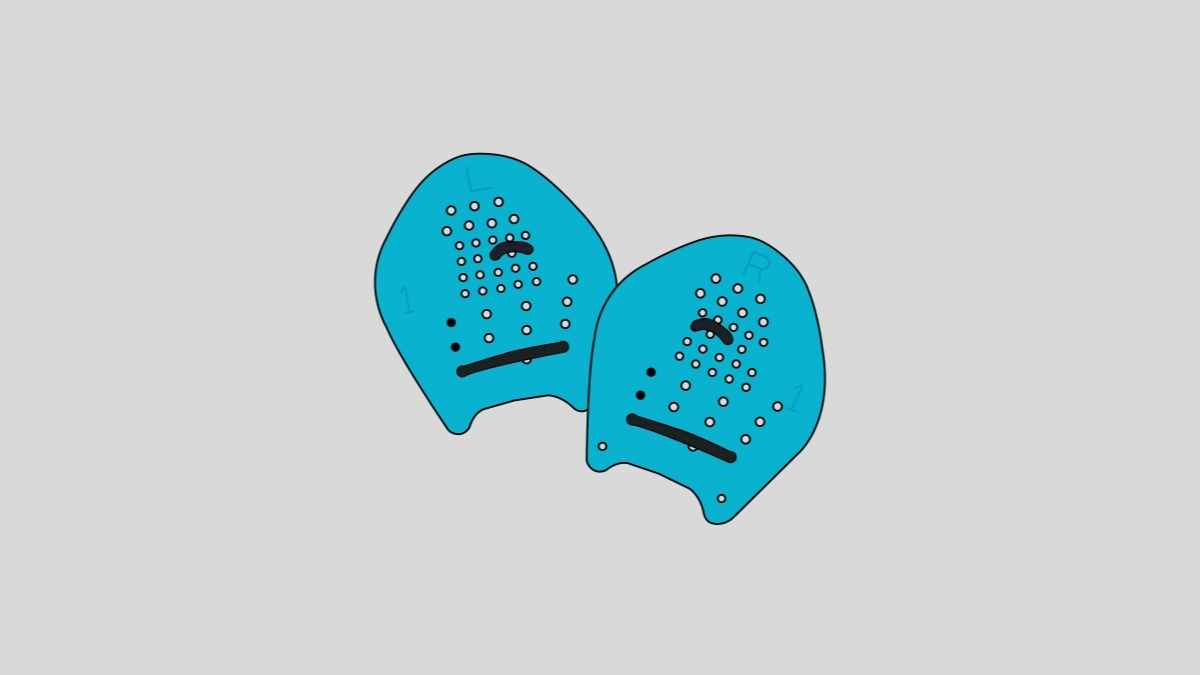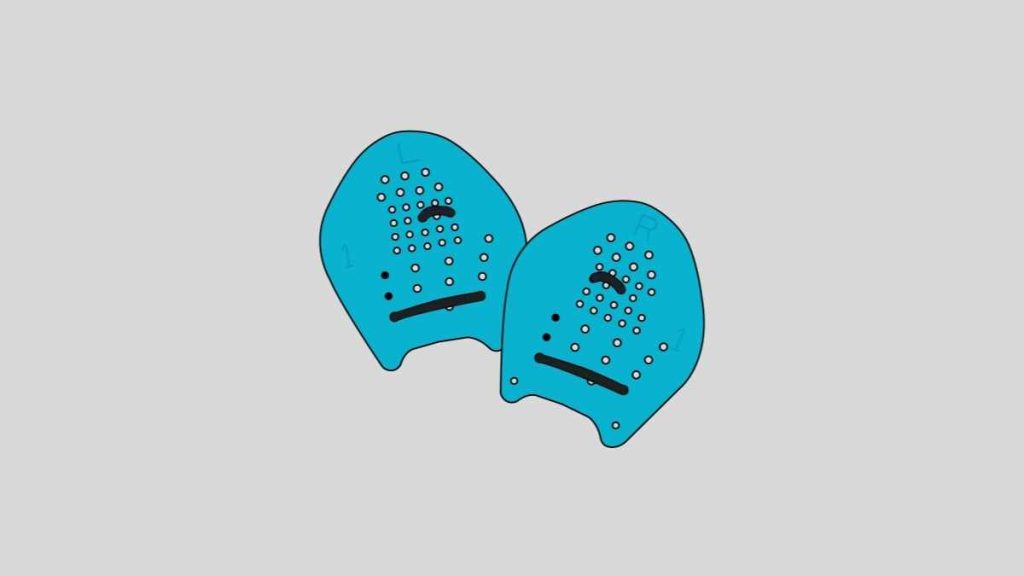 The swim paddle is a favorite tool for swimmers in the pool.
While most experienced competitive swimmers (and swammers) are comfortable using them, you may be wondering if swim paddles have a place in your swim training.
And the answer is…
Probably!
In this guide, we are going to look at the reasons to use swim paddles, how to use them properly, and when to introduce them into your training for maximum benefits.
Let's jump right in.
Why Train with Swim Paddles?
Swim paddles are a way to increase the propulsive force that swimmers generate in the water.
The added surface area of the paddle allows you to pull more water, strengthening the shoulders and arms, reinforcing proper swimming technique, and hurtling you through the water faster than using your hands.
But wait…
There's more!
Using swim paddles helps—
Encourage a high vertical forearm in the catch.
The exaggerated surface area of the paddle shows you to have a more vertical forearm at the beginning of the pulling motion.
A vertical forearm means you are pulling yourself through the water more efficiently.
"Anchor" the hand during the pull.
Swim paddles teach you to not slide your hands when initiating and executing the pull.
The sliding or sculling motion is often wasted movement.
Paddles encourage you to plant your hands and pull through.
Clean hand entry and exit.
Paddles also encourage a cleaner hand entry—especially if you take the wrist straps off, as the paddles will fold back and fall off if you aren't entering the water cleanly with the fingertips.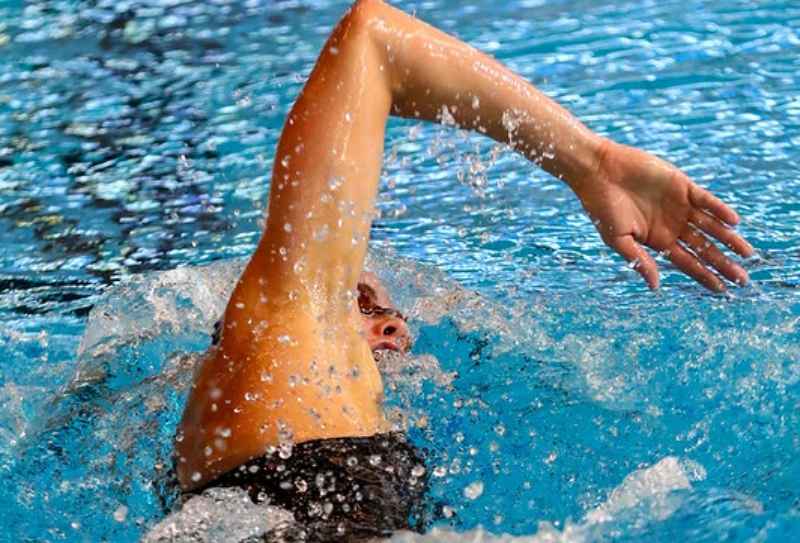 Additionally, if you don't complete the "push" of the pull, the paddle will similarly catch water as you try to exit the pulling motion.
Go fast!
There's perhaps nothing better than going really fast in the water!
In the same way that swim fins give your legs a speed boost, hand paddles allow you to propel yourself faster in the water than ever before.
In terms of mixing up your training, and the sheer joy of experiencing whole-grain, fair-trade SPEED, swim paddles can be a great way to spice up your laps with more velocity.
The Cons of Swimming Paddles
Although swim paddles are fun to train with—you are swimming more efficiently, after all, getting more distance per stroke and speed—there are some drawbacks to using them improperly.
The cons of hand paddles include:
Not ideal for swimmers with bad technique.
The only thing worse than swimming with poor technique is swimming with poor technique and adding load.
Swimmer's shoulder is a persistent foe for chlorinated athletes, and placing the shoulders under needless strain from loaded swimming with bad technique is a recipe for strains, tweaks, and other overuse injuries.
If you are using paddles as a technique correction tool, keep paddle use to shorter reps, reduced volume and low intensity swimming.
Changes stroke kinematics.
I love swim paddles as much as the next person. The bigger the better, I used to say. I'd strap the lid of a garbage can to my hands if I could.
Not so much anymore.
Improperly sized paddles (i.e. paddles that are too big) mean the kinematics of your stroke change significantly, lessening any hopes of transfer to your regular swimming.
With paddles, stroke rate goes down and they even reduce metabolic cost1.
How to Use Swim Paddles Like a Chlorinated Boss
As you can see, using swim paddles in the water is a bit of a mixed bag.
Fortunately, there are some simple ways to maximize the use of these bad boys.
Here are some of my favorite ways to introduce swim paddles into your swim training:
? Drop the wrist strap for more technical feedback.
Swim paddles typically have two rubber straps to keep them pinned to your hand—one for your middle finger and another for the wrist.
Removing the wrist strap encourages you to maintain pressure with your palm and keep the hand entry clean and quiet.
? Use them for maximum power work.
Want to get legitimately stronger in the water?
Pair your swim paddles with a parachute or resistance tubing for high-output, short duration, and high rest work.
How short?
6×25 paddles and parachute MAX EFFORT @3:00.
(See this post for some swim workouts for max power and muscle-building.)
? Sculling.
One of the mythical parts of swimming—and one of the most rewarding things when you "get" it—is improving your feel for the water.
Being one with the water sounds hokey, but for swimmers who attain it from time to time, it's absolutely epic.
Use paddles and do some light to moderate sculling in the water. It will teach you how to really "catch" that water and get you into that state of enhanced feel for the water more often.
? Introduce them slowly and moderate use.
Swim paddles are an added form of resistance in the water. Introduce them slowly into your workout and don't overdo it with using them.
The added speed and efficiency are addicting. No doubt about that.
But you shouldn't let paddles become a crutch. Don't allow paddle use to overtake more than 10-15% of your swim training.
Not only will you come to rely on them, but your stroke will change so much that regular swimming will feel like organized drowning.
? Do drill work with paddles.
When swimmers think paddles, they think drop dead speed. But paddles can be a great tool for honing your technique.
Long dog drill (basically dog paddle but you bring your hands all the way to the top of the pulling motion) is a great drill to try as it will really help you reinforce that early vertical forearm.
? Choose a paddle size that is 20-25% bigger than your hand.
One of the key things about swim paddles is choosing a paddle size that follows the Golidlocks principle—not too small that it's useless, and not too big that it crumples your stroke rate and causes unnecessary strain and stress on the shoulder and elbow joints.
When sizing out your swim paddles, select a size that is around 20-25% larger than your hand.
? Use paddles for your "pull" sets.
While there are lots of great reasons to train with a pull buoy, there's a lengthy list of downsides.
Next time you want to do a shoulder-centric set or workout, instead of strapping on a pull buoy, swim with paddles.
You will use a more natural hip roll, have a harder workout (because your legs drink oxygen and energy like crazy), emphasize proper body position, and still get that upper body focus.
---
How to Use Swim Paddles — FAQs
Do you swim faster or slower with paddles?
Swim paddles help you swim faster thanks to the added surface area on your hands. Paddles will also help you cross the pool while taking less strokes, "teaching" you how to swim more efficiently.
Swim paddles will also decrease your stroke rate, so there is a trade-off in terms of added speed.
Should beginners use swim paddles?
Beginner swimmers are best served by focusing on improving their technique and efficiency (by counting their strokes each length, for example) before adding load.
In the same way that you wouldn't perform a 300-lb squat before you could do a flawless bodyweight squat, adding resistance and load to your swim stroke should be done after you've mastered the basics.
Does swimming with paddles burn more calories?
Swimming with paddles does not burn more calories compared to regular swimming.
A study with adult swimmers found that metabolic cost was significantly reduced when they put on hand paddles in the pool2.
The Bottom Line
Swimming, and the use of swim paddles, is a great way to level up your aerobic conditioning, get stronger, and burn a metric ton of calories.
Using swim paddles is a great way to spice things up, help you finetune your technique, and hit those new levels of speed.
The next time you head down to your local pool, introduce them smartly into your training and you will be off and running (ahem, swimming) towards better technique and more speed!
---
More Swim Guides and Articles
6 Best Swim Goggles for Laps, Open Water, and Racing. Swim goggles are one of the essential pieces of swim gear you need to conquer the water. Here's a detailed look at the best swim goggles for laps, open water, racing, and more.