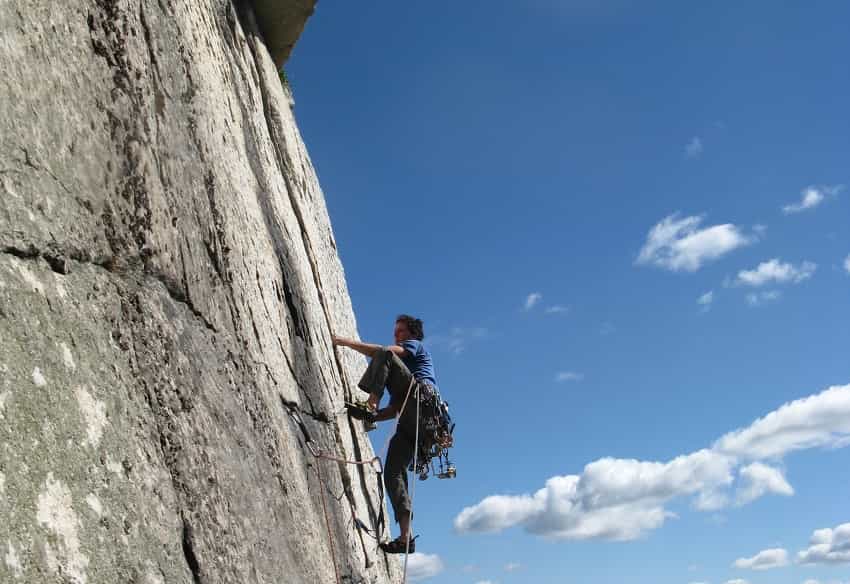 Give your back, core and forearms all they can handle with this strength training workout for rock climbers.
I recently asked personal trainer and nutrition and wellness specialist Angela DeJong of Acacia Fitness for her favorite workout.
The workout routine she sent over is designed for mountain climbing prep, blasting away at your back, biceps and your core, and is on weekly rotation as she prepares for a trip to Africa to climb.
DeJong is an avid mountain climber, having done Mt. Kilimanjaro, Machu Pichu, and the base camp of that little hill you may have heard of, Mount Everest.
"I travel to Africa each year to climb and I'm 3 weeks out, so the volume is a bit higher than normal," says DeJong. "The volume is high to shred the forearms since this is really important for the muscular endurance in climbing."
The workout covers some staples in the training for rock climbing, including pull ups and core work, as well as some rope pulling on the ergometer at the end.
Strength Training for Rock Climbers: The Workout
Series 1
Warm-up: Treadmill (Incline Walk @ 15% grade) — 15 min
Series 2
Series 3
Wide Grip Lat pulldown — 4 x 15 (with 3 pauses)
Every 5th rep pause for 5 second in contraction
Series 4
Single Arm tricep rope Facepulls — 5 x 12/per side
Single Arm Cable Pulldowns — 5 x 12/per side
Series 5
EZ Curl Barbell Curls — 4 x 6
Single Arm Cable Lawnmower Pull — 4 x 6/per side
Series 6
Hanging Knee Tucks — 3 x 15
Plank off Exercise Ball with Press-Outs — 3 x 1:00
Series 7
Rope Pull Ergometer — 2 x 2:00
Series 8
Workout Notes:
The workout will hit your back from various angles, helpful in maintaining and strengthening.
Relentlessly targets the forearms (those are kinda handy in rock climbing!) to help improve muscular endurance.
At the end of the workout there are a couple minutes on the rope ergometer, which serves as a "nice treat for the forearms and hands" while also being a good test of mental stamina.
You can connect with Angela and Acacia Fitness, which provides personal training services in the Edmonton, Alberta area. You can also stay up-to-date with Angela and her travels on Instagram.