Rogue's 32mm Squat Bar is made to do one thing and to do one thing ruthlessly well—squat a ton of weight. Here's a detailed look at this specialty barbell.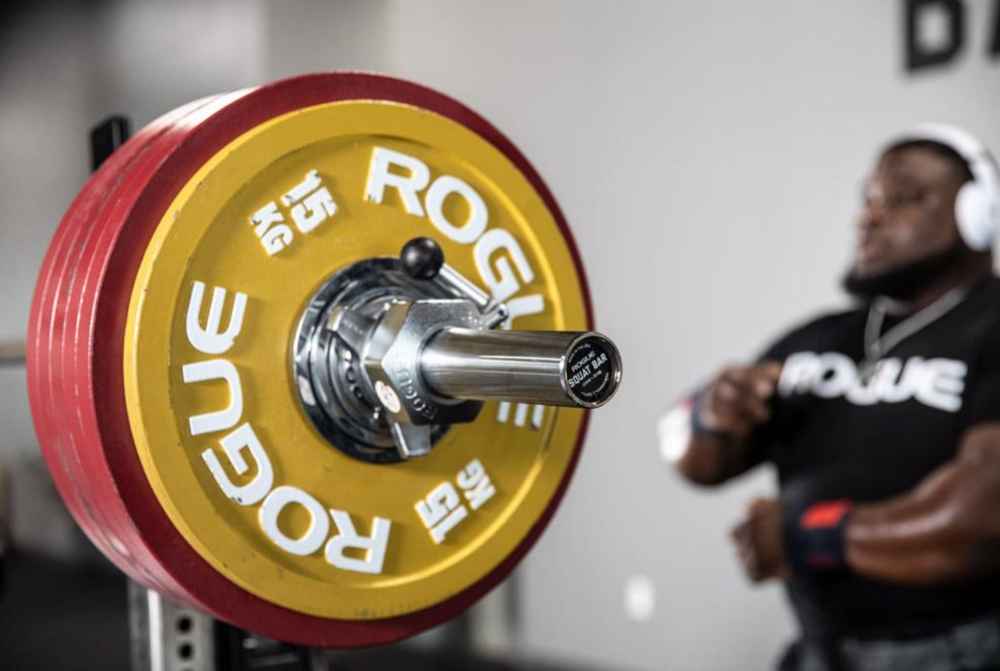 Rogue makes some of the best barbells on the planet.
Rogue's unique combination of homegrown manufacturing (they use US steel and fabricate their barbells domestically), relentless testing with high-performance athletes, and commitment to excellence mean they are at the tip of the proverbial spear with high-grade barbells.
The Rogue 32mm Squat Bar is an awesome—albeit expensive—example of this.
Here's a detailed look at Rogue's dedicated squat bar.
We will take a look at what separates it from other barbells on the market, including popular powerlifting barbells, and whether it is a good fit for you and your squatting goals.
Let's dive right in.
The Rogue Squat Bar vs Powerlifting Barbells
The Rogue Squat Bar has a lot of differentiating features compared to regular barbells, and even compared to the top powerlifting barbells on the market.
✔️ Extra thick bar shaft. The Rogue Squat Bar is 32mm, which is significantly thicker than your regular barbell. Barbells tend to be in the 28-29mm range, and while 3mm or so might not seem like a lot, it makes a big difference, making the bar wider on your back. The added thickness is reflected in the higher bar weight. Unlike other bars, which tend to be 44-45lbs, the extra steel in the Rogue Squat Bar gives it a total weight of 55lbs (25kg).
✔️ Strong as hell. Powerlifting barbells need to be strong, and the Rogue Squat Bar is hilariously strong, with a tensile strength of 200,000 PSI. This is a better indicator of bar strength compared to loadable weight (bar manufacturers will often laud how their bars can handle "up to 1,000lbs", but this is a vanity metric for marketing), with elite bars being rated of 190,000 PSI or higher.
✔️ Developed with Westside Barbell. The powerlifters at Westside Barbell, one of the best gyms on the planet producing countless world record holders, were sent prototypes of the bar to try, using their feedback to further develop the bar.
✔️ Completely knurled. The top powerlifting barbells typically have knurling in the center of the bar to help the bar "stick" to your back when squatting. Knurling keeps the bar from sliding around so that you can focus on pushing the weight instead of the barbell moving on you. The Rogue Squat Bar is fully knurled from sleeve to sleeve (with the exception of three strips for centering your body under the bar) to give your back maximal "grip" on the bar.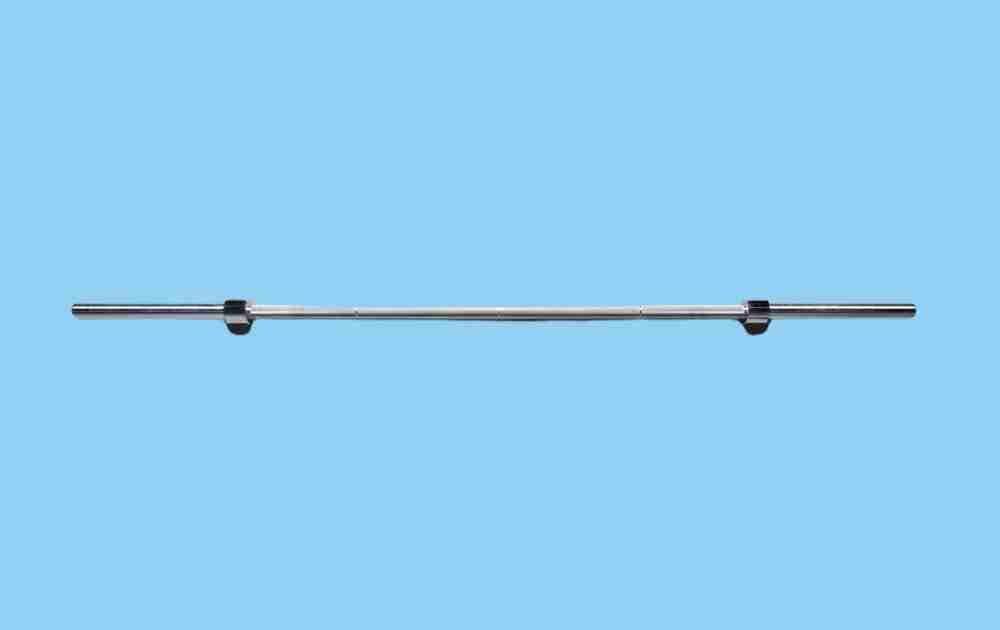 ✔️ Longer bar length and sleeve length. The Rogue Squat Bar isn't just thicker, it's also longer. The bar length is a total of 94.488" which is the longest bar I've ever personally used. The sleeves are also designed for heavy, heavy squats with half an inch more length than the Ohio Bar's sleeves.
✔️ Minimal flex. Olympic barbells differ from powerlifting barbells in that they have some bounce or flex in the bar. This helps with performing dynamic lifts—a lifter can use the whip of the bar and the weight load to progress through each stage of the snatch, clean, or jerk. For heavy lifts, like squats, we don't need no flex, and the Rogue Squat Bar delivers on this in spades with an extraordinarily stiff bar that doesn't wilt or bend under heavy weight. Rogue's guarantee includes that the bar will never bend.
✔️ Stainless steel. Rogue offers its bars in a variety of finishes to prevent corrosion, including black oxide, phosphate, Cerakote, and more. Stainless steel is the best finish you can get for a barbell when it comes to oxidation (rusting and corrosion), requiring the least amount of maintenance over time.
❌ The main drawback? Price. If you're a squatting superstar, an investment of $445 might be worth it, especially when you factor in Rogue's legendary craftsmanship and lifetime warranty, but for most gymgoers and home workout enthusiasts, they can get by with a regular powerlifting barbell.
Rogue Squat Bar – Where to Buy
The Rogue Squat Bar is a very specialized bar. The added thickness on the shaft makes it hard to use as an all-purpose bar, but when it comes to doing heavy squats, you won't get a stiffer and more secure-feeling bar on your back.
Rogue sells the 32mm Squat Bar exclusively through their website here.

Recommended Reading
I've reviewed and written about a ton of other barbells and Rogue gear. You can find some of the best ones below.
Olympic Barbells vs Powerlifting Barbells – What's the Difference? Curious about the difference between powerlifting and Olympic barbells? Here's a detailed look at what you need to know.
8 Best Olympic Barbells. Want help finding the right Olympic barbell? Here's a detailed look at the best Olympic barbells for every kind of lifter and budget.
6 Best Budget Olympic Barbells for Under $300. The Olympic barbell is a staple of your home gym. Here's a detailed look at the best budget Olympic barbells from Rogue, CAP Barbell, and more.
5 Best Rogue Fitness Squat Racks. Rogue Fitness makes some of the best squat racks on the planet. Here's a detailed look at the top Rogue racks for every kind of budget and lifter.
5 Best Rogue Fitness Barbells. Looking for a Rogue barbell but don't know which one to get? Here's a breakdown of the best Rogue barbells for every kind of lifter.