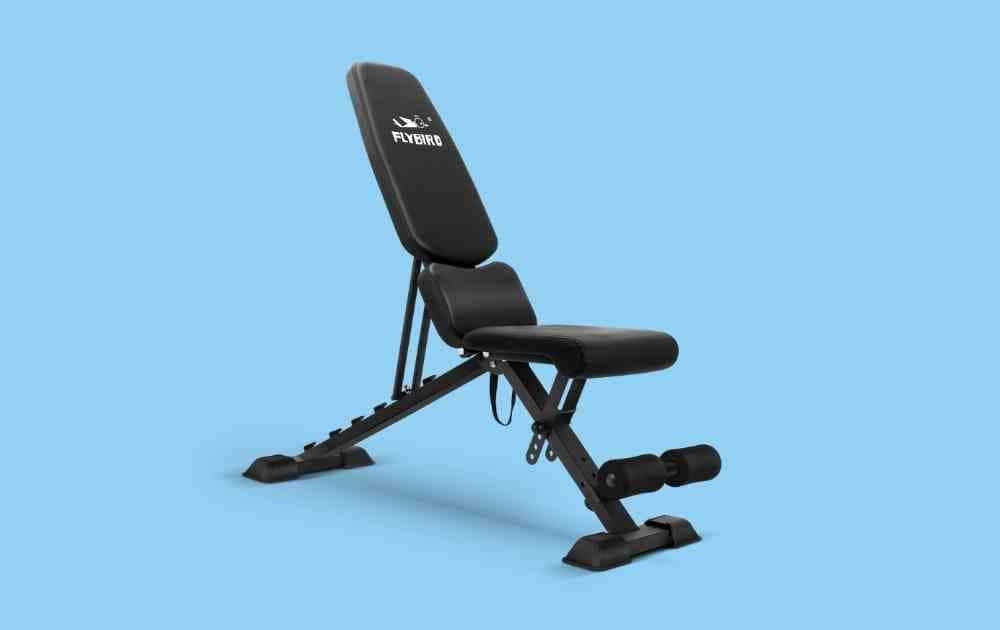 Looking for an affordable and versatile weight bench that is also very strong? The FLYBIRD Adjustable Weight Bench checks all those boxes and more.
There's a misconception that high-quality home gym equipment has to be super expensive.
But if we have learned anything over the past couple of years—and especially since Covid hit and gym equipment makers went into overdrive to make budget-friendly gear for home gyms—it's that you can get your hands on commercial-grade, durable gym equipment without the hefty commercial-grade prices.
And the FLYBIRD Adjustable Weight Bench is a perfect example of this.
The features on this budget-friendly bench are almost unbelievable.
A weight rating of more than 650lbs. It folds and is extremely light. Completely adjustable on every pad and leg attachment. And next to no assembly required.
Oh.
And the price?
$120.
Yeah, that's right.
Here's a full review of the FLYBIRD Adjustable Weight Bench, with key features, things to know before buying, and more.
Let's take a deeper look at what is possible the best budget adjustable weight bench on the planet.
FLYBIRD Adjustable Weight Bench – The Rundown
✔️ Supports more than 650lbs.
One of the main issues I have with the benches most frequently seen on Amazon—and other online fitness retailers—is that the low-cost benches are almost always very rickety and poorly made.
Designed to hold no more than 200-300 pounds, they may be low in cost, but they are low on quality, too.
The FLYBIRD Bench is one of the extremely rare benches that costs very little (just $119 the last time I checked on Amazon) while also still being remarkably strong, with the bench being able to handle 650lbs of total weight.
While this isn't in the same league as premium and heavy-duty benches like the Bells of Steel Commercial 3.0 Bench and the Rogue Adjustable Bench 3.0 (my top pick for best overall adjustable weight bench), the FLYBIRD punches up in weight for the price in a big way.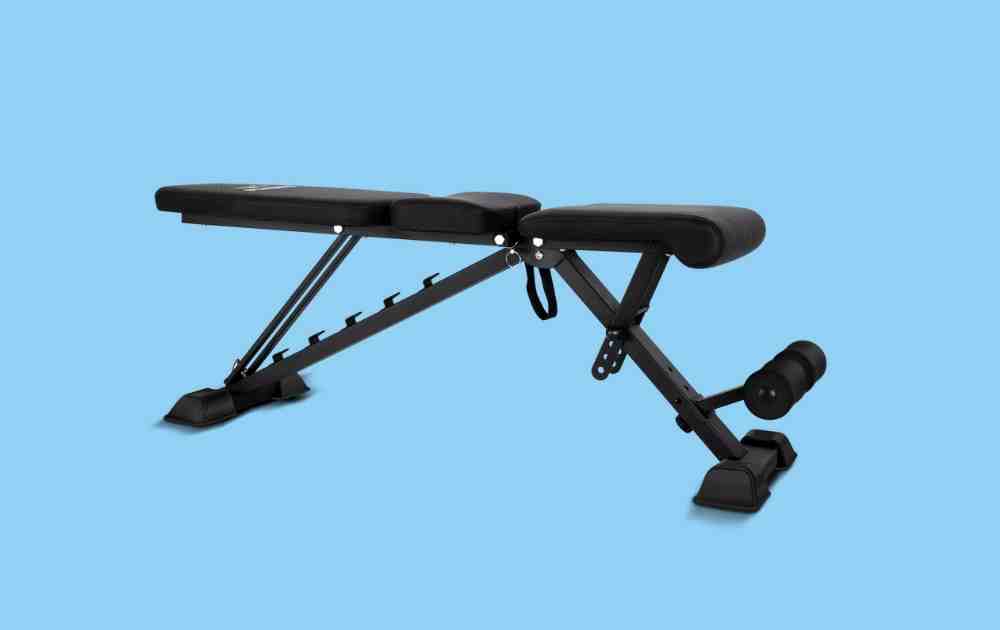 ✔️ Ergonomic lumber pad.
This is a feature that I have never seen in a weight bench, and I will admit that I was skeptical at first when I saw it.
While most adjustable weight benches have two pads—the seat pad and the back pad—the FLYBIRD has split the back pad in two, with the lower back pad having a slight contour upwards.
In essence, it's a lumbar pad that provides added stability and support to your midsection while lifting weights.
✔️ Comes mostly assembled
I know that I am in the minority when I say this, but I enjoy the process of fastening and installing my home gym equipment. It's a part of the ritual, I suppose, that is fun for me.
So you can imagine my *disappointment* when I learned that the FLYBIRD ships almost entirely assembled.
With the exception of a couple screws to lock in the leg attachment, the FLYBIRD is basically ready to go out of the box. That's the shortest time from unpacking to working out I've seen with a bench.
The longest part of setting up the bench is removing the plastic protective wrapping around it.
✔️ Foldable and light for easy storage.
Not everyone has unlimited space for their home or garage gym. That's just the reality of building an exercise area out of your home.
The FLYBIRD bench is also a foldable weight bench, taking up just 15.7" x 32.4" when folded up. And because the bench is also extremely light—at 24lbs it's a featherweight compared to other adjustable benches—the bench is easy to fold up and put away.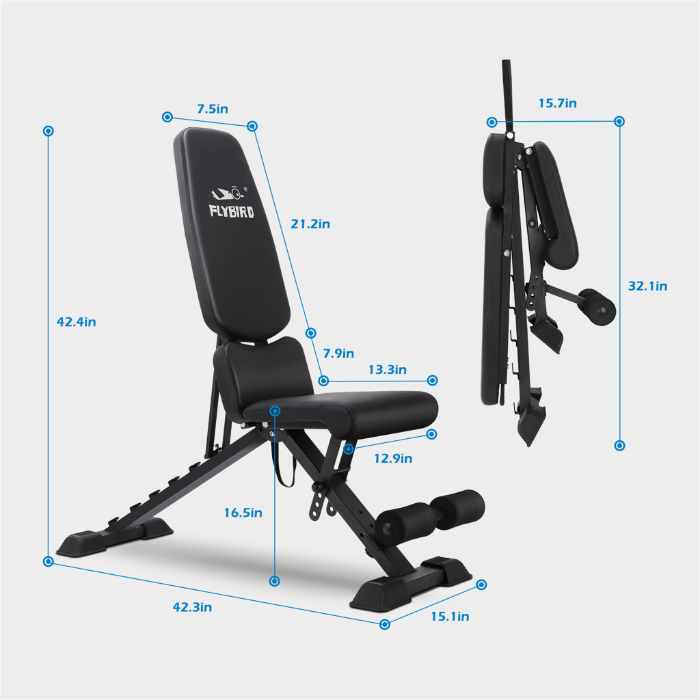 ✔️ Fully adjustable from top to bottom
Adjustable weight benches need to be just that—adjustable!
And the FLYBIRD does exactly this, with six different incline positions (and a decline position) for the back pad, 4 seat positions, and even three different height options for the leg attachment, which you definitely don't see very often.
Leg attachments are almost always either welded on or bolted on with no choice on height or positioning.
✔️ Lock pin system for secure adjustments
Another key consideration that I look for when choosing an excellent weight bench to recommend is the way that the adjustment arms are locked into place.
Cheaper benches will often use a peg and ladder system that isn't as secure as a lock pin system, which the FLYBIRD bench uses. No guesswork or worrying that a peg will slip out of the teeth of the ladder—once the pin is locked in, you are good to go.
Lifters who workout by themselves will absolutely appreciate this locking mechanism for the peace of mind it gives them.
❌ FLYBIRD recommends the bench only for lifters up to 5'9" in height. And yet, plenty of lifters taller than this recommended height have used the bench and had no problem with it.
The reason that FLYBIRD makes this recommendation is likely because the bench is 16.5 inches high and 45 inches long, which is a little smaller than other benches on the market.
FLYBIRD Adjustable Weight Bench – Where to buy
The FLYBIRD bench is no joke.
It packs a ton of features into a tiny package. Is it the best budget adjustable weight bench on the market? I think people would be hard-pressed to find a competitor that can list the same features and price point as the FLYBIRD.
And, if you don't want to believe us, take a look at the nearly 10,000 (!!!) five-star reviews on Amazon at the button below to see what others are saying about this excellent bench.