Want to get Chest Day on like a boss but don't have a bench? Here are some killer dumbbell chest exercises you can do without a bench, including a sample workout.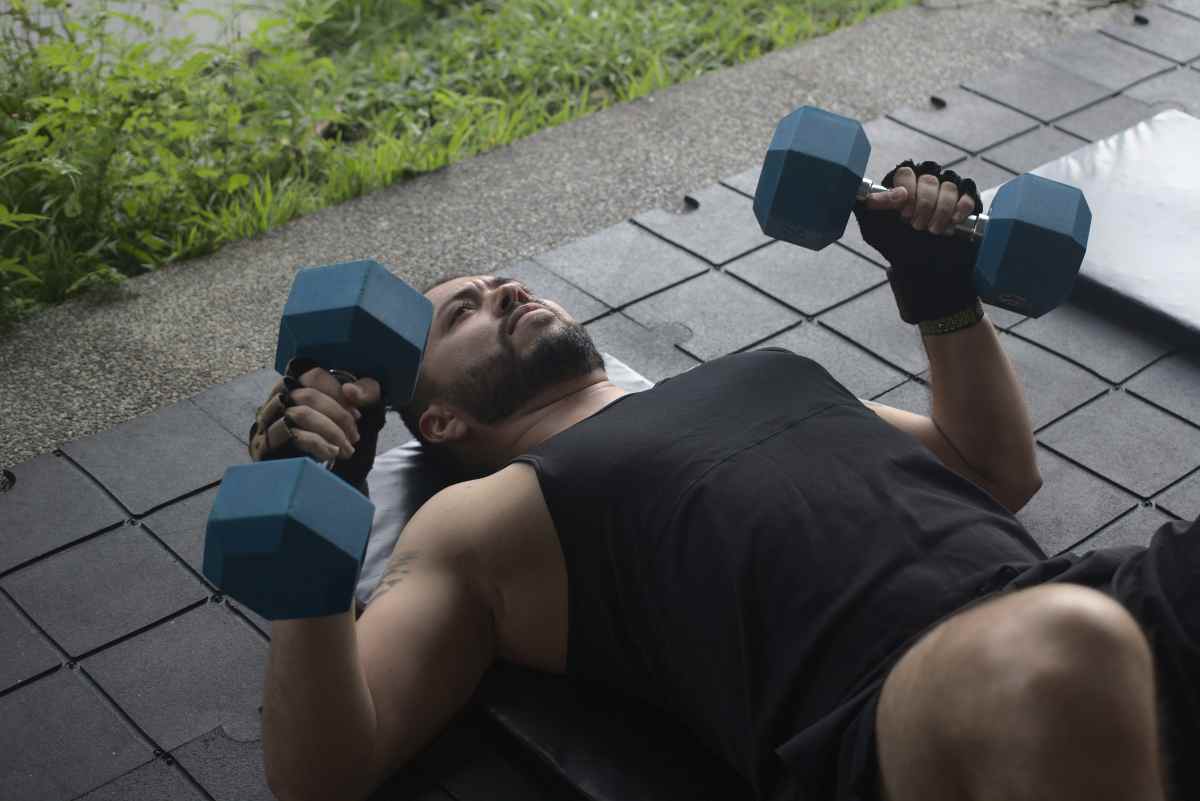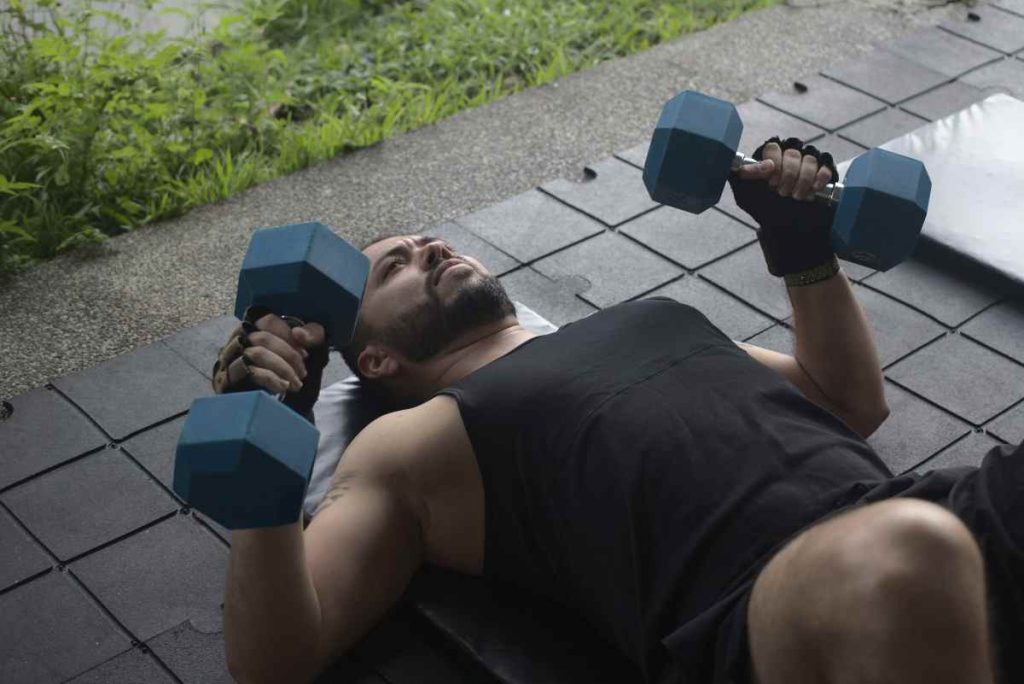 Shredding your chest muscles doesn't always require a bench.
In fact, it would be argued that restricting yourself to bench-only exercises can actually work against you.
If you always work in the same range of motion and same angles, you can limit your muscle development. Which is why it's always a good idea to mix up your workouts and add in a variety of exercises on top of your typical go-to's.
In this article, we'll look at some of the best chest exercises that don't involve a weight bench. All you need is a pair of dumbbells and you're good to go!
Benefits of Doing Chest Exercises without a Bench
Why should you work on dumbbell exercises that don't involve a bench?
Simple:
⭐ No need to wait for a bench. Given how busy the bench press benches are at your local gym, you may end up wasting a lot of time waiting for one to become available. But by switching to a workout with  dumbbells and no bench, you can get working right away!
⭐ More versatility. One of the best arguments for dumbbells vs barbells is that dumbbells are much more versatile than barbells. You can do one-handed and two-handed exercises, isolation exercises, compound exercises, and more. With a dumbbell, you've got more options to work out!
⭐ Great for at-home training. If you don't have the space (or money) for a full gym setup in your house, really all you need is a pair of adjustable dumbbells and you're ready to get training. One of the main benefits of adjustable dumbbells is that they can be used anytime, anywhere, and are the most compact-but-versatile weight option out there.
Stuck with Your Training in the Gym?
Join 12,000 lifters and athletes and sign up for FREE access to my 5-day email course on how to conquer the most common gym mistakes.
From goal setting to lifting technique, you will learn how to overcome the mistakes in the gym that are holding you back from getting bigger and stronger.
Unsubscribe anytime. No spam.
⭐ Switch it up. Always working the same exercise in the same range of motion will develop greater strength in only that range of motion. To develop more functional, well-rounded strength, you need to add in variety and hit your muscles in different ways and in different ranges of motion. That's why adding in dumbbell workouts to your Chest Day routine (and any routine, really) can be so game-changing.
Be smart with your training sessions and mix in some of the dumbbell chest exercises below!
My Favorite Dumbbell Chest Exercises (No Bench, No Problem)
? Exercise 1 : Dumbbell Floor Press
The dumbbell floor press is one of the best variations on the dumbbell bench press.
It's perfect for those occasions when you don't have a bench handy, but you can still get in a standard "chest press" style exercise that recruits your shoulders, triceps, and pectoral muscles like a boss.
As a bonus, it also reduces your range of motion (because your elbows hit the floor), so there's less strain on your shoulders but greater triceps engagement throughout. You'll find it's ideal for anyone with shoulder pain, or who are looking to beef up their arms a bit more.
To perform this exercise:
Start by grabbing a pair of dumbbells and placing them on the floor, with space enough to lie between them. Sit on the floor between the dumbbells, lift them off the floor, and bring them to your chest as you lay on your back.
Keep your elbows bent at a 90-degree angle and your forearms perpendicular to the floor. Bend your knees and plant your feet flat.
Press the dumbbells directly up and away from your chest. Keep your movement restricted to directly vertical—no horizontal or lateral movement (as much as possible).
Press until your arms are fully extended, but stop just before your elbows lock out.
Hold at the peak for a 1-count, then lower the weight slowly to your chest once more.
Stop when you feel your elbows just about to touch the floor. Hold for a 1-count, then press again.
Repeat as desired.
? Exercise 2: Dumbbell Push-Ups
The push-up is, hands-down, the best bodyweight chest exercise you can do!
Because it works out your muscles using only your bodyweight, it helps you develop the functional strength to carry out your activities of daily life comfortably.
A dumbbell push-up adds in a dumbbell to elevate your hands. That way, when you lower into the push-up, you can go deeper, which works the outer chest muscles. It can also reduce the strain on your wrists.
To perform this exercise:
Choose a set of hexagonal dumbbells, and place them on the floor slightly beyond shoulder width apart. (Really, you can set them up however feels comfortable!).
Get into a push-up/plank position, with your hands gripping the dumbbell handles and supporting your upper body. Keep your back straight and your legs fully extended.
Lower yourself toward the ground, slowly and controlling your descent using your chest muscles. Try to lower yourself below the level of your hands—this will add some extra emphasis on your outer chest muscles, developing strength beyond the standard push-up range of movement.
Pause for a 1-count at the bottom, then push back up. You can either explode back up to build explosive power in your fast-twitch muscle fibers, or opt for a slower, steadier push-up to emphasize strength and endurance.
Push up until your arms are fully extended (but your elbows are not locked), and hold for a 1-count at the top before lowering once more.
Repeat as desired.
? Exercise 3: Standing Chest Press
This is a truly awesome variation on the "press" style of movements, but it engages your chest, shoulders, and triceps in a way that no bench press or push-up can.
Plus, it maxes out core engagement and focuses on developing the muscles required to help you keep your balance.
You'll have to pay extra close attention to your form, because you'll feel the fatigue faster and thus be more tempted to lower your arms or relax your shoulders.
Choose a lighter weight to start, and push through the fatigue to really optimize your form and posture throughout.
To perform this exercise:
Grip a dumbbell by the ends (the weight part) rather than the handle. Don't grip using your fingers, but use your chest muscles to push your hands together to support the weight. (I'll bet you can already feel the burn!)
Stand with your feet spread in a comfortable stance, head up, back straight. Bring the dumbbell to your chest, with your elbows pressed close against your sides.
"Press" (extend) the dumbbell directly out in front of you. Extend your arms fully, but be careful not to let your shoulder or elbow joints take the weight. Keep your shoulders tensed and your elbows bent to ensure all the work is being done by your muscles.
Hold at full extension for a 1-count, then control your movement as you bring the weight back to your chest.
Repeat as desired.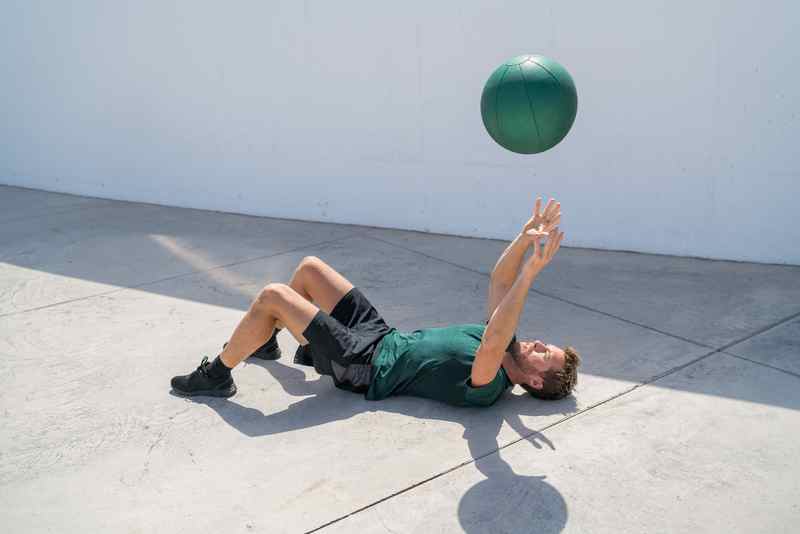 ? Exercise 4: Dumbbell Floor Flys
Flys are another classic bench-based dumbbell exercise, but you can just as easily do them on the floor if you don't have a bench available (or prefer not to use it).
By incorporating flys into your workout, you increase shoulder engagement and build strength through a wider range of movement.
To perform this exercise:
Lie on your back on the floor, with two (moderate-weight) dumbbells at your side. Bend your knees and plant your feet flat.
Bring the dumbbells up to your chest, and extend your arms fully. Make sure to keep your elbows soft, but focus on contracting the muscles in your chest, shoulders, and triceps.
Open up your arms out to the side, lowering the weights toward the floor.
Lower until your knuckles are about 6-8 inches off the ground (or even just about to touch the floor, if your joints can handle that wider range of motion), then bring the weights back up toward the starting point (arms fully extended, dumbbells directly over your chest).
Pause for a 1-count at the top, then lower once more.
Repeat as desired.
? Exercise 5: Stability Ball Pullover
Using a stability ball in place of a bench is a great way to A) maximize chest muscle engagement while also B) recruiting your core and the secondary stabilizer muscles that facilitate balance.
This is a great home gym-based workout because everyone has space (and can afford) a stability ball, even if they can't fit a bench press.
The great thing about this exercise is that it targets not only your chest and triceps, but also your upper back.
It will help to develop stronger upper body muscles in a movement that is neither exactly "push" nor "pull", but which will increase your force in both push and pull movements.
To perform this exercise:
Lay back with the stability ball directly beneath your upper back. Bend your knees and plant your feet on the ground to form a "bench" with your body.
Grip a single dumbbell in both hands, with your thumbs and forefingers forming a diamond-shape around the handle directly beneath one of the dumbbell heads.
Start with the weight at chest level, but extend it upward to directly over your chest. Now, let your arms swivel backward to bring the weight up and over your head.
Lower until you feel the tension in your shoulder joints (never push beyond what is comfortable or safe!), then pull the weight in the opposite direction until it's hovering directly over your chest.
Pause for a 1-count, then repeat.
20-Minute DB Chest Workout
Time to put all these badass exercises together into one highly efficient chest-shredding routine!
Give this one a go the next time you want to train chest with dumbbells and without a bench:
Dumbbell Floor Press: 3 Sets of 8-12 reps, with 30 seconds of rest between sets
Dumbbell Push-Ups: 2 Sets of 8-12 reps, with 30 seconds of rest between sets
Standing Chest Press: 3 Sets of 8-12 reps, with 30 seconds of rest between sets
Dumbbell Floor Flys: 2 Sets of 8-12 reps, with 30 seconds of rest between sets
Stability Ball Pullovers: 2 Sets of 8-12 reps, with 30 seconds of rest between sets
As always, don't forget to warm up properly to maximize your effort and reduce the likelihood of injury.
FAQs
How can I hit my upper chest with dumbbells at home?
To target your upper chest, you want to work at an incline—which means your upper body angled upward rather than flat. While this is easy to do with an incline bench, it's a bit trickier if you're working sans bench.
One great solution for hitting your upper chest is to do inclined dumbbell floor push-ups, with your feet elevated on a box, bench, stability ball, or even pressed against the wall. It's the same movement as inclined bench presses, but uses only dumbbells and your bodyweight.
Dumbbell pull-overs are another great exercise that target your upper chest without the need for a bench.
Is floor press as good as bench press?
The floor press doesn't work your chest muscles through the full range of motion as bench presses, so they're marginally less effective for building chest strength.
However, they're easier on your shoulders, so ideal if you're recovering from a shoulder injury or strain. They also increase tricep engagement and can beef up your arms. 
The Bottom Line
Who says you need a bench to get a kickass chest workout?
With these exercises, you really don't need much—just a set of dumbbells and the sort of equipment you already have around your house.
It's an amazing solution to take your Chest Day training to the next level with no fuss or hassle.