Want to know if your keto diet plan is working and you are in ketosis? Remove the guesswork with the best keto test strips available online.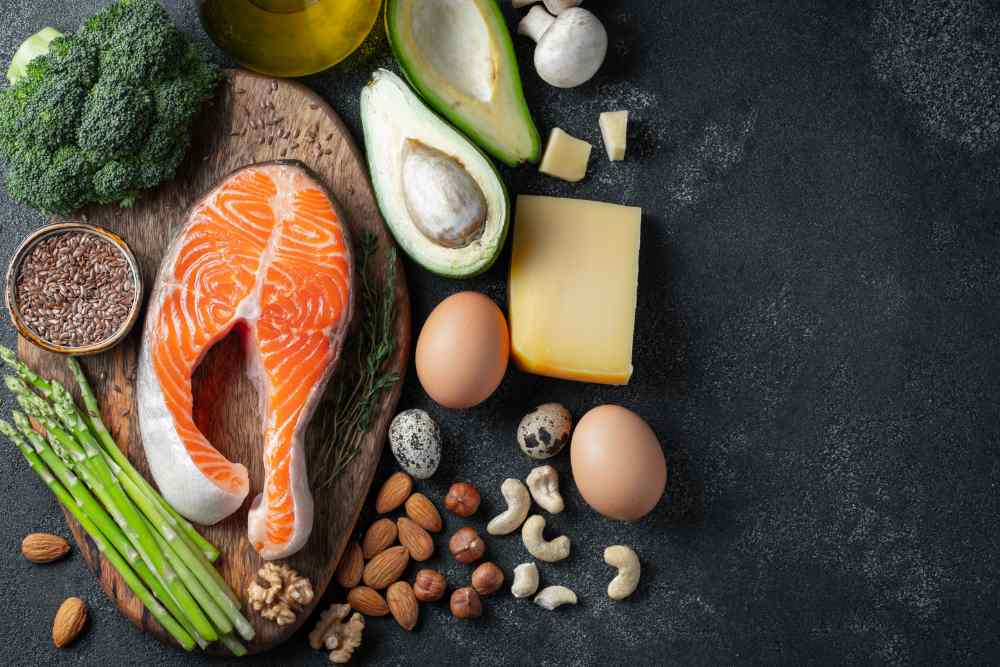 There's nothing worse than a diet and nutrition plan that backfires. You spend a ton of time planning, breaking down your meals, and then find that it's not working the way it should.
While most dieters are constantly looking at the scale to see if their diet is doing the job it's intended to do, followers of the keto diet have another tool at their disposal to make sure they are where they want to be.
Enter, from stage left…
Keto testing strips.
---
? #1 Keto Test Strips: My favorites are the Perfect Ketone Test Strips, which are available on Amazon (check here for current pricing and availability).
---
Keto testing strips are a way that you can make sure that your body is in the proper metabolic state to help you torch stored fat for energy instead of carbohydrates.
You can't tell or feel (well, I haven't had much success "feeling" it, at least) when your body has hit ketosis. Which is where these things come in very handy, providing you with real-time data, letting you know whether you are keto or not.
There are two different types of keto test strips on the market:
✔️ Keto urine test strips. While not as accurate, urine keto strips are cheapest, reliable, and ideal for beginners and people looking to test quickly and with affordability in mind. While generally reliable, urine keto strips can get railroaded by how hydrated (or not) you are and they can also lose reliability as your body adapts to ketosis.
✔️ Keto blood keto strips. Blood tests are more accurate and are less likely to get skewered by factors such as hydration, fatigue, increased hormones from recent physical activity, and so on. Blood testing gives you the best results and is considered the gold standard of keto testing.
The immediate feedback from these strips helps keep you on track, provides the motivation to tweak things, and provides a level of accountability to your nutrition.
Below is a breakdown of the best blood and urine keto test strips (as well as a different form of keto testing that just emerged—using your breath!).
Read on, find the best keto test strip for you, and work your way to ketosis.
Perfect Keto Test Strips
⭐ Best keto urine test strips
Perfect Keto Test Strips lead the market for strips that test for ketosis. The way it works is simple enough—take the strip, pee on it a little, and the strip will give you a result based on home many ketones are in your urine.
The thing I like most about these strips is that they give you a specific result, from negative to trace up to "larger" and once you have peed on it, takes under a minute to determine whether or not you are in ketosis.  
See also: 7 Benefits of the Ketogenic Diet (Plus Disadvantages)
Each bottle comes with 100 strips, which should last you over three months with daily testing. Keto strips are definitely recommended for people who are just getting started with the keto diet, as adaptation does make the results a little less accurate over time.
Reviewers love the accuracy of the Perfect Keto Test Strips, with some using a blood meter and finding the results from the strips align almost identically. A great tool for staying accountable to your diet, they are easy to use, accurate (for the price) and cheap compared to digital and handheld metered devices.
Check Amazon to see current pricing and availability on the Perfect Keto Test Strips here.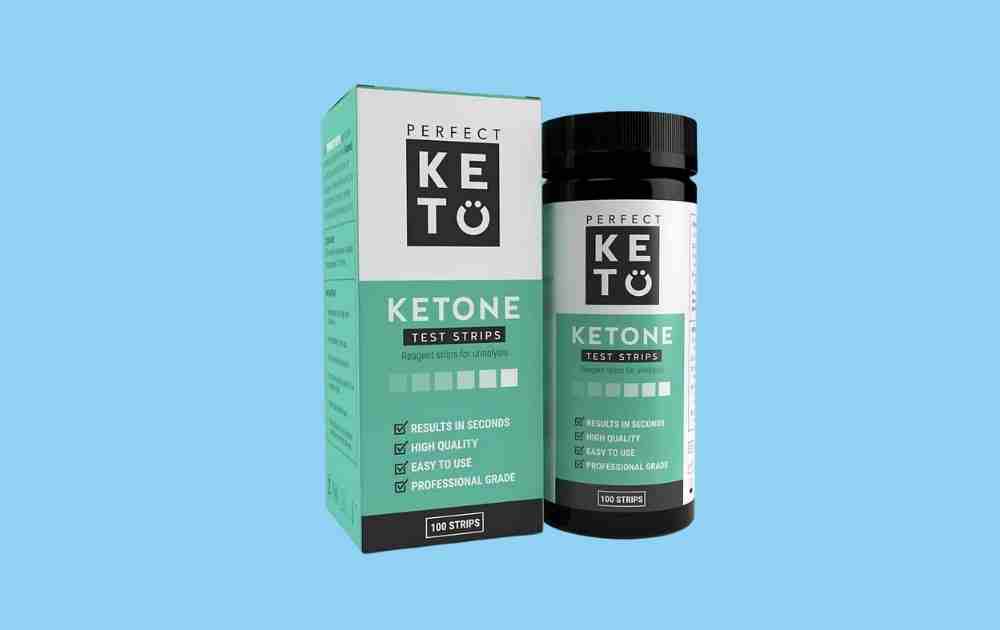 Nurse Hatty Keto Test Strips
⭐ Runner-up best keto urine test strips
When it comes to bulk and price, Nurse Hatty takes the win. You can get a 250ct. bottle for less than $10 (that's just $0.04 per test strip) while a 100ct bottle runs around $6 (check Amazon for current pricing).
The Nurse Hatty Keto Test Strips feature the same color-coded system as the Perfect Keto Strips, but the strips are extra long, helping you keep your fingers from getting wet during testing.
Related: What is the Keto Flu? (Plus Symptoms, Remedies, and More)
One thing to keep in mind with test strips is that they have a short lifespan—a sealed bottle will last around two years, but the moment you crack it open, you've got about three months before the stabilizing reagent starts to fail.
With each purchase Nurse Hatty includes a bundle of educational PDFs, including a complete guide to ketosis, calorie diet plan, food and snack exchange list, and more.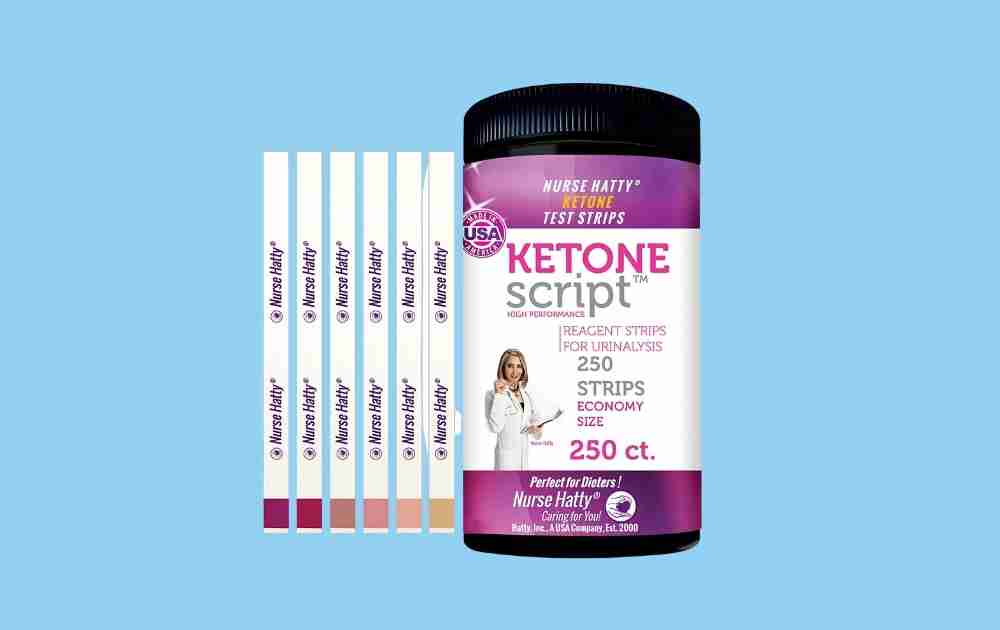 KETO-MOJO Glucose and Ketosis Monitor and Strips
⭐ Best keto blood strips
The KETO-MOJO is a blood test that tells you how much glucose and ketones your blood is carrying around. Blood tests are generally the gold standard when it comes to this kind of measuring, and the KETO-MOJO leads the pack for this kind of testing device and strips.
To get started you need the lancing device and meter, plus the keto strips. Once you are ready to get testin', swab the testing area with water, load the lancet, and "fire" it into your finger to produce a small blood sample. Place your keto strip in the meter, apply it to the small puncture wound on your finger, and within a few seconds, the meter will give you an exact score that will help you determine if you are in ketosis or not.
This form of test is more expensive, but it's fast, easy to do, and highly accurate. The starter pack, linked below, includes the lancing device, meter, and 10 strips for measuring glucose, and ten strips for testing ketosis. (KETO-MOJO sells additional 50-packs of test strips at Amazon here.)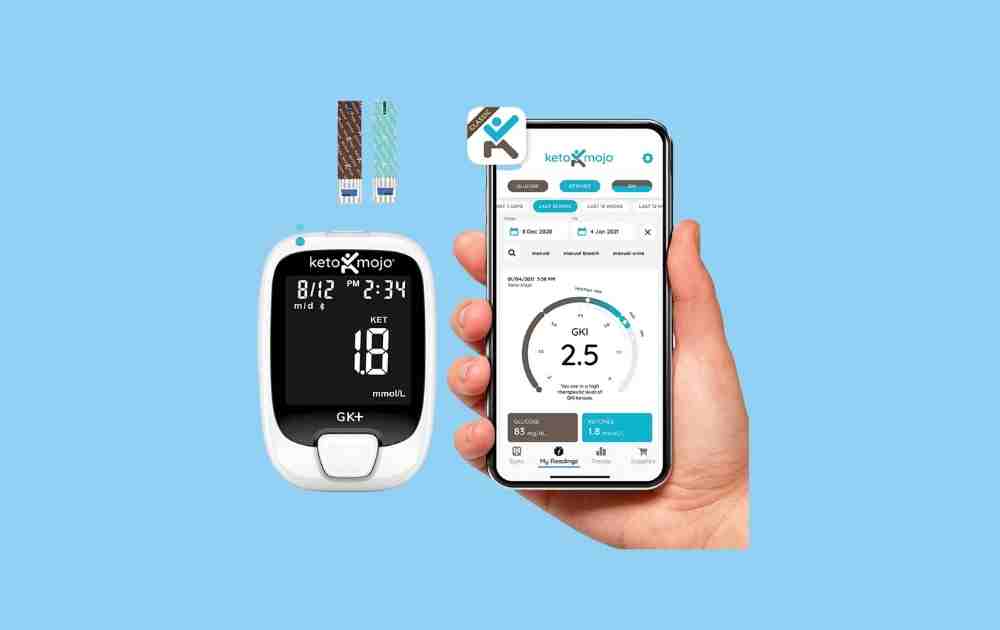 KetoSens Blood Ketone Test Strips
Another blood keto test strip comes from the folks at KetoSens. Designed to be used specifically with the KetoSens Meter, these strips operate much the same as the KETO-MOJO, but at a reduced cost.
The KetoSens Keto Meter features a crystal-clear LCD backlit display with extra-large digital read-out, and the unit requires only about 0.5 micro-liters to develop a sample.
Results take about eight seconds to post, and an extra-large onboard memory means you can store up to 1,000 test results. [Click here to shop the KetoSens Keto Meter at Amazon.]
The test strips themselves are sold in a 50ct box and are individually wrapped, which makes them last much longer than comparable blood strips that are unwrapped. Use them every few days to make sure that you are staying on top of keto diet and keep your goals on track.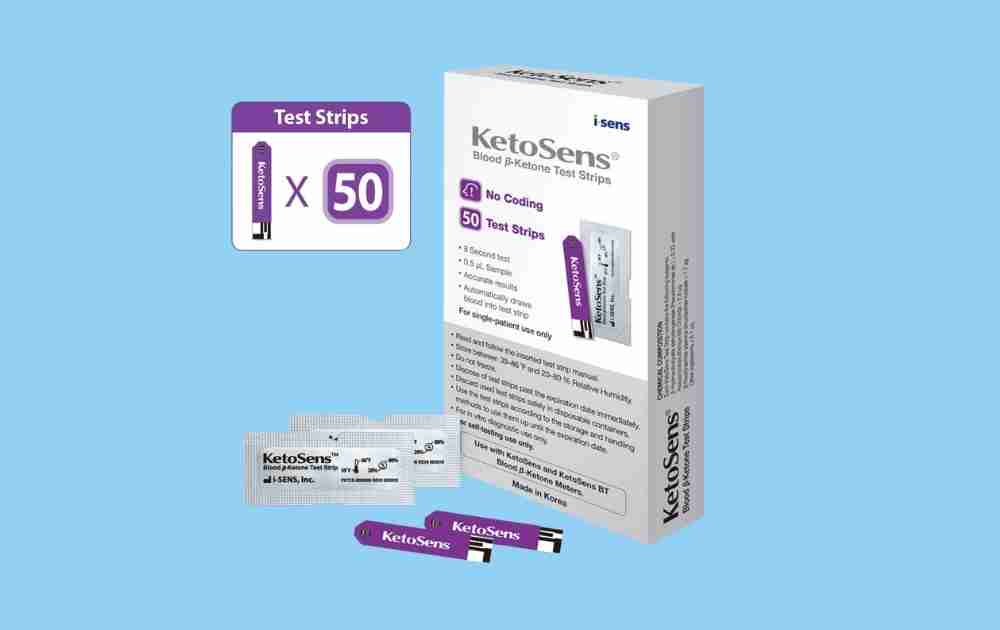 Alternatives to Keto Test Strips
Not sure if the keto test strips are accurate enough for your goals? Or simply don't want to pee on a strip or prick yourself for blood?
No sweat—there are alternatives to strips on the market that can provide even more feedback and data of your metabolic rate and state of ketosis.
[See also: Looking for a simple way to stay on top of your macros and keto diet? Keto Custom Plan is one of my favorite tools for doing this–you can read my full experience and review with Keto Custom Plan here.]
In recent years, breath sensor keto tests have emerged as an alternative to test strips.
The way breath sensor keto strips work is simple: Blow into the device (like a breathalyzer) and it sends data to your phone's app via Bluetooth.
Perfect for those who don't like the pin-prick for blood tests or the pee strips.
While this type of test isn't as accurate as blood keto measurement, it does provide excellent acetone measurement, which is an indication of how much fat you are burning.
KETOSCAN V2 Mini Breath Ketone Meter
⭐ Best breath sensor ketone tester
The Ketoscan V2 is a handheld breathalyzer for instantly checked your acetone levels. Give it a pursed blow and within seconds the results are delivered to an app on your smartphone. (The unit also displays results on the handheld—you don't need to use the app to see where you stand.)
Features of the app include calorie tracking, uploading photos of your meals, and a log of your results on a daily, weekly, and monthly basis. Accuracy is listed as being with 5ppm, and the battery is rechargeable lithium-polymer.
One of the downsides of this particular unit, however, is that every 320 uses the device locks and you have to mail in the sensor for a replacement for a charge of $30 (includes return shipping).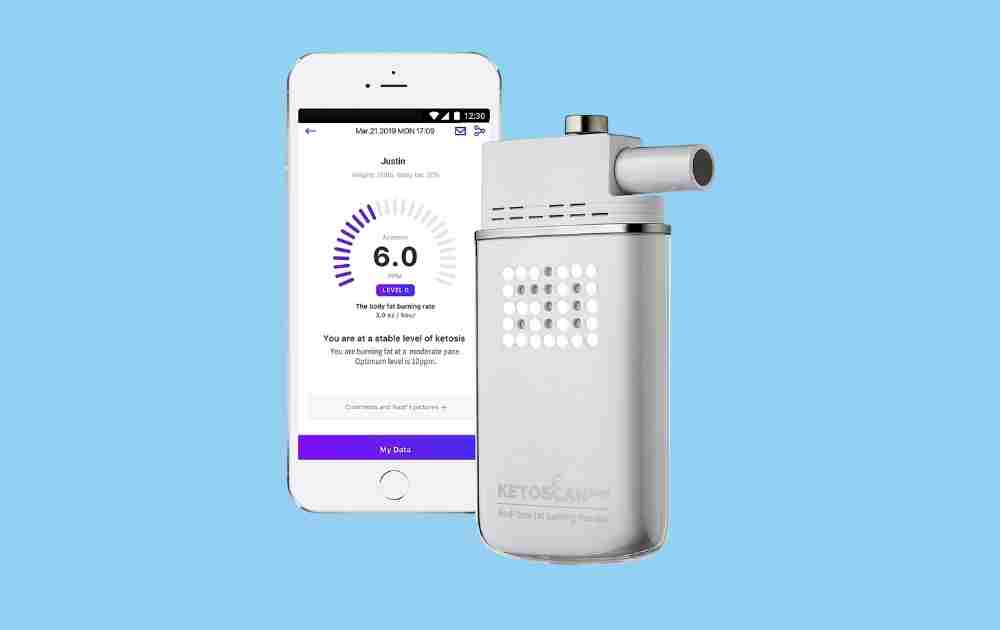 More Keto Guides and Resources
Keto Charge – A Keto Pill That Actually Works (Full Review). Looking for a keto pill to help you get into keto faster (and keep you there)? Here's a detailed look at one of the best on the market.
6 Best Keto Cookbooks for Mastering the Ketogenic Diet. The right keto cookbook can give you clarity and the recipes to keep your tastebuds happy and your weight loss goals on track. Here's a review of the best keto cookbooks on shelves right now.