True Fitness is one of the best when it comes to center-drive ellipticals built at studio-grade for home users. Here's a full review of all its current elliptical trainers.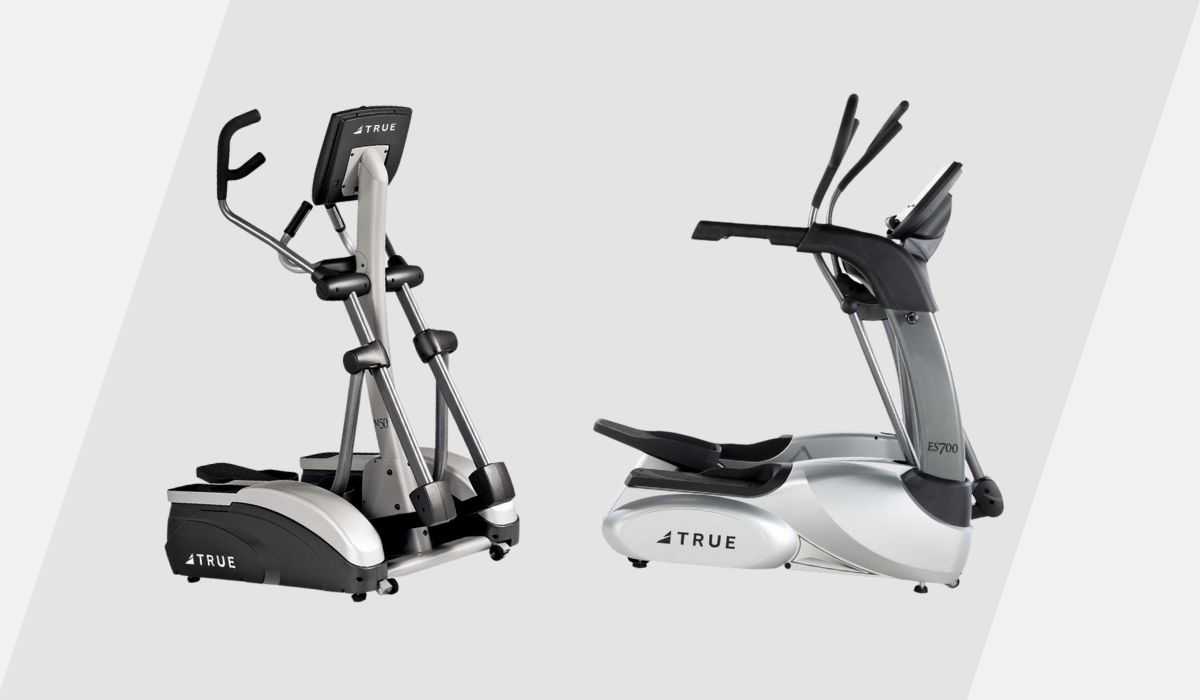 Elliptical trainers are one of the best cardio machines for weight loss, building cardio, and getting your sweat on.
In recent years, more and more companies have emerged on the scene with elliptical trainers for home users.
And one of my favorites is True Fitness.
In this guide to the best True Fitness ellipticals they have to offer, we will review all of their current residential elliptical trainers, including pros and cons of each, who will benefit most from each machine, and more.
By the end, you will have a clear idea of which True Fitness elliptical is best for you and your workout goals.
Let's get to it.
True Fitness Ellipticals – Comparison by Model
True M30 Elliptical
True M50 Elliptical
True Performance 300 Elliptical
True ES700 Elliptical
True Fitness M30 Elliptical
⭐ Budget-friendly center-drive elliptical that takes up minimal space and rides like a dream.
Key specs:
Price: $3,299
Stride length: 21"
Step up height: 9"
Machine weight: 275lbs
Max user weight: 300lbs
Footprint: 42" long x 30" wide x 64" high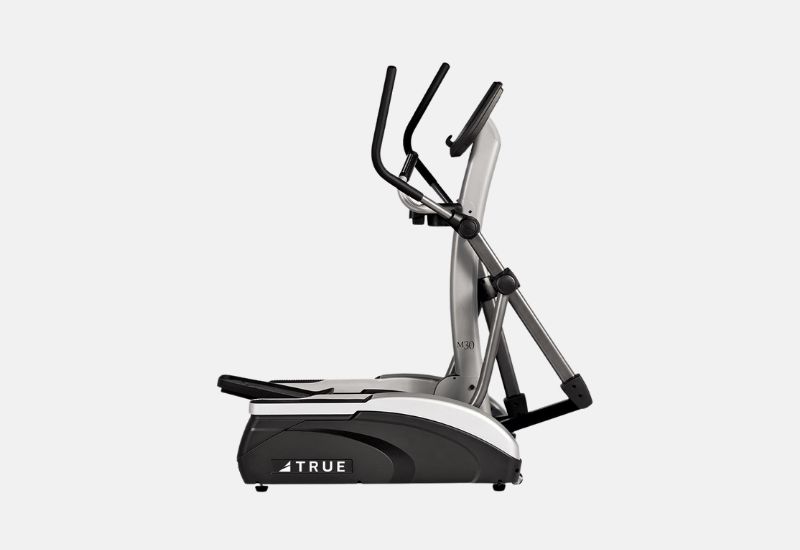 The True Fitness M30 Elliptical is the entry-level residential model in True's lineup of elliptical trainers.
It retails for just over $3,000, which is expensive compared to front and rear drive ellipticals but standard for a center drive elliptical.
How the M30 Rides
True Fitness ellipticals have some of the smoothest strides in the business, and this is one of the reasons we love them so much.
The center drive is perfect for people who want a more upright posture when working out, and the drive placement means the machine takes up less space compared to front or rear drive ellipticals.
The M30 is an extremely ergonomic machine and because it is so compact and heavy (the machine weighs 275lbs!), the ride is exceptionally smooth.
Getting on the machine is also made easy with side-steps that make it safer to step off when you've completed your sweat session on the M30.
Workout Programs
The console on the M30 is fairly simple, similar to the displays that the cardio machines at my local gym use.
I tend to prefer a simple display with manual and programmed workouts—I want to be able to get on the machine and go and not wait for the monitor to fire up, log in, and so on.
The M30's console has all of the typical features and workout programs you'd expect from an elliptical, including quick start, manual (time or distance), hills, intervals, heart rate control,
Comfort Features
The True M30 has a couple of features that make it enjoyable to use, including the basics (water bottle holder and a media tray for parking your phone, tablet or book) and ergonomic, including multiple handles and padded foot pedals.
| | |
| --- | --- |
| ✅ PROS | ❌ CONS |
| Best budget-friendly True Fitness elliptical | No multi-grip handle |
| Sturdy design | |
| Quiet center-drive system | |
| Compact design | |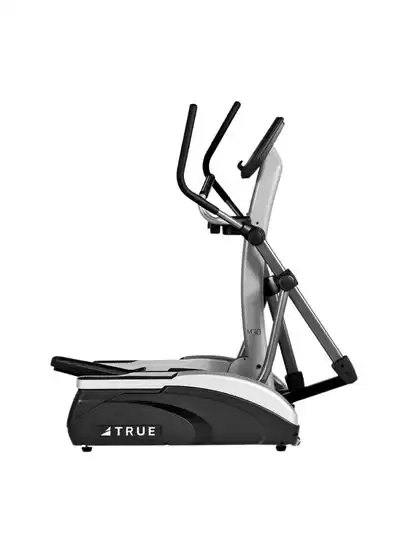 True Fitness M50 Elliptical
⭐ Best for people who want the M30—but with more ergonomic features.
Key specs:
Price: $3,699
Stride length: 21"
Step up height: 9"
Machine weight: 275lbs
Max user weight: 300lbs
Footprint: 42" long x 30" wide x 64" high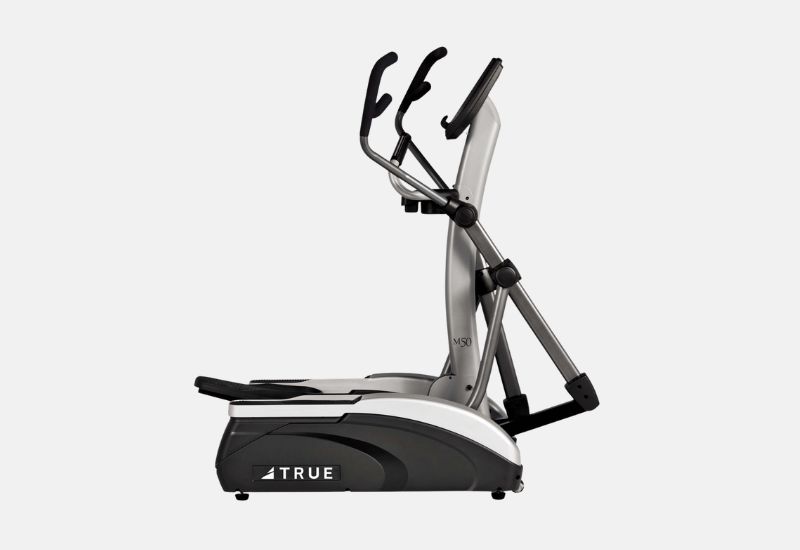 The True M50 Elliptical takes all of the same performance features of the M30 and adds on orthopedic soft grip foot pedals and multi-grip handles for superior comfort.
The M50 also retails for $400 more compared to the M30.
How it Rides
True Fitness uses its patented Core Drive System to generate a comfortable and smooth striding experience.
This comes up over and over again in True Fitness elliptical reviews, and it's been no different in my personal experience—these ellipticals simply ride like a dream.
The M50 is built like a tank, with a 276lb overall product weight, lending even more stability to what is already a stable ride.
Workout programs
When you step onto the True Fitness M50 you are presented with a simplified display that gives you all of the standard workout options.
You've got the basics like quick start, manual programs, and various hills and intervals workouts.
Perhaps where the M50 and other True ellipticals perform best is with the Heart Rate Cruise Control feature, which helps you keep your workout focused and in the correct heart rate zone for your fitness goals.
Comfort features
If you are the kind of person who likes to listen/watch podcasts or movies when working out, you will be happy to know that the M50 has a rack on the console for parking your device.
This is a feature that is oddly missing with some of the newer and shinier ellipticals on the market—the ProForm Pro HIIT H14 is an example—and should be standard with every cardio machine.
| | |
| --- | --- |
| ✅ PROS | ❌ CONS |
| Ergonomic features | Basic LED screen |
| Compact footprint | |
| Multi-grip handles | |
| Orthopedic foot pedals | |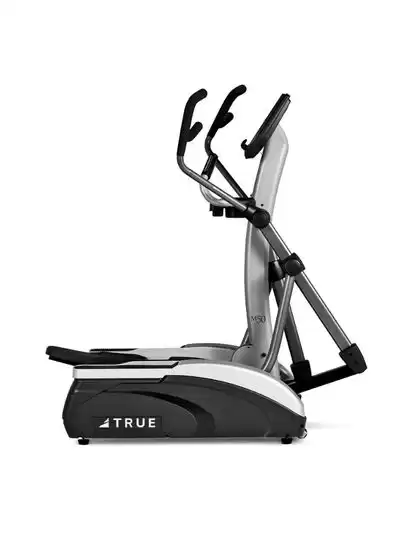 True PS 300 Elliptical Trainer
⭐ Best elliptical for people who want maximum accessibility and safety
Key specs:
Price: $4,599
Stride length: 21"
Step up height: 7"
Machine weight: 266lbs
Max user weight: 350lbs
Footprint: 49" long x 32" wide x 64" high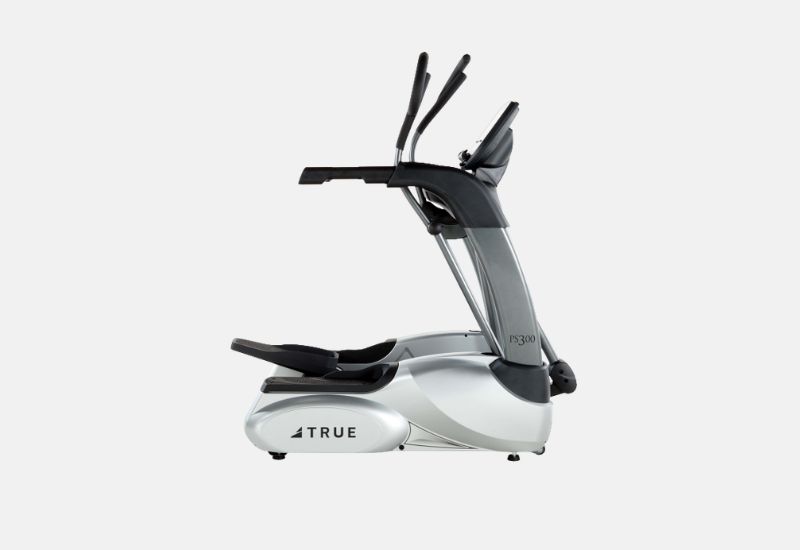 The True Performance 300 Elliptical builds on the M30 and M50 and adds some comfort and performance features, including a heavier overall maximum user weight, extendable handrails for added accessibility, and orthopedic foot pedals that are removable.
How the PS 300 Rides
Like its siblings, the True PS300 rides like an absolute dream.
Built with commercial-grade materials, the Core Drive System provides an exceptionally smooth and comfortable striding experience.
While it's not as heavy as the other True ellipticals we've looked at so far, it has a slightly larger footprint (about seven inches longer and slightly wider), providing a ton of stability.
No matter how hard you work your butt off on this machine, it's not going to wobble or teeter.
Workout programs
The console on the PS300 is the same as the M30 and M50, featuring 12 different workout programs.
Whether you are all about interval training, heart rate training, or like to manually adjust resistance and speed mid-workout, the PS300 has you covered.
Comfort Features
This is where the PS300 really stands out from other True ellipticals.
While it has all the same basic comfort features—water bottle holder, media rack, and an accessory tray—the PS300 has a significantly lower step-up height (just 7") and extendable safety arms that help you get on and off the machine safely.
For people who have mobility issues, or who simply want the peace of mind of being able to support themselves at a moment's notice on the machine, the safety arms are a much-appreciated feature.
Finally, the PS300 has removable orthopedic foot pads that are designed to reduce foot numbness when using the elliptical.
| | |
| --- | --- |
| ✅ PROS | ❌ CONS |
| Extendable safety arms | No option for an upgraded console |
| Low step-up height (just 7") | |
| 350lb weight capacity | |
| Wide base for extra stability | |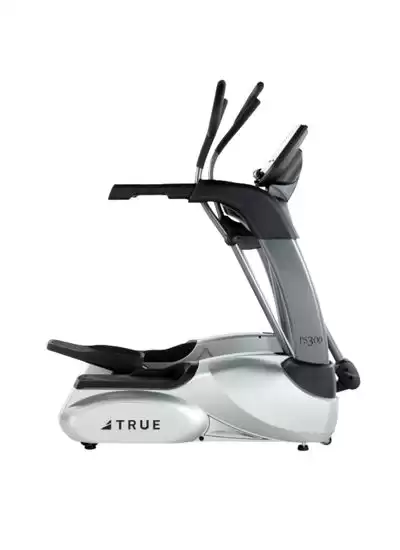 True Fitness ES700 Elliptical
⭐ Best for people who want an upgraded screen and adjustable stride length
Key specs:
Price: $5,999 to $6,799
Stride length: Adjustable – 16-24"
Step up height: 7"
Machine weight: 272lbs
Max user weight: 350lbs
Footprint: 49" long x 32.5" wide x 64.2" high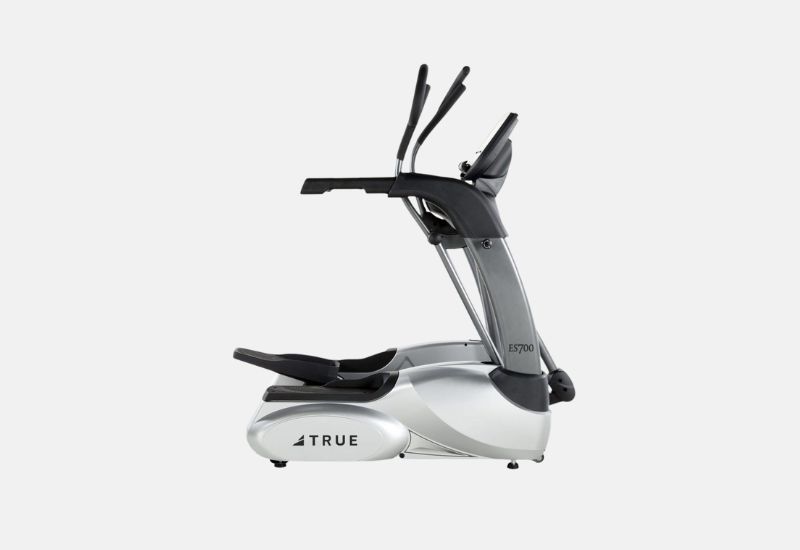 The ES700 is Ture Fitness's top-of-the-line elliptical trainer, with an optional upgraded 9" touchscreen and adjustable stride length that can extend from 16" to 27" in one-inch increments.
How it rides
Stride length is crucial when it comes to elliptical trainers.
When the stride length is too short, you feel cramped and uncomfortable on the machine. Too long, and your knees and hips hyperextend, placing yourself in a biomechanically deficient position and increasing the risk of injury.
While most elliptical trainers have a fixed length, typically in the 18-20" range, the True ES700 has an adjustable stride length that can be changed anywhere from 16" all the way up to 24" (!!).
This makes the ES700 perfect for households with users of varying heights and leg lengths.
The stride length can be adjusted in 1cm increments, which means you can find the perfect stride length when working out.
Workout programs
The ES700 comes with your choice of two consoles, either the standard Emerge LED console or an upgraded T9 Touchscreen.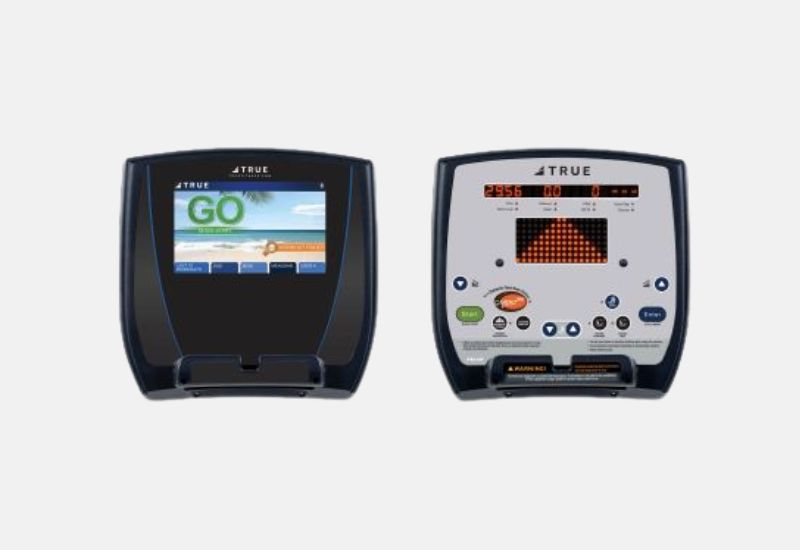 While the LED has the usual workout programs—intervals, hills, and so on—the T9 takes things to another level. The T9 can also be paired with Zwift for a more interactive training experience.
It should be noted that the upgraded console is not included in the base price of the ES700—the touchscreen costs an extra $800 on top of the sticker price.
Comfort features
The ES700 takes all of the best features of sibling True ellipticals and bundles it up into one machine.
Extendable safety arms make stabilizing yourself on the machine quick and easy. The low step-up height of 7" increases safety and accessibility when mounting the elliptical. And the multi-grip handles guarantee a comfortable hand placement when working out.
| | |
| --- | --- |
| ✅ PROS | ❌ CONS |
| Adjustable stride length | A bit pricey |
| Optional upgraded 9" touchscreen console | |
| Low step-up height | |
| Extended safety arms and orthopedic foot pads | |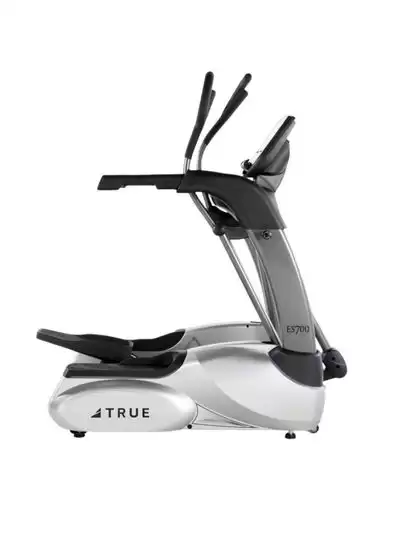 True Fitness Ellipticals – Comparison by Features
Here is a look at how the True Fitness ellipticals compare side-by-side:
M30
M50
PS300
ES700
Price
$3,299
$3,699
$4,599
$5,999 to $6,799
Stride length
21"
21"
21"
16" to 24"
Screen
LED
LED
LED
LED or 9" touchscreen
HR monitoring
Yes
Yes
Yes
Yes
Extended handrails
No
No
Yes
Yes
Step-up height
9"
9"
7"
7"
Machine weight
275lb
276lb
266lb
272lb
Max user weight
300lb
300lb
350lb
350lb
Footprint
42" x 30"
42" x 30"
49" x 32.5"
49.5" x 32.5"
Warranty
Frame
Lifetime
Lifetime
Lifetime
Lifetime
Parts
5 years
5 years
7 years
7 years
Labor
1 year
1 year
1 year
1 year
True Fitness Ellipticals – FAQs
Are True Fitness ellipticals good?
While True Fitness is perhaps not the best known brand when it comes to ellipticals and cardio machines, they are reputable.
True Fitness has been building commercial-grade cardio equipment for nearly 40 decades. While they primarily service studios and commercial gyms, they make durable and quality elliptical trainers for the home gym enthusiast.
How hard are True fitness ellipticals to assemble?
True Fitness ellipticals come partially assembled, so putting together the machine is relatively straightforward.
One thing I really like about True Fitness is that they provide an in-depth assembly and user manual with each device that thoroughly explains each step of assembly.
Expect to take 1-2 hours to put together the elliptical trainer you end up choosing.
Note that assembling the machine yourself can, in some cases, actually void the warranty. True Fitness does offer an installation option which I highly recommend for peace of mind.
The Bottom Line
Built to withstand high volume studio and commercial grade use, True Fitness ellipticals are built to take everything you can throw at them.
I'm also a huge fan of the center-drive ellipticals as they tend to promote better posture, they are smoother (less clunking), and the frames are significantly more compact compared to rear and front-drive ellipticals.
While the price point of the True Fitness ellipticals can cause some sticker shock, they are actually priced competitively compared to other front-drive ellipticals.
More Elliptical Guides and Reviews
Elliptical Buying Guide – Everything You Need to Know to Buy with Confidence. Want to buy an elliptical but don't know where to start? Arm yourself with the knowledge to choose the perfect elliptical for you and your workout goals.
6 Best NordicTrack Ellipticals Compared – Find Out Which One is Best for You. NordicTrack is one of the leading elliptical brands on the planet. Here's a detailed look at all of their ellipticals so you can learn which one is best for you.