HIIT training is an effective and time-saving way to lose weight and improve fitness. Here are five HIIT workouts to try on the stationary bike, including tips for making the most of high-intensity interval training.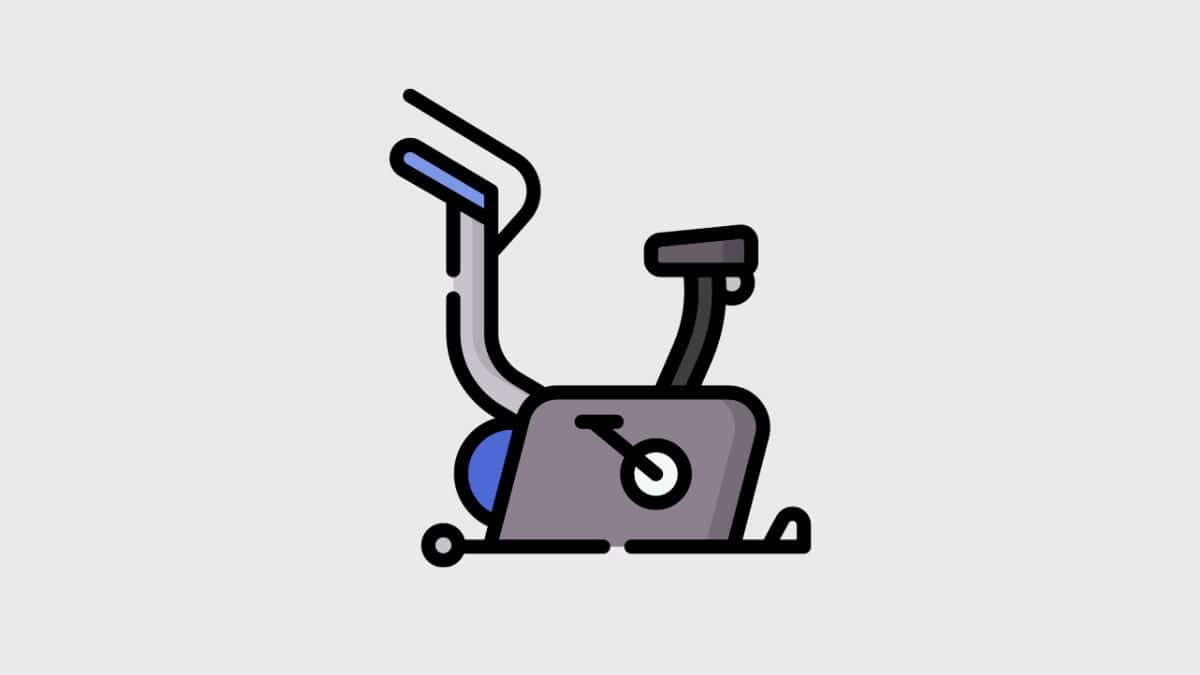 Ready to take your calorie-burning efforts to the next level? Time to unleash the full range of awesomeness that is high-intensity interval training!
HIIT is a game-changing training method that burns insane amounts of calories, improves cardiovascular conditioning, and trains your muscles to sustain greater effort for longer periods.
Best of all, you can get all these benefits with just a fraction of the time invested. How's that for awesome?
Below, I'll share with you a few of my favorite stationary bike HIIT workouts that you can incorporate into your weekly training sessions. Already the stationary bike is easily one of the best cardio machines for burning calories, and with these workouts, you'll take the results to a whole new level! 
Let's jump in.
How Does HIIT Work?
HIIT is simple: it combines intervals of high-intensity effort with intervals of lower-intensity effort.
The high-intensity intervals maximize muscle engagement and cardiovascular function, while the lower-intensity intervals give your body time to recover, oxygenate your muscles, and tap into stored fats to burn as fuel.
Research1 shows HIIT to be amazing for a number of reasons:
Increased oxygen uptake and improved endurance.
Increased skeletal muscle buffering, leading to improved performance.
Reduced body fat and decreased risk of metabolic syndrome and cardiovascular disease2.
HIIT improves cardiovascular function, preventing heart attacks and strokes.
Increased longevity and reduced aging.
And not only do you get all the health benefits of cardiovascular exercise, but it's also a way to get all the typical perks of endurance exercise in a fraction of time3.
That's a whole lot of winning right there!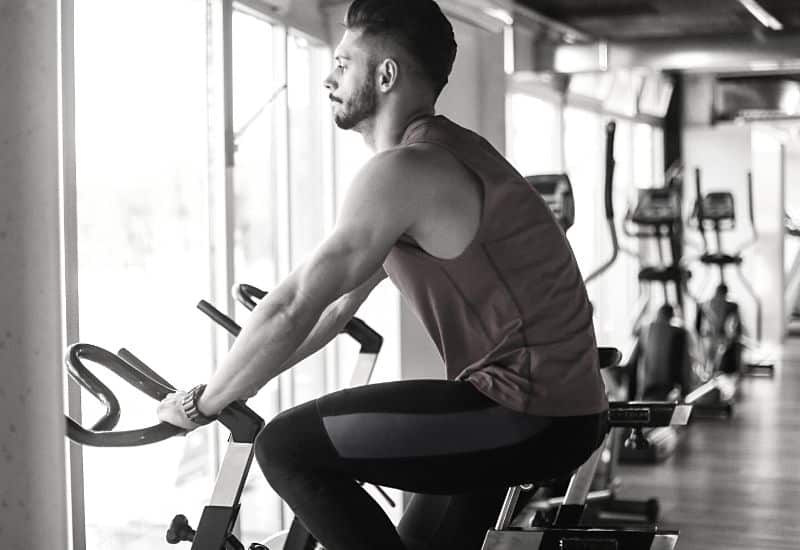 Stationary Bike HIIT Workouts
I firmly believe that the stationary bike is already one of the best cardio machines for losing weight, thanks to its low-impact, joint-friendly workouts.
By adding in HIIT, you're taking weight loss and fat-burning to a whole new level while also adding in the metabolic, cardiovascular, and muscular benefits of interval training.
No matter what types of stationary bikes you've got access to—a spinning bike, upright bike, or recumbent bike—the workouts below are compatible with any bike you can get your hands on.
Note: For these workouts, we will use RPE, or "Rate of Perceived Exertion." Simply put, the harder the workout feels, the higher the RPE. 1 is the lowest effort, as if you're barely moving. 10 is the highest degree of effort, pedaling with everything you've got.
⭐ Workout 1: Beginner HIIT Session
This workout is a great option for newbies to try HIIT without going so hard that they injure themselves.
As mentioned earlier, this form of training is a great way to maximize calorie burning on the stationary bike, and this workout is a great introduction to HIIT.
The Workout:
Start off with 5 minutes of light stretching, focusing on limbering up your lower back, hips, knees, and ankles. After all, these are the muscles that are going to be doing all the work.
Spend the next 5 minutes cycling at a slow pace. Aim for an RPE of around 2 to 3.
Push your pedaling speed to an RPE between 8 and 10 (whatever feels safe to you). Maintain that pace for 30 seconds.
Lower your RPE to 4 to 5, and maintain that pace for 120 seconds.
Repeat this cycle of 30/120 eight times, for a total of 20 minutes.
Cool down with 5 minutes of slow cycling (2 to 3 RPE) and 5 minutes of light stretching.
⭐ Workout 2: Endurance Training
With this workout, you will shorten the recovery periods so that you spend less time "resting" between high-intensity intervals.
With this small change, it's going to make the workout a whole lot more difficult—and, by extension, a whole lot more effective!
The Workout:
Start off with 5 minutes of light stretching, followed by 5 minutes of light cycling (2 to 3 RPE).
Push your pedaling speed to an RPE between 8 and 10. Maintain the pace for 30 seconds.
Drop your RPE to 4 to 5 for 90 seconds.
Switch off the 30/90 five times, for a total of 10 minutes.
For the next 10 minutes, lower your recovery period to 60 seconds, but maintain the 30 seconds of maximum intensity.
Cool down with 5 minutes of slow cycling (2 to 3 RPE) and 5 minutes of light stretching.
⭐ Workout 3: Speed Training
If you're all about speed, your goal is to pedal as hard and fast as you can for as long as possible.
This form of training is absolutely exhausting but it's a killer way to raise your max pedaling speed and increase your endurance simultaneously.
The Workout:
Start off with 5 minutes of light stretching, followed by 5 minutes of light cycling (2 to 3 RPE).
For 60 seconds, pedal as hard and fast as you can. Aim for an RPE of 10.
Recover for 90 seconds at an RPE of around 3 to 5.
Repeat the 60/90 for as long as you can. When you start gassing out before the 60-second mark, raise the rest interval to 120 seconds.
Repeat this for 25 minutes in all.
Cool down with 5 minutes of slow cycling (2 to 3 RPE) and 5 minutes of light stretching.
⭐ Workout 4: Tabata Cycling Workout
The Tabata method4 originated in Japan, and is one of the oldest and most popular forms of HIIT.
Basically, it involves intervals of 20 seconds of maximum effort followed by 10-second rest intervals.
These intervals are repeated eight times for a total of 4 minutes, followed by a 2-minute recovery period.
Don't be fooled by that long rest: you'll absolutely need it at the end of each cycle, because you'll be working as hard as you can with only minimal rest.
The Workout:
Start off with 5 minutes of light stretching, followed by 5 minutes of light cycling (2 to 3 RPE).
Cycle at 10 RPE for 20 seconds.
Cycle at 4 RPE for 10 seconds.
Repeat this 20/10 eight times, for a total of four minutes.
Rest for two minutes, cycling at 2 RPE for "active recovery".
Your goal is to complete FIVE cycles. If you can't hit five on your first try, try to complete at least THREE.
Cool down with 5 minutes of slow cycling (2 to 3 RPE) and 5 minutes of light stretching.
⭐ Workout 5: Expert-Level HIIT Workout
If you think you've got what it takes to be an elite athlete, this is the HIIT workout for you.
It involves both longer periods of high-intensity effort and shorter periods of recovery, and only truly advanced athletes will have the physical conditioning necessary to flush lactic acid and oxygenate their muscles.
The Workout:
Start off with 5 minutes of light stretching, followed by 5 minutes of light cycling (2 to 3 RPE).
Cycle at 9 to 10 RPE for 60 seconds.
Recover at 4 RPE for 30 seconds.
Repeat this 60/30 cycle fifteen times, for a total of 22 minutes and 30 seconds.
Cool down with 5 minutes of slow cycling (2 to 3 RPE) and 5 minutes of light stretching.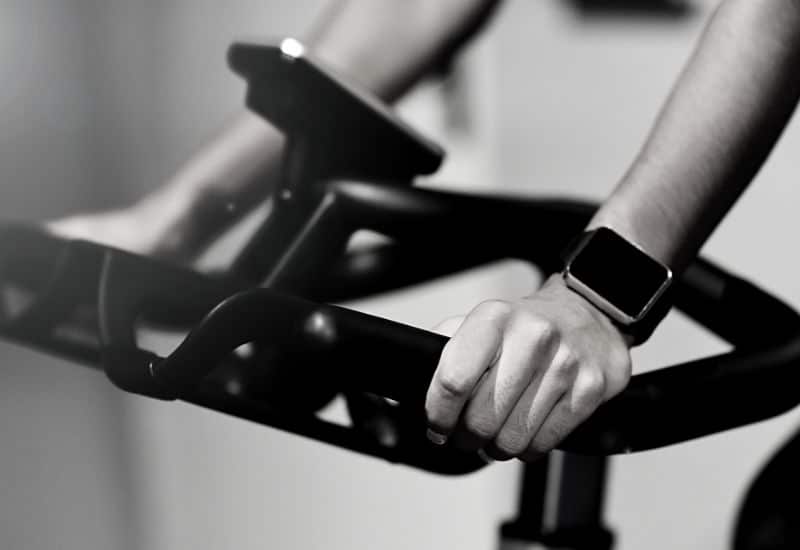 Tips for Awesome HIIT Workouts on the Stationary Bike
Alrighty, now that we've covered the workouts, here are some tips for making sure that you get the most from your time in the saddle of the stationary bike:
✅ Tip 1: Harder + Shorter = Better
With HIIT, the goal is to work as hard as you can during the high-intensity interval. If you're running out of steam before you finish the interval, it means the interval is too long.
Shorten the intervals so you can really push hard. If it starts to feel too easy, you can always A) lengthen the interval again or B) shorten the recovery interval.
What matters most is that you work at maximum effort (9 to 10 RPE) for the full duration of the high-intensity interval.
✅ Tip 2: Don't Go All Out on Day 1
If you're new to HIIT or working out in general, it would be a huge no-no to go all out on your first day. You need to give your muscles, bones, and joints time to adapt to the high-intensity training, otherwise you risk injury, stiffness, soreness, and pain.
While I love the stationary bike for weight loss for a wide variety of reasons, including the fact it's low impact, high-intensity interval training is just that… high-intensity.
For your first day (or three), set yourself the goal of working only at 8 RPE. You'll still feel the burn and torch those calories, but you won't put your body at risk.
It's the smart, safe, effective way to train and the key to longevity with high-intensity workouts. 
Live to train tomorrow by not flattening yourself on the first day of training.
✅ Tip 3: Rest and Recover
In the same way that your body needs recovery intervals between each high-intensity interval, so too your body needs recovery days between your high-intensity workout days.
Try to space your HIIT workouts 48 hours apart. You can always switch to upper-body HIIT, but your lower body needs a chance to repair any damage and replenish depleted energy.
Working out every day with only 24 hours of rest is a sure-fire way to hit burnout or to injure yourself.
✅ Tip 4: Focus on Your Form and Posture 
One of the great benefits of stationary bikes is that they provide a low-impact workout that is very joint-friendly (compared to running, jump training, and other high-impact workouts).
However, if you train with poor form, you're all but guaranteeing you'll injure yourself at some point. Perhaps not on Day One, but definitely down the line.
Before you start pushing your body to the max, make sure you've got the cycling form down right.
Make sure your knees are tracking over your toes, your feet are settled properly on the pedals, and you're sitting right on the seat so your muscles engage as efficiently as possible.
Also, pay attention to your upper body form and avoid the urge to slouch into the machine. Sit upright, lean gently on the handlebars, and keep your shoulders back and head up.
Proper form and posture will reduce injuries and position your body optimally for maximum performance on the bike.
✅ Tip 5: Set Goals and Track Your Progress
This is probably the most important of the tips I can share with anyone considering HIIT workouts of any sort!
Without a goal to work toward, you'll never really make progress. You'll just keep doing the same thing over and over again. Your body will adapt but you'll never really see the difference because you're not pushing yourself harder every time.
What sort of goal should you set? Well, that depends largely on your current performance. And this is where tracking comes into play!
For the first week or two, just monitor your speed, your total bike time, and how you feel after every training session. Focus on setting a "baseline", a starting point that tells you where you're at right now.
Once you've taken the baseline, sit down and analyze your fitness to see what sort of goals you could set. For example:
Completing a 1-mile cycle faster
Cycling for 25 minutes instead of 20
Shortening your recovery interval
Lengthening your high intensity interval
Pushing your pedaling speed (RPM)
Set yourself a goal—the simpler and more achievable the better! After it's set, start working toward it, slowly pushing yourself more and more every workout.
Tracking your progress will help you to see how far you've come from where you're starting at now, and will encourage you to keep going until you hit your goal. After that, set a new goal and keep working!
You'll stay more motivated, see more progress, and feel happier with the results of your training because of it.
The Bottom Line
HIIT is a total game-changer and can help you to push your fitness to brand new heights. On top of that, you'll burn more calories, develop greater muscular endurance, and increase your cardiovascular fitness and health.
In the end, you'll be a better, fitter athlete overall because of the time you're putting in with these stationary bike HIIT workouts.
The next time you saddle up on a stationary bike, give one of these HIIT workouts a rip and pedal your way to better fitness and health.
Happy pedaling!
---
More Stationary Bike Guides and Articles
Recumbent Bike vs. Upright Bike: Pros, Cons, and Which One is Best for You? Wondering if a recumbent bike or upright stationary bike is better for your workout goals? Join us as we compare the pros and cons of both to help you determine which is best for your fitness goals.