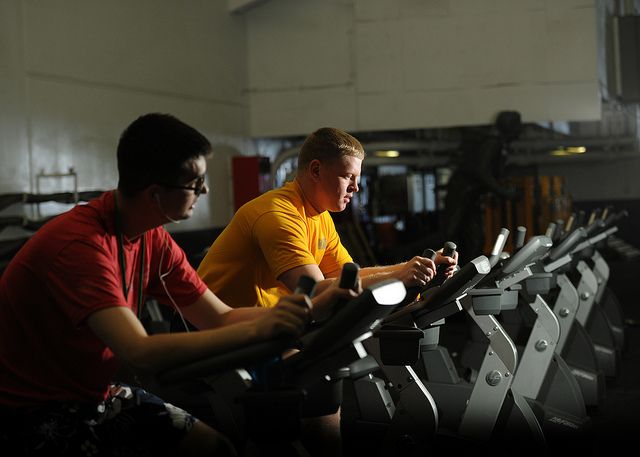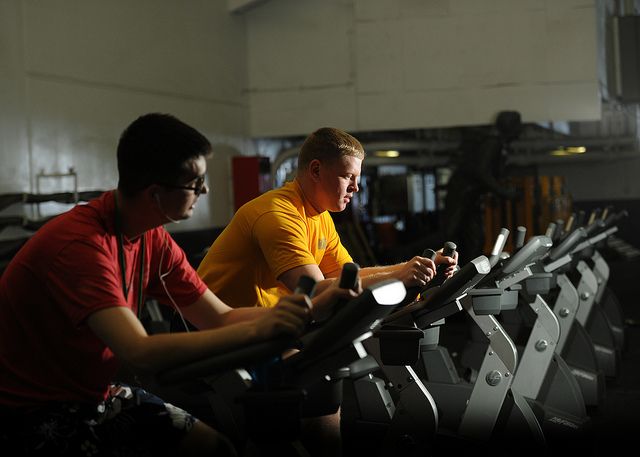 In today's PT Intel, physio Tyler Farwell returns to talk a little about one of my absolute favorite ways to work-out — and that is interval training. Tyler is a Certified Strength and Conditioning Specialist (CSCS), a Strength and Conditioning Coach Certified (SCCC) for the Collegiate Strength and Conditioning Coaches Association, a Level 1 Sports Performance Coach via USA Weightlifting, and holds a B.S. in exercise science from Illinois State University, as well as holds his Masters of Science in Kinesiology from ISU, where he also worked with the varsity sports teams. Currently you can find him at Jaguar Therapeutics at two locations in South Florida.
I am a big fan of "numbers" and "data". It is my (and many others) thought that if you don't know where you are, then how do you know where to go.
So, using a tool to measure intensity such as a heart rate monitor is an excellent way to mark improvement.
A basic heart rate monitor is fairly affordable (there many more expensive models that have all kinds of bells and whistles) and does two important things:
Measuring intensity
Measuring heart rate recovery.
These two measures can give us insight into whether you are in/out of shape, whether you are actually improving from one training session to the next, and in some cases can help us determine readiness to train(when combined with HRV equipment such as ithlete).
Without measuring something, we are just taking the shotgun approach to training and judging improvement off how you "feel".
Don't get me wrong, the way you feel is an important part of the training process but may not be the best determinant of improvement or success.
Now that my measurement rant is over, let's get down to brass tax on interval training.
Cardiac Power Intervals – How it Works
To begin looking into interval training, lets first talk about the specific type of interval training we will be discussing. One particular method that I have used with much success in the past is cardiac power intervals (being a performance coach/physiologist, I enjoy viewing things in terms of energy system development).
Stuck with Your Training in the Gym?
Join 12,000 lifters and athletes and sign up for FREE access to my 5-day email course on how to conquer the most common gym mistakes.
From goal setting to lifting technique, you will learn how to overcome the mistakes in the gym that are holding you back from getting bigger and stronger.
Unsubscribe anytime. No spam.
These same intervals can be called fat-burning or waist-melting but for the sake of scientific integrity, I will refer to them as cardiac power intervals.
The specific goal of this type of training from a cardiac development standpoint is to increase the strength of your heart muscle.
This method of training will also cause increases in mitochondria (aerobic power plants) of the cardiac muscle itself. This in turn will increase the endurance abilities of the cardiac system at high intensities.
This goal is accomplished by applying a high intensity load to the cardiac system followed by an extended rest period. By high intensity, I mean getting your heart rate up as high as you possible can and maintaining it for the duration of the rep (1-2min). Your recovery period can be arbitrarily marked at 2-5min which is quite a range and may not be optimizing your training.
In today's world, time is very valuable, so why not optimize your time spent working out?
By utilizing a heart rate monitor you can recover to a prescribed recovery heart rate (ideally 120-130bpm). Individual differences for recovery greatly vary from person to person, so utilizing a heart rate monitor can aid you in determining your specific recovery rate and also give you information on how high your heart rate is getting (intensity) during your work set.
Employing Variety in Your Interval Training
The application of this method can be as varied as your mind can take it. Utilizing sprinting, hurdle hops, kickboxing, medicine balls, kettle bells or any number of different cardio machines used alone or in combination to accomplish the goals of this method.
Choose a work to rest ratio that works for you and your goals, and keep track of them either with a timer on your smartphone or a dedicated gym timer clock to keep you honest.
The key is to chose a method that you enjoy (it becomes less enjoyable once you get started with the work sets) and can sustain for 1-2min of all out work. Ensure that proper rest is taken between reps. Ideally you would want to perform 4-12 reps per session.
As always, you will want to start small and progress your way up. Listen to your body, but go
into it with the understanding that this type of training is extremely strenuous.