Biofit Probiotics are designed to improve gut health and speed up weight loss. Here's a detailed review of this clinically-studied probiotic and my experience using it.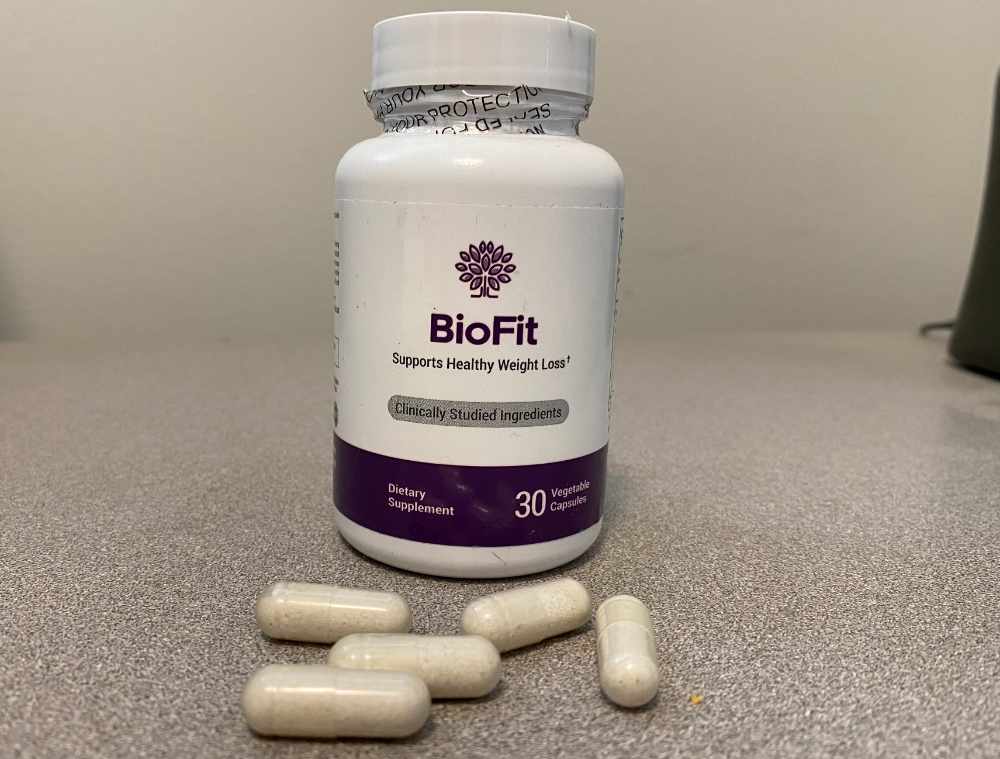 This article is a full and unbiased review of BioFit probiotics, a multi-strain probiotic that promises to accelerate weight loss and improve gut health.
If you want to know how effective this probiotic is for weight loss, learn about possible side effects, and want to know if this supplement actually delivers on its promises of losing weight…
You've come to the right place.
With all of the different weight-loss supplements on the market, each serving up a range of overblown hyperbole ("Get six-pack abs by eating two large pizzas and a cake on the couch!"), it can be difficult to separate fact from fiction.
And most of the BioFit reviews online are written by marketers who have never actually tried the product for themselves.
Fortunately for you, I purchased a few months' worth of BioFit probiotics and stuffed 'em into my mouth-hole so that I could provide an independent assessment of these probiotics.
Join me on this journey of possible weight loss and healthier guts while we take a detailed look at one of the best probiotics for weight loss and a healthier gut.
Let's jump right in.
What is BioFit?
BioFit is a multi-strain probiotic that balances gut bacteria, reduces inflammation, decreases hunger cravings, and stops excess fat from being absorbed into the body.
In other words, this probiotic is formulated to help you lose weight and feel better.
It comes in a pill form and is taken up to three times a day with a meal.
How does BioFit work?
Probiotics are a form of bacteria that can be consumed either through supplementation or in fermented foods.
Research has shown extensively over the years that gut bacteria that are out of whack and out of balance can cause a long list of health issues, including impaired immune function, bad digestive health, and yup, excess weight gain1, 2.
Here are the main ways that BioFit works:
Balances out bacteria in the digestive system.
There are a lot of different reasons we are short of "good" bacteria. Autoimmune disorders, IBS, medications, poor diet, and so on.
When we are short on good bacteria, a ton of health issues come to the forefront, including digestive problems (seems fairly obvious ?), obesity, and even mental health issues like depression3.
Stronger immune system.
One of the best benefits of probiotics is their ability to power up our immune system and how it responds to germs and outside threats.
Probiotics have been shown over and over to give the immune system a level of armor by reducing the prevalence of harmful gut bacteria.
They've also been demonstrated to increase natural antibodies and boost the immune response to respiratory infections and UTIs in women4, 5.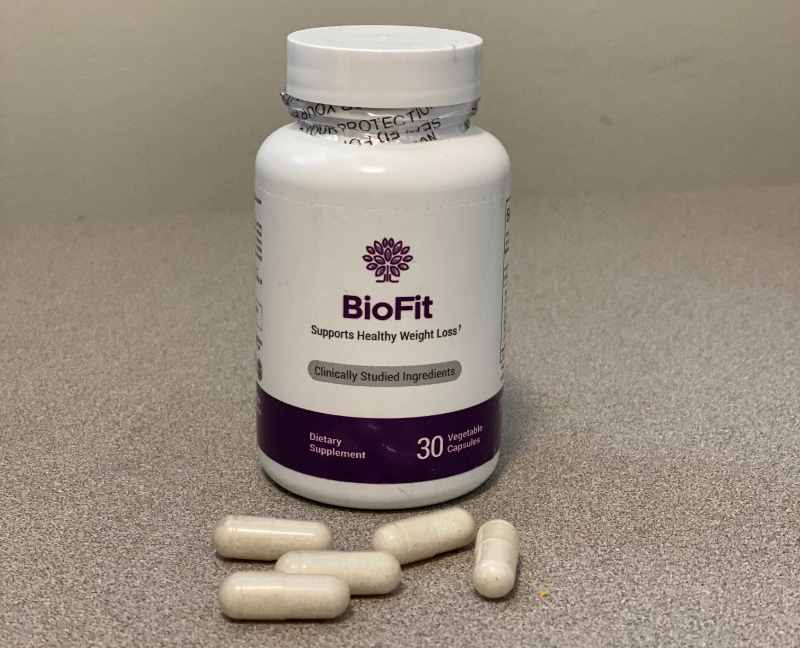 How Biofit Probiotics Help Weight Loss
Finally, and this is probably the benefit most of us are looking for, probiotics such as BioFit have been shown to promote weight loss and burn belly fat.
Here's how this probiotic is good for weight loss:
That said, not all probiotics are the same, as there are some lactobacillus-containing probiotics (LCP) that can actually encourage weight gain.
Researchers did a meta-analysis that found that Lactobacillus fermentum and Lactobacillus ingluviei are linked to weight gain in both animals and humans.
Fortunately, BioFit does not include these two LCP's among its bacterial strains12.
Additionally, BioFit is a multi-strain probiotic, which has been shown to be more effective compared to single-strain probiotics13.
What are the ingredients in BioFit?
Each pill of BioFit contains 16.58 mg of probiotic bacteria or 5.75 billion CFU.
CFU: Colony-forming units (CFU) are the number of living bacteria cells in a serving.
Here's a more detailed look at the specific ingredients and dosage of each:
Bacillus subtilus – 8.98mg
Lactobacillus rhamnosus – 1.25mg
Lactobacillus casei – 0.83mg
Lactobacillus plantarum – 2.5mg
Bifidobacterium longum – 1.56mg
Bifidobacterium breve – 0.63mg
Lactobacillus acidophilus – 0.83mg
Other non-medicinal ingredients include vegetable cellulose, maltodextrin, and medium-chain triglycerides.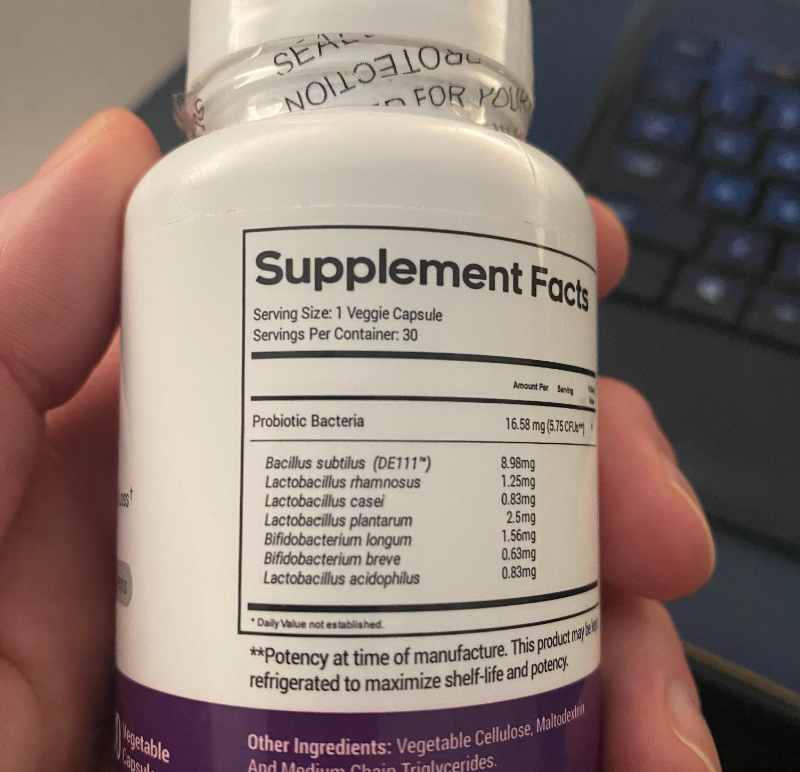 My Experience with BioFit probiotics
Long-time readers know that I am a big fan of guinea-pigging supplements. I get a weird sense of skeptical excitement from seeing how well supplements do or do not work.
And readers paying especially close attention know that I've long had a range of digestive and autoimmune issues.
(My mom has Crohn's and swears by probiotics and is continually reminding me to take them, as well.)
Probiotics have been an on-and-off part of my dietary regimen and researching these pills, and then taking them, really reinforced why I need to be more consistent in taking them.
Fun Fact: If a probiotic strain starts with the letter "L," they are active in the small intestine while strains that start with "B" work in the large intestine.
After taking BioFit just twice per day (the makers recommend taking them with each meal, but my recommended CFUs don't warrant taking three a day), my guts felt a little more… stable might be the word? … after a handful of days.
How much weight loss I experienced is harder to figure out.
I'm a bigger fella (6'5" and 275ish pounds), so my weight can fluctuate significantly depending on bloat and water intake.
But after 2-3 weeks of taking BioFit, continuing on my regular workout regimen, and maintaining a fairly similar diet, I dipped below 270lbs for the first time in a couple of years.
So, that's a win!
Will I continue taking BioFit?
Yes. The gut-stabilization effects are worthwhile. And the modest weight loss is much appreciated, as well!
Biofit Probiotic Weight Loss Supplement – FAQs
When should I take Biofit probiotics?
The manufacturers recommend that each serving be taken with a meal. By pairing it with a meal it becomes easier to make it part of your routine.
Is BioFit FDA approved?
No. Health supplements are not tested and regulated by the FDA.
Each bottle has the standard disclaimer saying These statements have not been evaluated by the Food and Drug Administration. This product is not intended to diagnose, treat, cure or prevent any disease.
Even though it's not FDA-approved, BioFit probiotics are NSF and GMP certified.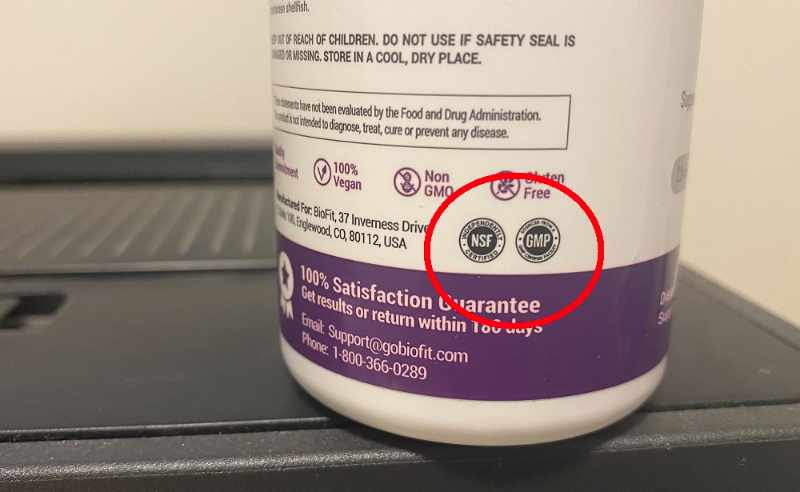 NSF is an independent testing organization that competitive athletes will recognize, as they are one of the bodies that certify potency and ingredients in popular supplements like pre-workouts and protein powder.
GMP certification means that the processing and manufacturing of the probiotics have been independently verified.
These two certifications are an excellent indicator that the ingredients on the label match the ingredients in the capsule.
How long does it take for BioFit to work?
There is a lot of factors that play into how long it takes to see results. In my experience, I felt a more "balanced gut" after just a few days. Weight loss was a little harder to pin down.
Two of the studies in this review that saw belly fat go down and weight loss happen were only measured after 12-weeks of supplementing with probiotics. No mention of when noticeable weight loss started and when participants saw body fat start to go down.
Rule of thumb, give it at least a month before making a final decision on whether BioFit is working for you.
And of course, if you eat healthily and exercise regularly the supplements will work even better.
Is BioFit safe to take?
Probiotics are very safe and rarely have adverse side effects.
That said, there is a small percentage of the population who may experience an increased risk of infection (probiotics are bacteria, after all). BioFit, and other probiotics, are not recommended for those who have severely compromised immune systems, recently had surgery or are experiencing severe illness14.
Less mild side-effects can include bloating and increased thirst. Researchers aren't sure what the cause of this is, but they subside after several weeks of use and seem to primarily affect those taking antibiotics15,16.
For most people, however, BioFit and probiotics are a safe addition to your dietary and weight loss regimen.
How much is it?
BioFit is not a cheap supplement. A bottle, purchased individually, retails exclusively on BioFit's website for $59 plus shipping.
You can save a ton of money when purchasing in bulk, not only per bottle but also in terms of shipping costs.
For example, if you buy a six-pack of BioFit the cost-per-bottle goes down by $20, so instead of $59, you're paying just $39 per bottle. When you purchase in bulk, they also throw in free shipping, saving you even more money.
Do BioFit probiotic supplements have a refund policy?
BioFit probiotics come with a 180-day money-back guarantee. That's way better than just about any other supplement or natural health product that I've come across.
This means, that even if you try BioFit for a full six months, and you aren't stoked about the results you are seeing in the mirror and on the scale, you can return it for your money back.
That's about as risk-free as it gets!
BioFit probiotics – where to buy
BioFit probiotics are exclusively available on their official website, which you can access by clicking here.
They provide a 6-month money-back guarantee if you aren't happy with the results you are seeing and offer discounts when you buy in bulk.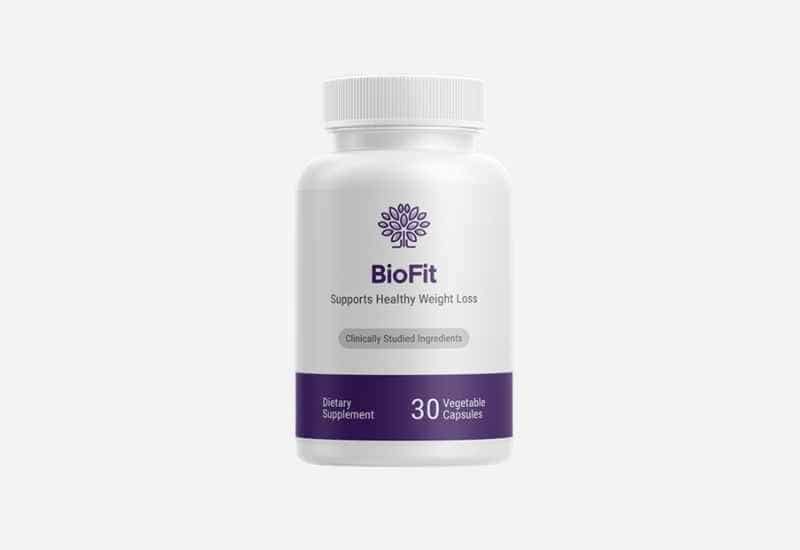 ---
References
Chapman CM, Gibson GR, Rowland I. Health benefits of probiotics: are mixtures more effective than single strains? Eur J Nutr. 2011 Feb;50(1):1-17. doi: 10.1007/s00394-010-0166-z. Epub 2011 Jan 13. PMID: 21229254.
King S, Glanville J, Sanders ME, Fitzgerald A, Varley D. Effectiveness of probiotics on the duration of illness in healthy children and adults who develop common acute respiratory infectious conditions: a systematic review and meta-analysis. Br J Nutr. 2014 Jul 14;112(1):41-54. doi: 10.1017/S0007114514000075. Epub 2014 Apr 29. PMID: 24780623; PMCID: PMC4054664.
Clemente JC, Ursell LK, Parfrey LW, Knight R. The impact of the gut microbiota on human health: an integrative view. Cell. 2012 Mar 16;148(6):1258-70. doi: 10.1016/j.cell.2012.01.035. PMID: 22424233; PMCID: PMC5050011.
Stapleton AE, Au-Yeung M, Hooton TM, Fredricks DN, Roberts PL, Czaja CA, Yarova-Yarovaya Y, Fiedler T, Cox M, Stamm WE. Randomized, placebo-controlled phase 2 trial of a Lactobacillus crispatus probiotic given intravaginally for prevention of recurrent urinary tract infection. Clin Infect Dis. 2011 May;52(10):1212-7. doi: 10.1093/cid/cir183. Epub 2011 Apr 14. PMID: 21498386; PMCID: PMC3079401.
Hao Q, Dong BR, Wu T. Probiotics for preventing acute upper respiratory tract infections. Cochrane Database Syst Rev. 2015 Feb 3;(2):CD006895. doi: 10.1002/14651858.CD006895.pub3. PMID: 25927096.
Ogawa A, Kobayashi T, Sakai F, Kadooka Y, Kawasaki Y. Lactobacillus gasseri SBT2055 suppresses fatty acid release through enlargement of fat emulsion size in vitro and promotes fecal fat excretion in healthy Japanese subjects. Lipids Health Dis. 2015 Mar 20;14:20. doi: 10.1186/s12944-015-0019-0. PMID: 25884980; PMCID: PMC4391304.
Kadooka Y, Sato M, Ogawa A, Miyoshi M, Uenishi H, Ogawa H, Ikuyama K, Kagoshima M, Tsuchida T. Effect of Lactobacillus gasseri SBT2055 in fermented milk on abdominal adiposity in adults in a randomised controlled trial. Br J Nutr. 2013 Nov 14;110(9):1696-703. doi: 10.1017/S0007114513001037. Epub 2013 Apr 25. PMID: 23614897.
Sanchez M, Darimont C, Drapeau V, Emady-Azar S, Lepage M, Rezzonico E, Ngom-Bru C, Berger B, Philippe L, Ammon-Zuffrey C, Leone P, Chevrier G, St-Amand E, Marette A, Doré J, Tremblay A. Effect of Lactobacillus rhamnosus CGMCC1.3724 supplementation on weight loss and maintenance in obese men and women. Br J Nutr. 2014 Apr 28;111(8):1507-19. doi: 10.1017/S0007114513003875. Epub 2013 Dec 3. PMID: 24299712.
Million M, Angelakis E, Paul M, Armougom F, Leibovici L, Raoult D. Comparative meta-analysis of the effect of Lactobacillus species on weight gain in humans and animals. Microb Pathog. 2012 Aug;53(2):100-8. doi: 10.1016/j.micpath.2012.05.007. Epub 2012 May 24. PMID: 22634320.
Cerdó T, García-Santos JA, G Bermúdez M, Campoy C. The Role of Probiotics and Prebiotics in the Prevention and Treatment of Obesity. Nutrients. 2019 Mar 15;11(3):635. doi: 10.3390/nu11030635. PMID: 30875987; PMCID: PMC6470608.