Looking for a stretching program or app to help you kick up your flexibility? Here's a detailed look at the top stretching apps for every level of user.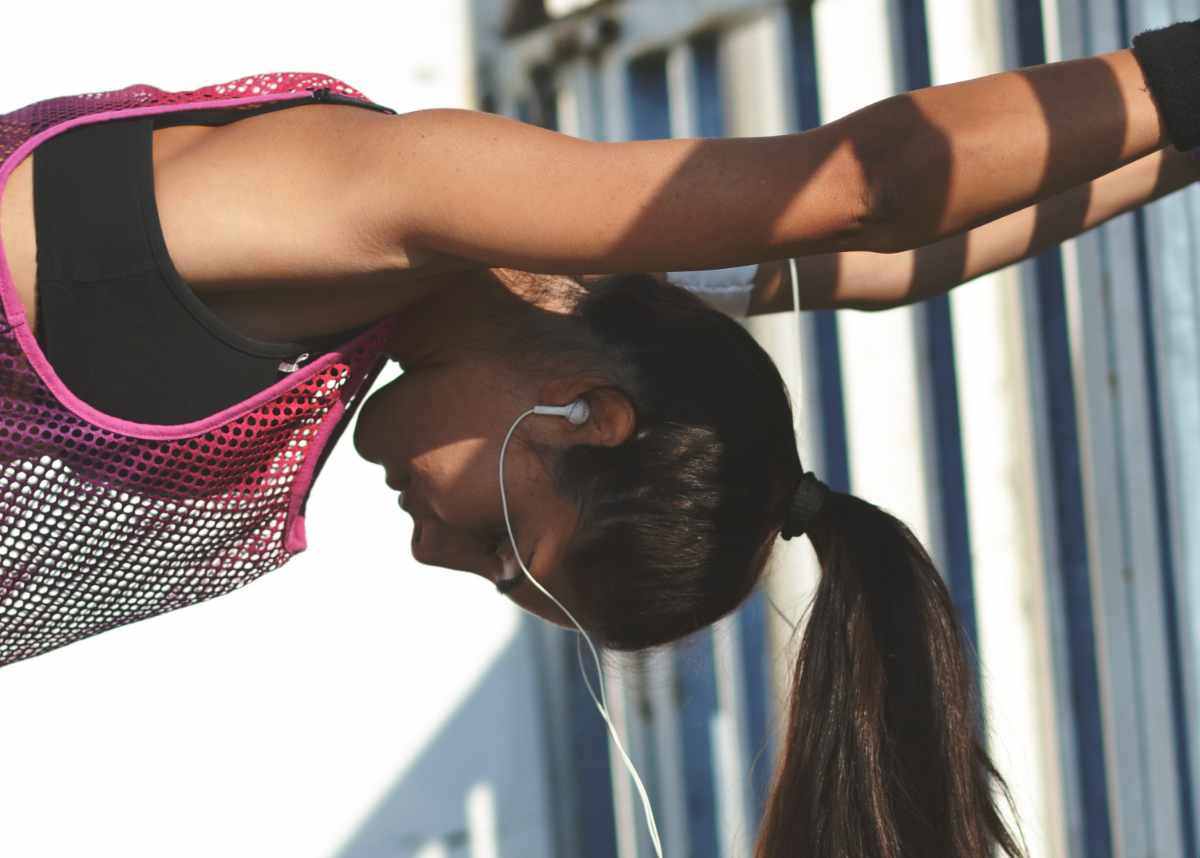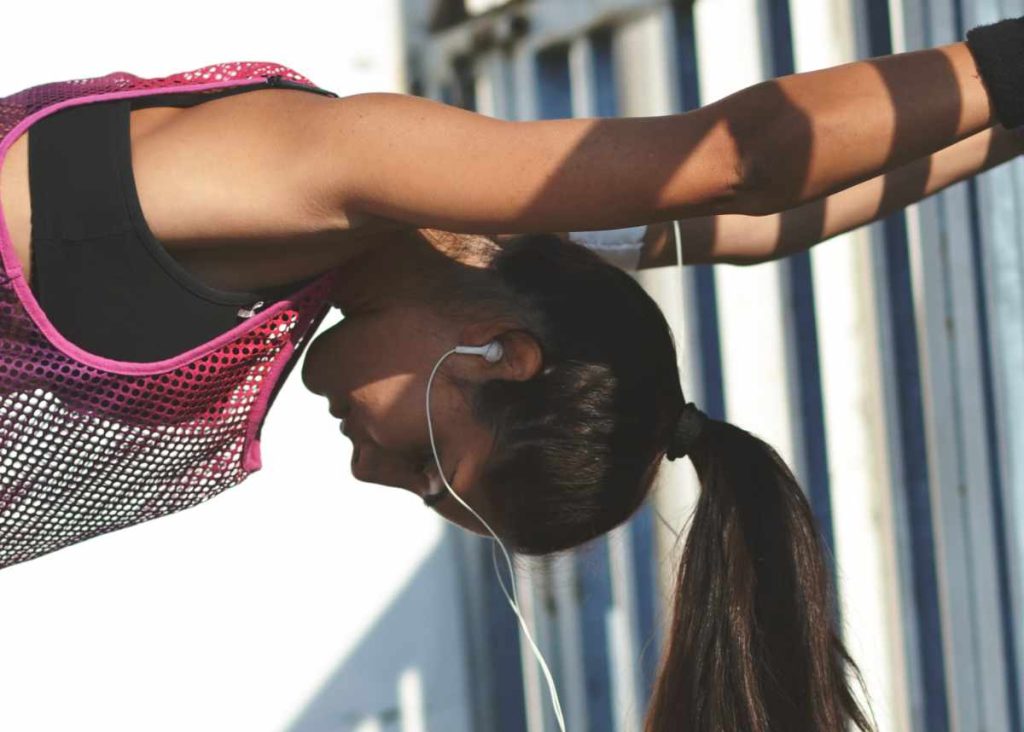 Stretching is one of those things that feels great—who doesn't love a solid, full-body squeeze and stretch when waking up—but tends to get lost over the rest of the day.
Or at least, until it's time to hit the hay and the yawns and stretches start popping off again.
But there are a lot of excellent reasons you should start stretching regularly:
And so on.
But for a lot of people, figuring out the best way to stretch is where things get tricky.
Fortunately, there is a whole bunch of really good stretching programs and apps out on the market. They include detailed instructions, video demonstrations, rep ranges, timers, and more to guide you step-by-step to a more limber and stress-free you.
Here's a look at the best ones I've seen over the years.
The list is a bit of a mixed bag, including some paid apps, apps that have a free option (with ads, obviously), and more traditional stretching courses that I've used and found a lot of use in over the years.
Read on, find the best stretching program for you, and unleash increased flexibility, reduced tension, and more.
Hyperbolic Stretching
While not technically an app, Hyperbolic Stretching is a stretching program that can be downloaded as a PDF and/or set of videos to your smartphone or tablet.
There are a lot of things that I really liked about this program, including different modules for specific stretches (front split, side split, etc). Stretches are fully detailed and the instructor, Alex Larsson, M.Sc., breaks down each movement with cues and videos.
The program uses a combination of dynamic stretches, static stretches, and proprioceptive neuromuscular facilitation (PNF) stretching.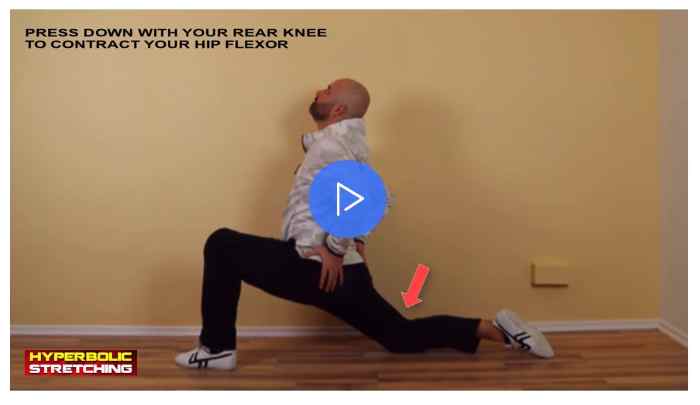 PNF stretching has a solid base of research behind it, showing that it's better than static stretching for increasing flexibility5 and when done after working out (or on a day off) and can even boost athletic performance6.
While it's not an app, I love the Hyperbolic Stretching program for its simplicity of use and one-time cost ($27 versus a recurring subscription like the other apps on this list).
Available exclusively through Hyperbolic Stretching's official website (check here for current pricing), the program is also backed by a 60-day money-back guarantee if you aren't seeing the results you want.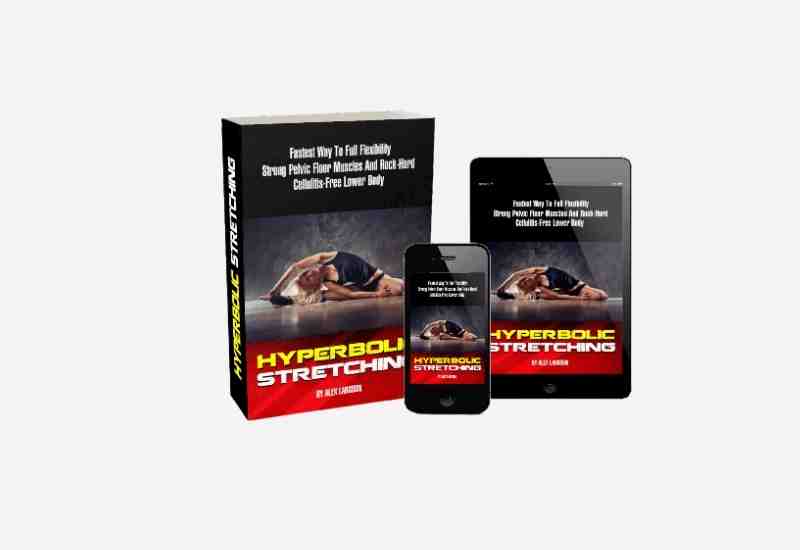 ---
ROMWOD
Besides being a lot of fun to say—ROMWOD!—this mobility app is chock-full of crisp, HD videos and demonstrations.
As the name would suggest, it's a mobility and flexibility app primarily targeted at CrossFit athletes, but don't let that stop you from checking it out.
Each day's stretch is around 20-40 minutes long. There are also "paths"—an upper body intensive routine, or a stretching routine for people who sit in desks all day—that you can pick and choose from.
The instructions are simple, clear and the app includes a series of "workouts" that can include specific body parts or a full-body routine.
No equipment necessary, you can cancel anytime, and the movements, stretches and exercises can work for anyone at any level of ability.
That said, this is definitely an app for people who are comfortable with the language of mobility, and who have goals for the stretching and mobility work.
ROMWOD includes a mobility screening test (helpful for measuring progress) and routines specifically designed to help you get better at executing individual exercises.
For example, if you wanted to increase your overhead mobility for cleans and jerks, there are routines for that. Same if you are runner, a sprint athlete, and so on. Lots of flexibility (stretching puns, all day!).
This app is pretty cool, to be honest.
It is a bit pricey at $13.95 per month, but if you stick to using it every day, or at least a few times each week, it will pay for itself in a better range of motion, fewer injuries, and better workouts.
You can try out a 7-day trial for free here.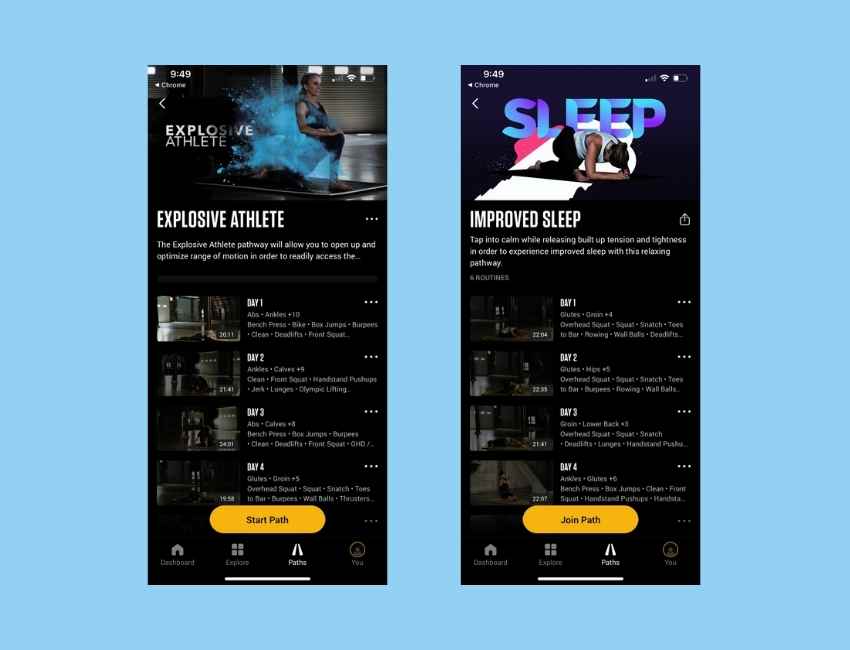 ---
Stretchit
Another premium stretching app is StretchIt. This app features a TON of options, class durations, difficulty levels, and much more. Almost to the point that it can feel overwhelming.
That said, the StretchIt app is very intuitive. Additionally, there are challenges (you earn points each time you complete a stretching class) that help gamify the use of the program.
While gamifying has become a staple of health and productivity apps, there is a reason for it: they tend to help users be more consistent. Research with running apps found the gamification aspect increased use of the app4.
If stretching a lot is your thing, however, and you want maximum flexibility—ha!—in your stretching programs, StretchIt is an excellent choice.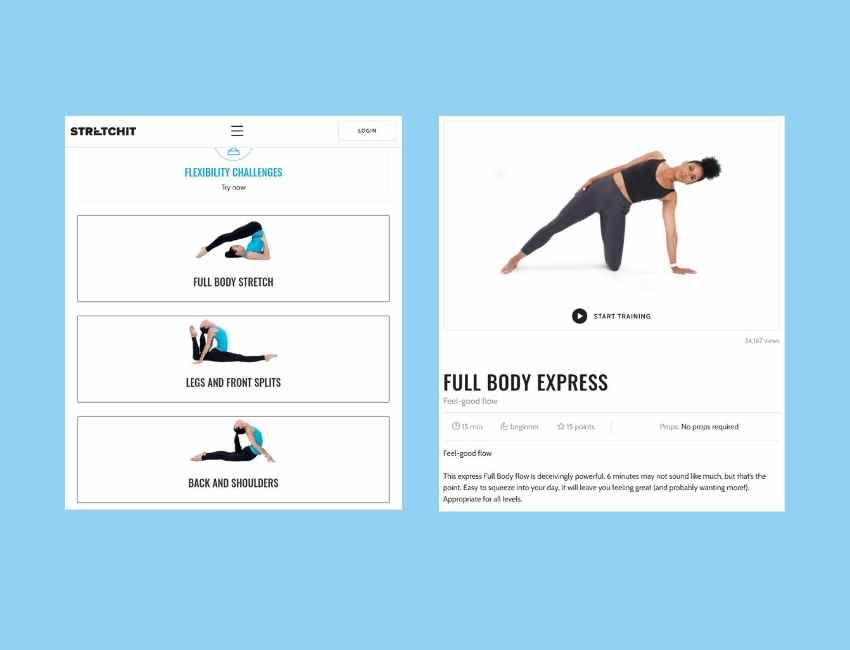 ---
Start Stretching
For beginner users looking for a bare-bones app, the Start Stretching is worth a look.
It includes just 9 stretches and is designed for beginners looking to get into the habit of stretching without having a massive (and potentially overwhelming) number of programs, stretches and routines at their fingertips.
The routine is simple enough, giving you a little buzz when it's time to move onto the next stretch. Each movement is fully detailed and written in beginner-friendly language. You can also customize how long to hold each stretch before getting a notification to move on to the next stretch.
Start Stretching doesn't include all the bells and whistles of the premium stretching apps (more advanced stretchers will find this program a little stale), but for the newbie, a 5-minute stretching routine is a great way to start reaping the physical and mental benefits of stretching.
Start Stretching is totally free (has some ads in the app) and is available exclusively on iOs.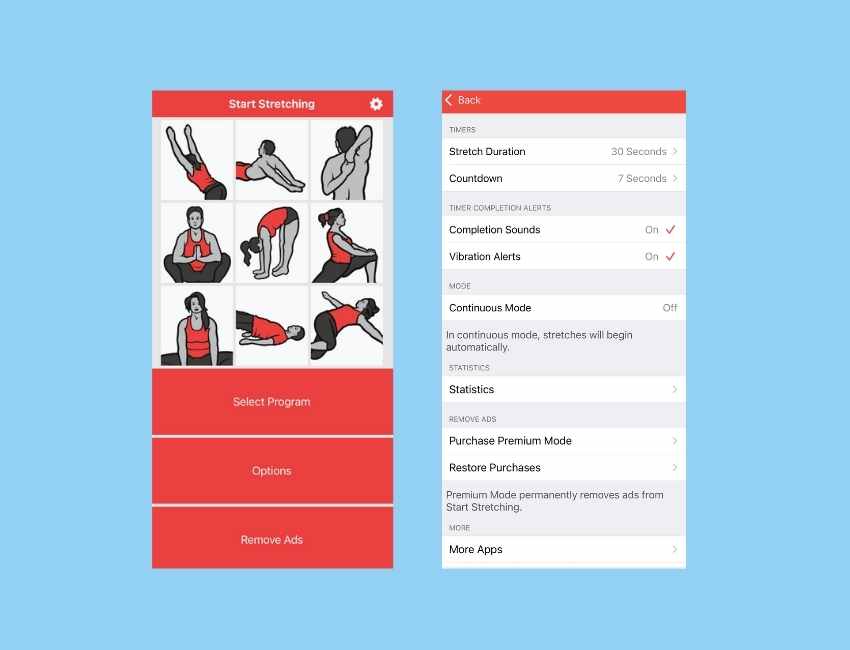 ---
Stretching Programs and Apps – FAQs
How much time should I spend stretching?
Stretching takes time, and how much you are willing to invest each day comes down to your health and training goals and how much time you are willing to carve out of your day.
Gaining flexibility takes time and depends on the kind of stretching you do. With static stretches, the highest increase in range of motion happens in the range of 10 to 30 seconds7. Additionally, once you've done 2 to 4 reps of this, muscle elongation stops8.
What are the alternatives to static stretching?
Dynamic stretches (arm and leg swings, for example) can also help improve range of motion. Dynamic stretches also have the advantage of loosening up the joints while gently stretching at the end of each swing or movement.
Alternating bouts of myofascial release with a foam roller with static stretching is a 1-2 combo for more flexibility than static stretching alone9.
Should I stretch before weightlifting?
No. Instead, focus on warming up.
Elongating a muscle before strenuous exercise destabilizes the joint and causes a reduction of power. Static stretching has the effect of decreasing the force that a muscle can produce10.
Static stretching also doesn't elevate body temperature and increase arousal that is necessary for strength and power in the gym and on the playing field.
This makes static stretching before weightlifting or other power-dependent activities a no-no.
Even though the "old school" routine was to perform static stretches before high-intensity exercise, nowadays you are more likely to see athletes and lifters using dynamic stretches (leg and arm swings and activation exercises) to elevate body temperature in anticipation of athletic performance, and then using static stretching after to cool down and restore range of motion.
---
More Stretching Guides and Resources
5 Best Upper Body Dynamic Stretches for Better Workouts. The right dynamic stretches can help you reduce stiffness and improve your workouts. Here are my favorite upper body dynamic stretches for killing it at the gym.
Full Body Stretching Routine: Benefits, Step-by-Step Instructions, and More. Stretching regularly decreases injury and improves performance and mobility. Here's a full-body stretching routine anyone can do daily, including step-by-step instructions and benefits.
5 Best Pre-Workout Stretches for Leg Day. A solid stretching routine before leg day reduces injury and maximizes your effort in the gym. Here are the best pre-workout leg stretches.