Your friendly neighborhood exercise ball is awesome for improving strength, stability, and sexiness (okay, maybe not the last one). Here's what you need to know to find the perfect exercise ball for you.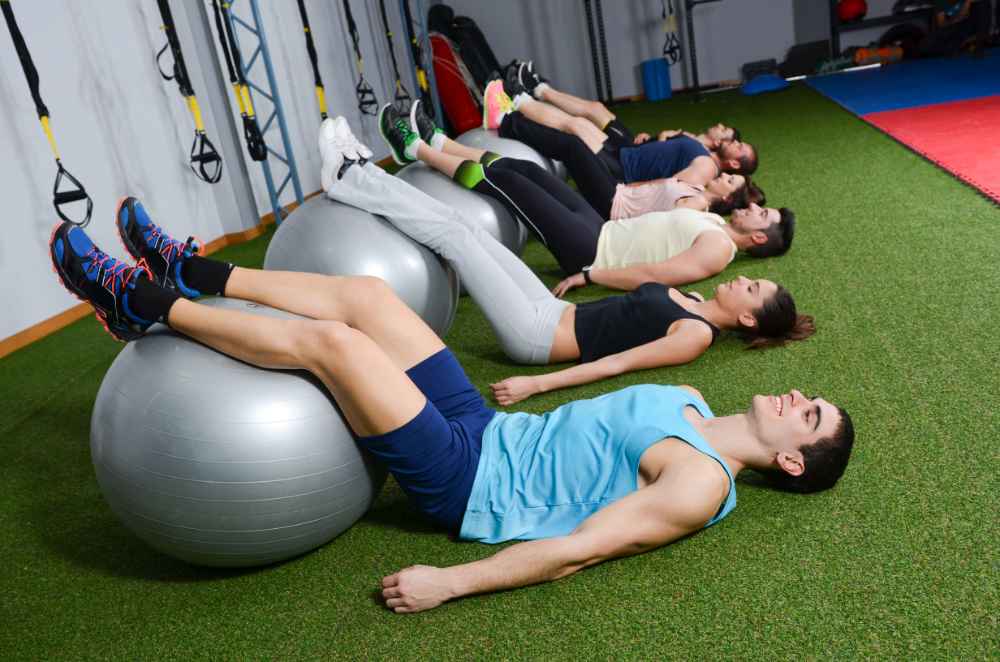 Exercise balls (also known as Swiss balls, physio balls, birthing balls…) have as many names as they do functions.
While there are a metric ton of reasons that exercise balls are awesome, here are a few of my favorites:
? Pump and go. Exercise balls are easy to transport and they are portable. Inflate and deflate them in a matter of minutes, making them ideal for people who are often on the go.
? Endlessly versatile. No matter your training and/or mobility goals, exercise balls have a solution. Improve stability with raised foot push-ups. Increase range of motion on your crunches. Or use it like a giant foam roller, by laying on it, stomach up, and opening up and unlocking your tight chest and back. (My favorite thing to do after a big upper body workout, incidentally.)
? Very low-cost. There's not a lot of moving parts with these things—just a PVC nylon shell and some air. Exercise balls are durable (in 25 years I've never seen one get punctured) and very reasonably priced.
? It's furniture, too! Exercise balls are great for sitting on, whether it's between sets in your home gym or at your desk at the office (or more likely since Covid, at home). It's fitness furniture!
There are very few pieces of fitness and mobility equipment that can lay claim to such a long list of strengths.
Ultimately, how you use your exercise ball comes down to your specific goals.
Below is a rundown of the best exercise balls on the market, including personal favorites of mine, the ones I use with my own clients, and others that I simply like.
I'll detail price, key features, and more so that you can choose the perfect exercise ball for you.
Let's dive right in.
BalanceFrom Anti-Burst Exercise Ball
⭐ Best overall exercise ball
BalanceFrom makes quality stuff, and I've had a chance to test out plenty of it, including their exercise mats and their exercise balls, which get my seal of approval, two thumbs up, etc.
These exercise balls have an avalanche of five-star reviews on Amazon (one of them is mine). In the decade I've had my drab grey BalanceFrom Exercise Ball, it's never required a top-up of air.
The PVC is textured to give you some grip, the shell is easy to wipe down after a sweaty workout session, and it's rated for up to 2,000lb.
That's some serious anti-burst.
My favorite part about these exercise balls is the wide selection of colors and sizes to choose from.
You can go the same route I did with grey (not sure why I did, to be honest), or brighten up your workout space with a range of colors from blue to green to orange.
BalanceFrom offers these slip-resistant balls in small, medium, large, XL, and even XXL, which can reach up to 85cm when fully inflated.
Priced at about $25 per exercise ball (check Amazon for current pricing and availability), the BalanceFrom Exercise Ball is the best swiss/physio/birthing/exercise ball for most of us.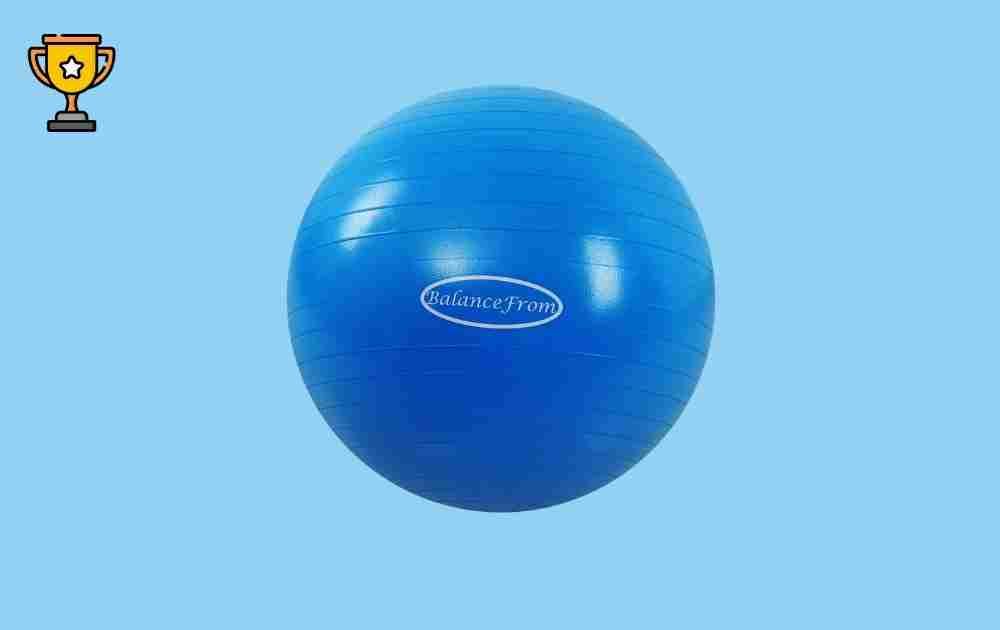 Trideer Exercise Ball
⭐ Runner up – best exercise ball for most people
Another excellent all-purpose exercise ball is made by the folks at Trideer. This ball has a lot of the same features and specs as the BalanceFrom.
The key ones include a so-large-that-it's-almost-meaningless weight rating of 2200lb, a thick and durable PVC shell, and textured rings around the ball that help prevent slipping and sliding while working out on the ball.
Each ball is shipped with a foot pump to quickly inflate the ball and Trideer backs the balls, ideal for working out or as an office chair or as an oversized backyard volleyball, with a twelve-month warranty.
Trideer offers these in six different colors and five different sizes, just about guaranteeing* that you will find the ball that matches your aesthetics and frame.
* The only downside of this ball was that a few of the sizes and colors are frequently sold out and sometimes priced significantly higher than the BalanceFrom balls.
You can check out what sizes and colors (and at what prices) Trideer has them in stock over at Amazon by clicking here.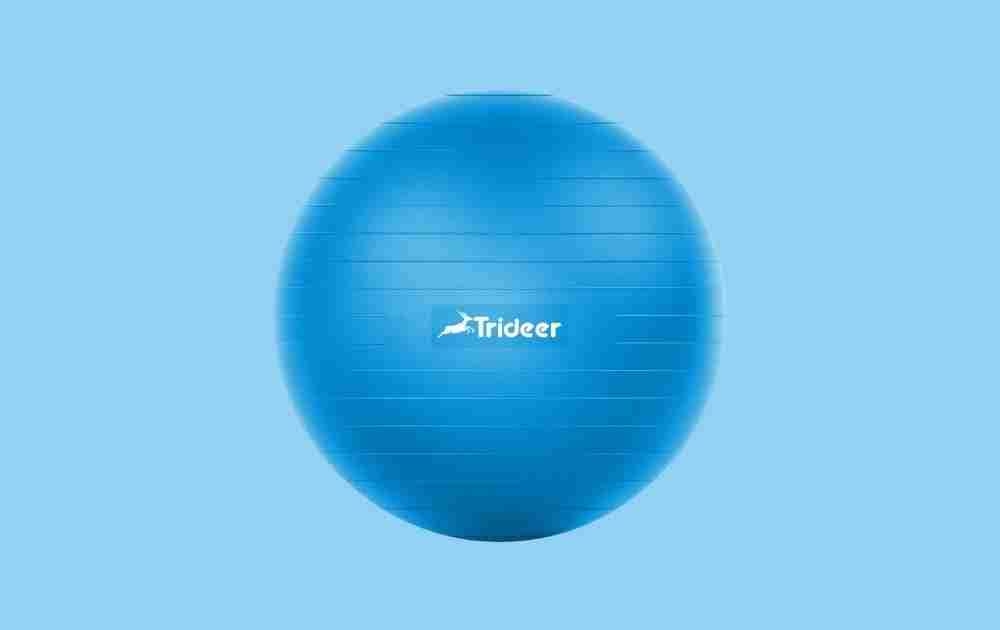 Vivora Luno Exercise Ball
⭐ Best for sitting at your desk
I never thought that you could make an exercise ball fashionable, but as it turns out, you can dress one up real nice.
Vivora's Luno exercise ball is perfect for those who want an exercise ball for sitting at their desk or even as something to sit on around the house.
The interior shell is your usual PVC construction, while the cover is like a soft wool that you can remove and wash between uses. A sleek handle on the side makes moving and carrying the ball a breeze, and a hand pump is included to quickly inflate it.
Vivora backs this thing with a six-month warranty, and judging by the thousands of 4 and 5 star reviews on Amazon, people love the look and feel of this exercise ball.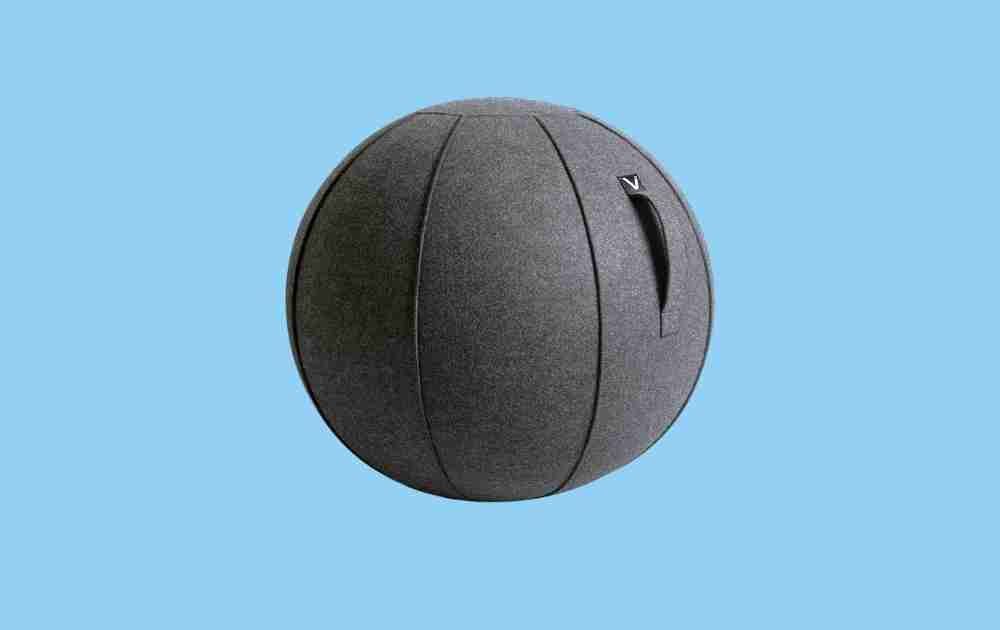 Bosu Pro Balance Stability Ball
⭐ Best exercise ball for honest crunches and stability work
Bosu balls are another one of my favorite forms of exercise balls.
Excellent for general stability work and for doing myotatic crunches, Bosu balls are what happens when someone shaves the top third off a Swiss ball and attaches a plastic base.
Bosu balls are extremely tough, with a thick PVC and latex-free "bubble" and a non-slip base that will keep things steady while you focus on keeping your balance up top.
Included are a hand pump, access to a bunch of exercise videos, and an exercise chart that you can print off.
These kinds of exercise balls are not cheap, retailing usually for around $150 (check Amazon for current pricing), but they are hard to beat for doing legitimate crunches and stability work that won't have you worry about rolling off the side of the ball.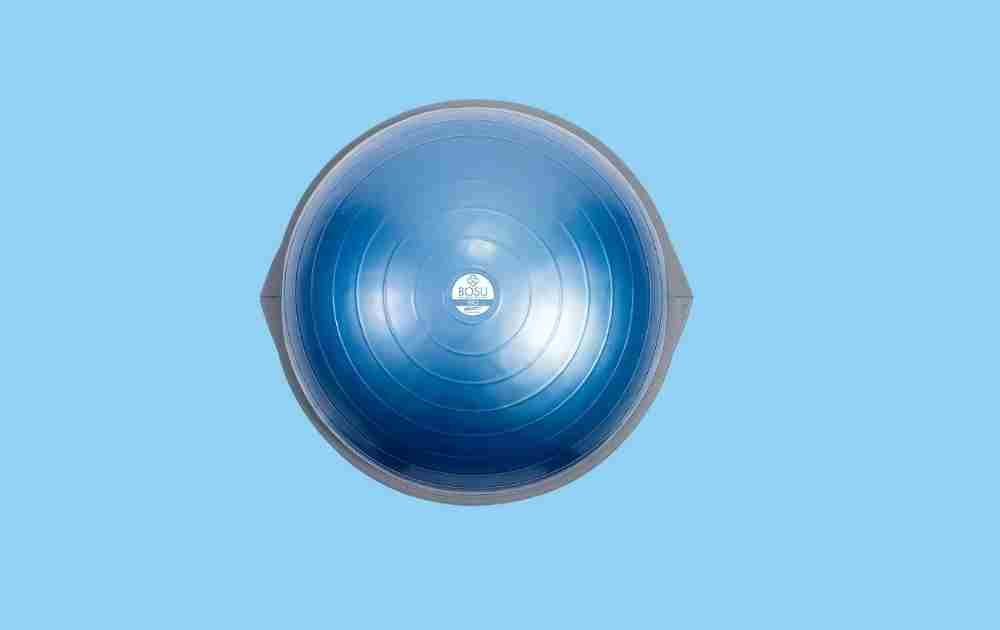 ProBody Mini Exercise Ball
⭐ Best mini exercise ball
Whether you are into yoga, pilates, or want to crank up your core and mobility game, mini exercise balls are an essential tool.
The ProBody Mini Exercise Ball, at nine inches, is made of tough PVC and offer enough grip that you can comfortably and securely maneuver the ball while you exercise. These are very portable, and ProBody ships them with an specialized inflation straw to make them extra portable.
Available in six different colors, they are also very low-cost, with Amazon carrying them starting at just $8 (check Amazon for current pricing and availability).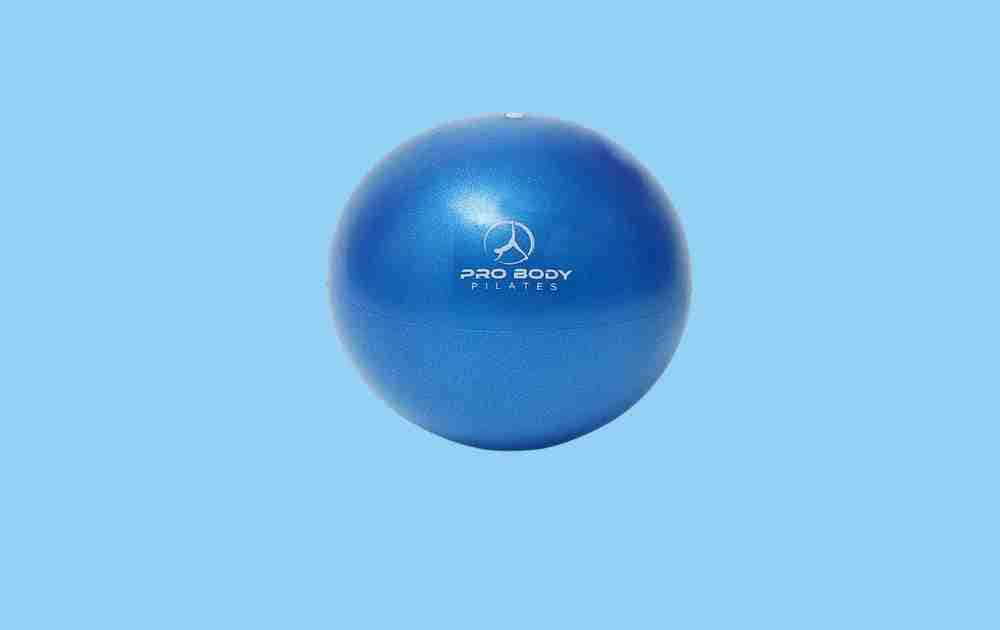 Kalkal Exercise and Physio Ball
At first glance, this exercise ball looks a whole lot like the rest. You've got a more-than-necessary weight limit of 660lb, a slip-resistant surface, hand pump for quick inflation, and four different color choices, including Barney purple.
But there's one big thing that separates the Kalkal from the rest on this list.
This exercise ball takes all of the versatility and functionality of a regular ball and adds on what I can only describe as a modified foam roller along the bottom half of it.
The little trigger-point bumps act like the thumbs of a masseuse, gently jostling sore muscle tissue and increasing blood flow. The trigger point bumps also give the ball an added sense of stability.
With this added feature you'd think they'd crank up the pricing, but Kalkal offers these for a super reasonable $16-18 on Amazon (check for current pricing and availability).
Part exercise ball, part foam roller, the Kalkal is all awesomeness.