Wondering which muscles the stationary bike works? In this guide, you'll learn which muscles the exercise bike works and how to maximize muscle-building during your workouts.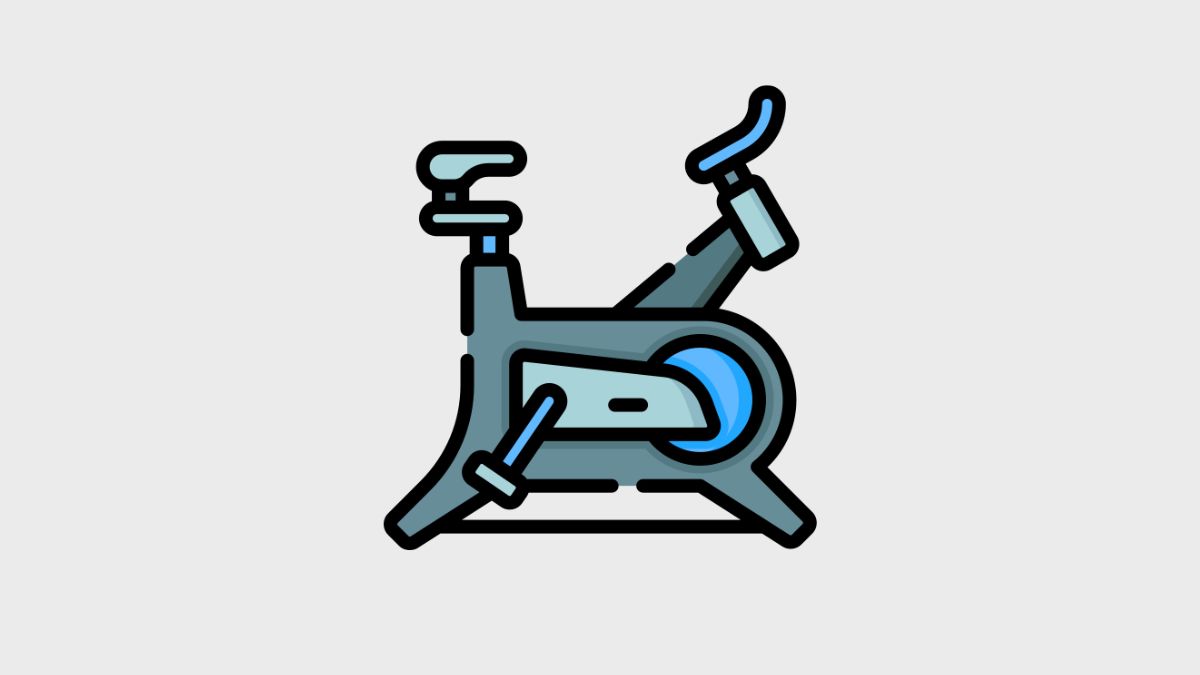 Stationary bikes are one of the best cardio machines in the gym—not only for burning calories, but improving mobility, maximizing your cardiovascular conditioning, and even building muscle.
Yes, you read that right: stationary bikes can help you to build muscle, mostly in the lower body.
The stationary bike primarily works the quadriceps, hamstrings, gluteus medias, calves, and the psoas major muscle1.
Even better, when compared to many of the other cardio machines in the gym (like the treadmill or elliptical), the stationary bike is among the best of the muscle-building machines.
In this guide, we will take a fuller look at all the muscles worked on the stationary bike, how to optimize your stationary bike workouts for peak muscle-building, and more.
Let's jump right in.
Muscles Worked on a Stationary Bike
Like most cardio machines, the stationary bike places a great deal of muscle-building emphasis on the lower body.
The primary muscles worked when using the stationary bike include:
Quadriceps muscles
Gluteal muscles
Hamstrings
Calves
Psoas major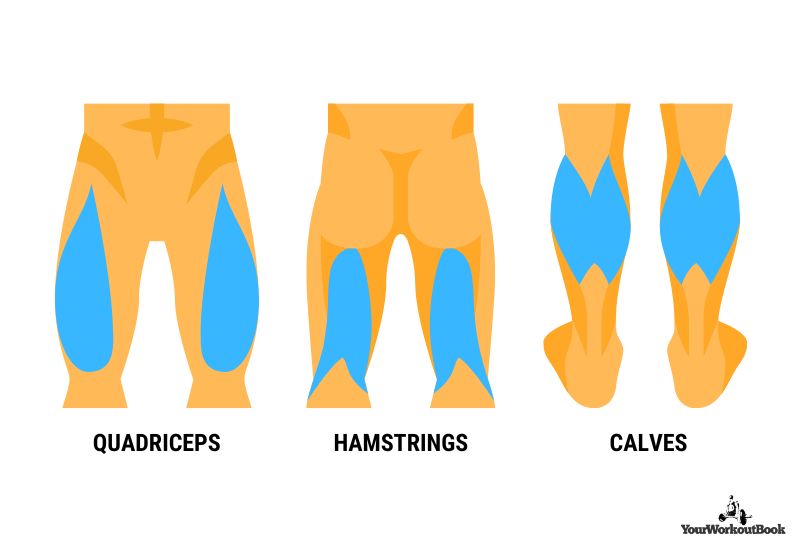 However, there is also some minor engagement of your core muscles, specifically your abs and spinal erectors (lower back), as they function to keep you stable on the stationary bike.
The stationary bike also works some upper body muscles when you lean forward on the handles:
Forearms
Triceps
Shoulders
Upper Back
Chest
That said, upper body muscle engagement on the stationary bike is minimal.
One study (Srinivasan et al, 2006) took a group of recreational cyclists and found muscle activation in the trapezius and biceps to be very mild compared to the muscle recruitment occurring in the lower body.
Here is a more detailed look at how each of these muscles functions when using the stationary bike:
Quadriceps
The quadriceps is a group of muscles located at the front of the thigh, made up of four muscles: the rectus femoris, vastus lateralis, vastus medialis, and vastus intermedius. The quadriceps are responsible for knee extension and helping the hip fully extend.
During the first phase of the cycling motion, where the foot goes from 12 o'clock to 3 o'clock, the quadriceps are the primary muscles used on the stationary bike2.
The quadriceps are effectively knee extensors, and these type of muscles are responsible for 39% of the "positive mechanical work" on a stationary bike3.
As the bike pedal is pushed downwards, the quads continue to fire, peaking as the leg is fully extended.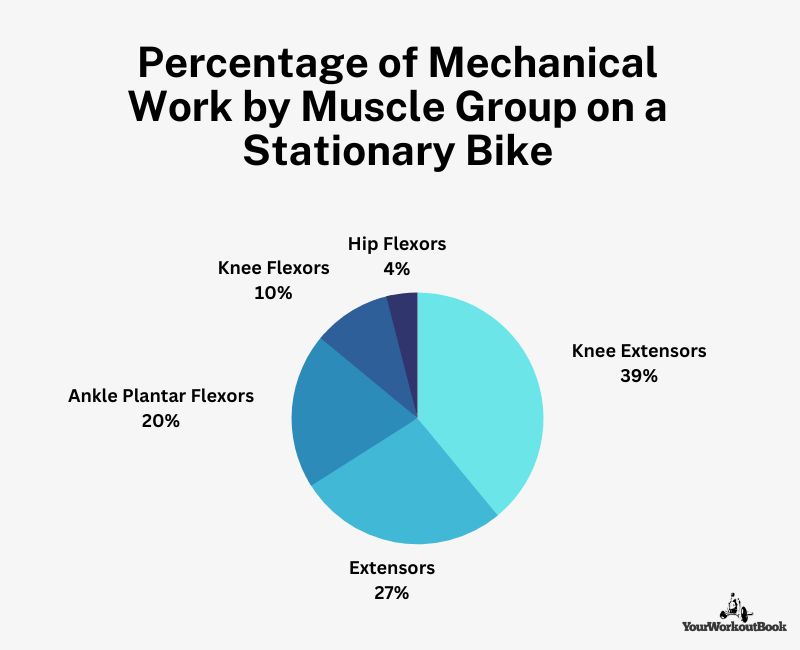 Hamstrings
The hamstrings are a collection of three muscles located on the back of the thigh, including the biceps femoris, semitendinosus, and semimembranosus.
Like the quadriceps, the hamstring muscle are used to extend the knee and hip joints.
Hamstring recruitment varies throughout the pedaling movement, with the biceps femoris most engaged between 3 o'clock and 9 o'clock.
Overall hamstring muscle activation is highest during the second phase of the pedaling motion4.
Glutes
The glutes are made of three muscles along the buttocks, including the gluteus maximus, gluteus medias, and gluteus minimus.
The stationary bike works the glutes, but not nearly as much as other types of cardio machines, such as treadmills and Stairclimbers.
The largest of the glute muscles is the gluteus maximus. Its primary function is to move the thigh backward. During pedaling, this large muscle is barely activated. However, the gluteus medius and minimus, located on the outside of the thighs (also known as a hip abductor) is recruited5.
Calves
The calves are a group of muscles on the back of the lower leg, running from the knee to the ankle. While using a stationary bike, the calves are highly active in stabilizing the ankle and pointing the toes.
The two main muscles in the calves, the gastrocnemius and soleus muscles, stabilize the ankle. The calves also work to create efficient knee extension.
Psoas Major
The psoas major, also known as the iliopsoas muscle (don't worry, there won't be a test later), is a muscle located deep inside the hip joint. The psoas major starts in the lower back and extends down the femur bone into the thigh.
This muscle stabilizes the spine while you are pedaling on a stationary bike, helping to keep you upright. Additionally, the psoas major is a hip flexer, which helps bring the leg closer to the body (as in during the second half of a pedal cycle).
---
Can you build muscle using a stationary bike?
Yes, you can build muscle using a stationary bike, in contrast to the current dogma and "BroScience" that describes cardiovascular exercise, such as using a stationary bike, as bad for building muscle.
Studies6 have shown that aerobic exercise has positive anabolic effects. For example, one study7 followed a group of triathletes and found that four months of aerobic-only training (i.e. no weight lifting) increased muscle protein synthesis rates by over 20%.
Another study found increasing skeletal muscle hypertrophy among a wide range of age groups. The primary muscle group that experienced significant muscle growth from regular stationary bike workouts was the quadriceps8.
(No surprise there, given what we learned earlier.)
It should be noted that there is no "more is better" approach to building muscle and the stationary bike. Sessions lasting longer than 75 minutes on the bike will cause the body to use fatty acids and amino acids for energy9, literally "eating away" at muscle tissue.
If building and retaining muscle is your priority, limit your workouts on the bike to 30-40 minutes and focus on increasing the resistance versus longer workouts.
How do I build more muscle on the stationary bike?
Remember: cardio machines are primarily designed for cardio (a.k.a. cardiovascular conditioning, which uses aerobic exercise to strengthen your cardiovascular system) and not for muscle-building.
If your primary goal is to build muscular strength and muscle mass, spend less time on the stationary bike (and other cardio machines) and more time hitting the weights.
That said, there are some ways to build more muscle mass on the stationary bike.
Think of it as a "two-for-one special" where you can improve cardiovascular conditioning and grow stronger at the same time.
Here is how:
Increase the Resistance
Stationary bike resistance is generated by one of two means:
"Brakes" or pads that clamp against the spinning flywheel
Magnetic resistance, using magnets that increase or decrease the difficulty the closer or farther they are from the metal flywheel
Most stationary bikes will have a lever, knob, or digital controls to add or reduce the resistance. To make the most of the time you spend cycling, add more resistance!
When you add resistance, your muscles have to work harder to pedal. Ideally, you want to add just enough resistance that you struggle to hit 60 RPM. You'll feel the burn in your leg muscles—your quads when you're sitting down, and your quads, glutes, and hamstrings when you're standing up—to tell you that you're maxing out the muscle-building.
Pedal Standing Up
One great way to build more muscle is to pedal standing up.
When you're seated, all of your body weight is supported by the seat, and only your legs are working to pedal. However, when you stand up, your leg muscles have to not only pedal, but also support your body weight. It's a double-whammy that makes the workouts more effective.
Try mixing it up: pedal sitting down for a while, then stand up for a while. Cycle in intervals of sitting and standing up, adding or lowering the resistance to make the workouts even more challenging.
Trainer's Note: When pedaling while standing up, add more resistance to counterbalance your bodyweight. If there is insufficient resistance, you may injure your knees as you pedal standing up.
Increase Your Speed
One great way to build muscles is to pedal faster.
All of our muscles are made up of three muscle fiber types10:
Type I, or slow-twitch muscle fibers. These "twitch" (or contract) more slowly, but are large and capable of storing large amounts of energy. They are fairly resistant to fatigue.
Type IIa, or fast oxidative glycolytic (FOG) fibers. These are faster to react than slow-twitch muscle fibers, and thus expend energy more quickly and are capable of storing less.
Type IIx, or fast glycolytic fibers. They are the fastest to contract but also store the least amount of energy.
When you first start engaging your muscles, your Type IIx muscle fibers instantly kick in to provide a surge of energy. However, they run out of energy quickly, so the Type IIa muscle fibers provide backup.
As these muscle fibers, too, are drained, your Type I slow-titch fibers continue to do the heavy lifting. They'll end up doing more of the work in the long run, they're just slower to engage than the first two muscle types.
Why am I explaining all this? Well, it's all tied into how faster training speeds increase your muscular strength.
When you start off pedaling at sprinting speed (during a high-intensity interval), your fast-twitch muscle fibers kick in to do the work. However, as you continue to maintain the speed, your slow-twitch muscle fibers come in and keep your muscles working until you run out of energy.
Longer intervals of high speed—upwards 30 to 60 seconds—ensure that you engage all three muscle types.
On the other hand, if you're pedaling at a lower intensity, your fast-twitch muscle fibers don't really need to engage, so the focus is entirely on your slow-twitch muscle fibers.
Summary: Fast-twitch muscle fibers provide a burst of energy to generate muscular strength, while your slow-twitch muscle fibers keep you working longer to produce muscular and cardiovascular endurance.
Engage Your Core
One of the biggest mistakes you can make when cycling is to let your abdominal muscles relax. If you do this, you're more likely to round your shoulders and hunch your back. This can lead to increased lower back strain and even higher back injury risk over the course of your workout.
Engaging your abs is crucial for maintaining proper posture during your workout. But it'll also strengthen your core muscles at the same time. The reason your abs relax is because they're exhausted from the constant contraction. That's a sign that they're working hard—and if you keep them working hard the entire workout, they'll continue to grow stronger.
Do "Push-Ups" or "Dips"
As mentioned earlier, there are very few upper body muscles being worked when using a stationary bike. That doesn't you can't crank up the upper body engagement by getting a little creative.
For example, lean forward over your handlebars to do "Push-Ups" to engage your chest muscles or "Dip" toward the handlebars to focus on your triceps.
These two exercises will help to double down on the effectiveness of your training session, getting your upper and lower body both working at the same time.
How long does it take to build muscle on a stationary bike?
Resistance training is a proven way to increase muscle mass. The timeline for seeing significant increases in muscle mass with regular resistance training can take weeks or months (Rasmussen and Phillips, 2003).
However, even just one workout can produce measurable increases in protein synthesis. When rates of protein synthesis exceed that of protein muscle breakdown, muscle growth occurs.
Rasmussen et al. found that protein synthesis markers were higher in the two to four hours following a resistance workout, with the increased levels lasting as long as 24 hours.
As always, the key to seeing improvement in the gym and the mirror is consistency and showing up to regularly.
The Bottom Line
The stationary bike can be an excellent addition to any workout routine—not just for losing weight or improving cardio, but also strengthening your muscles.
As you saw above, there are lots of ways to target your lower body muscles, from standing up to pedaling faster to adding resistance.
But you can take it a step farther and add in upper body workouts and engage your core to turn your cardio training into a full-body muscle-building routine.
Now that's what I call being smart with your training and making the most out of the time you spend working out.