The right food scale for meal prepping is accurate, is easy to clean, and lets you track the things that matter most. Here's a rundown of the best food scales for prepping your meals.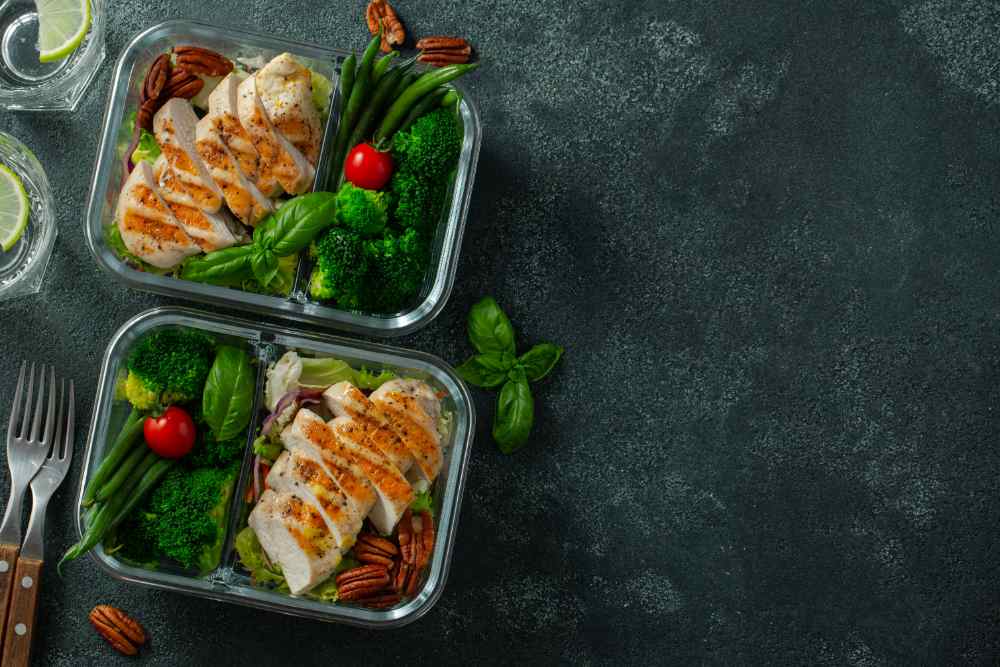 Every athlete and gymgoer struggles with nutrition. What to eat, when to eat, how much to eat—it's an ongoing battle to properly fuel our bodies.
One of the all-time, blue-ribbon best ways to stay on top of your nutrition is meal planning and prepping. And one of the tools that you need for meal prepping like a boss is a food scale.
The food scale helps you see your food for what it actually is (portions are sometimes hard to accurately measure by eyeballing) and gives you specific metrics so that you know exactly what you are putting in your body.
Food scales help you better track your nutrition, get under the hood of your nutrient intake and helps you be more accurate and precise with your cooking.
Food scales come with a wide range of available features, including different measurement standards, removable bowls, analog/digital readouts, and more.
No matter what your goals are in the kitchen, there is a food scale for you.
Let's take a look at the best ones on the market, including key features, and get to cooking and meal prepping like a boss.
Greater Goods Nutrition Food Scale
⭐ Best food scale for tracking macros
Serious athletes want to know exactly what they are putting into their bodies. They want to know, with a fair degree of certainty, that they are fueling themselves at the highest level possible.
The Greater Goods Nutrition Food Scale is a premium scale that reads out the macros of the food you are weighing, pumping out caloric information, details on nutrients, minerals, and much more.
Put your food on the scale, and a readout on the left of the scale spits out the nutrition information. Pretty cool.
A database in the scale includes a full breakdown of 2,000 foods, with the option to create 99 more of your own. The machine can track full meals and calculate the daily consumption of meals. A glass-tempered platform is easy to wipe down between uses and a tare/zero function means you can use a bowl of your choice to quickly measure food.
Priced competitively, at around $40 on Amazon (check for current pricing and availability), the Greater Goods Nutrition Food Scale is a must for hardcore meal preppers who want full clarity on what they are cooking up in the kitchen.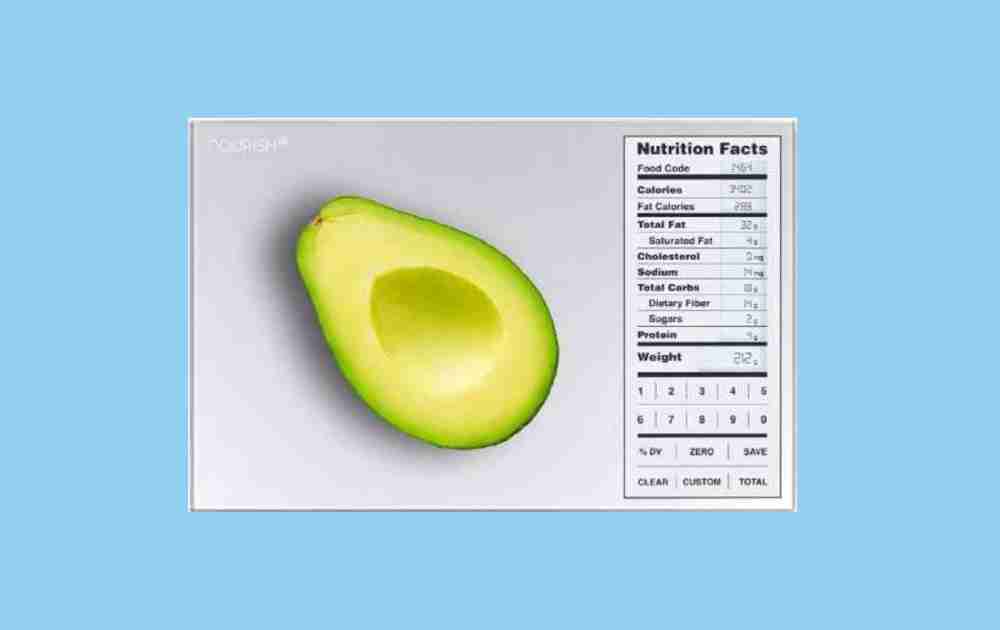 Ozeri Touch Waterproof Digital Food Scale for Meal Prepping
⭐ Best meal prepping food scale for the money
Low-cost, sleek (love the Darth Vader-vibe from this food scale), and waterproofed, the Ozeri Touch measures your food portions quickly and accurately. The scale can be held under water for rapid cleaning, and touch-sensitive buttons allow you to move through forms of measurement easily.
Powered by three AAA batteries which are included, the Ozeri Touch is a great choice for gymgoers and athletes who want a food scale that is small on space, easy to wash, and looks great.
Pricewise, this thing is hard to beat, with a price tag of just $15 (check Amazon for current pricing and availability) and like the Etekcity and the Good Grips scales can handle up to 11lb of food at a time.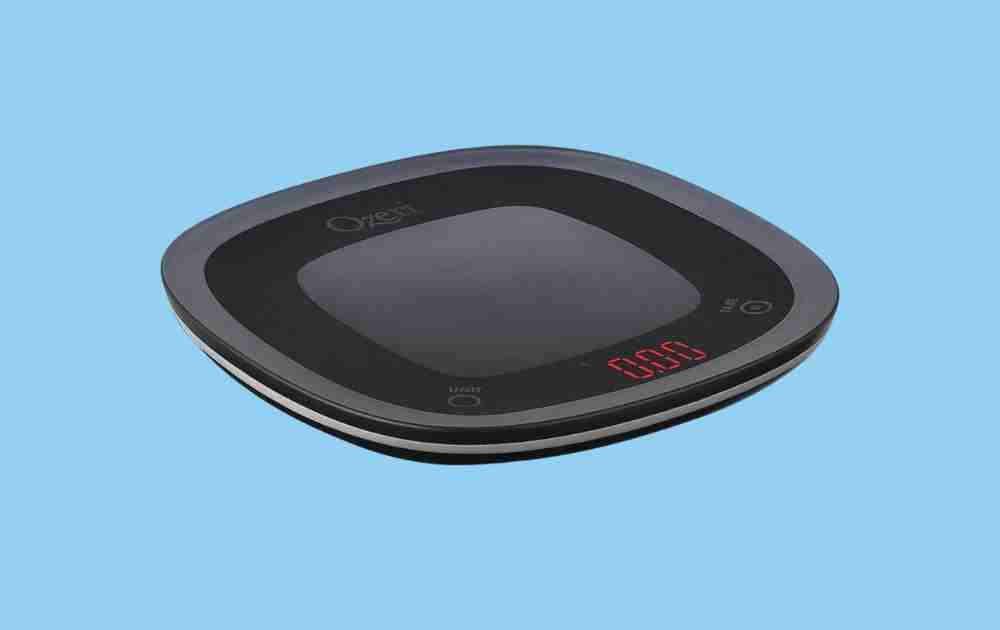 OXO Good Grips Food Scale
Sleek, made of stainless steel for easy cleaning, and with a bright LCD display, the OXO Good Grips Food Scale checks all of the boxes for people looking for food scales for meal prepping.
The digital readout slides out, the platform is easy to remove for quick cleaning, and the readout pumps out weight in ounces, pounds, grams or kilograms. The OXO Good Grips Food Scale can handle up to 11-pounds, making it perfect for quick meal planning and prepping.
Users consistently love it, with over 3,00 five-star reviews on Amazon (click here to read them and for current pricing) and a cord-free design means you can wheel it around the counter with ease (4 AAA batteries are included with each scale).
Looks great, work exceptionally, and it's easy to use. Can't go wrong with the OXO Good Grips Scale.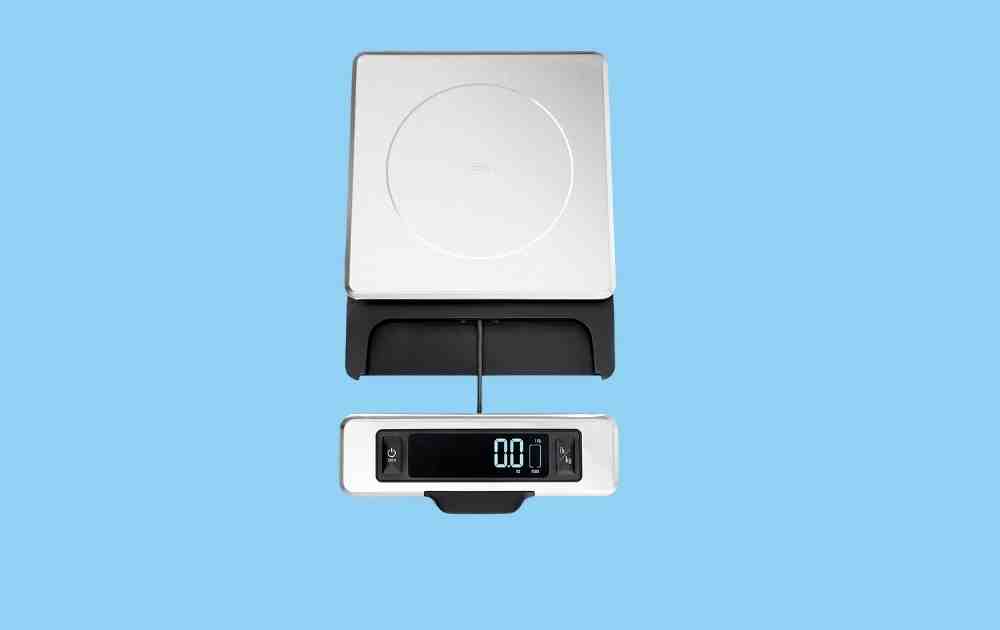 Etekcity Food Scale with Bowl
⭐ Best low-cost food prep scale with bowl
Wanna drop all of your prep into a bowl? The Etekcity has a bowl-shaped platform that is perfect for you meal preppers that are a little bit messy (aka me). The readout is backlit for easy reading, the bowl is detachable for fast cleaning, and you have plenty of flexibility for forms of measurement.
Designed to handle up to 11-pounds, this bad boy also garners a tremendous amount of positive reviews, with well over 15,000 five-star reviews on Amazon, with reviewers consistently loving the simple design, bright LCD light, and stainless steel construction that is durable and a breeze to clean.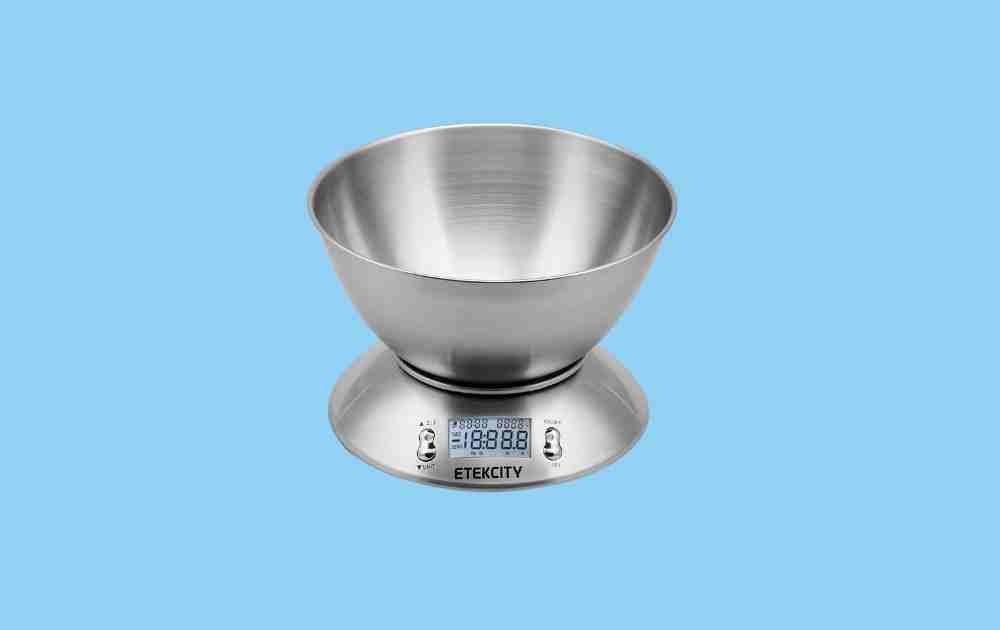 Taylor Precision Analog Food Scale
Analog looks great and gives your kitchen a classic look. The more antiquey look appeals to some, and for those who like this look, you also get a very accurate measurement.
The Taylor Precision Analog Food Scale is the best one of its kind out there for meal prepping, with an easy-to-read readout that measures to the ounce (the dial also lists lbs, kilograms and grams).
Made of stainless steel, the bowl on top of the scale is removable and can be promptly rinsed or washed between uses.
A little larger than the other scales on this list (the dial and bowl make for a height of 9"), it does take up more space in your cupboards, but with no batteries required, accurate measurements, and that timeless analog styling, the Taylor Precision Analog Food Scale is a great choice for meal preppers.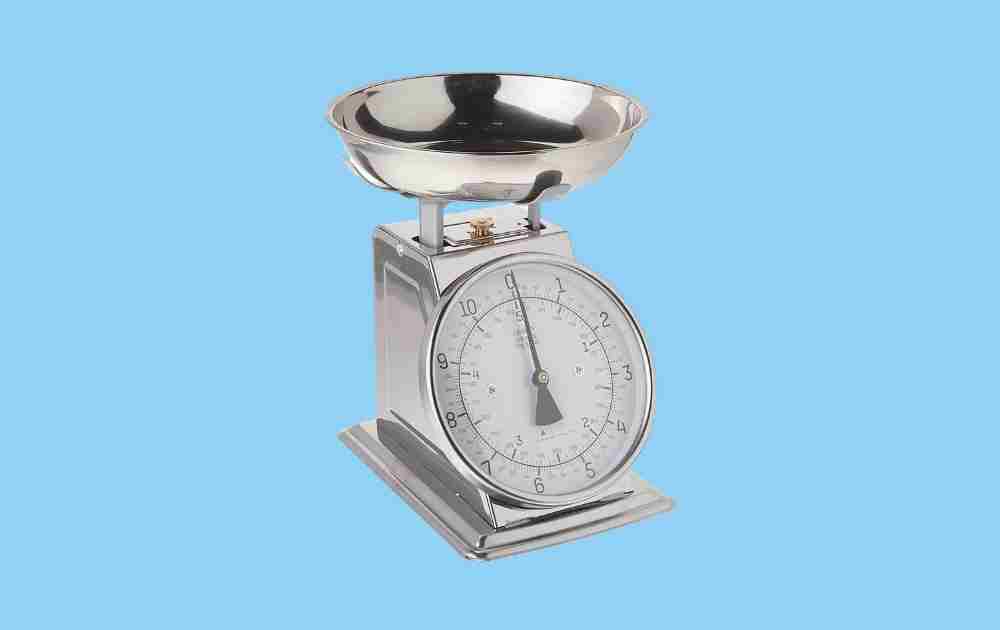 More Resources Like This
Looking for more information and resources on meal prepping and high-performance nutrition? Check out the guides below to take your meal prepping and eating habits to the next level.
How to Meal Prep Like a Boss. Conquer the kitchen, your nutrition, and your goals in the gym with meal prepping. Here is your ultimate guide how to meal prep.
5 Best Cookbooks for Meal Prepping. Ready to take your nutrition to the next level? Here are five killer cookbooks for meal prepping that will help you master your diet and nutrition.
12 Nutrition Tips for College Athletes. The life of a college athlete is not always easy. Between classes, practices and competition, there isn't always time for proper nutrition. Here are some tips from top dietitians and sport nutritionists on eating like a champion.
6 Best Meal Prep Containers for Portion Control and Better Nutrition. Meal prep is a powerful way to get your eating habits under control. Here's one of the essential tools of successful meal preppers.