Looking for a detailed review of Old School New Body? Here's a comprehensive look at the strength training program, the promises it makes, and who would benefit from this muscle-building plan.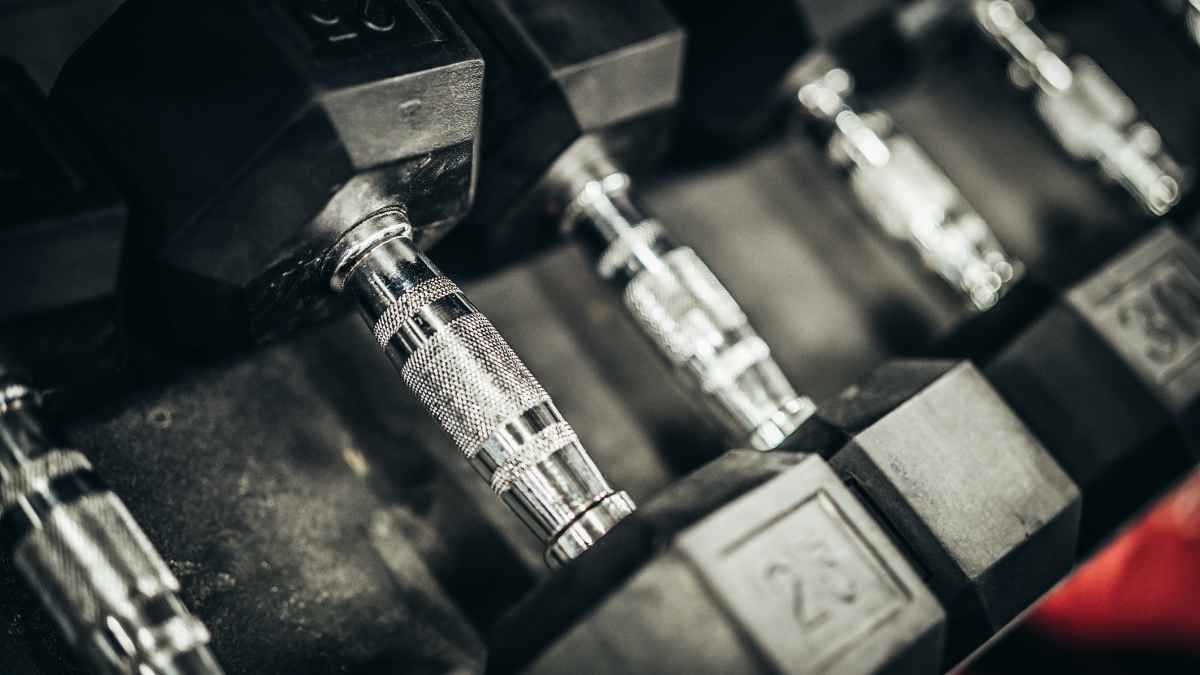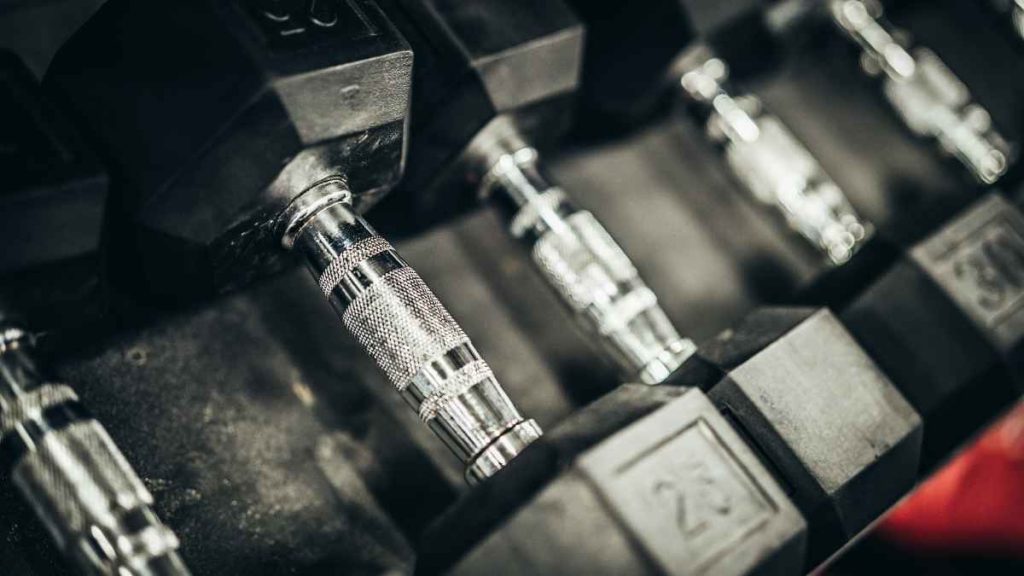 Old School New Body is a downloadable workout routine and diet plan by experienced fitness professionals Steve and Becky Holman.
The workout plan was inspired by Vince Gironda, an old-school trainer known as the Iron Guru who worked with top Hollywood actors, including Clint Eastwood, Denzel Washington, Carl Weathers, and more.
Assembled by longtime Iron Man magazine editor in chief, Steve Holman (along with his wife Becky) Old School New Body takes some of Gironda's old school training techniques and makes them applicable to today's market.
The result is a 101-page eBook that includes a training program, tips for making the program work, different variations (there's a program that can be done solely with dumbbells, for example), and a ton of frequently asked questions.
In this review of Old School New Body, I will take you behind the scenes of the program.
How the program works
What's included in Old School New Body
The research that the training regimen is based on (in other words, will it work for most people?)
And more.
Let's hop right in.
What is Old School New Body?
As mentioned, Old School New Body is an eBook that includes a bunch of workout regimens, some meal plans, and lots of general information on how to make the most of the program.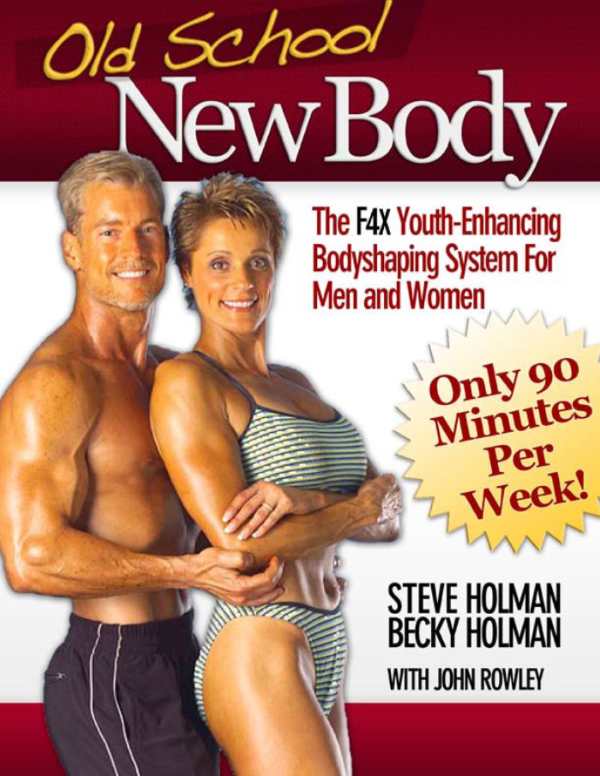 It promises results in about 90-minutes per week.
(There's also a "lean" program that promises progress in 60-minutes per week.)
Old School New Body is also inexpensive, at just $20.
It includes:
The core program, a 101-page eBook with the workouts, exercise instructions, meal plans, and more.
F4X Quick Start Guide. This includes the three levels of workouts (lean, shape, build) and is a stripped-down version of the core guide.
Four additional bonus guides and reports on burning fat faster, natural anabolics, sex and anti-aging secrets, and a health and happiness tactics report, too.
Audio interviews with some legendary bodybuilders and fitness pros, including Tom Venuto, Jennifer Nicole Lee, Kristi Franks, and more.
The training program, known as the Focus-4 Exercise protocol—or F4X—is designed to crank up your metabolism and build a lean physique.
While that sounds like the newest model of the Ford 150, it's a program built around using moderate amounts of weight, higher rep ranges, and time under tension.
Combined, these factors are designed to maximize growth hormone release, increase lean muscle mass, and burn fat.
While a lot of muscle-building programs emphasize heavy weights, long rest periods and short rep ranges, the F4X protocol is four sets of ten reps of each exercise, with each rep taking 4 seconds to complete.
The combination of relatively short rest periods and longer time under tension in the sets are designed to help you make the most of the exercise and induce as much fat burn as possible.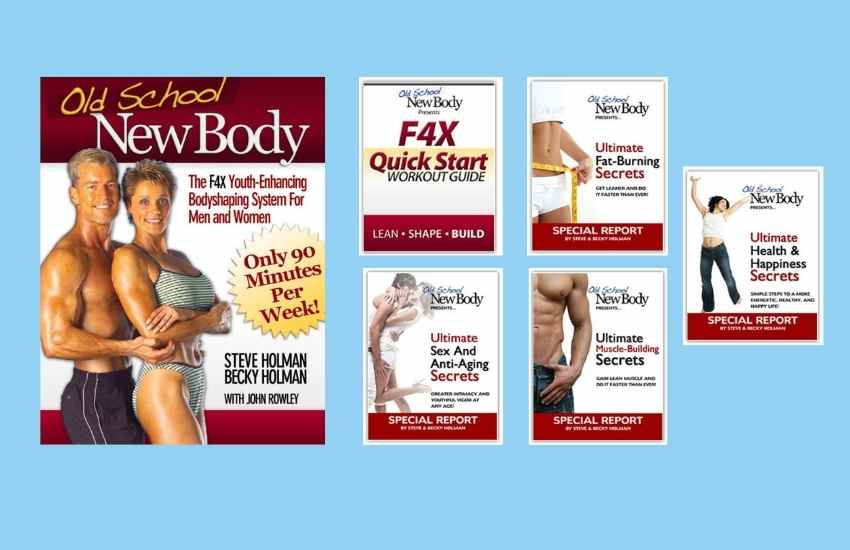 Who is Old School New Body for?
Designed to avoid joint stress, this program is advertised to work on people of all ages, from college-aged students to grandmothers.
It's that latter group that F4X is specifically targeting, promising to help people get stronger, slow the aging process, and to do so without placing undue stress on the joints.
The F4X comes in a variety of different levels of difficulty. There is a lean version for beginners and people who are really short on time.
There are also more advanced versions of the F4X.
The "lean" version of the workout looks like this:
Three workouts per week
Each workout takes about 30 minutes
Four exercises in each workout
Week 1 and 2 start with two sets per exercise, progress up to 4 sets on week four.
But will Old School New Body work for me?
When trying to decide whether or not this is the program for you, let's take a quick look at the main reason I think Old School New Body can help a wide range of people.
And that's the concept of time under tension.
You've probably heard the term before.
Time under tension, or TUT.
The purpose is to slow down the execution of an exercise, increasing the amount of time your muscles are tense.
When you extend how long your muscles are under tension, they have to work harder, giving you more bang for your buck when it comes to building lean muscle, endurance, and strength.
There is a lot of research that shows how TUT can significantly help with hypertrophy (muscle growth).
For example:
Performing a leg extension at 30% of one-rep-max with TUT of 6-seconds up and 6-seconds down, creates more muscle synthesis compared to 1s up and 1s down. [1]
Another study, this time with well-trained individuals doing bench press, found greater muscle activation and muscle growth with a 2s down, 4s up lifting protocol. [2]
There is a fine line between holding it for too short and too long.
Another study found that whether 3s under tension, or 6s under tension, there was the same amount of hypertrophy [3].
This was a long-winded way of saying that the TUT instructions in Old School New Body fall right in the sweet spot of maximum gains.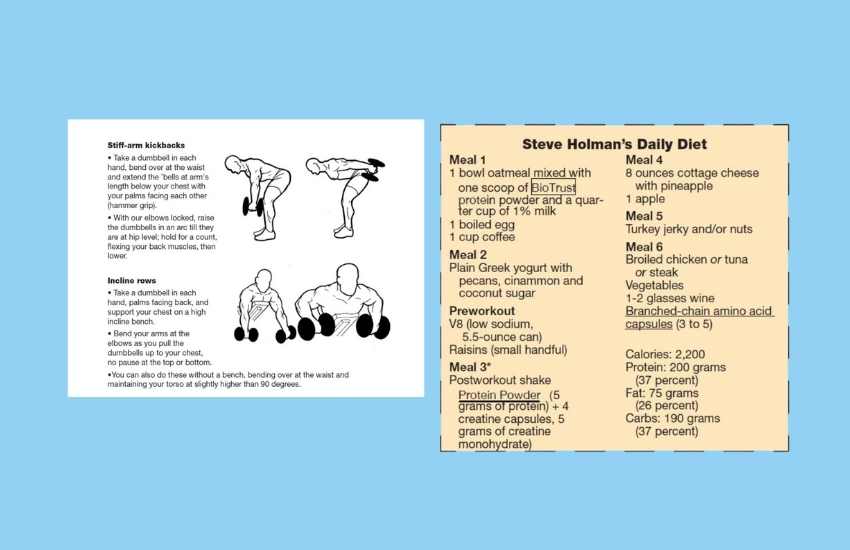 While a lot of other strength training programs out there tout their benefits, few have the research to back it up.
In this case, Old School New Body has a training regimen that is more likely to work compared to non-TUT training.
Before we move on, there is one more thing I would add…
Another big benefit of increased time under tension is that it forces you to perform the exercise more slowly.
Increased TUT encourages you to exercise in a more controlled manner, avoiding the jerky movement that can often result in the wrong muscles working, not enough muscle recruitment, and worse, injury.
The key with TUT is actually doing it properly (like just about anything in the gym or in life, for that matter).
Another study found that when exercisers didn't have a personal trainer looking over their shoulder, they were less likely to follow the TUT instructions for a particular exercise.
So be honest with yourself, don't rush the count, and reap the gains.
What I liked about Old School New Body
Beyond the proven concept of time under tension, there were some other things that I liked about this program.
⭐ Programs for all levels of lifters.
One of the frustrations I have had with other training programs is a "one size fits all" approach that ignores both the newbie lifter and the more experienced athlete.
The F4X has protocols (including rep ranges, exercises, rest periods) for total beginners, moderately experienced lifters, and even a protocol for pro-level lifters.
In other words, no matter where you are at today, there is a F4X program for you.
⭐ Printable workout templates.
If you haven't guessed by the title of the book, this product is old school in mentality and in production.
Each of the workouts have a printable list of exercises, reps and suggestions for how heavy you lift.
⭐ Lots of FAQs.
Getting shape and losing weight always brings with it a lot of anxiety and FOMO. We want to make sure we are getting the most of our time exercising and that we are going to see progress.
There are a lot of FAQs and research-backed answers throughout the book to help quell some of the uncertainty that is natural when starting a new workout program.
⭐ Very simple and easy to follow.
And I don't mean simple in the sense that it's easy. The workouts aren't easy. Taking three seconds to ascend out of a rep creates significant time under tension and will light your muscles on fire.
But its simple in terms of the number of exercises, the rest-to-work ratio, and the amount of time you are expected to invest in the workouts.
I've found that a simple program is far more likely to stick and reduce the feelings of being overwhelmed compared to overly (and usually needlessly) complicated programs.
Old School New Body: Suggestions for Improvement
While the book is simple, and the protocols are clear, there are a couple of things that Old School New Body could improve upon.
The book feels hastily written and unorganized. Jumping from program to diet plan to FAQ to a different training program. I got the sense that chunks of the book were pulled from blog posts that they'd written in the past, with plenty of listicles scattered throughout the book. I would have preferred a layout that started with diet, moved to the workout plans, and then the FAQs, and so on.
No bodyweight option. With how frequently my local gyms have been getting closed since Covid started at the beginning of 2020, I would have liked a bodyweight version of the workouts that could be done at home. The workouts almost universally require access to a gym. Even the home workouts require an adjustable weight bench and dumbbells.
The meal plan section is thin. This book provides some very generalized diet advice. The meals are sampled from Steve and Becky's own nutrition plan. While experienced dieters and athletes will find the meals easy to break down in macros, etc, the less experienced person will struggle with adapting the meals to their own body and energy needs. While it's maybe too much to ask (it is a $20 eBook, after all), I would have liked a more detailed nutrition section.
Quick Overview
Old School New Body is a simplified strength training program
Relies on time under tension and moderate weight to build lean muscle tissue
Can be done in as little as 60-minutes per week
Includes a 101-page eBook, five bonus eBooks, and audio interviews of popular fitness pros
Digital download for just $20
Old School New Body – Where to buy
To sum everything up, there is a lot to really like with this program.
While it's not something I would stick to (I prefer longer sessions in the gym and I like training for power and speed versus muscle mass and toning), I would happily recommend this program to a wide range of people.
The program is available exclusively at this website for $20.
The authors back it with a 60-day money-back guarantee, so if Old School New Body isn't helping you get closer to your goals, both in the gym and in the mirror, you can return it risk-free.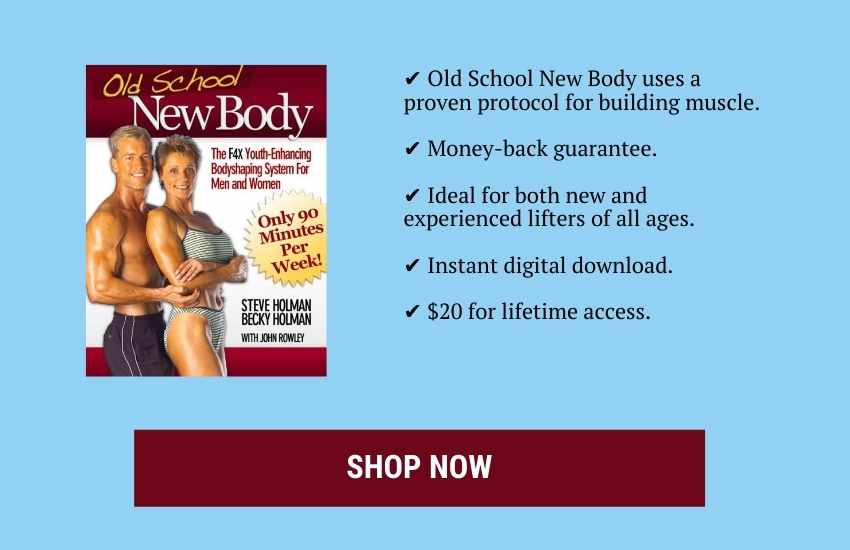 *
References
Martins-Costa, Hugo C.1,2; Lacerda, Lucas T.1,2,3,4; Diniz, Rodrigo C.R.1; Lima, Fernando V.1; Andrade, André G. P.4; Peixoto, Gustavo H.5; Gomes, Mateus C.1; Lanza, Marcel B.1,6; Bemben, Michael G.7; Chagas, Mauro H.1,5 Equalization of Training Protocols by Time Under Tension Determines the Magnitude of Changes in Strength and Muscular Hypertrophy, Journal of Strength and Conditioning Research: March 16, 2021 – Volume – Issue –
doi: 10.1519/JSC.0000000000004004
Martins-Costa, H. C., Diniz, R. C. R., Lima, F. V., Machado, S. C., Almeida, R. S. V. de, Andrade, A. G. P. de, & Chagas, M. H. (n.d.). Longer repetition duration increases muscle activation and blood lactate response in matched resistance training protocols. Motriz: Revista de Educação Física.
Burd NA, Andrews RJ, West DW, et al. Muscle time under tension during resistance exercise stimulates differential muscle protein sub-fractional synthetic responses in men. J Physiol. 2012;590(2):351-362. doi:10.1113/jphysiol.2011.221200
Faber M, Andersen MH, Sevel C, et al. The majority are not performing home-exercises correctly two weeks after their initial instruction-an assessor-blinded study. Peerj. 2015 ;3:e1102. DOI: 10.7717/peerj.1102. PMID: 26244112; PMCID: PMC4517955.