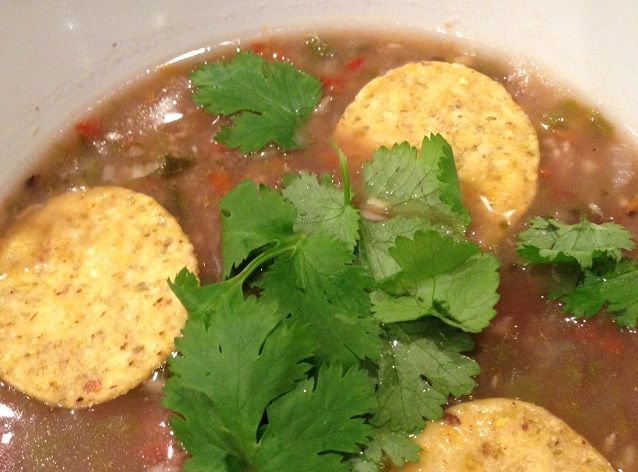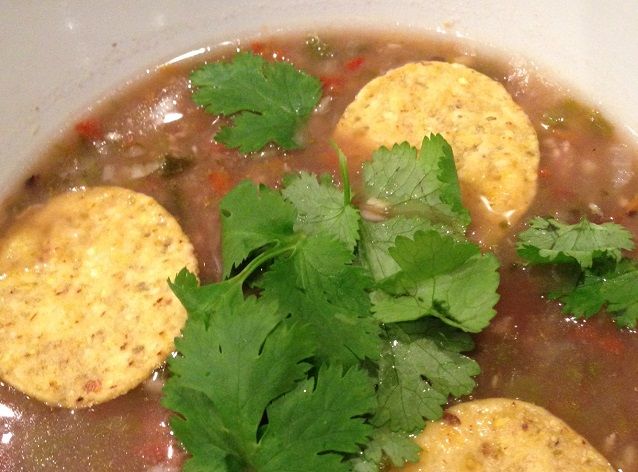 In today's PT Intel, Joshua Garcia submits a high protein chili recipe that is also low in fat (and obviously tasty!). Joshua is a personal trainer and founder of Unification Point in Denver, Colorado. You can find him online by clicking here.
Description: Loaded with spices including fresh peppers, cayenne and garlic this soup is an uplifting nutritious meal with self medicating benefits such as immune support, aiding digestion and improving circulation. Especially helpful for early symptoms of colds, sore throats and infections!
1. Boil 4 cups of water and add raw halved chicken breast. Let boil for 5 minutes or until done. When chickens cooked shred with two forks or in a food processor with the slicer attachment.
2. Add olive oil to large pot and heat over med-high heat. Add minced, jalapeno, chopped poblano, chopped onion,minced garlic, cumin, coriander, chili powder, salt and pepper, saute about 3 minutes.
3. Add chicken broth and beans. Bring to boil and then let simmer on low heat for at least 20 minutes.
4. Add juice of two limes, split 7.5 ounce bag of tortilla chips between 6, crumble in soup, garnish with fresh cilantro and enjoy!
NOTE: Feel free to sub different chilies, such as Serrano, and red pueblos. Always be conservative with spices until you taste, then customize to to your taste preferences:) Prep Time = 5 min. Cook Time = 20 min.
| | | | | | | |
| --- | --- | --- | --- | --- | --- | --- |
| Makes 6 Serving(s) | Amount | Unit | Calories | Fat | Carbs | Protein |
| Oil, olive, salad or cooking | 2 | tbsp | 238.7 | 27 | 0 | 0 |
| Peppers, jalapeno, raw | 1 | pepper | 4.1 | 0.1 | 0.9 | 0.1 |
| Poblano | 2 | Pepper | 96 | 0 | 18 | 4 |
| Onions, raw | 1 | small | 28 | 0.1 | 6.5 | 0.8 |
| Garlic, raw | 4 | clove | 17.9 | 0.1 | 4 | 0.8 |
| Salt, table | 1 | tsp | 0 | 0 | 0 | 0 |
| Spices, cumin seed | 1 | tbsp | 22.5 | 1.3 | 2.7 | 1.1 |
| Spices, coriander seed | 1 1/2 | tsp | 8 | 0.5 | 1.5 | 0.3 |
| Spices, chili powder | 1 | tsp | 7.6 | 0.4 | 1.3 | 0.4 |
| Soup, chicken broth, low sodium, canned | 4 | cup | 153.6 | 5.8 | 11.5 | 19.2 |
| Limes, raw | 2 | fruit (2″ dia) | 40.2 | 0.3 | 14.1 | 0.9 |
| Chicken, breast, meat only, raw | 4 | (0.50) breast, bone an | 538.1 | 12.2 | 0 | 100.2 |
| Coriander (cilantro) leaves, raw | 1 | (0.25) cup | 0.9 | 0 | 0.1 | 0.1 |
| Snacks, tortilla chips, low-fat, unsalted | 7 1/2 | oz | 884.5 | 12.1 | 170.3 | 23.4 |
| Beans, pinto, mature seeds, canned | 14 1/2 | oz | 353.5 | 3.3 | 62.7 | 20 |
| Beans, black turtle soup, mature seeds, canned | 14 1/2 | oz | 374.1 | 1.2 | 68.1 | 24.8 |
| Total for entire recipe (Micro Nutrients for entire recipe) | | | 2767.7 | 64.3 | 361.8 | 196 |
| Total per serving | | | 461.3 | 10.7 | 60.3 | 32.7 |